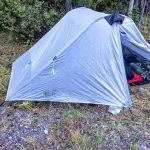 Had a chance to test the Six Moon Designs Lunar Duo Explorer in the backcountry last week. They call this the "Backcountry Palace", and I'll be putting out a full review of this shelter shortly. Looking a for a shelter that is big on space, light in your pack, and full of flexibility? This one deserves a serious look. This thing is huge….. more than comfortable for 2 people (by backpack tent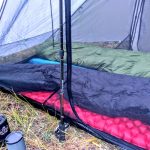 standards) and comes in at 2.5lbs! You can set it up with trekking poles(The S&S Archery poles were a perfect combo with this shelter….see my Trekking Pole Review here) or your choice of carbon or aluminum poles which can be purchased through Six Moon Designs. I also had the opportunity to test out an Enlightened Equipment Quilt along with the Sea to Summit – Outdoor Gear Comfort Plus pad.
Full reviews are coming on all these products, so don't forget to subscribe to our emails and catch every review! You won't want to miss them!