Over the last few months I've had the opportunity to test the Rugged Camp Sleeping Pad and Pillow on some outdoor adventures. If you've ever spent any time camping, backpacking, or hunting in the backcountry and slept on the ground, I'm sure choosing the right sleeping pad has been a topic you've considered multiple times. With so many different sizes, styles, shapes and R-Values on the market today, trying to decide which one is the correct pad for your sleeping style can quickly become overwhelming.
Is the Rugged Camp Sleeping Pad not quite what you are looking for? Make sure to check out our other sleeping pad reviews as well as pillow reviews, sleeping bag reviews and ultralight quilt reviews!
Make sure to check out our other reviews on OPTICS, as well as our massive 19 Spotting Scope Review where we lined up 19 of the best spotting scopes on the market and tested them side by side!

Looking for a binoculars? Check out our MASSIVE 26 BINOCULAR REVIEW where we put 26 of the best binoculars side by side!
Rugged Camp Sleeping Pad Specs

The Rugged Camp Air Mat+ boasts some pretty impressive specs, particularly given its price point of just $36.99. Many of the specs below are typical of much more expensive sleeping pads, which is very impressive.
R-Value: 2.1
Weight: 17.2 oz
Length: 72 inches
Width: 21 inches
Material: 40D Ripstop Nylon
ABS quick flow dial valve
Very compact
Rugged Camp Sleeping Pad Testing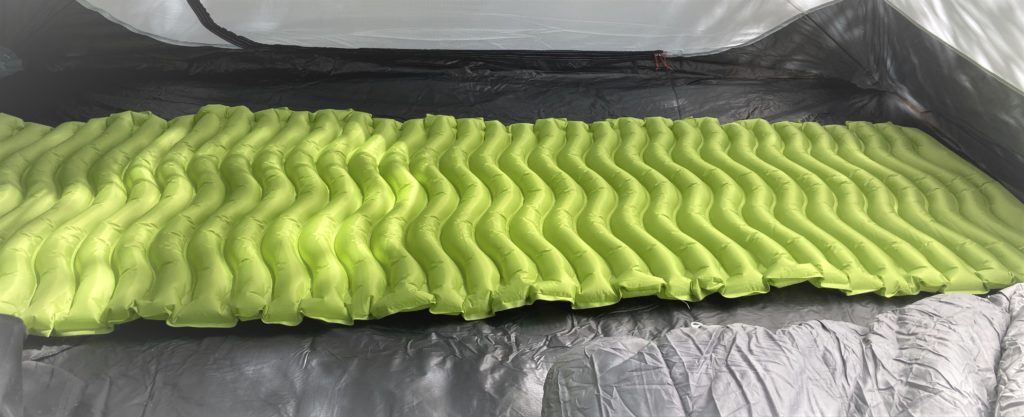 I was able to test out the Rugged Camp Air Mat+ this year through a variety of temperatures and conditions. My first thoughts unboxing this sleeping mat was how small it packs down and how light it felt. The Rugged Camp Air Mat comes in at 17.2 ounces, which is about mid-range weight wise compared to others on the market today. A number of air mats available to purchase are lighter, but you'll pay a lot more for them. When this particular mat is fully deflated and in the carry bag, it rolls down to 10 inches by 4 inches, making it very compact to put in your pack.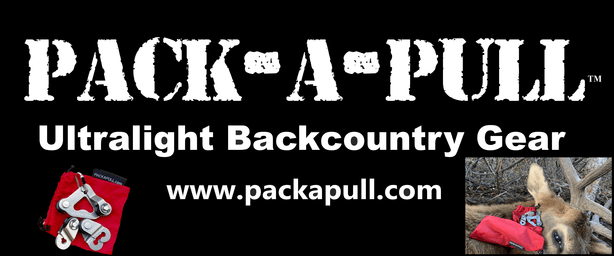 If you're like me and like to sleep on your side or back then the Rugged Camp Air Mat+ will work great as it is 72 inches long, 21 inches wide, and a nice 2 inches thick. While not quite as thick as some others on the market (quite a few are 2.5-4 inches thick), it is still very comfortable and keeps you from feeling any rocks or lumps in the ground. The extra width of the Rugged Camp Air Mat is also very nice at 21 inches as many of your standard sleeping pads come in at 20 inches. That extra inch makes a big difference.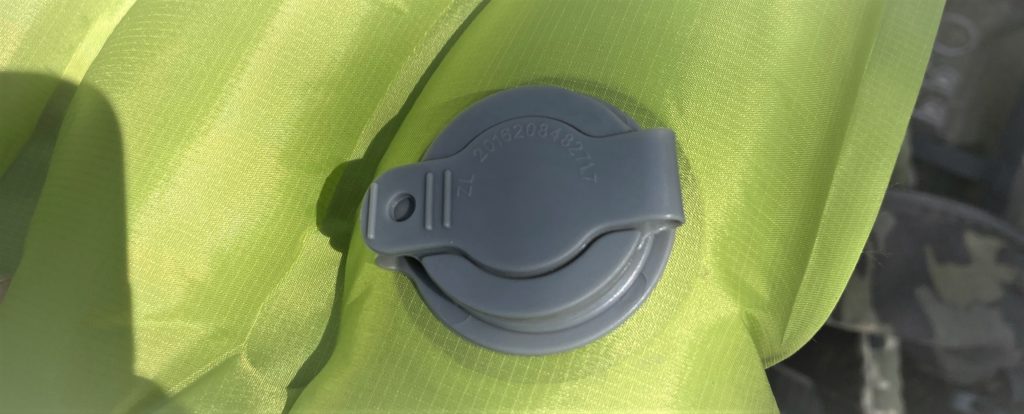 Rugged Camp Sleeping Pad Material
Inflation is super easy as the Rugged Camp Sleeping Pad is equipped with a dual valve. After about 20 breaths the pad was inflated to my liking. It was also very easy to roll up and put back in the storage bag unlike some of the other backpacking gear I've used in the past. The Rugged Camp Air Mat+ is made with 40d nylon, so it's a nice durable material that is less likely to get punctured unlike some of the thinner, ultralight pads out there.
Sleeping bag choice is something to keep in mind with this sleeping pad. With the sleeping bag that I use, I ran into some trouble staying positioned on it throughout the night due to how slippery the material is. When I was on completely level ground this really wasn't an issue at all, but I can't ever seem to find a perfectly level camping spot when I'm in the mountains. If you are a quilt user or use a sleeping bag with some kind of pad attachment system, you won't have any trouble though.
What I Liked – Rugged Camp Sleeping Pad

Length and width
Ease of use with the air valve
Compact size
Light weight
What I didn't Like – Rugged Camp Air Mat+

Very slippery material
Hard to find R-Value
Rugged Camp Sleeping Pad Review Conclusion
At the end of the day I was pretty satisfied with the Rugged Camp Air Mat and really like the value it offers. It is easy to use and store away as well as effortless to inflate and deflate. A less slippery material on the face of the mat would be an improvement so you don't slide around as much throughout the night. Personally, though, I was always comfortable on my back and my side.
Rugged Camp Pillow Review

Sleeping on the ground can be super uncomfortable if you don't have the right sleep system. One of the key products I like to use in the backwoods is an inflatable pillow. If a person can wake up feeling refreshed after a good night's sleep it's a lot easier to hunt harder or hike farther. This year I had the chance to test out the Rugged Camp Pillow along with the Rugged Camp Sleeping Pad.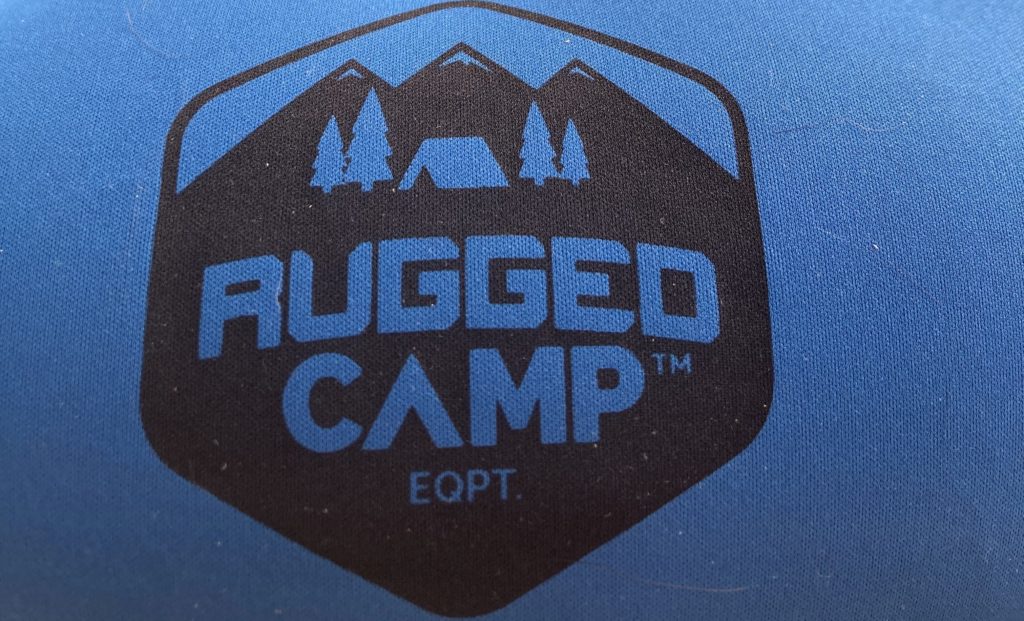 The Rugged Camp Pillow comes in at just 2.75 ounces which is one of the lightest backpacking pillows out there. When it is fully inflated it measures 16 inches long, 12 inches tall, and a nice 4 inches thick. The half moon design provides great head and neck support through the night. Each time I used it I woke up feeling energized and ready to take on the mountain.

I typically sleep on my back or side, so a thicker pillow is what I like. Being 4 inches thick the air pillow worked great for my sleeping style. If you're a stomach sleeper this may not be the right choice for you as you may want something that isn't quite as thick.
The Rugged Camp Camping Pillow is topped with a water resistant, knitted cotton which provides a nice soft touch. I didn't feel like my head got cold on those 20-30 degree nights. I paired this with the Rugged Camp Air Mat+ and it did slide around on me when I was moving from my back to my side and visa versa. It was kind of annoying but not a total deal breaker. To negate this, an easy fix is to install some sticky Velcro on the mat and pad to make sure your pillow stays put all night long. Simple, easy, quick fix.
What I Liked: Rugged Camp Air Pillow

Super lightweight
Two way valve
Thickness
Half moon design
Very durable
Very affordable
What I didn't Like: Rugged Camp Air Pillow

Rugged Camp Sleeping Pad & Air Pillow Review Conclusion
I was able to use the Rugged Camp Air Pillow quite often and was very pleased with its design and durability. I actually carried it with me during the day to use as a glassing pad. I wanted to see just how rugged it was, and it definitely pulled through for the win. I tried to find more flaws with the camping pillow but at the end of the day the only thing I didn't like was that it slid around when I moved positions sleeping, which can be easily fixed. Not only is the Rugged Camp Pillow a great pillow, it's also a great value.
Subscribe to Backwoods Pursuit to get Your FREE Backcountry Gear Worksheet!!!
Dial in your gear list, calculate your pack weight, and lighten up your pack with this handy tool!