One key piece of gear that nearly all hunters utilize every time they are in the field is a pack. I had the opportunity to test the Elevation Emergent 1800 Pack this year to see how it performed for me in the field. Whether it be a smaller day pack or a larger 3–5 day pack it's important to find one that fits your style of hunting, and more importantly one that property fits your body.
With so many different brands and styles on the market today it is incredibly hard finding just the right pack for your needs. In fact, there really isn't one "perfect" pack as it always seems like you have to compromise something to get the features you care about the most.
Looking for a meat hauling pack? Check out our other hunting backpack reviews!

Waist Belt: Elevation Emergent 1800 Pack Review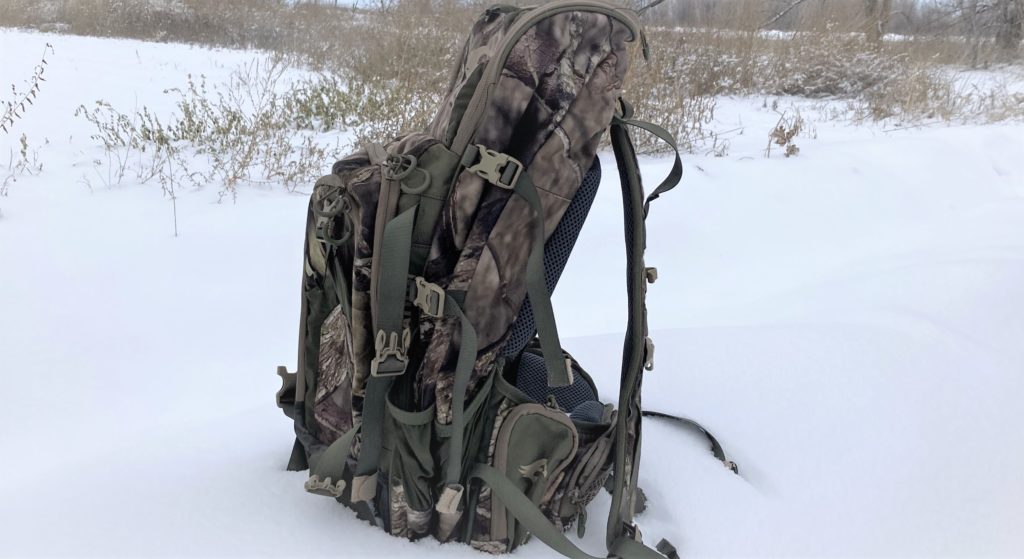 The Elevation Emergent 1800 Pack has a very well thought out design with a ton of adjustability. It can be adjusted to fit a very wide range of body types, sizes and shapes. The waist belt adjusts out to 60 inches, but didn't get quite small enough for me being that I've got a waist size of 30. It's very nice to have that much adjustment in the waist, but I also found that the Elevation Emergent 1800 Pack isn't the best pack if you are smaller than a XXX size waist. With my stature, unfortunately, I wasn't able to snug it down as much as I needed when more weight was in the pack.

As with any pack, the waist is designed to transfer weight from the shoulders to the hips, but for me, once I put more than about 15 pounds in it, I couldn't get the waist belt tight enough to be truly comfortable. This was largely due to not being able to cinch down the waist belt enough for my waist size. With everything up to about 15 lbs in the pack, though, it felt great. While I wish the waist belt worked better for someone my size, the layout and the thickness of the padding is very well done. There is plenty of padding in the right places to keep it comfortable.
Looking for a binoculars? Check out our MASSIVE 26 BINOCULAR REVIEW where we put 26 of the best binoculars side by side!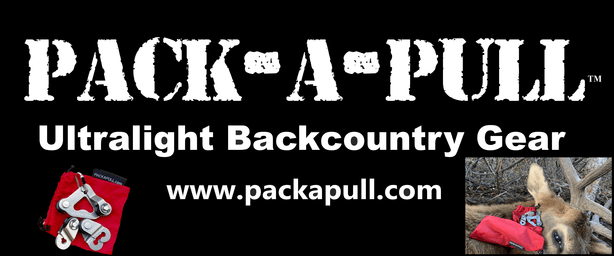 Harness System: Elevation Emergent 1800 Pack Review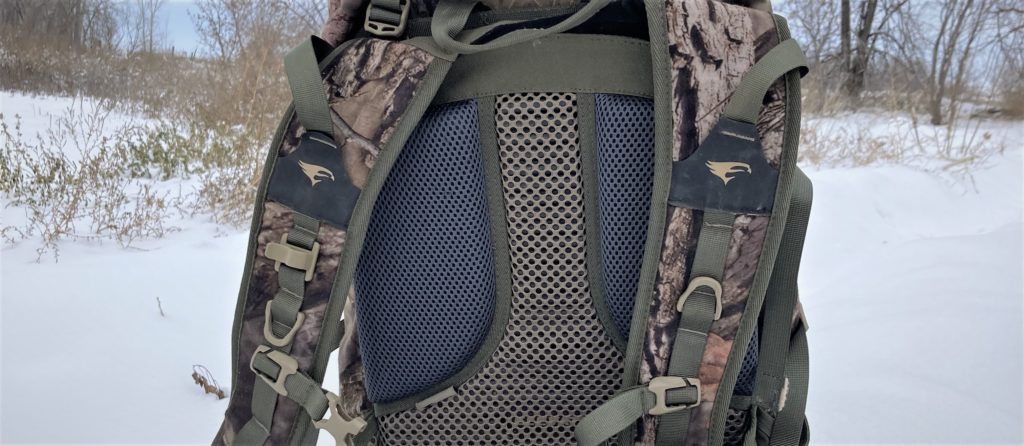 An adjustable yoke system is a must for a good hunting pack, and the Elevation Emergent 1800 pack gives you just that. From short to long torsos, this pack can fit virtually any torso length. The harness system is very well thought out providing maximum comfort. The width of the harness is great in that it keeps chafing around the arm pits at bay, but I did feel like there could be a little more padding on the shoulder straps.
With 15 pounds or more I started to notice some discomfort from the shoulder straps. With that being said, I felt like it was more of a by-product of not being able to tighten down the hip belt as mentioned above than it was the padding on the shoulder straps. It was tough to really get a feel for the upper limit of what this pack could do for me because of that.
Make sure to check out our other optics reviews, as well as our massive 19 Spotting Scope Review where we lined up 19 of the best spotting scopes on the market and tested them side by side!
Pocket Layout: Elevation Emergent 1800 Pack Review
The Elevation Emergent 1800 comes equipped with plenty of pockets for all the organization you might want. It features 20 well thought out pockets, including all pouches and internal pockets, which is something I really look for in a pack. One of the 20 pockets/pouches included in this pack is a water bladder pouch which is located in the main pocket. It can be used for a water bladder or additional storage.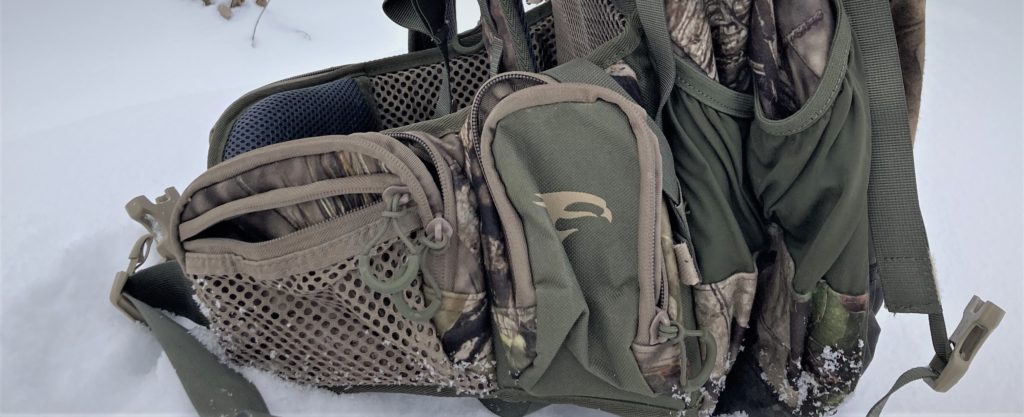 Some people like a minimalist style pack to save weight, but I really like having a spot for everything rather than having to cram everything into a few larger pockets to help stay organized. The Elevation Emergent 1800 pack really hit it out of the park with this feature.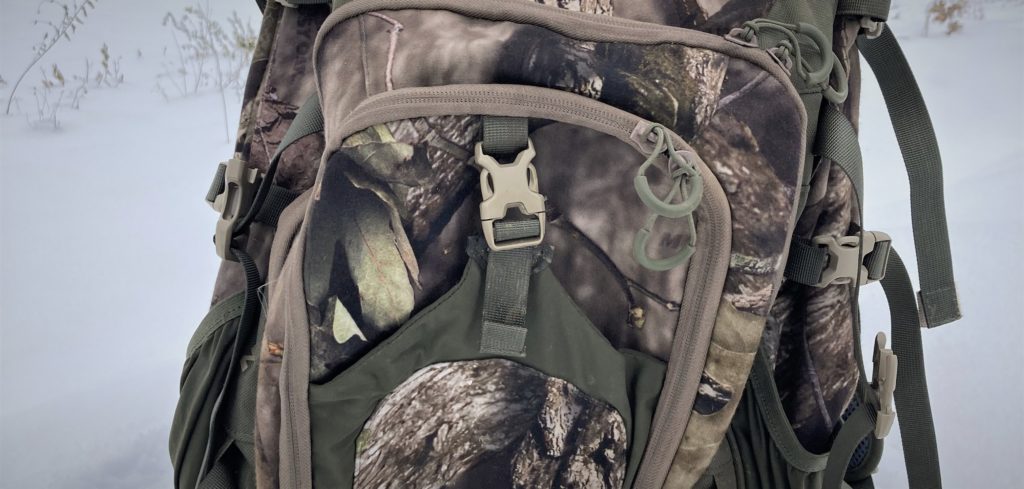 This Emergent 1800 also features ample external straps to strap extra gear on the outside. These straps can be used for a number of different functions, but for me I found that they worked especially well holding my rifle, bow, and extra clothing. Definitely a bonus!
Rifle/Bow Carriers: Elevation Emergent 1800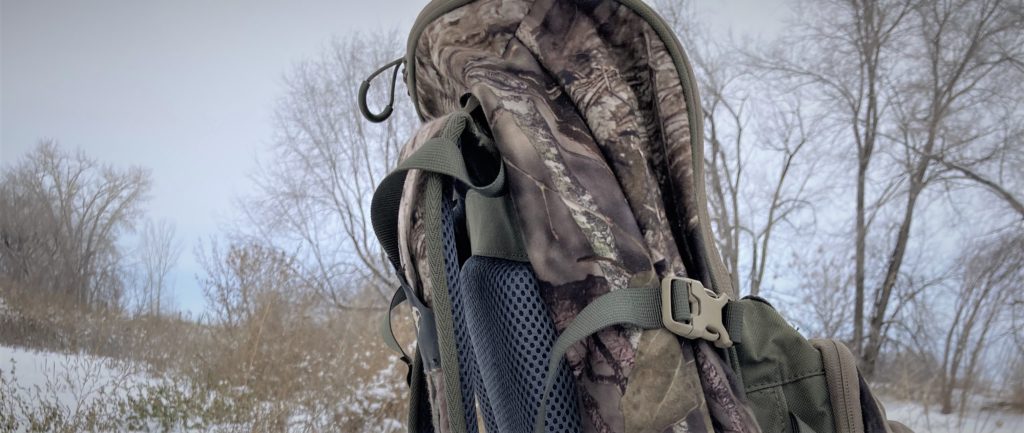 Another key feature that I look for in a pack is a rifle or bow carrier, and this pack comes with one. The drop pocket that is included fit all of my rifles and bow with no problem at all. It has the ability to attach to either side of the pack with a slide buckle. While I was initially concerned about having a slide buckle instead of a clip on style, I never had an issue with the buckle sliding off while hiking or even riding my motorcycle. My bow and rifle always stayed put with the drop pocket and the straps provided on the bag of this Elevation pack.
Unique Features: Elevation Emergent 1800 Pack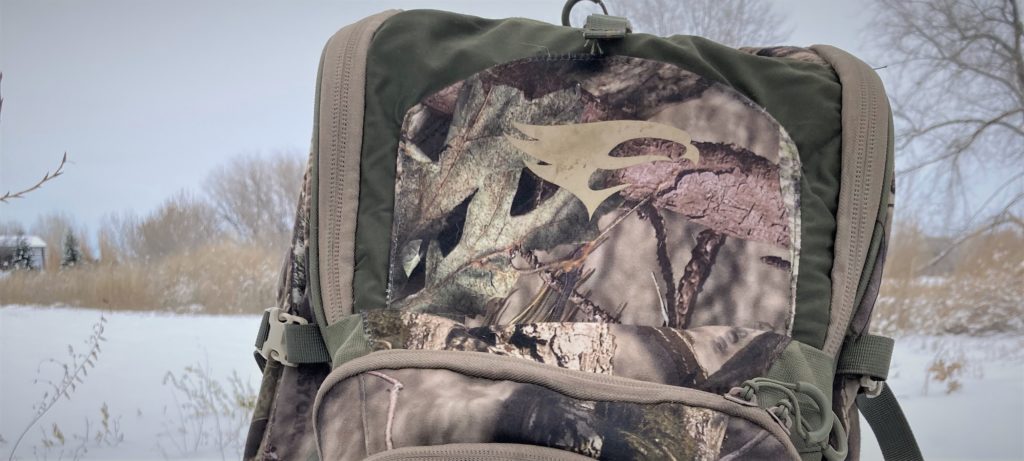 The Emergent 1800 features a lightweight, rubberized bottom which is very useful in making sure your gear doesn't get wet on those cold and rainy days. There are also two stretch pockets located on the front of the pack, which are great for smaller items that you want to access quickly and in an easy manner which is another great feature of this pack. I used these stretch pockets carry my binoculars and an extra lightweight coat. Any item that you want quick access to without having to open up the main pockets can easily be stored in these pockets. It's a super practical design that I really like.
One last unique feature is the 2 hideaway compression straps that can be pushed into the main pouch when not in use. You never know when you might need an extra strap, and this cool hideaway pocket design helps ensure there is nothing extra hanging from your pack to snag on while you're exploring the backcountry if you aren't using them.
Best Uses: Elevation Emergent 1800 Pack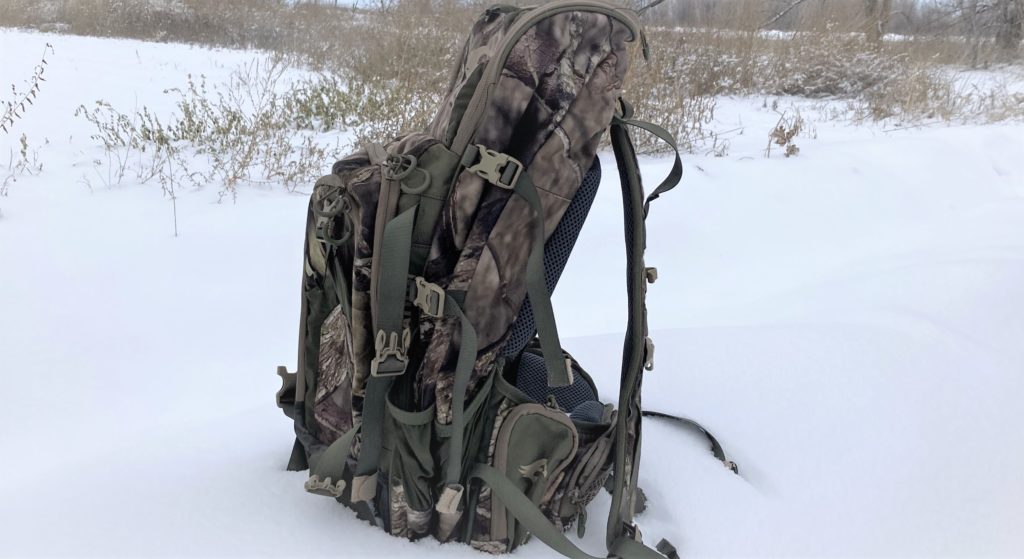 The Elevation Emergent 1800 pack is designed to be a day hunter's pack. It's not equipped with a stout frame or meat hauling straps to take on heavy loads, so I'd look elsewhere if that's the kind of pack you are looking for. It's big enough to get an overnight trip out of if you need to, but isn't really designed with that purpose. However, if you are primarily a day hunter, spend a lot of time in the stand, or need a pack that can strap on a lot of gear going back and forth to the stand or your base camp, this pack is definitely one to consider.
What I liked
Hip belt padding
Rubberized bottom
Drop pocket for bow/rifle
Pocket layout/design
Weather resistance
What I didn't Like
Hip belt adjustment
Shoulder strap padding
Heavy load hauling ability
Conclusion: Elevation Emergent 1800 Pack Review

The Elevation Emergent 1800 pack was an enjoyable pack to use from the winter months through the spring and summer. With is weather resistant material, it always kept the rain and snow out on those not so fun days, I always get a little worried when any piece of gear has weather resistant is in the description, but the elevation pack really meant it. My spotting scope and other important items in my pack never got wet, even when I was in the rain for hours. This pack was also very lightweight empty, weighing in at only around 3 pounds.
The Elevation Emergent 1800 has many features that are awesome and a few that I felt could be better. The super adjustable yoke, hip belt system, and many pockets with pockets inside of those pockets makes the Elevation Emergent 1800 really stand out. First and foremost, as with any pack, it needs to fit your hunting style and needs . If this one does, I think you'll be extremely happy with it!
Subscribe to Backwoods Pursuit to get Your FREE Backcountry Gear Worksheet!!!
Dial in your gear list, calculate your pack weight, and lighten up your pack with this handy tool!