In this Exo K3 4800 review we take a look at the popular Exo Mountain Gear pack and how it performed for us in the field with both light and heavy loads. The Exo K3 4800 provides phenomenal load-hauling ability and a functional bag design while still maintaining an incredibly light weight. We had the chance to test this pack in many conditions over the course of the last year, and we'll go over what we liked and didn't like about this Exo Mountain Gear pack.
Make sure to check out our other latest gear reviews as well!
Check out the packs videos on the Exo K3 4800 (below and over on the Backwoods Pursuit YouTube Channel)

Exo K3 4800 Review: Test Parameters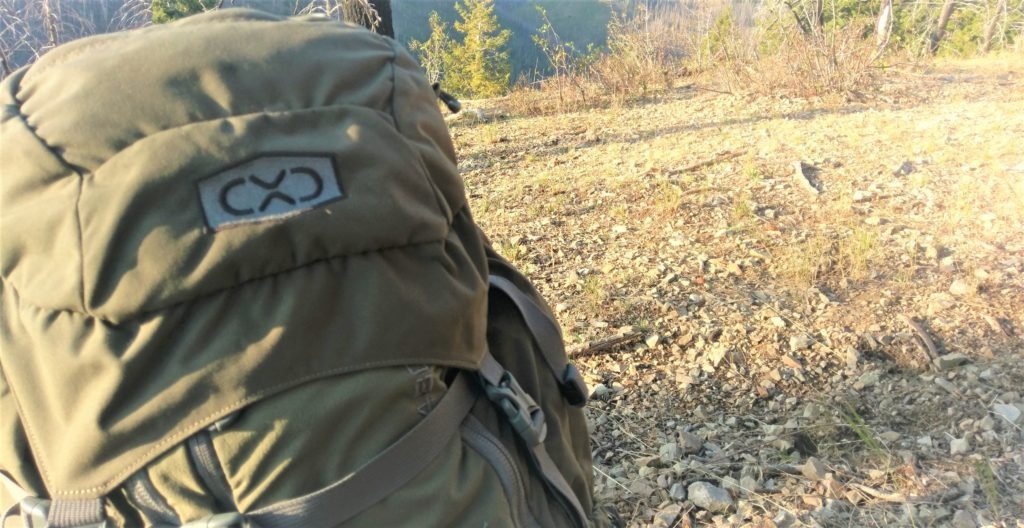 For this test, there really isn't anything better than just getting out there and using the pack in the field in real world conditions. I used this pack on multiple heavy load training hikes, scouting trips, hunting trips, and backpacking hunting trips. I got to pack out an animal with this pack, as well as do a number of heavy load training hikes with 40 to 100 lbs of sand bags in it.
Exo K3 4800 Specs
The Exo K3 4800 has some impressive specs and offers a very light weight pack while still handling a load incredibly well. It features Cordura material and the new K3 Titanium frame. Here are some of the Exo K3 4800 specs:
5 lbs 6 oz (bag, frame, and lid)
5205 CI (bag and lid)
Titanium K3 frame
Adjustable harness
Adjustable frame height
2 size frames
Multiple size hip belts
4 bag sizes (1800, 3200, 4800, 6200)
Exo K3 4800 Review: Hip Belt and Harness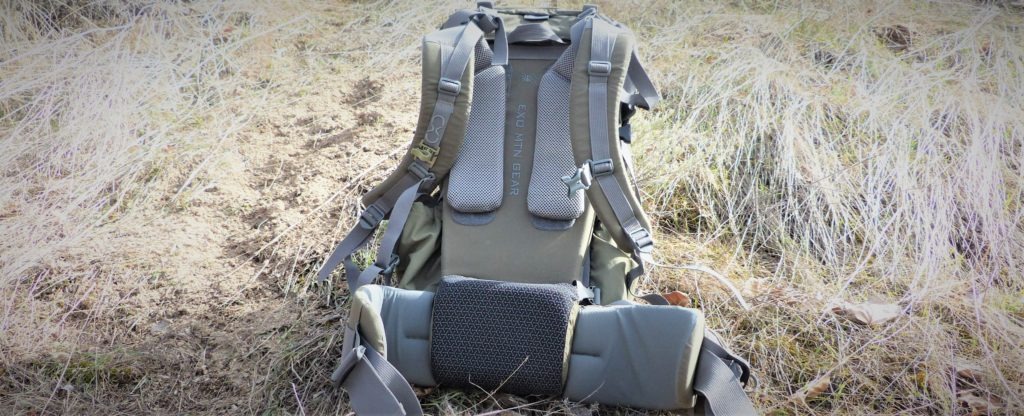 The new Exo K3 hip belt is a 3 piece design that is wider than previous models and is exceptionally comfortable. The harness system is pre-formed and provides exceptional comfort and adjustability. I found the hip belt on this pack to be the most comfortable of all the packs I've tested, making this pack as a whole my favorite comfort wise. I was very pleased.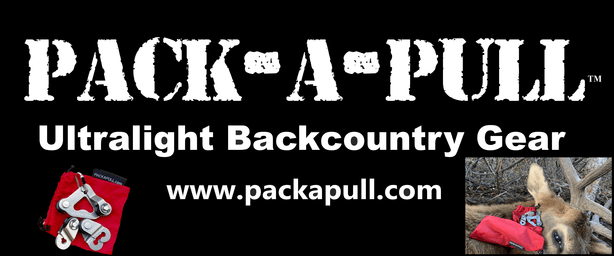 The hip belt seemed to have a perfect balance of soft foam on the outer layer with a high density foam under that for when you really cinch the pack down with a heavy load. Over time and with testing many packs, I've found that packs with a larger lumbar support pad tend to fit me best. The Exo K3 4800 pack has what I would consider a larger thickness lumbar pad, so this one was about perfect for me. Additionally, you have the option of adding more lumbar support easily by inserting an additional pad offered by Exo Mountain Gear .
Exo K3 Frame Issue
The initial K3 aluminum frame was found to have a flaw in less than 1%, so the folks at Exo Mountain Gear decided to replace EVERY SINGLE K3 FRAME with a Titanium K3 frame, regardless of whether or not you were having an issue. You can't ask for better customer service than that! It was unfortunate that the new K3 had that issue, but sometimes things like that happen. It's how the company handles these situations when things go wrong, even if it's a minuscule failure rate, that make up a great company and speaks to their level of service. Exo Mountain Gear handled it with a very proactive approach. Pretty awesome of them!
Exo K3 4800 Review: New Frame
The Exo K3 4800 frame is made of a bomb-proof titanium that's been proven for years with the previous K2 frame. The K3 frame offers a unique blend of flexibility and rigidity. There is a lot a lateral flexibility in the Exo K3 frame, but a ton of vertical rigidity. This allows the pack to flex with you as you move and bend, but doesn't flex vertically with heavy loads.
It performed extremely well for me with both light and heavy loads. The frame flexes a fair amount when cinching down a hind quarter of an elk (or half an elk) and flexes horizontally, but once the load is strapped on there isn't any noticeable vertical flex, and it gives you an incredibly comfortable ride with a heavy load. This new K3 frame was one of my favorites after testing the packs for these reviews.
How the Exo K3 4800 Handles Weight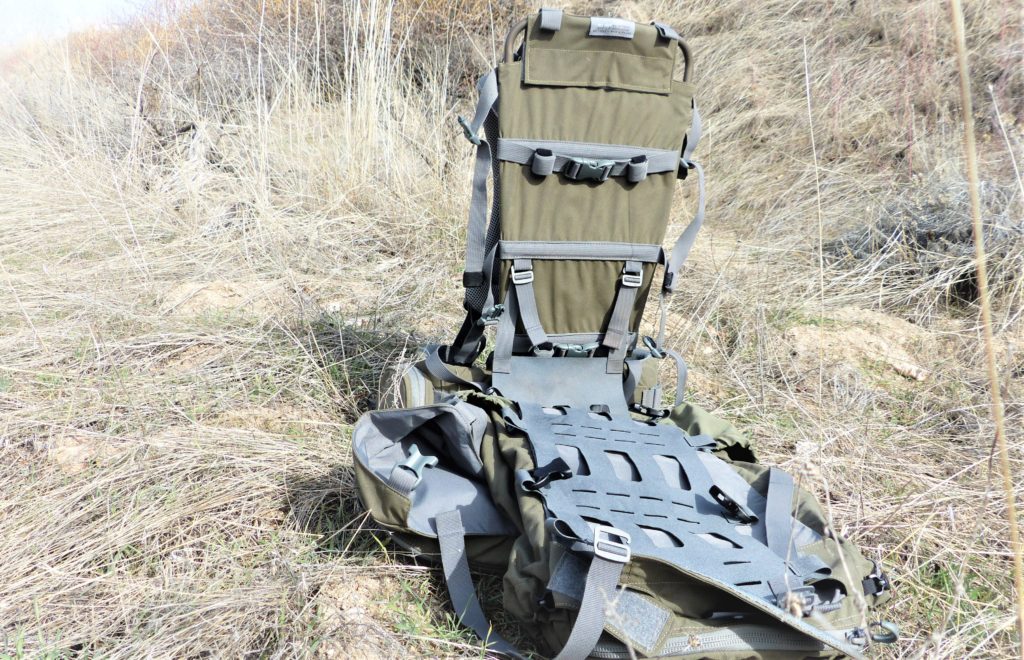 This was an area I expected the new Exo K3 4800 frame to excel, and I wasn't disappointed at all. Exo Mountain Gear packs have historically had a reputation as great load-hauling packs, so it didn't surprise me that this new K3 frame was awesome. I tested this Exo K3 4800 pack with anywhere from 25 to 100 lbs and was incredibly impressed.
If you've ever hauled over 100 lbs out of the backcountry for any length of time, you know that gravity is what a pack faces in keeping the load from sagging/sliding down your back on to your glutes, restricting your muscle movements, adding unwanted strain on your shoulders, and just being uncomfortable. That was NOT the case with this Exo K3 4800 pack. Out of all of the packs I've tested, this one was one of my favorites in the heavy load hauling department.
Exo K3 4800 Review Bag Configuration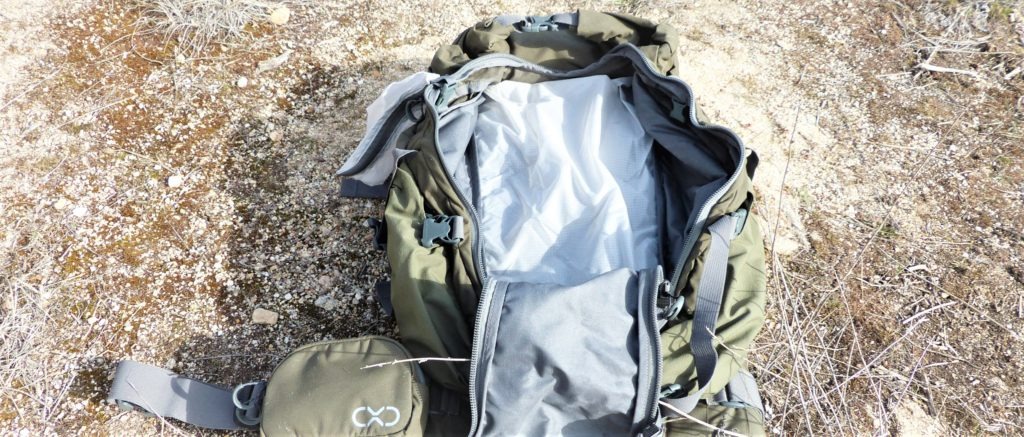 The K3 4800 has a great pocket configuration for my personal needs, without adding a bunch of weight. The Exo K3 4800 weighs in at just 5 lbs 6 oz, which is impressive given how well it handled a heavy load. The Exo K3 4800 offers you one main bag with a water bladder pouch and clip to keep your bladder from ending up at the bottom.
You also get two small side pockets on this pack, as well as a small pocket on the lid, with two large pockets on each side of the pack that run the entire length. I found these large side pockets perfect for a spotter and tripod, or tent and trekking poles. The small mesh pocket on the inside of the u-shaped zipper is super handy as well and another organizational win.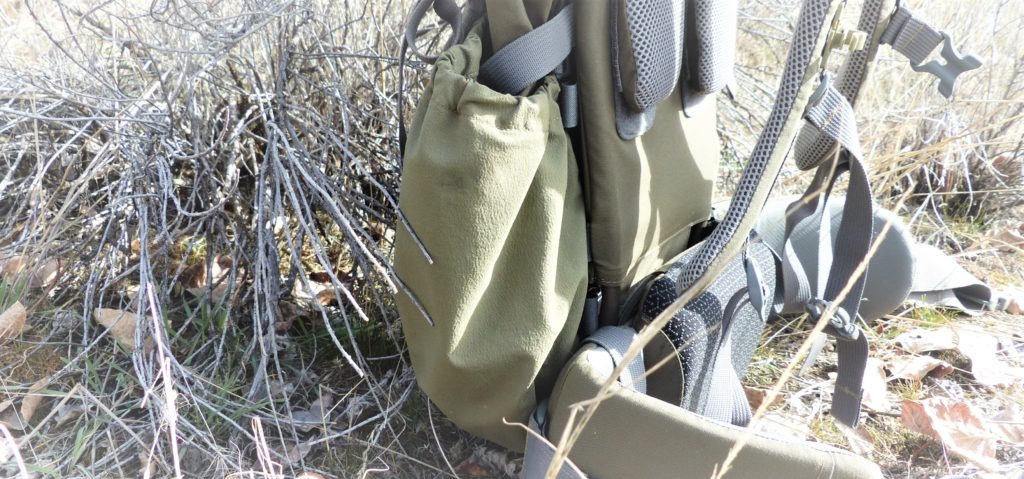 If you like having your gear organized even further, you can pick up something like the VIAM Outdoors G3 Gear Grabs and organize your gear in those, then throw them in the main bag. If you are someone who likes to have a bunch of pockets integrated into the pack for organization, you may want to look at another pack as the Exo Mountain Gear pack isn't really designed to have a ton of pockets.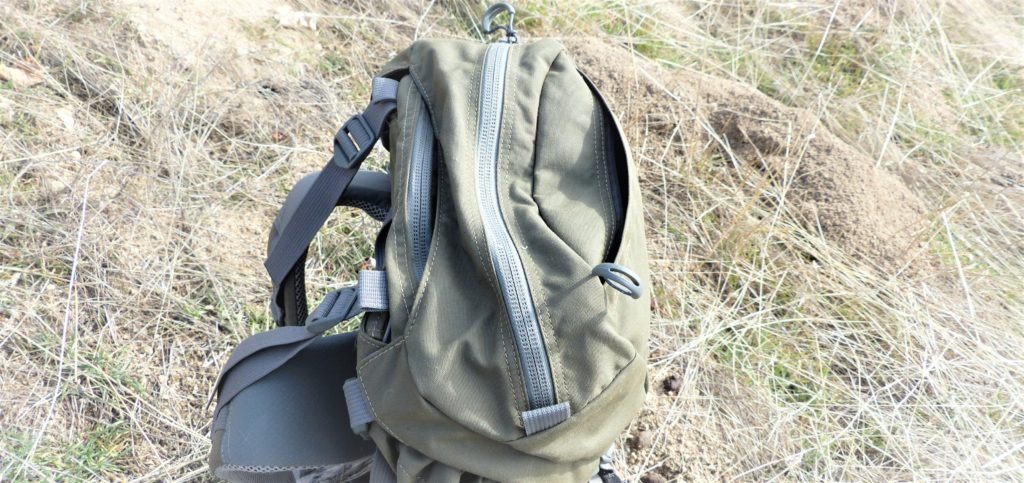 The new K3 lid comes with a new smaller pocket that is perfect for your keys or wallet. The K3 lid also offers you the option of clipping in a stash pocket in the main compartment to add extra organization.
Exo K3 4800 Review: exo Pack Accessories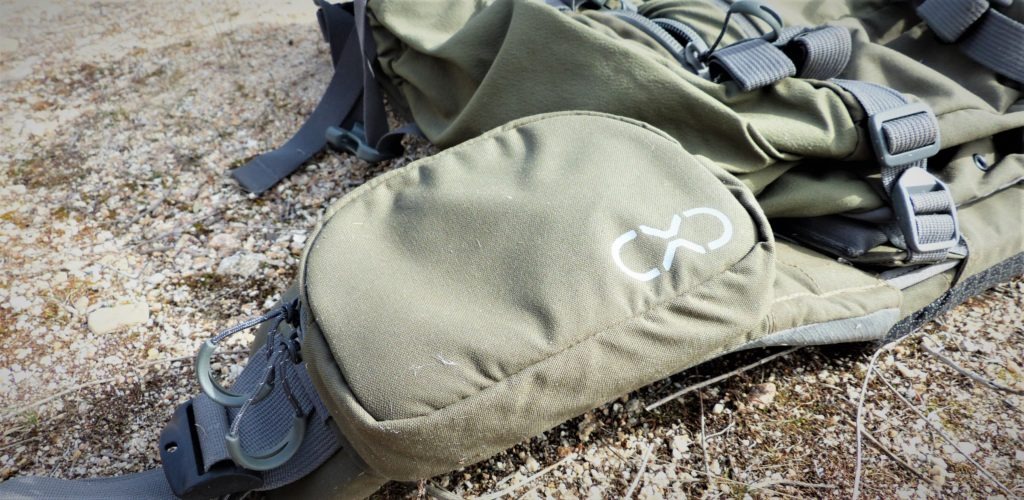 Exo Mountain Gear packs offer you a number of great accessories to complete your pack for just about any hunt. I've had the chance to play with most of them, and I can say they all serve a specific and defined purpose. You've got the option to add:
Exo K3 Crib Load Panel
Exo K3 Stash Pockets
Exo K3 Hip Belt Pouches
Exo K3 Dry Bag
Exo K3 Slurpy Stalker
Exo K3 Hipbelt Pouch Cartridge Insert
Exo K3 Bow Carrier
Exo K3 Rifle Carrier
Exo K3 Lumbar Insert
Exo Strap Keepers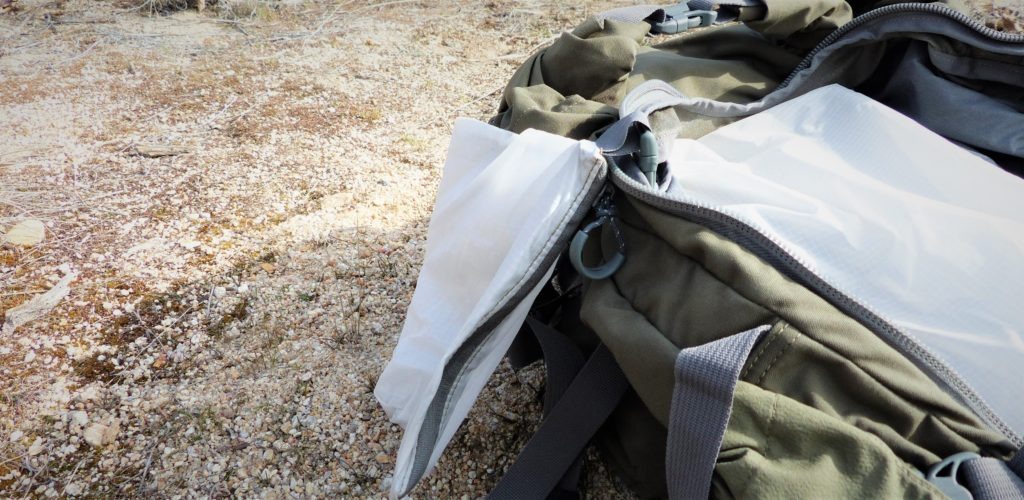 As you can see, there are a ton of different accessories available for Exo Mountain Gear packs. They all have their place, but for me personally, I find myself always taking the Exo K3 crib load panel, stash pockets and hip belt pouches. I'm a bit OCD and don't like straps hanging everywhere, so I usually pick up some strap keepers as well to keep everything in order. The dry bag is awesome, especially if you are in a wet climate or just want an awesome place to make sure your things stay dry.
The new K3 rifle cartridge insert is a slick idea and one I picked up as well. I didn't get a chance to use the K3 rifle carrier, but I love the idea of keeping the weight of the rifle off your shoulder and transferring it to the pack. I can't wait to give it a test run! The new K3 bow carrier is a huge improvement over the previous model and provides a better fit and more protection for your cam.
Exo K3 4800 Review : What I liked

Load Hauling Ability
There was just a ton to love about this Exo K3 4800 pack. First and foremost, was the way this pack carried a load. It edged out the competition with a heavy load for me personally. I love how the new K3 tri-fold system makes detaching the bag from the pack quick and simple. The crib load panel is a must have of the accessories and keeps your load secure and tight to the frame.
Exo K3 U-Shaped Main Zipper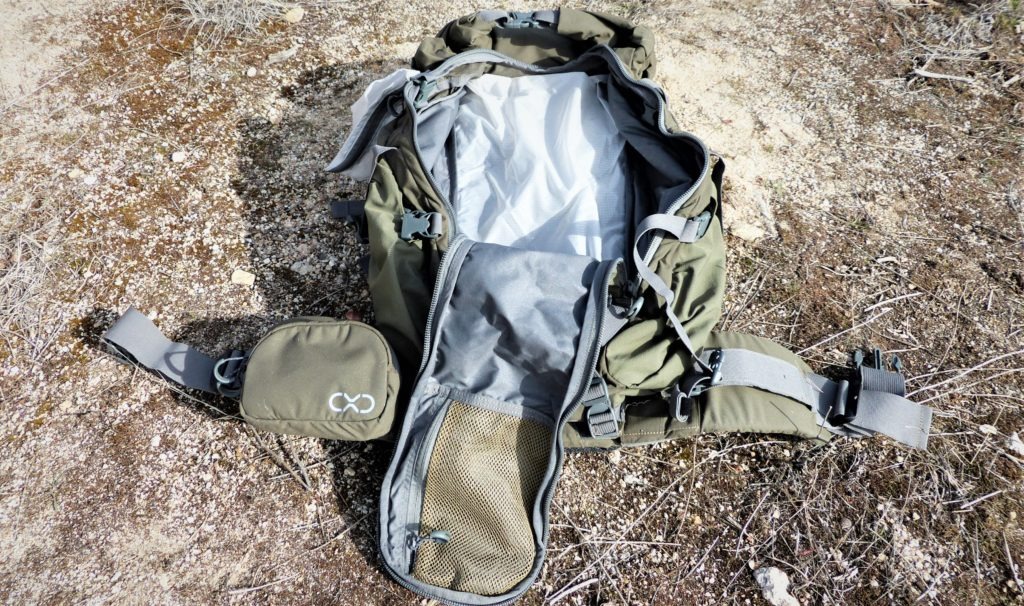 The new u-shaped zipper featured in the K3 bags is a big upgrade in accessibility and usability. It makes accessing your gear so easy and makes packing for the trip a breeze. Big win here for Exo Mountain Gear! Because of this new zipper, I also like how the stash pockets can be attached, one on each side of the bag. This helped me stay even more organized.
Exo K3 4800 Hip Belt

I really like the design and comfort offered with the Exo Mountain Gear K3 hip belt. The belt is super comfortable with its dual density foam, and adjustment is quick and easy. Once set, it really does an amazing job of keeping the pack where you set it. Great setup design here that keeps the load where it is intended to be and frees up your legs and glutes to do their work!
Load Hauling Ability
As I mentioned before, Exo Mountain Gear packs are known for being great load haulers. The Exo crib load panel gives you the ability to keep the weight from sagging down to the lower part of the pack and allows you to adjust the load height as well. If you've hauled a heavy load, you've probably experienced the discomfort of a poorly loaded pack where the weight sags down too low. It's very uncomfortable to say the least. This Exo K3 crib panel does a fantastic job of keeping the weight on the upper 3/4 of the frame.
Shoulder Harness
Personally, the Exo K3 pack shoulder harness is one of the most comfortable I've tested. I also loved the harness of the Sitka Mountain hauler pack (see my review on that pack here), but the Exo K3 pack is just SUPER comfortable. The blend of dual density foam, pad width, and new flex material at the top of the harness straps makes the comfort level of this pack amazing.
Exo K3 Pack Side Pockets
Having the large side pockets to stuff a spotter, tripod, trekking poles or tent really makes a difference in accessing your gear. I've heard some say they've had difficulty using these side pockets while the main bag is stuffed full, but I personally haven't had that problem yet. With that being said, I typically use the side pockets for quick access once I've dumped camp and am in hunting mode.
Exo K3 4800 Review: What I didn't like
Lack of Molle Webbing
If you are someone who uses molle attachments, Exo Mountain Gear packs might not be your best option. They don't feature places on the exterior of the pack to attache molle accessories, so you are out of luck there. I personally don't have any molle attachments so it didn't bother me, but I know a lot of guys like to have that option. Molle webbing adds weight, so it depends on your personal preference.
Exo K3 4800: Lumbar Pad Play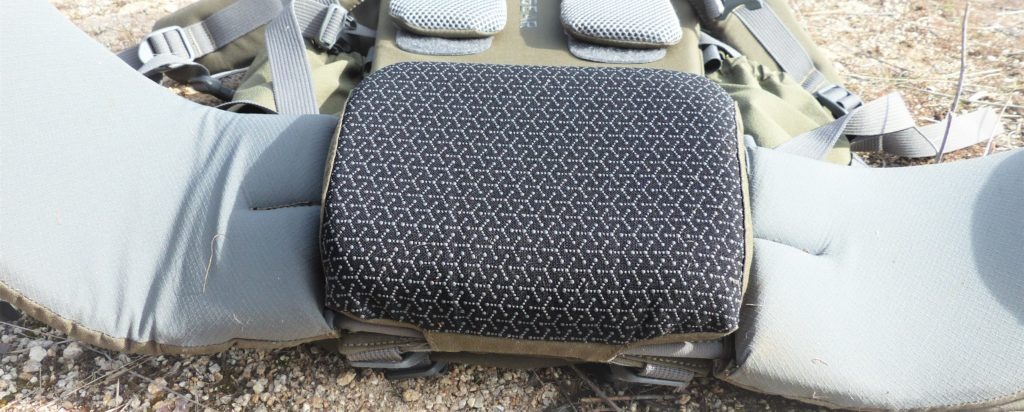 One thing I've noticed with both the K2 and Exo K3 pack lumbar pads is that there is a bit of play or vertical movement. Try as I might, there is no way to get the play out. While I didn't notice any functional affect from this play, it just seemed odd to me that I could grab the lumbar pad and move it up and down. At the end of the day, and with the way the Exo K3 pack hauled weight, it's hardly a complaint but rather something that seemed odd to me that I took note of.
Exo K3 4800 Pack Lid Play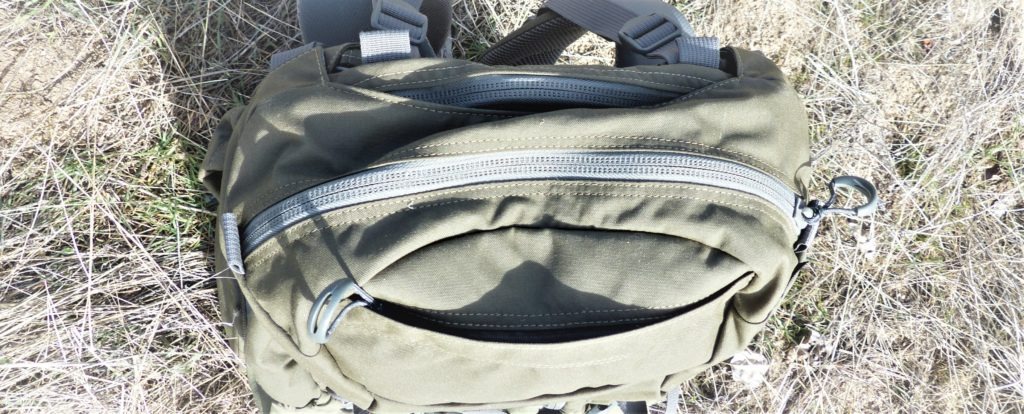 One last thing that I didn't care for was the way the lid of the Exo K3 4800 Pack slipped over the frame during use. The initial lids that were sent out with the K3 had this known issue, so Exo Mountain Gear replaced the lids for folks. Once again, fantastic customer service. I was, however, still disappointed in the fit of the new lid. During field use I found that this new lid still seemed to slide down. The only way I found to keep the lid from slipping down on the bag was to make sure the buckles were absolutely snug.
Even when it was snug, the lid seemed to sit a bit funny on the top of the pack. With such a high quality pack, I'd like to see a lid that you don't have to fight with to keep from slipping down on the pack. You can see in the picture above how the "arms" on the lid have a design where they can too easily fall off the sides of the frame when the strap is loosened. When that happens, the pack looks a bit odd with the lid sliding down to the upper third of the pack.
Again, it's easily fixed by snugging down the two straps to the frame, but I just don't like having to do that to make sure the lid doesn't fall down.
Exo K3 Pack Frame Issue
I can only imagine the difficult decision it was to bring to light the K3 frame issue and decide to replace ALL of the frames. Undoubtedly, it was a huge letdown after all of the testing, research, time and money they put into developing a new frame. I think many people were bummed it didn't work out and that it wasn't what everyone had hoped for, but as I mentioned above, you couldn't ask for a more amazing response from Exo Mountain Gear. FLAT. OUT. AWESOME. We all have to make the best of a bad situation sometimes, and they did exactly that. Thanks, Exo Mountain Gear for taking it head on and being proactive!
See The Exo K3 4800 Video Rundown!
Exo K3 4800 Review: Conclusion
So would I recommend the Exo Mountain Gear K3 pack? Without hesitation! We all have different needs and wants in a pack, and that's entirely a personal decision. Packs fit everyone differently as well, so what was a great feeling pack for me may be horrible for you. If at all possible, it's always best to try on a pack before deciding if it's the best fit for you. They are kind of like boots; they fit everyone differently. Exo Mountain Gear makes some amazing backcountry hunting packs, and for me they were extremely comfortable and functional.
See how the Exo K3 Stacks up Against the Competition
How to Fit and Exo Mountain Gear Pack
Check Out the Exo k3 Accessories
Which One is Best for You?
Subscribe to Backwoods Pursuit to get Your FREE Backcountry Gear Worksheet!!!
Dial in your gear list, calculate your pack weight, and lighten up your pack with this handy tool!