Looking for a tripod gun mount that is specifically designed for the hunter? In this Field Optics Research FlexLite GunPOD review, we take a look at the new Field Optics Research FlexLite GunPOD. The FlexLite GunPOD was designed with the hunter in mind, shaving weight, adding flexibility to work with most guns out there, and providing a solid shooting rest for those situations when you aren't able to get prone or just prefer to take a sitting or standing shot.
Make sure to check out our ultralight hunting tripod review to pair this Field Optics Research FlexLite GunPOD with a great tripod!
Field Optics Research FlexLite GunPOD Review: Design

The FlexLite GunPOD is a tripod gun mount that was designed for the hunter. It's a lightweight tripod gun grip that attaches directly to your tripod (you may need an adapter, but we'll cover that below), features a unique flex design on one side of the grip, is MADE IN THE USA, and is composed of machined 6061-T6 CNC aluminum. That's only the 30,000 foot overview, so let's get into more of the details.

Another very unique design feature is how the bottom rubber pad has notches spaced to lock on to your Picatinny rail to help reduce recoil (if your rifle has a Picatinny rail). Pretty slick and subtle design feature!
Field Optics Research FlexLite GunPOD: Specs
The Field Optics Research FlexLite GunPOD boasts some impressive specs. It's obvious it was designed with the hunter in mind. From its Arca-Swiss base, light 12 ounce weight, flex feature, and rubber grip it works great with your hunting rifle.
Weight: 12 oz
Base: Arca-Swiss
Material: Machined 6061-T6 CNC aluminum
Knob: Round
Recoil Lug
Left or right hand use
Dual moving sidewalls
Flex sidewalls automatically adjust
Field Optics Research Gun Pod: What does FLEXLITE Mean?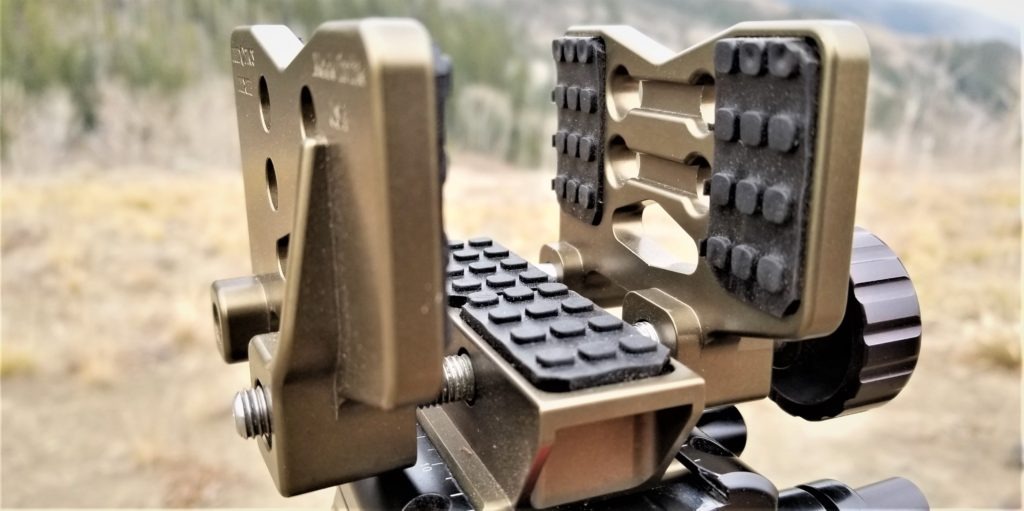 You might be wondering, How does this thing "flex" if it's made of 6061 CNC aluminum? Well, that's the beauty of the design. As you can see in the photo above, the knob that tightens the FlexLite GunPOD to the gun stock is located in the rear of the FlexLite which is a heavy duty bolt that closes the FlexLite gun clamp down on the stock. On the front of the FlexLite Gun Mount is a smooth post that allows each side to slide in and out depending on the width of the gun stock you are using. This allows the Field Optics Research FlexLite GunPOD to "flex" +/- 4 degrees.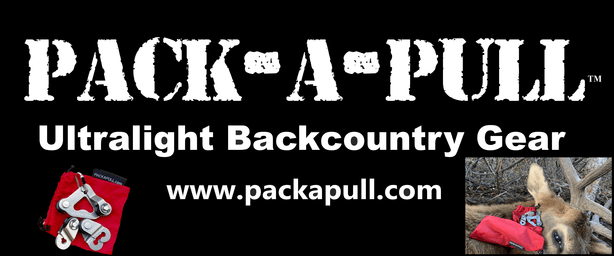 It's probably a little easier to show you how these sidewalls flex and the adjustments that can be made, so check out the video below to see how it works!
Field Optics Research FlexLite Tripod: Gun Mount Base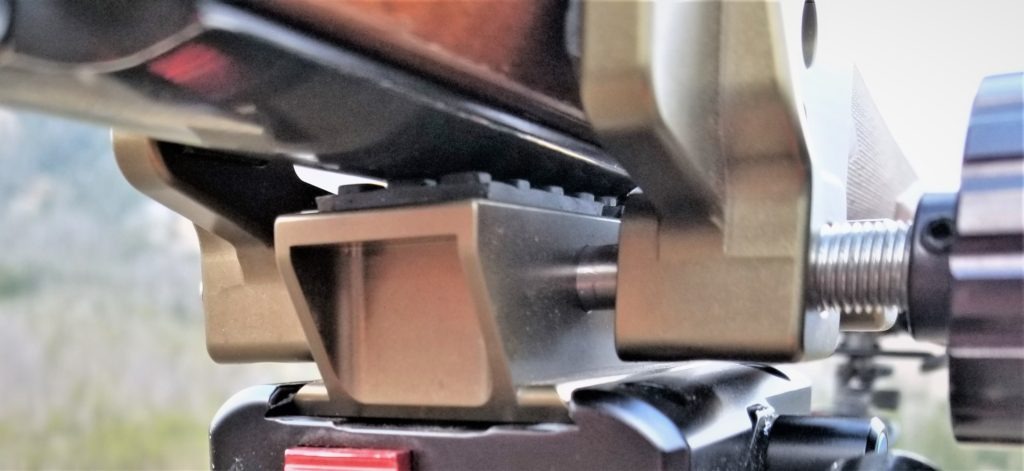 The FlexLite comes equipped with an Arca-Swiss base designed to slide right on to your tripod head if you are using a tripod head with Arca-Swiss. Personally, I use an Arca head, so this worked perfectly. Not having to use an additional adapter plate saves weight and cost.
FlexLite Tripod Gun Saddle Grip Features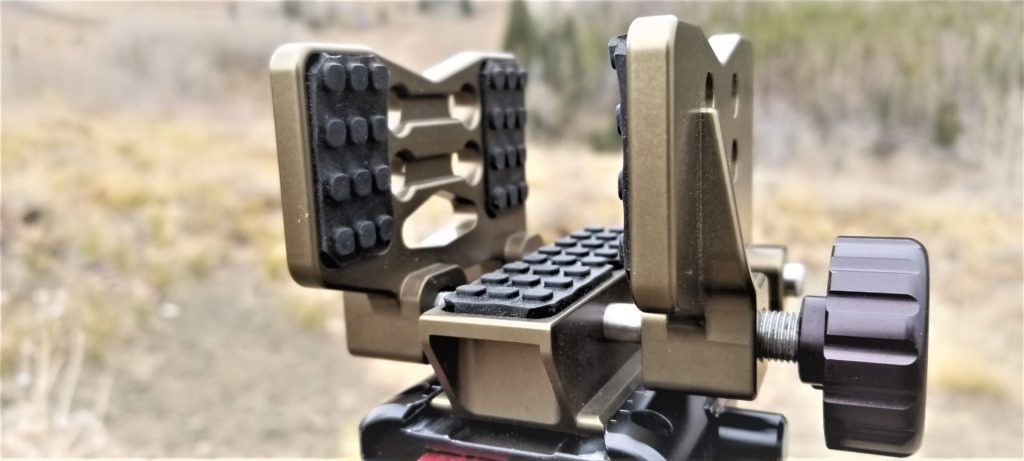 The FlexLite tripod gun grip gives you curved top sides with rubber pads to enhance its grip on the gun. You can kind of see in the picture above that the pads curve in at the top to help provide additional grip and holding strength.
How the FlexLite Tripod Gun Mount Performed in the Field
I was able to field test the Field Optics Research FlexLite in the field in a number of different situations, weather scenarios, and positions. Temperatures ranged from a pleasant mid 40's down to -15 degrees Fahrenheit, and in every condition this Field Optics Research Gun Pod performed great. The "flex" design did get hung up once when tightening it down, but that was quickly corrected by loosening the knob, which freed it up again.
Field Optics Research FlexLite GunPod Reversible Knob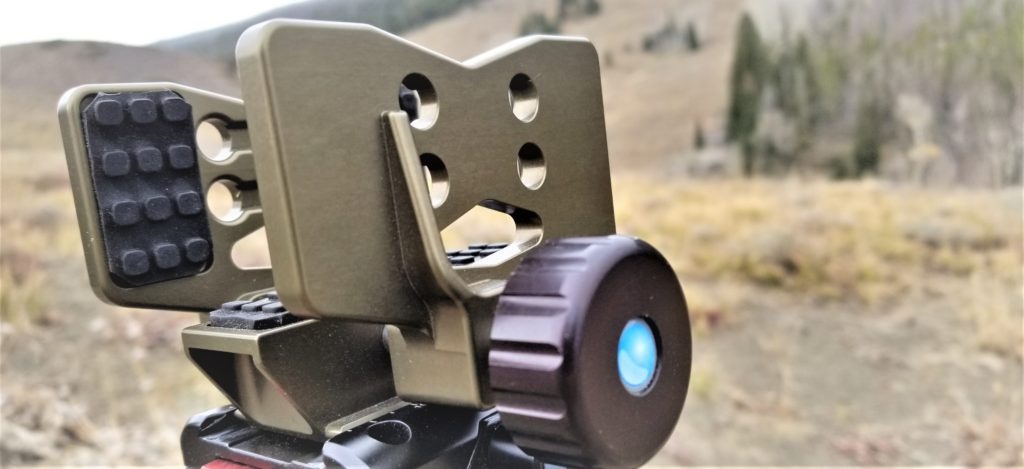 Another awesome feature of the FlexLite GunPOD is the reversible knob. Whether you are right or left handed and want the knob on the right or left hand side, you can easily move the knob from one side to the other via a small Allen screw. Another reason having this flexibility is nice is that not all tripods are designed the same. If you have a tripod where you tighten down the quick release plate on the right hand side, you might want to have this knob on the left hand side so you have room to operate both knobs.
Field Optics Research FlexLite GunPOD Stability

Obviously, the reason you bring something like the FlexLite Tripod Gun Mount system into the field is to help you make a clean, ethical shot. As you can image, you'll need to have time to set this up with your tripod, and that's not always the way things work out in the field. But in a lot of cases, when you do things right, you have time to get it set up and execute a great shot. For me, I'm always looking for a prone shot using an Atlas PSR Bipod or a Magpul Bipod, or something like the Spartan Precision Javelin Bipod attached to my gun.
There's just nothing as stable as a prone shot with a good bi-pod and good rear support, but the reality is that sometimes that just isn't possible. That's when this FlexLite GunPOD can really come in handy. In fact, I was in multiple situations this year where getting a prone shot wasn't possible, but having this FlexLite GunPOD atop my tripod made the difference. For me, it's a piece of gear I'll happily carry to give me more opportunity to make a good shot in the field.
One last thing to note, something that is EXTREMELY important, is the quality of your tripod and head. A good quality setup greatly affects the stability of a system like the FlexLite GunPOD, so spend the money on a quality tripod and you'll get much better results from the FlexLite.
FlexLite gunPod Use: Tips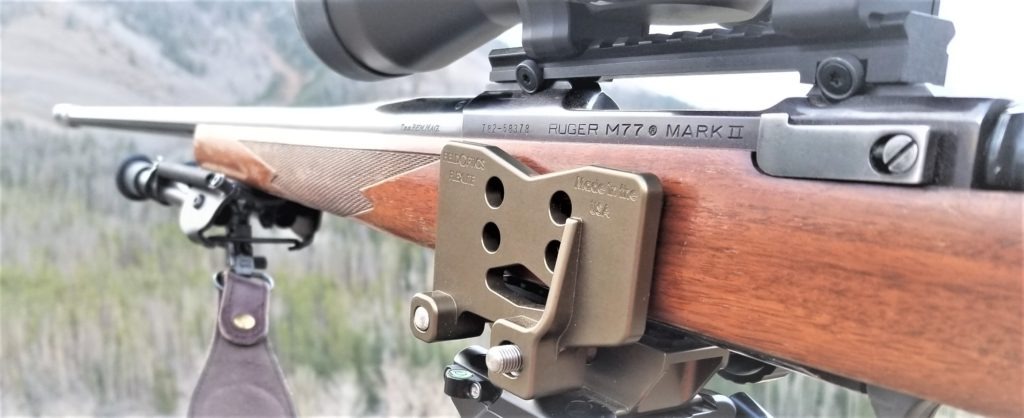 I found that, as with all tripod gun mount products, the Field Optics Research FlexLite provided good stability when your gun is centered on it, but also works very well when you move the Flex Lite out to the end of the stock, furthest from you. This allows for the most use of the "Flex" feature and gives additional stability placing contact points at your shoulder and at the end of the stock.
I also found that, while you can really use the FlexLite in any position, when the knob is in the rear closest to the trigger of the gun, it seemed to be slightly more stable for me. Other than those two things, it's really pretty simple. Center your gun in the FlexLite, tighten it down, and get settled for a shot.
I found that the FlexLite is a piece of gear that is super useful for those steep uphill or downhill shots that sometimes present themselves, as well as those times when you need to have your gun elevated in thick brush, etc. for a sitting or standing shot. You can use a pack, stump, or whatever else you can find, but the FlexLite tripod gun mount system simply provides better stability.
Field Optics Research FlexLite GunPod Review: conclusion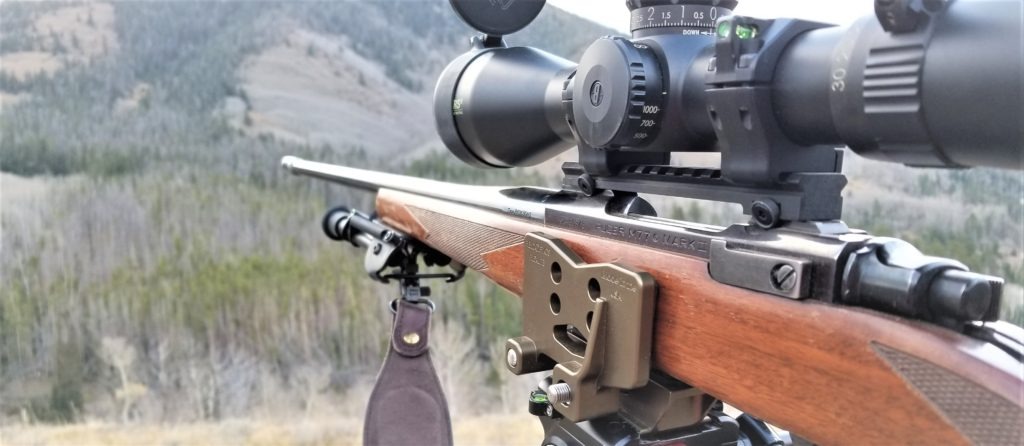 After using the Field Optics Research FlexLite GunPOD system, I was extremely pleased with how it functioned and the stability it provided. This is a great piece of gear to have for anyone from the experienced shooter to a young shooter who is just a beginner. As a kid, if I'd had something like this, I would have had a lot more shot opportunities and less times trying to figure out how to get stable for a shot. This Field Optics Research FlexLite GunPod will be going with me from now on!
Subscribe to Backwoods Pursuit to get our FREE Backcountry Gear Worksheet!!!
Dial in your gear list, calculate your pack weight, and lighten up your pack with this handy tool!