A while back we started testing rangefinders for this review series, and as an avid hunter I wanted to do a detailed GPO RangeTracker 1800 review to see how it stacked up against the competition. GPO, or German Precision Optics, isn't a name you may have heard a ton about, but this little rangefinder is big on performance.
Want to see how the GPO RangeTracker 1800 stacked up against several others that we tested? Check out our "Best Rangefinder for Hunting" review where we put these 5 side by side!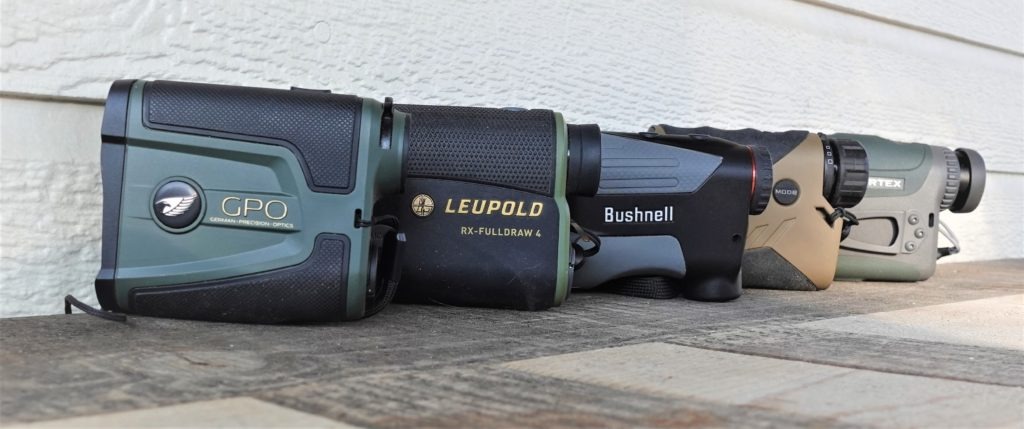 Looking for a spotting scope? Check out our MASSIVE SPOTTING SCOPE REVIEW where we put 19 of the best spotting scopes side by side! Also, make sure to check out our MONSTER 26 BINOCULAR REVIEW. We lined up 26 pairs of the best binoculars we could find and tested them side by side!

GPO RangeTracker 1800 Review: The Testing
As we typically do here at Backwoods Pursuit, we field tested the GPO RangeTracker 1800 Rangefinder over the course of a year. I used the GPO RangeTracker 1800 during the summer at 3D shoots as well as during my archery and rifle seasons. This gave me a great feel for how this rangefinder operates; its strengths, weaknesses, and areas in need of improvement.
In our search for some of the best rangefinders on the market we came across a lesser known company; German Precision Optics, or GPO. While I didn't quite know what to expect from this little GPO rangefinder, the GPO RangeTracker 1800 Rangefinder was one I was excited to try because of its size, weight, and simple design. This little rangefinder is the perfect size to fit in your pocket and is the lightest in the group we tested, at an incredible 5.6 ounces, while exceeding its stated effective ranging ability. Let's get into the details.
GPO RangeTracker Specs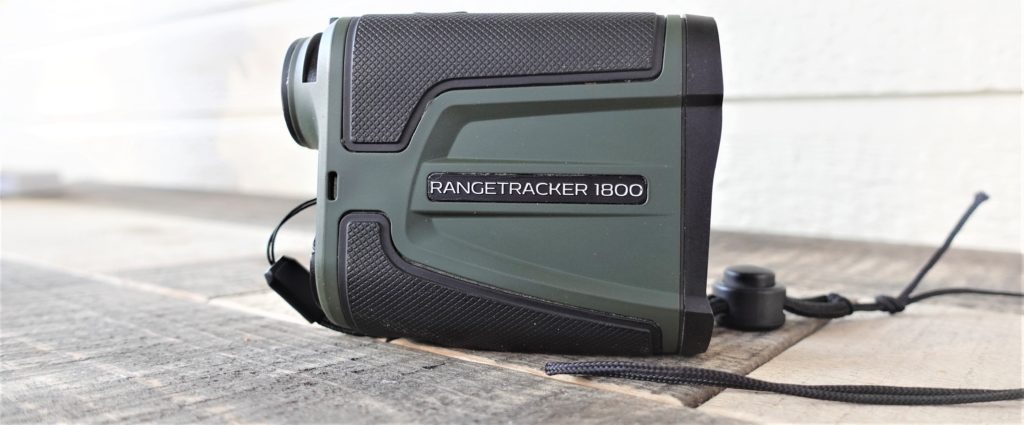 The GPO RangeTracker 1800 Rangefinder features some impressive specs, particularly its weight and small size. At just 5.6 oz, the Rangetracker 1800 is feather-light but rich on performance.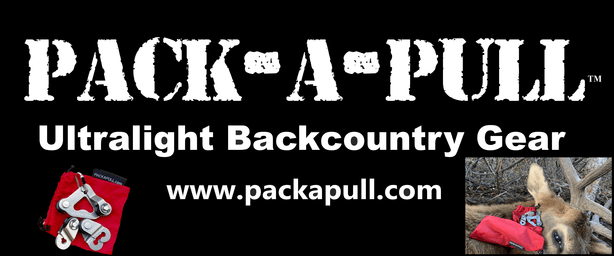 Here are some of its specs and features:
Weight – 5.6 oz
HLCD black display
True-Range angle compensation technology
Hyperscan gives 3 ranges per second
Target seeker (best or last laser hits)
Super small & compact
6x magnification
Crisp, clear display
GEO Bright coating
Over 1800 yd ranging ability
Its crisp, clear, clean display, ease of use, and the way it over-performed during testing really stood out. Those things combined with its compact size, super light weight, and fantastic ranging speed make this a fantastic choice.
GPO RangeTracker 1800 Review: The Buttons

I love the simple and effective use that the GPO RangeTracker 1800 offers, with no frills just everything you need in a rangefinder. Throughout the course of testing for this GPO RangeTracker 1800 review I loved the design of the button. One simple "fire" button on top and a mode button on the side helps keep things simple in the field. Now, I did notice that the fire button did have a slight "mushy" feel too it. It doesn't give you that nice, crisp "click" like others we've tested. With that being said, it was still very smooth in operation.
GPO RangeTracker 1800 Optics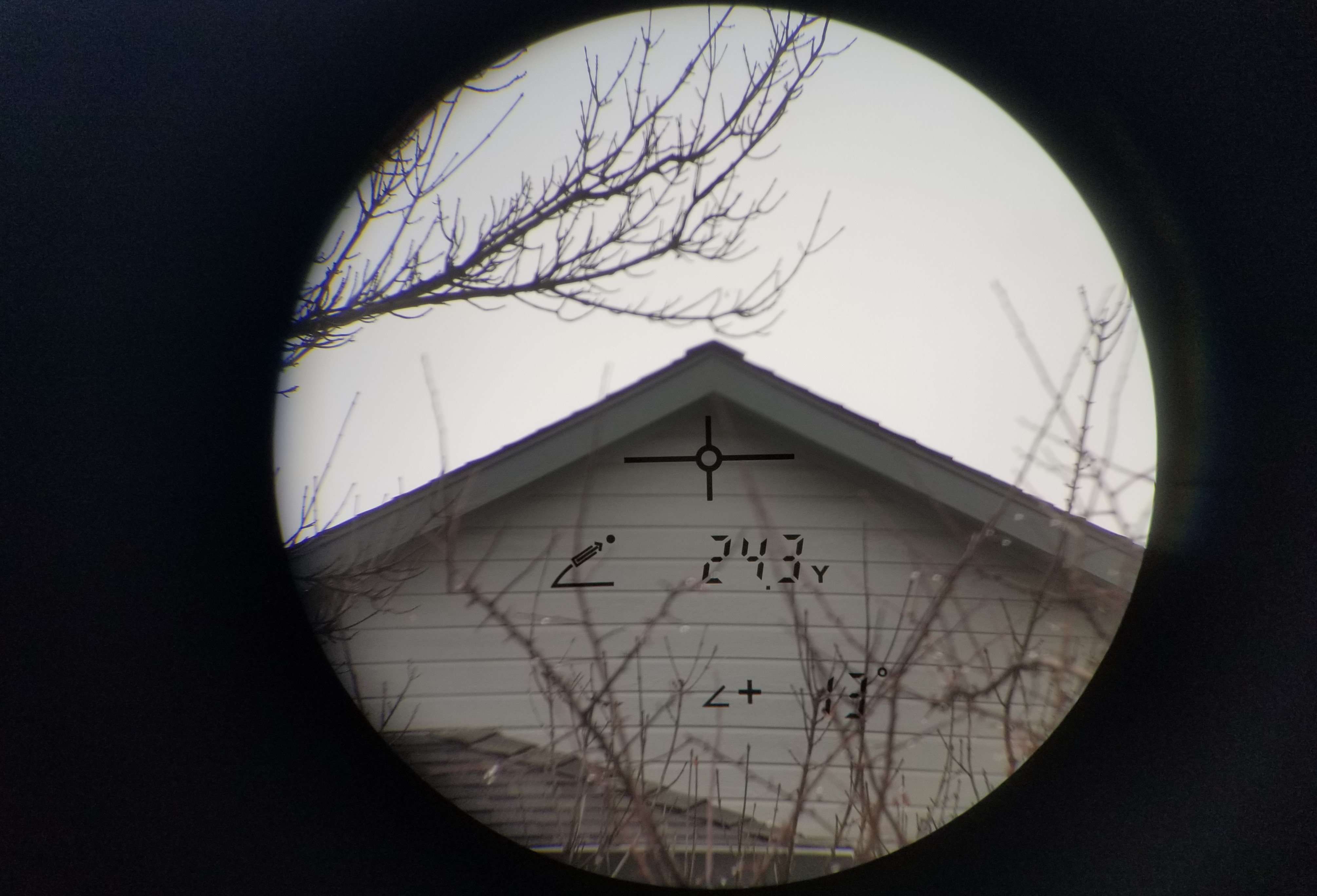 Throughout the testing I was super impressed with the optical performance. It gives you a very crisp and clear image that honestly really impressed all of us who tested it. One yardage keeps things simple, the angle compensation image lets you know you are in angle range compensation mode, and the degree of the angle below the number is really all you need in a rangefinder.
GPO Range Tracker 1800 Review: What I liked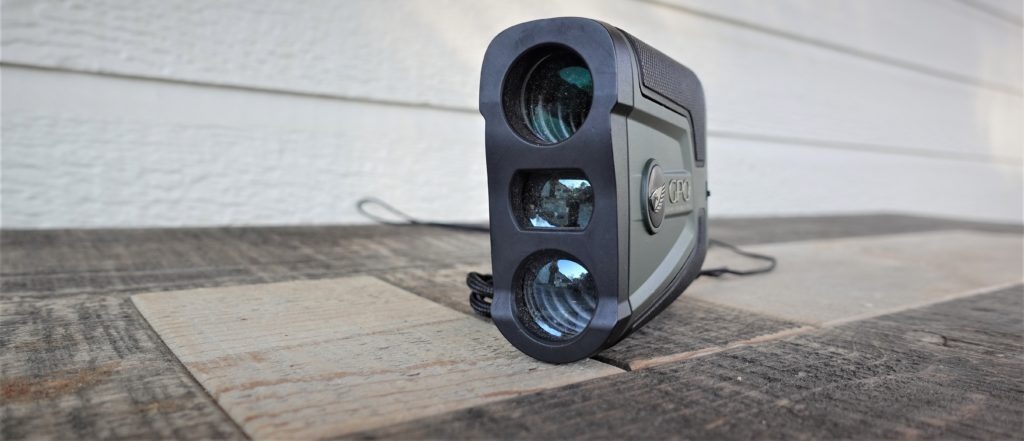 GPO RangeTracker 1800 Review: Overall Performance

While the GPO RangeTracker 1800 may not be the overall best rangefinder for hunting if you are looking for the best rangefinder for bow hunting AND the best rangefinder for long range shooting, it is certainly one to consider if you are looking for an all-around fantastic optic that will get the job done in most folk's hunting situations. From its rapid ranging speeds, to over-performing its ranging distance specs, to its weight and feel in hand, this is an incredible little unit.
Size/Weight/Feel

As I mentioned earlier, I LOVED the size and weight of the GPO RangeTracker 1800 Rangefinder. It flat out feels great in your hand, has rubber grips in the right spots, and while it's super light weight, it doesn't feel cheaply made. While it's partially constructed of plastic, it gives you a solid, well-built feel.
Uncluttered Display
I love the display of the GPO RangeTracker 1800. It's simple and gives you what you need to know to make the shot: an aiming reticle, the yardage, and the angle of the shot. I like a simple uncluttered display, so the GPO RangeTracker 1800 was a perfect fit for me.
Impressive Ranging Performance
Another reason the GPO RangeTracker 1800 is a best rangefinder for hunting option is that it doesn't just meet the stated ranging ability, but it blows it away! The specs state it will range from "6 to over 1800 yards," but we found that this little unit can return ranges of 2200 yards on a grassy hillside! It even scanned well at that distance for us. We were blown away!
GPO Range Tracker 1800 Rangefinder: What I didn't like
Even though there are a ton of reasons to love the GPO RangeTracker 1800, there are a number of things we felt could have been better:
No Eye Relief Adjustment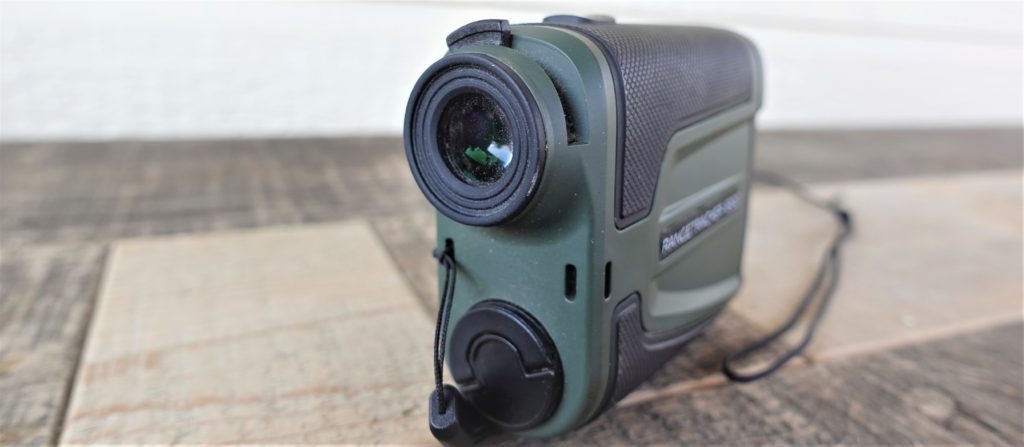 Unlike several others in our big rangefinder review, the GPO RangeTracker 1800 didn't have any eye relief adjustment. That's certainly not unheard of in a rangefinder, but it would have been nice to have it available. On the other hand, that's one of the weight savings you get with the GPO rangefinder, which is one of the things we loved about this GPO rangefinder.
Slightly "Mushy" Feel to the Button

We found the range button to be a little bit "mushy," but it really wasn't bad at all. The GPO RangeTracker 1800 doesn't feature that audible click that others offer, but at the end of the day, it didn't create any notable performance difference. Maybe it's just a personal preference, but I like hearing and feeling the "click" when ranging.
Black Display
While I love the overall display of the GPO Rangetracker 1800, I really wish it had a red display. The black display makes it a little more difficult to see the readings in low light situations, which is where that red display really shines.
Focus Mechanism
I also wasn't a huge fan of the focus mechanism on the GPO RangeTracker 1800. From time to time, the focus lever would get bumped in between uses while in my bino harness, and I'd pull it up to find it a little out of focus. Adjustment is quick and easy, but it would be nice if it locked into place or was in an area less likely to be moved accidentally.
GPO RangeTracker 1800 Rankings
Ranging Speed
Ease of Use
Optical Quality
Price Point
Overall Ranking
Range Tracker 1800 Review: Conclusion
Even though you may not have heard a lot about this GPO rangefinder, after putting it through the paces for this GPO RangeTracker 1800 review, you may want to consider adding it to your arsenal. It's a great all-around rangefinder that gives you plenty of ranging ability, crystal clear optics, super fast ranging speed, and angle range compensation, all in an ultralight, compact package. Check one out and I don't think you'll be disappointed.
Subscribe to Backwoods Pursuit to get Your FREE Backcountry Gear Worksheet!!!
Dial in your gear list, calculate your pack weight, and lighten up your pack with this handy tool!