We love optics here at Backwoods Pursuit, so naturally getting to do a Kowa TSN 883 review was an absolute privilege. When you are trying to decide what the best spotting scope is for your needs, there's simply nothing better than getting to put it to the test in the field side by side with a number of other spotting scopes. When right next to each other, you can really start to see the differences.
Amazingly, that's exactly what we had the chance to do for this series of spotting scope reviews. Our goal for this project was to find the best compact spotting scope, the best 65 mm class spotting scope, the best 85 mm class spotting scope, as well as the best values in each of the categories. Make sure you check out all of the other spotting scope reviews here on the website as well as over on the Backwoods Pursuit YouTube Channel!

Want to see how the Kowa TSN 883 Spotting Scope performed next to 18 of the best spotting scopes on the market? Check out our MASSIVE SPOTTING SCOPE REVIEW where we lined up 19 of the best spotting scopes we could find and put them to the test. Side by side with volunteer testers, no brand loyalties (at least as much as humanly possible), many lighting conditions, and 14 guys ranking these things. What an awesome project to put together! This is a product of over 2 years of work, research, and testing for this review. You don't want to miss this!

Dive into the details on every one of the spotting scopes in the review above by becoming a Backwoods Pursuit Member (totally free) and you can download the data we used to put this review together.
Kowa Optics: Taking the Hunting Industry By Storm

Kowa Optics may not be a brand you are all that familiar with in the hunting world, but you probably should be as they are growing quickly in recognition among hunters. A long time staple in the birding circles, Kowa features some top-notch optics, so we wanted to put together this Kowa TSN 883 review to test it out.  We had heard some great things about the Kowa TSN spotting scopes (and I'd had the chance to test one in the past), so putting together this Kowa TSN 883 review was a must.  For this review, we tested the Kowa TSN 883.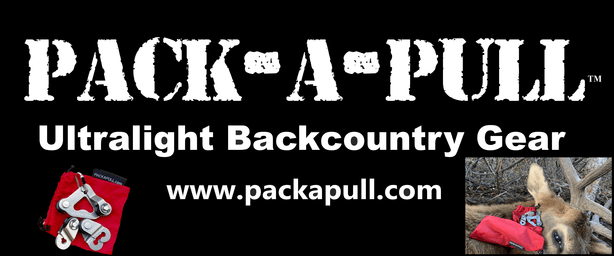 We set out to put together the biggest spotting scope test and review possible, to help folks make an educated decision on what spotting scope will best fit their needs and budget. Want to see how the Kowa TSN 883 Spotting Scope ranked in that massive test and review?  Check out our massive review "The Best Spotting Scopes For Hunting"!
Looking for a binoculars? Check out our MASSIVE 26 BINOCULAR REVIEW where we put 26 of the best binoculars side by side!
Kowa TSN 883 Review: The Testing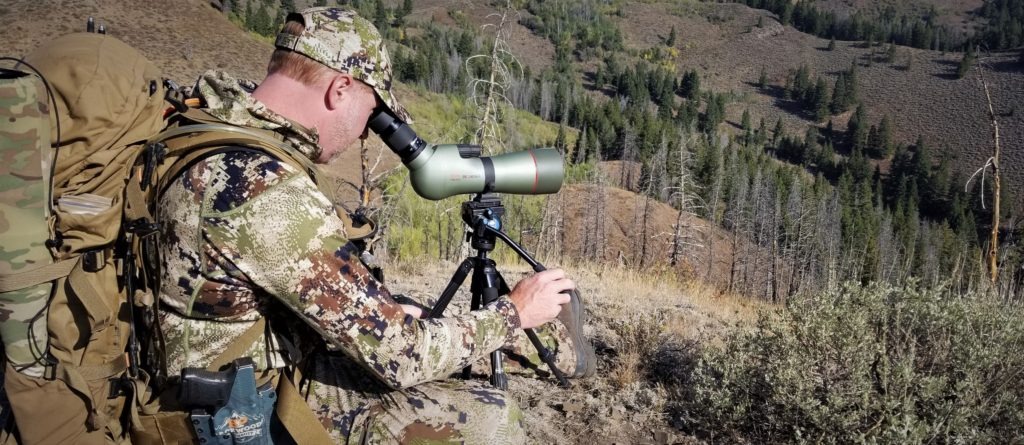 The Kowa TSN 883 was part of the huge comparison review, but we also wanted to go into more detail than we could provide in that article.  We were able to field test the Kowa TSN 883 throughout the 2020 scouting and hunting seasons, as well as include it in our group testing to get the opinions of 14 avid hunters.
Kowa TSN 883: Specs

The Kowa TSN 883 features a large 88 mm objection lens that gathers a ton of light for top-notch, low light performance. Make sure to see how the Kowa TSN 883 stacked up against the competition in our "Best Spotting Scope For Hunting" review! Here are some of its specs:
25-60x wide angle eyepiece
Massive 88 mm objective lens
Pure fluorite lens
Signature Kowa dual focus system
Magnesium alloy body
Sun shade
Twist up 4 position eyepiece
Weight: 65 oz
17 mm eye relief
No rubber armor
Price: $3,150
Kowa TSN 883: Pure Fluorite Crystal


Kowa Optics features their premium pure fluorite crystal in the Kowa TSN 883 spotting scope.  If you've never looked through a spotting scope with pure fluorite glass, you're missing out.  It's kind of like going from 1080p to 4k Ultra.  It just gives you that extra pop and clarity in the image, colors, and brightness.  Do you "need" pure fluorite glass?  Absolutely not.  Does it give you that extra little bit of clarity, color, and performance that optics enthusiasts love?  Without a doubt.  In practical hunting situations, you likely don't "need" the extra little boost the pure fluorite glass of the Kowa TSN 883 gives you, but man is it nice when you have it.
This last hunting season my brother and I were glassing deer several miles away as the crow flies; he had his Vortex Razor HD and I had this Kowa TSN 883. I could simply make out more detail on the deer and even pick out the does from bucks at that distance, whereas he was not able to.
Sure, the deer were too far to get to that day, but in situations like those, the incredible optics of the Kowa TSN 883 was able to give us the information we needed to decide if we wanted to make a play on those deer. This time, the extra performance of the Kowa TSN 883 saved us a lot of hiking trying to find if there was a shooter buck in the group.
Kowa TSN 883 Review: Eyepiece

The Kowa TSN 883 features a 4 position click stop eyepiece that is very comfortable.  While it wasn't my absolute favorite of ALL the spotting scopes we tested in our massive spotting scope review, it was right there near the top.  The clicks are nice and crisp with no play and it has a nice comfortable rubber coating. I noticed that the rubber eye piece cover always seemed to come off in my pack. Kind of annoying to have the protective cover of your expensive optic come off when you want it there.
Kowa TSN 883 Review: Dual Focus System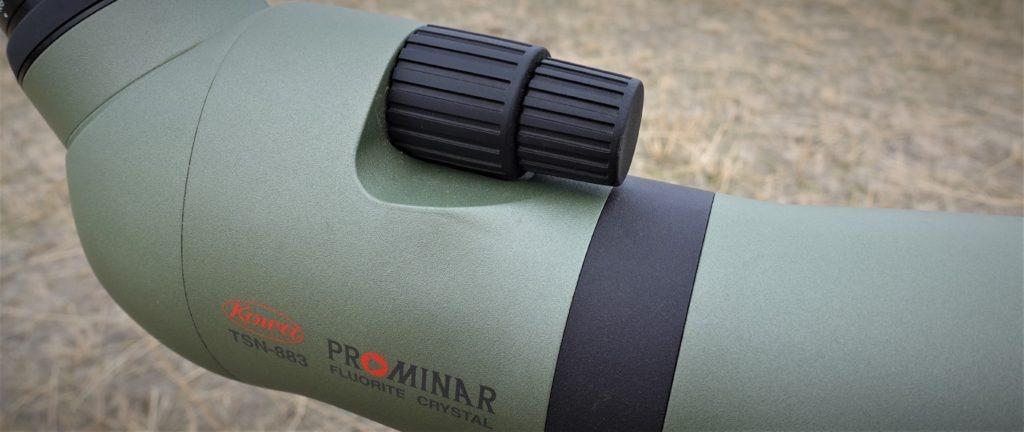 One of the most endearing things our group came to love about the Kowa TSN 883 is their fantastic dual focus system.  This focus system is my favorite focus system of all the spotting scopes I've tested to date-over 20 that I've personally used in the field.  I wasn't the only one that loved the Kowa Spotting Scope dual focus system, it was hands down the favorite of our testing group as well. 
The comment was made over and over again of just how awesome the Kowa dual focus system was. The Kowa dual focus system allows you to fine tune the image with minimal disturbance to the object you are viewing, while we all found the barrel focus style to cause much more shaking during the fine-tuning process, especially at the highest magnifications when you really need to fine tune the image.
Kowa TSN 883: Weight / Body Construction

The Kowa TSN 883 spotting scope is constructed of magnesium alloy to help keep the weight down while maintaining a super durable shell.  This is evident when you see that this 88 mm spotting scope weighs in at just 65 ounces. That's pretty impressive for such a large spotting scope.  While it's nice to have a rubber armor covering the outside of your spotting scope, I've found after field use that it really isn't necessary, especially with a magnesium alloy body.  Durability isn't a concern at all, it's just a little less comfortable to hold and touch when using, especially in colder weather when rubber armor doesn't transfer as much of the cold as having to directly touch the magnesium alloy.
Kowa TSN 883 Review: Image Clarity/Low Light Performance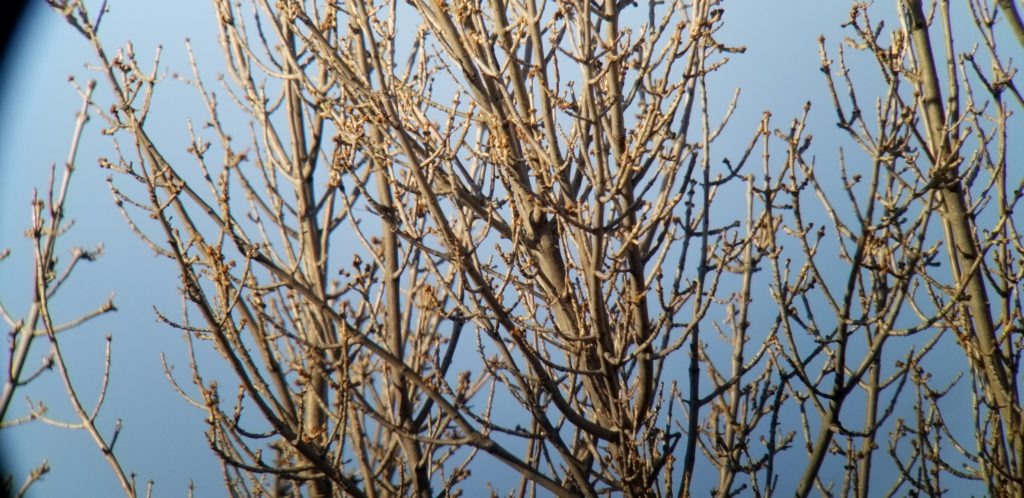 As we talked about earlier, you are getting some of the best image quality and low light performance on the planet with the Kowa TSN 883 spotting scope.  The image the Kowa TSN 883 gives you is so crisp and clear, it's likely to blow you away.  Kowa spotting scopes feature a warmer tint to the glass than something like the Swarovski ATX, which makes for a more pleasant viewing experience in most lighting conditions. 
One interesting thing that I noted during my personal testing for this Kowa TSN 883 review was how, in different low-light conditions, it easily out-performed the Swarovski ATX 85 mm spotting scope, and in others (like during our group testing) the Swarovski ATX 85 mm easily out-performed the Kowa TSN 883.
In fact, I had already personally crowned the Kowa TSN 883 as the best of the group in low-light performance until that very last testing session we had where we viewed broken snow well over a mile away past shooting light. In this condition, the Swarovski ATX was hands down better, which made me look twice because the Kowa TSN 883 had out-performed the Swarovski ATX in all the other low-light testing conditions (without snow) up to that point.  I was intrigued by those results.
Kowa TSN 883 Review: Edge-to-Edge Clarity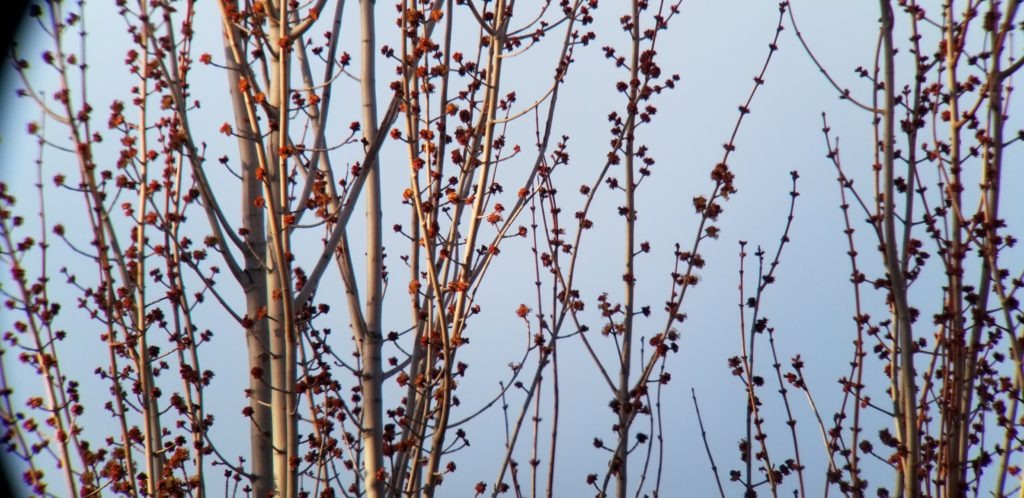 Our team noted the flawless edge-to-edge clarity of the Kowa TSN 883.  Nothing short of amazing!  There was no notable loss of image clarity from the center of the field of view all the way to the outermost edges.  You know you are looking through top-notch glass when this happens. 
I also noticed that the Kowa TSN 883 offers a good amount of forgiveness, if you will, in the eyepiece. By that I mean that you don't have to have your eye positioned perfectly to get the full field of view. Some spotting scopes, particularly less expensive models, tend to have less forgiveness and require perfect eye placement to use it, especially at full magnification. This was not so with the Kowa TSN 883.
Kowa TSN 883 review: Chromatic Aberration
Chromatic aberration?  What's that?  The Kowa TSN 883 has none (at least none that I could pick out).  Edges of snowy banks transitioning to brown dirt, the outline of a tree leaf from 1000+ yards away, were as clear and crisp as could be.  Not many spotting scopes can be said to have no identifiable chromatic aberration, but this is one of them.
Kowa TSN 883: Field of View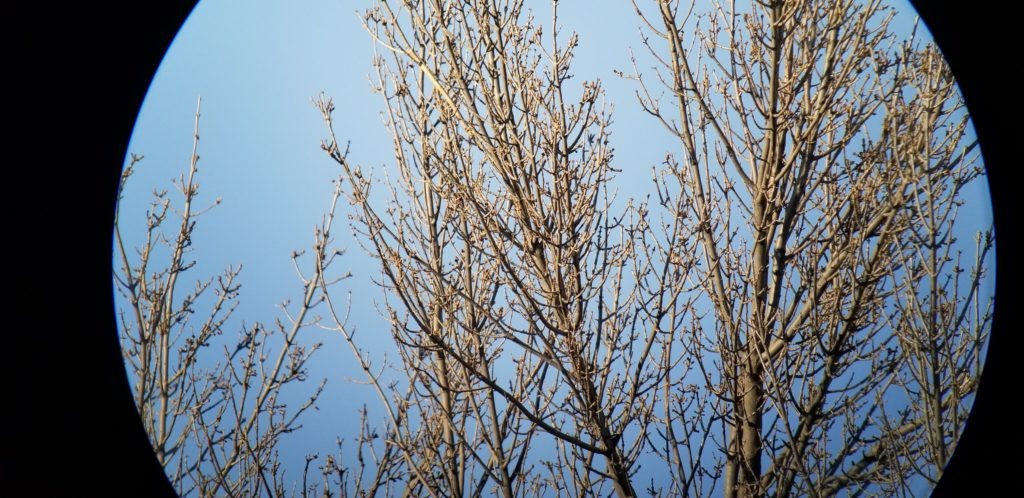 The Kowa TSN 883 gives you a massive field of view, 2nd only to the Meopta Meostar at low zoom. (Granted, the Kowa's minimum zoom is 25x while the Meopta Meostar's minimum zoom is 30x for the wide angle eyepiece.)
Athlon Cronus: 60 ft-117 ft
Kowa TSN 883/773: 76 ft-138 ft
Swarovski ATX: 68 ft-124 ft
Meopta Meostar WA: 68.8 ft-146 ft
What was particularly about the is how it maintained a huge field of view at maximum magnification (60x) compared to others at their 60x magnification, even the Meopta Meostar which has a larger field of view at lower magnification. So, you get a huge field of view, crystal clear image, and near perfect edge-to-edge clarity with the Kowa TSN 883.
Kowa TSN 883 Review: What I liked

I walked away from this Kowa TSN 883 review with so much to love about it.  It's such an impressive scope.  The edge-to-edge clarity, dual focus system, comfortable eyepiece, super smooth zoom mechanism, and price point relative to the ATX all stand out with the Kowa TSN 883.
Image clarity
Dual focus mechanism
Smooth zoom mechanism
Edge-to-edge clarity
Price point
Kowa TSN 883 Review: What I Didn't Like
This list is very short, but there are a few things that could be better.
No rubber armor
Eye piece cover won't stay on
No Arca swiss base
Low light performance in snow
I can't for the life of me figure out why the Kowa TSN 883 didn't continue its streak of being the best performer in low light when looking at scattered snow over a mile away, but hey, I guess that's why we test.  All the other "dislikes" are extremely minor, and I'll easily look past them. 
The way the Swarovski ATX outperformed the Kowa TSN 883 on that one night in low light with snow is the only reason I pause to hands down give the Kowa the all-out win.  The Kowa TSN 883 spotting scope definitely out-performed the Swarovski ATX in every other low light scenario I tested it in, and it was only at the last couple minutes of light that our group of testers noted the difference, but it was enough of a difference that the group unanimously gave the ATX the nod in that one low light test.  Make of that what you will.  I'm just here to report the performance from our testing.
Kowa Spotting Scope Review: The Warranty
Kowa Optics offer a lifetime warranty that is transferable. I've not had the need to test out the warranty, but it's good to know that your purchase is backed by (what I hear to be) a solid warranty. You do want to register your purchase with Kowa to make sure you get the warranty coverage you want, but that's nothing new.
Love optics? We certainly do here at Backwoods Pursuit, so make sure to check out our MONSTER 26 BINOCULAR REVIEW, as well as our massive 19 SPOTTING SCOPE REVIEW. For both of those reviews, we lined up the optics and tested them side by side!
Check out All 3 Of the Top Kowa Spotting Scopes!
How The Kowa TSN 883 Spotting Scope Ranked
Relative to Its Price Category
Image Clarity
Low Light Performance
Weight
Chromatic Aberration
Edge-to-Edge Clarity
Overall Value
Kowa TSN 883 Review: Conclusion
The Kowa TSN 883 left us with an appreciation for top-notch glass, however, budget will likely determine if you can make the plunge for something like the TSN 883. 
Is it worth the money? Well, that depends on how you use a spotting scope. If you spend long hours behind glass and look to your optics to save you hiking sizing up critters before you take off after them, then absolutely. If you don't particularly need to see if an animal is a certain class, size, or age group, then you can likely get by just fine spending less on your spotter and putting the money elsewhere. That's a call you have to make for yourself.
Subscribe to Backwoods Pursuit to get Your FREE Backcountry Gear Worksheet!!!
Dial in your gear list, calculate your pack weight, and lighten up your pack with this handy tool!