In this Maven RS5 review we take an in-depth look at Maven's RS.5 4-24×50 rifle scope, and dive into the details of how this scope performs in the field. Up until this RS.5 4-24×50, Maven's first long range offering of the second focal plane variety really caught our attention as potentially a great long range hunting scope.
We'll save the "second focal plane vs. first focal plane" argument for another time as that largely comes down to application and personal preference. However, there are certainly advantages and limitations to each. For this Maven RS5 review, we put this scope through various tests, including significant time at the range side by side with other scopes like the Zeiss Conquest V4 6-24×50, the Tract Toric 4-20×50, the Athlon Cronus BTR 4.5-29×56, the Sig Tango 4 6-24×50, and the Leupold VX3 HD 4.5-14×44 sitting atop some of my other rifles.
Featuring Maven's premium Extra-Low Dispersion ED glass, the Maven's RS.5 4-24×50 rifle scope gives you the superb image clarity you need when it counts, as well as the magnification you need to make those extremely long shots, but it also allows you to dial it way down to an impressive 4x magnification for your closer up shots. Unlike Zeiss Conquest V4 and the Sig Tango4, which both have a minimum magnification of 6x, the ability to dial down to 4x with this Maven RS.5 is better suited if you want the ability to take up close shots.
Love optics? We certainly do here at Backwoods Pursuit, so make sure to check out our other optics reviews, as well as our massive 19 Spotting Scope Review where we lined up 19 of the best spotting scopes on the market and tested them side by side!
Looking for a pair of binoculars? Check out our MASSIVE 26 BINOCULAR REVIEW where we put 26 of the best binoculars side by side!
Now before we get into the details of the Maven RS5 rifle scope, the basis for this review is coming from a hunter's perspective rather than a match or competition shooter, and from someone who enjoys shooting longer ranges, but ultimately uses this for a hunting rifle. Bottom line, we tested this scope on one of my hunting rifles to see how it performed for that application.
The Testing: Maven RS5 Review
While testing out this Maven RS.5 rifle scope, I was in the middle of developing some loads for several of my rifles, so we made A LOT of trips to the range to dial in those loads. Because of that, I got to spend a bunch of time behind this scope both at the range and then out in the field practicing at some longer distances.
Part of the fun (at least for me), is spending the time to really get the scope mounted perfectly on the rifle. Everything starts there. A poorly mounted scope will cause all kinds of problems, so whether you do it yourself or have the local gun shop do it, make sure it's done right or you'll be constantly fighting it, especially when you go to dial in for longer ranges.
I tested this scope on my Tikka .243 during load development for that gun, then pulled it off and re-mounted it on my Ruger 7mm Rem Mag to test it out with a rifle that has more recoil. As expected, it was phenomenal on both guns. In fact, using this scope during extensive load development with both of the guns really gave me a heightened appreciation for the clarity and crisp image the Maven RS.5 scope offers.
What's In the Box: Maven RS5 Review
The Maven RS.5 4-24x50mm rifle scope comes with a nice neoprene scope cover and the tools needed to set your zero stop. Unfortunately, it doesn't come with a Maven Sun Shade, the Maven Aadmount Flip-Up Lens Caps Cover, or the Maven Throw Lever. The Maven Neoprene Scope Cover that's included is very nice, but doesn't fit if you elect to pick up the sun shade. If you do that, you'd need to pick up a larger cover like the PhoneSkope Neoprene Rifle Scope cover, which I found isn't quite as durable.
The Maven RS5 scope has the option to add a Maven Custom Turret, and you can even pick up some Warne Mountain Tech rings directly from Maven if you'd like. Another option is to purchase one of their RS.5 Scope bundles, which includes all of the above (other than the custom turret) for a fraction of the cost. Pretty sweet deal! I opted to go with the Iota Triad ZL Rings for this gun as I'm a HUGE fan of having the bubble level integrated in the ring. The Iota Triad ZL Rings accomplish that extremely well and give you a nice size bubble that isn't difficult to see when you are behind the gun.
All of the Maven rifle scope accessories are top notch and built extremely well. The flip up lens caps and throw lever, however, are on the expensive side, and if you pick them all up it adds up quickly. This is a bit of a disappointment as the only accessory that comes with the scope is the neoprene cover, but if you like having a throw lever, sun shade and flip up caps, you'll have to drop a few hundred bucks more to add those. In my experience, most scopes don't come with flip up caps, however, some do come with a sun shade and throw lever.
Maven RS.5 4-24×50 Specs
The Maven RS.5 4-24×50 rifle scope is packed full of amazing features that are geared for the long range hunter:
As you can see, you've got MORE than enough windage and elevation adjustment to shoot a very long ways away. It is light weight, especially for the huge zoom range you get, and features an illuminated reticle, side parallax, and a capped windage turret.
Eye Relief: Maven RS5 Review
The Maven RS.5 4-24×50 gives you a nice 3 – 3.85 inches of eye relief, keeping your face far away enough from the scope to avoid decorating your forehead. While that's not quite as much eye relief as you get compared to some other scopes I've tested, it is more than enough. More importantly, I found that you do not lose eye relief throughout the zoom range. Other scopes may feature more eye relief, but lose some eye relief at the top end of the magnification requiring you to "suck in" to the scope a bit. This is not so with the Maven RS.5 4-24×50.
Turrets & Parallax: Maven RS.5 4-24×50 Review
A scope's turrets are one of the first things I like to test out when looking over a new scope. I like sharp, precise clicks. It drives me nuts when the witness marks don't line up exactly. After mounting, sighting in, then taking it off and mounting it again on another rifle for this Maven RS.5 review, I can say without hesitation that this thing hits all those marks. The turrets on the Maven RS.5 scope are some of my favorites because they are exactly the kind of turrets I like in a hunting rifle, with one exception, that they are not locking.
I have a love/hate relationship with locking turrets. They are great in that they stay put until they are moved intentionally, but they tend to be bigger and bulkier, and usually have some play in them compared to turrets like this Maven RS.5. The turrets on this RS.5 are less bulky, more crisp, and the witness marks are more precise than you typically get with locking turrets. Pick your preference.
Having the benefit of testing multiple scopes side by side allowed me to compare each of them in the field. The Maven RS.5 scope gives you super crisp, very audible clicks somewhere between a tactical turret like the Athlon Cronus BTR, and the Zeiss Conquest V4 which has a little softer, but still very defined feel to it.
Neither the elevation or windage turrets are locking on the Maven RS.5 scope, but the windage turret is capped. Now if you prefer to leave the cap off, you certainly can do that, and you have a very nice windage turret if you decide to leave it exposed. For hunting purposes, I like to leave the windage turret capped as that is more likely to get bumped or move accidentally.
My personal preference is actually a locking windage turret rather than a capped turret, but it's not that big of a deal. It is nice, however, that you have the option to take off the cap and have a great looking windage turret, so this certainly isn't a deal breaker for me.
On the other side of the main tube, you have the side parallax adjustment and the illumination control. Both operate extremely well, and the illumination knob operates in an on/off/on function as you move from one illumination setting to another. While I found the parallax adjustment to work very well and not be too stiff to operate, this wasn't the case with the illumination. Even in warm weather it's quite difficult to turn, and in cold weather, it's very hard to operate. I don't use the illumination much, but if I did, this would be very annoying.
I love that the side parallax knob on the Maven RS5 scope has numbers for a quick reference point to know where you are within the side parallax adjustment range. This is super useful. Unlike some others I've tried, the parallax adjustment knob has just the right about of resistance. It isn't very difficult to move, but not so easy that it'll move on you unintentionally.
During this Maven RS5 review I also noted that the Maven RS5 gives you an amazing 100 MOAs of elevation adjustment (rather than the 80 MOAs of the Zeiss Conquest) and you get a whopping 70 MOAs of windage adjustment as well. Most of us will never even come close to using that much elevation or windage adjustment, but it's nice to have it there in the event that you ever do end up getting into extreme long range shooting.
Zero Stop: Maven RS.5 4-24×50 Review
One of the more unique things about this Maven RS5 4-24×50 rifle scope is the ability to remove and adjust the turrets without tools. Every other turret system I've used requires the use of a small Allen wrench or torx tool to remove the turret and set the zero stop. With the Maven RS5 rifle scope, you simply untwist the top of the turret, which then allows you to pull off the cap and reset the witness marks without having to loosen two or three tiny screws.
Now, at first I thought this might be an issue and that the top part of the turret that unscrews would loosen over time, but it simply never budged. In fact, it takes two hands to unscrew it (one to hold the bottom part of the cap, and one to unscrew the top) in order to get it off. I REALLY like this system as it looks cleaner and is simply easier and faster to make adjustments when you are dialing in your scope.
Once you remove the turret, it exposes the zero stop ring, which is very similar to many other scopes I've tested that feature a zero stop. Here is where you need the small Allen wrench that comes with the scope. Once you've zeroed your rifle, simply loosen the three screws, turn the zero stop until it hits the the built-in stop, and re-tighten the three screws, and you are set. I've never had an issue with this system in any of the scopes I've tested. It's easy to set and easy to adjust.
Image quality: Maven RS.5 Review
During this Maven RS5 review we tested it optically next to a number of other scopes on my other hunting rifles (Zeiss Conquest V4 4-24×50, the Athlon Cronus 4.5-29×55 mm and the Tract Toric UHD 4-20×50 rifle scopes). The Maven RS.5 not only excelled, but it was flat out impressive! I might catch some flack for saying this, but I felt like the Maven RS.5 scope was slightly better optically than the Zeiss Conquest V4. I don't say that lightly as the Zeiss Conquest is one of my favorite hunting scopes.
As with all optics, you do lose a little bit of image quality at the upper end of the magnification range, but that is almost unnoticeable. I can absolutely say the Maven RS.5 4-24×50 is exceptional in maintaining superb image quality throughout the magnification range. The image remains crisp and clear whether you are at 4x or need to utilize the monster 24x zoom for those long distance shots.
I experienced no loss in clarity as I moved to the edge of the image. The color contrast is phenomenal, and the brilliant and true color this scope produces is simply top notch. This is one of the most impressive rifle scopes on the market in its respective class that I've had the pleasure to test!
Tracking Test: Maven RS.5 4-24×50 Review
Another part of this Maven RS.5 4-24×50 review was to hit the range and see how the scope tracked. In fact, I more or less lived at the range over the winter working up 5 new loads on the two rifles I tested this scope on. Over the course of those trips, I moved the turrets all over the target, back to zero, then ran the scope a full revolution up and back to zero to see how the scope came back to zero. So far, it's tracking has been dead on for me.
4-24x50mm Magnification & Functionality
I tested the Maven RS.5 side by side with the Zeiss Conquest V4 4-24×50 and others like the Athlon Cronus 4.5-29×55 mm and Tract Toric UHD 4-20×50 rifle scopes. The Zeiss Conquest V4 is nearly identical in size, weight, and magnification with a few exceptions: The Maven RS.5 4-24×50 gives you a lower low magnification of 4x rather than the 6x of the Zeiss Conquest, which is very nice for those closer shots. Sometimes 6x can be a bit much if you are needing to take a quick shot at a close target, and the 4x minimum of the Maven RS.5 is better suited if you find yourself in that situation.
One other thing I noticed is just how silky smooth the zoom mechanism is on the Maven RS5 scope. While most higher end scopes give you a nice, smooth focus mechanism, the one on the Maven RS5 is smoother than others in its class that I've tested, and it has the perfect amount of resistance. You don't have to use one of the Maven Throw Levers if you don't want to, but I'd personally recommend it. I will say though, that the Maven throw lever is certainly on the bulky side, which I didn't care for.
Maven RS5 Reticles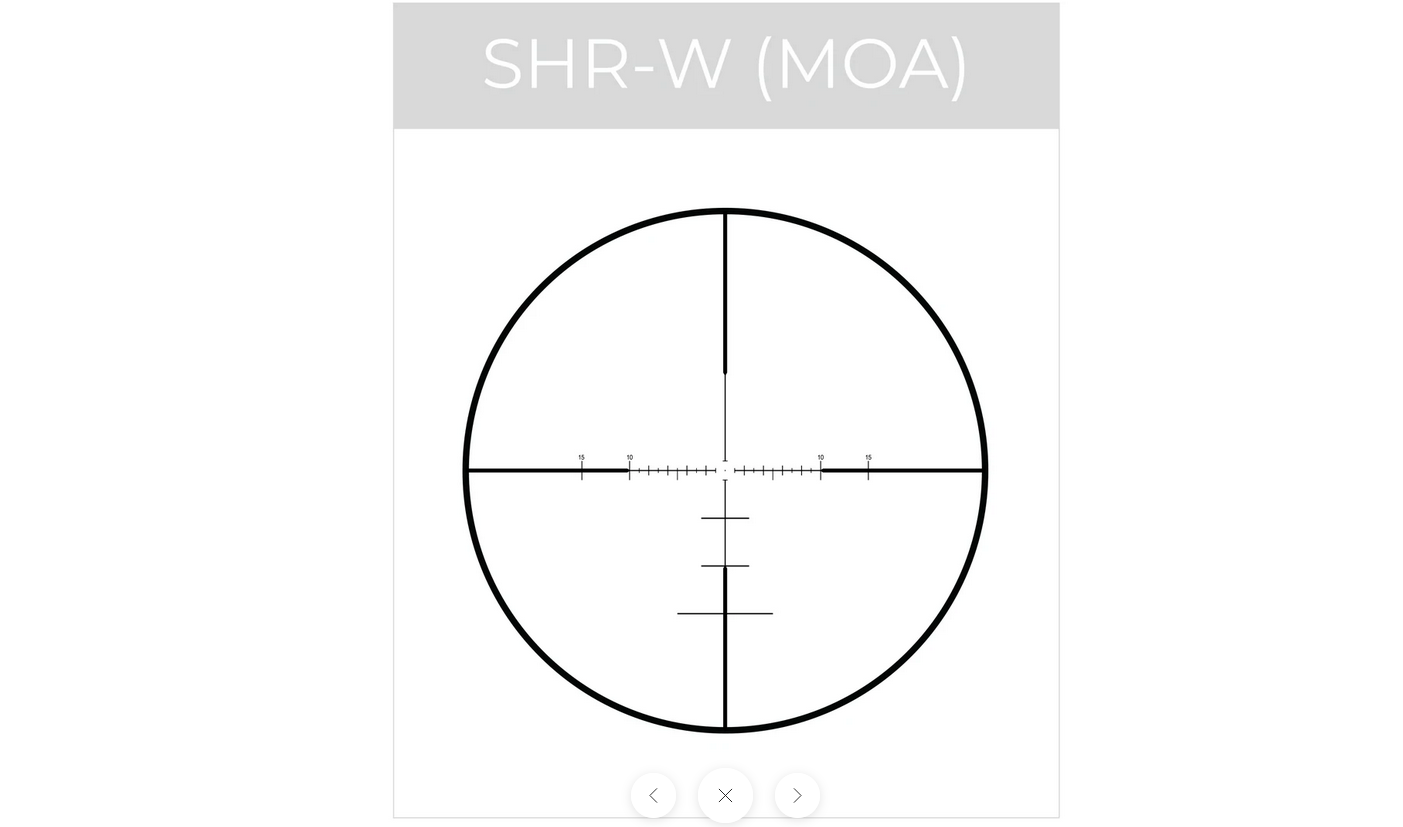 The Maven RS5 rifle scope offers two different reticles: the SHR-W (MOA) and the SHR-MIL (MIL). I wish they offered more reticle options. I tested the SHR-W (MOA) reticle and really like how clean and clutter free it is. That's ideal for a hunting scope. That said, I don't like that none of the subtensions are marked (like the MIL version). This makes using the subtensions a whole lot more difficult as you have to memorize what each of the hash marks represents. That's not the end of the world though because in no time, and with a little practice, it'll become second nature. And, it makes for a cleaner display.
My biggest issue with the Maven RS5 MOA reticle is the lack of tick marks below the center dot. The first subtension mark is a whopping 5 MOA at 24x and a rediculous 30 MOA at the minimum 4x zoom. For some folks this is a deal breaker, and for others, it's a non-issue. It just depends on how and if you like to use the subtensions. Personally, I wish it had 1 MOA hash marks all the way down like it does for windage. This would allow you to quickly shoot using the subtensions if the animal takes off after a shot and you don't have time to redial the turret.
2nd Focal Plane & Subtensions
The Maven RS5 4-24×50 rifle scope is a second focal plane scope, so you need to know what magnification the subtensions are accurate at. Typically, and for this scope, the subtensions marked on the reticle are for when the scope is at the full 24x magnification. The problem, if you even want to call it that, with a second focal plane scope is that your subtensions don't remain accurate throughout the zoom range like a first focal plane scope.
Maven RS5 Scope – SHR-MIL Subtensions
Unlike a first focal plane scope, the benefit is that you always get to see the same size reticle and aren't presented with a reticle that can be too thick for a long range shot. There are certainly pros and cons to each, and it comes down to personal preference.
Maven RS5 Scope – SHR-W (MOA) Subtensions
Now, backing up a bit, a second focal plane scope is one where the reticle size remains the same throughout the zoom range (unlike a first focal plane scope which gets larger as you zoom the scope in, but the subtensions or hash marks on the reticle, stay the same throughout the zoom range).
At 10x, your subtensions are going to be much more difficult to use as they are typically designed to perform at maximum magnification. With a first focal plane scope, you know that the subtensions are always going to be whatever the manufacturer has set them to when they designed the reticle no matter what the magnification is. This makes for a much easier adjustment on the fly if your target moves on you or you happen to be on a magnification other than the maximum.
Maven RS5 Weight
The Maven RS5 rifle scope comes in at an impressive 25.5 ounces. For a scope with a monster zoom of 4-24x, this is lighter than many similar scopes on the market. If you are building a lightweight mountain rifle, but still need to be able to shoot long range, the Maven RS5 scope is a fantastic option.
How The Maven RS5 4-24×50 Ranked
Maven RS5 4-24×50 Review: Conclusion
After taking this scope through the paces, I fell in love with the Maven RS5 4-24×50 rifle scope. You get one of the best values I've seen in a rifle scope with incredible image quality, build quality, fantastic zero stop, great eye relief, top notch turrets, and super smooth mechanisms.
One downside, as mentioned above, is how expensive the accessories are for this scope, and that none of them are included other than the neoprene cover. If you are someone who likes to have a throw lever, sun shade, or caps, you'll have to drop several hundred dollars more to add those pieces to your scope.
At the end of the day, though, the Maven RS5 4-24×50 rifle scope is one that'll impress.
Subscribe to Backwoods Pursuit to get Your FREE Backcountry Gear Worksheet!!!
Dial in your gear list, calculate your pack weight, and lighten up your pack with this handy tool!