Sleeping mats. Some people use them, some people don't. This Sea to Summit sleeping pad review is the product of many nights spent in the backcountry sleeping on the ground to save weight. When I was younger I never used a sleeping pad, but as I've gotten older I've started to seriously appreciate the comfort they provide.
Check out our other sleeping pad reviews and the Backwoods Pursuit YouTube Channel to help you decide what gear will help you stay out in the field longer! See our Sea to Summit Ether Light XT review as well our Ether Light XT Extreme review for other great options from Sea to Summit!
Carrying an additional pound or two in the backcountry to make sure I get a good night's sleep has been a game changer. This Sea to Summit Ultralight insulated pad made it so I could wake up feeling refreshed rather than like I got ran over by a truck in the middle of the night.

The Testing: Sea to Summit Sleeping Pad Review: Ultralight Insulated

Over the course of the year I tested out this pad for this Sea to Summit Ultralight Insulated review in both warm and cold conditions to really get a feel for what this thing can do. This Sea to Summit sleeping pad came with me for everything from spring shed hunting, summer deer and elk scouting trips, to fall hunting trips in the backcountry. Temperatures dropped well below freezing, giving me a great feel for how this pad performed in real world conditions. To say I was impressed would be an understatement. It was comfortable, lightweight, and warm, while also being durable and compact. It made all the difference in the world.
Sizes: Sea to Summit Ultralight Insulated Pad Review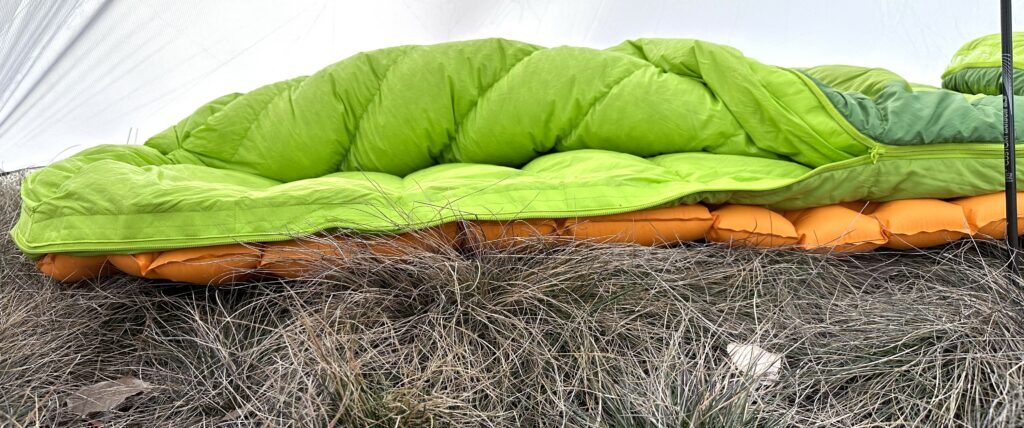 The Ultralight Insulated Sea to Summit sleeping pad comes in four different sizes:
Extra Small: 21.5 x 50 in, 12.3oz
Small: 21.5 x 66 in, 15.1oz
Regular: 21.5 x 72 in, 16.9oz
Large: 25 x 78 in, 21oz
Because of my height I went with the large which is for individuals up to 6'6″ tall, and is 25 inches wide. I've always moved around a lot when I sleep, so it seems like there's usually an issue with me either sliding or rolling off my pad in the middle of the night, but that never happened with this Sea to Summit air mattress.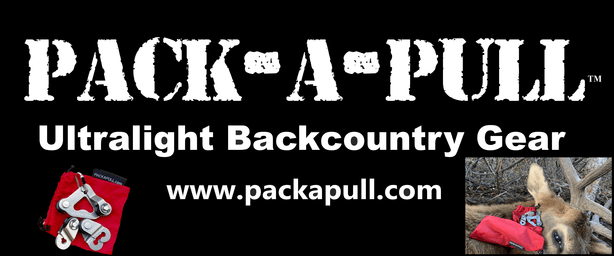 Noise: Sea to Summit Ultralight Insulated Pad Review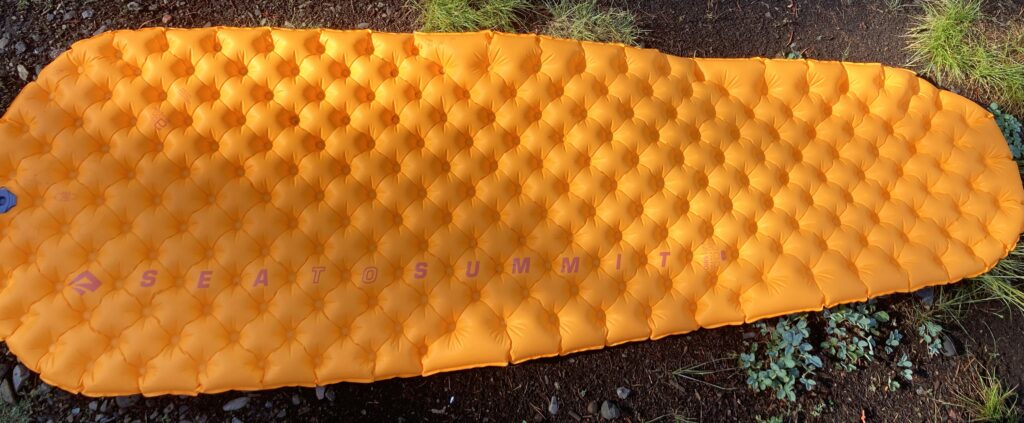 Another thing I've experienced in the past with other sleeping pads is a lot of crinkling noise with any movement. That can drive a person nuts while trying to sleep and enjoy the quiet in the backcountry. But this Sea to Summit sleeping pad nailed it. It is constructed with 30d/40d nylon material making very minimal noise when moving around. Now, I know some folks don't mind that crinkle sound that some pads like the Thermarest NeoAir XLite or the Thermarest NeoAir XTherm make, but for me the noise was too much. Those are both amazing ultralight sleeping pads, as long as you can deal with the noise.
Weight: Sea to Summit Sleeping Pad: Ultralight Insulated Review
While there are many air mattresses and sleeping pads on the market, this Sea to Summit Ultralight insulated pad is epic as the size regular weighs in at just 16.9 oz and the large only weighs 21 ounces. Pretty impressive given that the regular is 21.5 inches wide, while the large is a nice 25 inches wide.

Although one might think otherwise because of its light weight, the Sea to Summit sleeping pad is extremely durable as well. I purposely set up camp on some minor shale rocks just to see if I could poke a hole in it during the night. It never happened, and I was still super comfortable when I woke up! The Sea to Summit air mattress does come with a patch kit just in case though.
Warmth: Ultralight Insulated Sea to Summit Sleeping Pad
The R value of the Sea to Summit Ultralight Insulated pad comes in at 3.1, which is typically warm enough to stretch you into temperatures that drop just below freezing (in my experience). With the insulation level of the this pad, I was comfortable down into the teens though, so that was a very pleasant surprise.


This is obviously subject in part to what sleeping bag or quilt you are using, whether you are a cold or warm sleeper, and whether you are using a down or synthetic sleeping bag (if using a sleeping bag). For me though, paired with the Sea to Summit Ascent 15 degree sleeping bag, I was comfortable down into the teens. (Check out our sleeping bag reviews here).
Packed Size: Ultralight Insulated Sea to Summit Sleeping Pad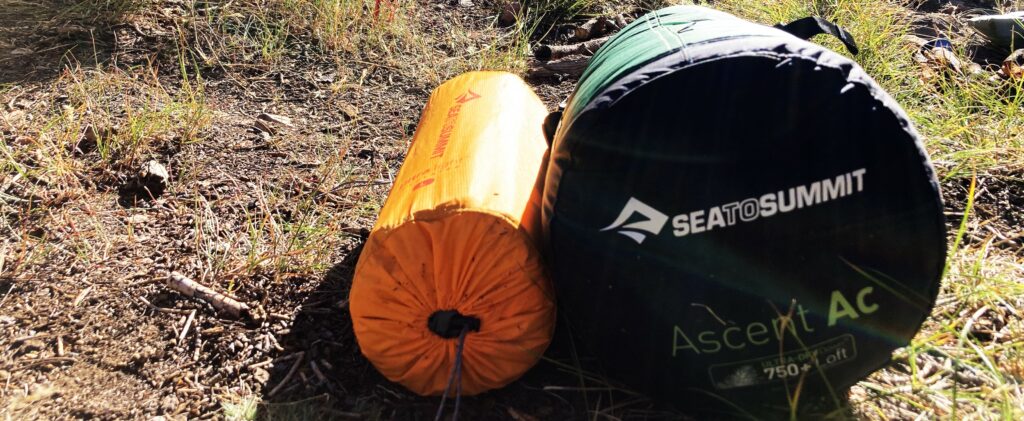 Rolled up and packed away in its stuff sack, the large Sea to Summit Ultralight Insulated sleeping pad measures only 5×10.6 inches. That's not too shabby for a pad this large and warm. I've really come to love the pump sack/stuff sack combo, and personally I prefer having a pump sack instead of having to blow up a sleeping pad by blowing into the pad. To me there is nothing worse than spending a ton of time blowing up an air mat after you've used up most of your oxygen hiking in the backcountry during the day.
Pump Sack & Valve System
With the pump sack system this 2′ thick Sea to Summit sleeping pad takes around a minute to fill. Simply open the "inflate" valve, insert the pump sack fitting, open up the pump sack and allow air to enter the pump sack by either lightly blowing on it, or better yet, trapping air with the pump sack. Close the pump sack, and press the air into the pad by rolling the pump sack towards the pad. A couple of fills of the pump sack and your pad is fully inflated. Ease of use is a big thing for me and Sea to Summit has impressed me with all their products in this respect.

The multi-function air valve is very user friendly because it's a one way inflation valve that has a fine tune button which allows you to micro-adjust the firmness of your sleeping pad. It has a deflate valve (nicely labeled as shown above) for a rapid air dump for when you're packing up. I would dump the air, fold it, and then roll it up and didn't have issues with trapped air.
The integrated pump sack significantly reduces the need for blowing into your pad, which introduces moisture and bacteria which can reduce the life span of your expensive, ultralight sleeping pad, so it's an all-around win using the the Sea to Summit integrated pump sack.
In addition to this, the pump sack can be used as a dry bag for things such as hanging your food in a tree, keeping clothes dry, or just about anything else you'd want to make sure stays dry in the backcountry. Any piece of equipment that can be used for multiple purposes is a win when weight adds up in a hurry. The Sea to Summit Pump Sack system accomplishes this and saves a few extra ounces.
Sea to Summit Pillow Lock System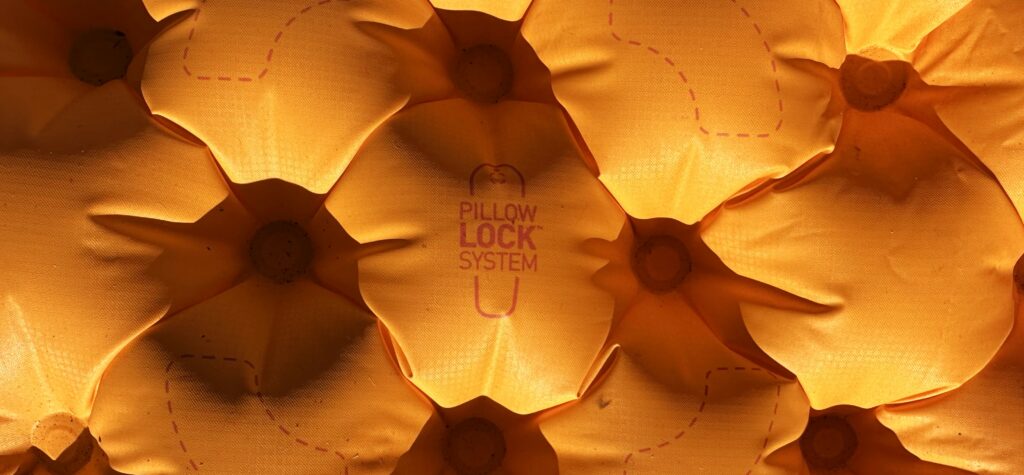 Just as with all of Sea to Summit air mats, the Ultralight Insulated gives you their pillow lock system, which is a nice feature to have. Losing your pillow in the middle of the night is never fun! All you need is either a Sea to Summit pillow or a pillow that will stick to Velcro. Installation is super easy as you simply peal the included self adheasive and press them down onto those four places outline by a dotted line and you are ready to go. This system really does help keep your pillow from getting away from you during the night.
Edge Stability: Sea to Summit Ultralight Insulated Pad Review

Another one of the things that stood out while testing for this Sea to Summit Ultralight Insulated pad review was just how stable this pad is. If you've used very many ultralight pads out there, you've likely felt like the edges collapse, making it easy to roll off the mat when you get near the edge of it. That's simply not the case with this mat. That is in part due to the 2 inch thickness, but is also a product of the Sea to Summit Air Sprung Cells. This design delivers extra stability throughout the pad and helps keep you on the pad rather than feeling like your are constantly about to roll off it.
Conclusion: Sea to Summit Ultralight Insulated Pad Review
In my experience, Sea to Summit, makes some great backpacking, hunting, and camping gear while still being reasonably affordable. While a little higher in price than some of the "run of the mill" gear that we all commonly see on the market today, it's definitely worth the quality, comfort, and durability Sea to Summit offers. Personally, I will continue to recommend Sea to Summit gear to anyone that asks what I prefer, because when you are spending time in the outdoors, being comfortable at night makes the trip so much more enjoyable.
---
Subscribe to Backwoods Pursuit to get Your FREE Backcountry Gear Worksheet!!!
Dial in your gear list, calculate your pack weight, and lighten up your pack with this handy tool!