In this Sig Sauer Tango 4 review we tested the Tango4 6-24×50 model. We will be combing through the details of this impressive Sig rifle scope. Featuring Sig Sauer's Low Dispersion (LD) glass and crisp turrets, the Sig Sauer Tango 4 scope gives you everything you need to reach out and touch something with its 24x magnification, but its also allows you to dial it back to 6x when needed.
Before we get into the nitty gritty of this Sig Sauer Tango 4 review, I want to give you an idea of how I used and tested this scope. I am not a professional long range shooter or even a competitive shooter. I'm simply an average western big game hunter who put this scope on one of my favorite big game hunting rifles. This review comes from a hunter's perspective- from a person who needs equipment to perform really well when the time comes in the field to make a good shot.
The Sig Tango 4 6-24×50 not quite what you are looking for? Check out our many other rifle scope reviews!

The Testing: Sig Sauer Tango 4 Review
As with many pieces of gear I use, getting my rifle dialed in prior to hunting season is an extremely important part of making an ethical shot in the field. Part of this Sig Sauer Tango 4 review included spending plenty of time behind the Sig Tango 4 getting my rifle dialed in. This meant hours at the range sending a lot of lead through paper in order to fine tune, familiarize, and experiment with the Tango 4.
I also put the Sig Sauer Tango 4 6-24×50 mm rifle scope to the test through the mountains of Colorado during my fall hunting trips. Unfortunately, things didn't go quite as I'd hoped in the fall and I did not have the opportunity to fire any shots while in the field. I guess that is more of a sign of my inability to find what I was looking for than it is the scope's ability, but in the opportunities I did get to view animals through the scope, the Tango 4 was impressive.
There are a lot of variables when attempting any shot, but this is especially the case on those shots that extend well beyond a few hundred yards. Confidence in your equipment, and particularly your scope and rifle setup, is definitely a key factor. After spending time behind my rifle at those longer distances and having a scope like the Tango 4 on it, I knew I could make a good shot if the opportunity arose.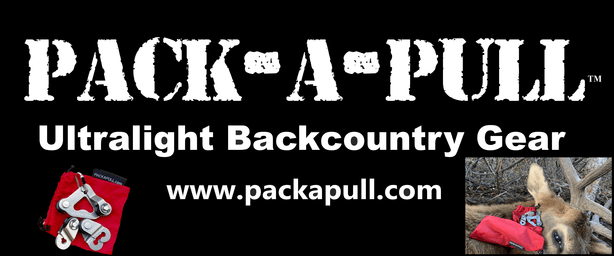 What's in the box: Sig Tango 4 6-24×50 Review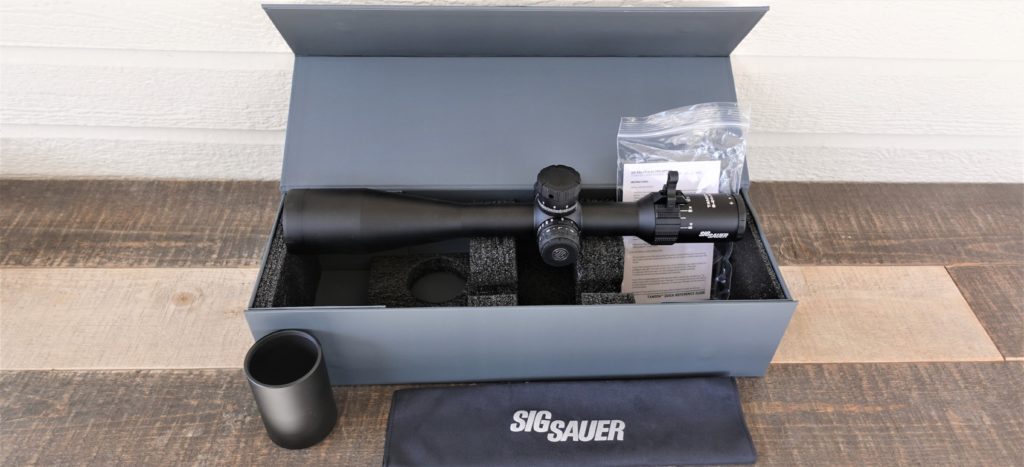 The Sig Sauer Tango 4 comes with several accessories that are great additions. It includes the Sig Sauer throw lever, the Tango 4 sun shade, an optics cleaning towel, as well as the tools needed to set your zero stop. One additional item was a little instruction card that gives you some of the important aspects of the scope like where the battery is located, how to operate the illuminated reticle, how to set your zero stop, windage dial, parallax adjustment, and point of impact correction.
I was a little bummed it did not include any type of scope cover, neoprene cover, or any other form of protection for the lenses. Picking up something that would do the job to protect the scope is not that big of a deal, but it would have been a really nice touch if it was included.
Sig Sauer Tango 4 Specs
The Sig Sauer Tango 4 has a lot of really great features and specs that make this a very attractive rifle scope for the hunter or marksman who is looking to put a long rage capable scope on a rifle without adding a ton of weight.
Eye Relief: Sig Sauer Tango 4 Review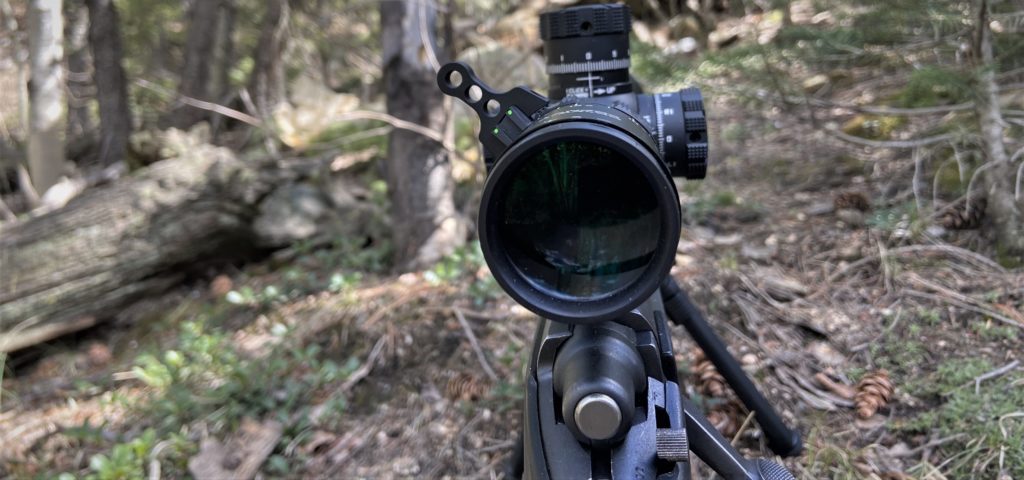 Throughout this Sig Sauer Tango 4 review I found that the 3.3 inches of eye relief it gives you gave plenty of room to shoot comfortably without getting scoped. I did notice, however, as I increased the magnification, that it seemed as though it lost a bit of eye relief ever so slightly causing me to lean in just a hair more.
Obviously, "sucking in" like that can increase the probability of getting a pretty little present around your eye, but I didn't find this to be an issue and fortunately it wasn't enough that I was a recipient of a black and blue eye, but it is worth noting. The Sig Tango 4 does have a nice rubber eye piece, so if you ever did get scoped, at least it wouldn't be too bad. I have used a handful of other scopes throughout my life hunting western big game, and the Tango 4 is definitely one of the more impressive scopes I've used, particularly given its range of magnification.
Turrets & Parallax: Sig Sauer Tango 4 Review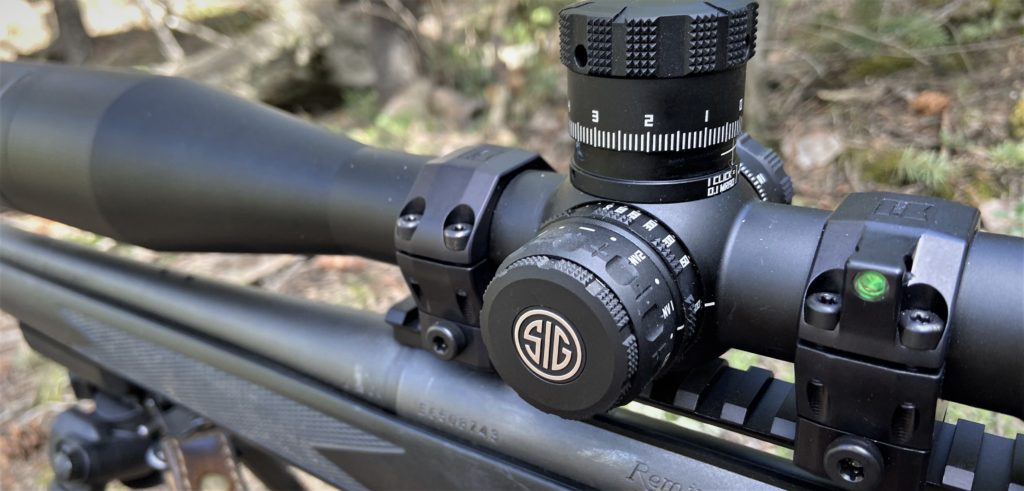 Throughout my testing for this Sig Tango 4 review, I found that I really liked the elevation and windage turrets it offered. Upon getting the scope on my gun, my first reaction was that the elevation turret was more sloppy and was not as precise or crisp as the windage turret. However, I realized that one of the elevation Torx screws was slightly loose, which I believe was causing the play in the turret. Once I got all the Torx screws tightened down, it was nice and crisp and I could audibly hear the turret click like it is designed to. It's always a good idea to double check those screws before you get started dialing in the scope.
Both the elevation and windage turrets of the Sig Sauer Tango 4 are defined and tactical and on the stiff side. They do not move very easily, but I believe that is by design. The stiffness can be a good thing for hunting in the field so as not to get any unwanted movement when your rifle is shouldered and bouncing around while you hike in the mountains.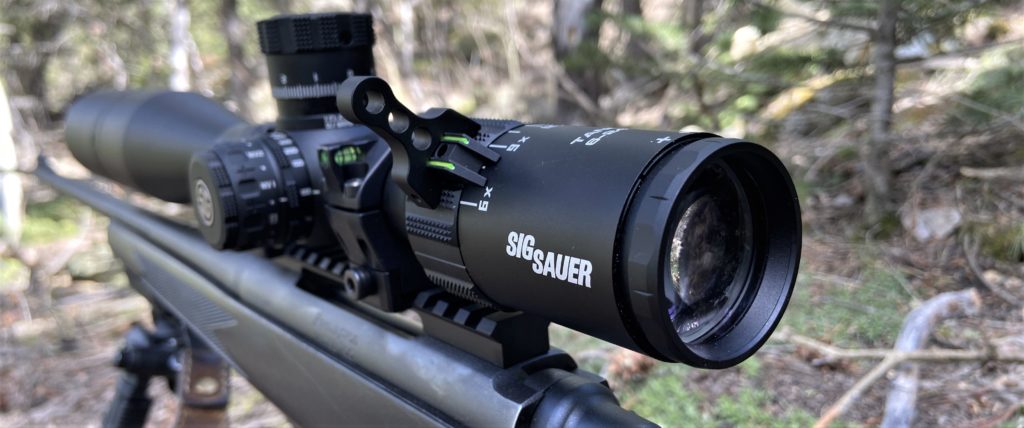 On the other hand, the turrets being as stiff as they are can cause your rifle to move a bit when making final adjustments before a shot. Neither the windage or elevation turrets lock on the Sig Tango 4 which would be a nice feature to have. The ability to lock at least the windage turret would be my preference.
On the other side of the main tube is the side parallax and the illumination control. I was a big fan of how both of those operated. The illumination knob is an on/off/on function with different levels of illumination in between each on and off position. It gives you numbers from 1-8 so whatever environment you are in, you can quickly adjust to the illumination level you need.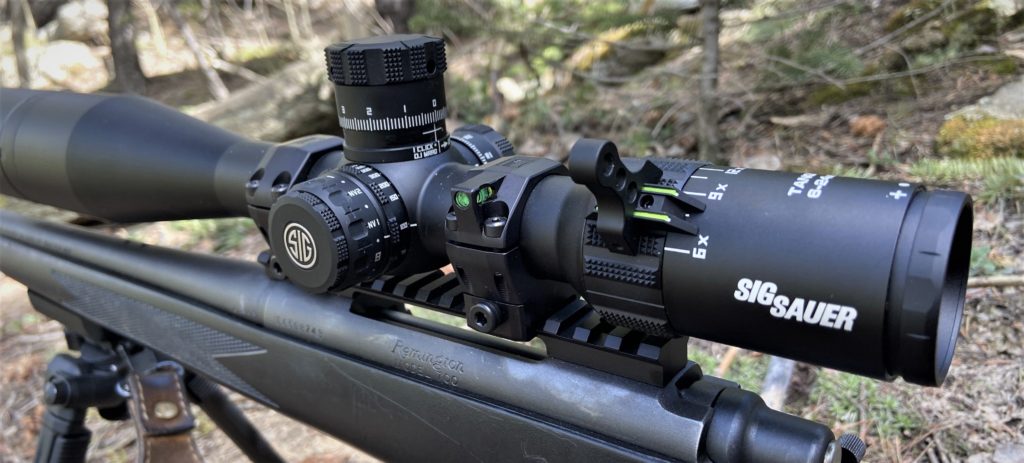 The side parallax is also very slick as it starts at 50 yards, goes up incrementally to 1000 yards, and then moves to infinity setting. The illumination knob is a hard rubber coating and the parallax knob has a neural textile feel, so there is no confusion on which knob you are turning.
The Sig Sauer Tango4 6-24×50 gives you 17 milliradians of elevation adjustment which should give you plenty of elevation for those longer shots if that is part of your repertoire. It also gives you 8.5 milliradians of windage in the event you like shooting in tornadoes.
Zero Stop: Sig Sauer Tango 4 Review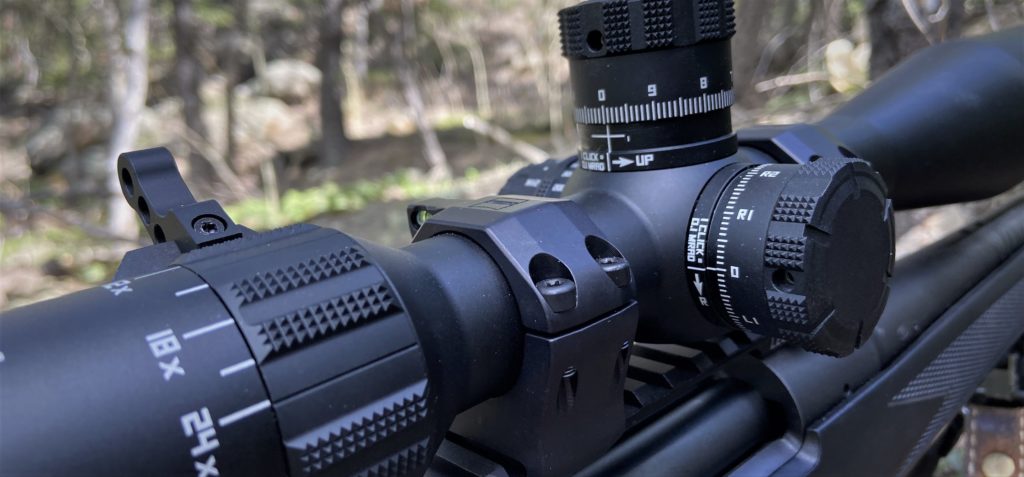 After setting up the scope for this Sig Sauer Tango 4 review, I found the zero stop to be very simple and easy to use. They include the Allen wrench to set and adjust your zero stop. You simply loosen the three Torx screws, adjust the elevation/windage cap, and set to the zero range. As I mentioned earlier, one thing to keep in mind is that if all three Torx screws are not tightened down firmly, it does cause additional play in the turrets and makes them less crisp.
Image Quality: Sig Sauer Tango 4 Review
The Sig Sauer Tango 4 has a huge zoom range going from 6x to 24x. During both my time at the range as well as in the field, this scope performed well for the price range it is in. As with most optics, you do lose some clarity at the high end of the magnification, but that is not something unique to this scope. I had hoped that the clarity would stay a little more consistent getting closer to 24x. The clarity and crispness did decline more than I hoped as I increased the zoom, but was still very serviceable.
Again, for the price category it is in, the color contrast the Sig Tango 4 was excellent, and in my opinion, gives you a solid, crisp image especially in the lower range of the scope. The edge-to-edge clarity is great, and I only noticed a very small amount of that black outline around the image even at 24x.
6-24×50 Functionality: Sig Sauer Tango 4 Review
The Sig Sauer Tango 4 6-24×50 rifle scope has a wide zoom range starting at 6x and going all the way up to 24x for those folks who want to reach out a bit further. As with all the other dials on this scope, the zoom mechanism is a bit stiff compared to some other scopes I've used. I think it is by design by Sig Sauer and not necessarily a negative, but something worth noting.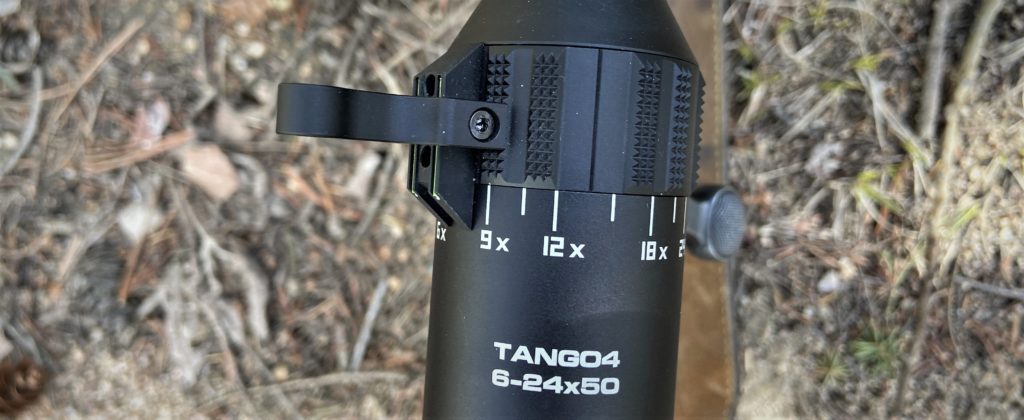 It does come with the throw lever, which I love. The throw lever definitely helps with how stiff the zoom mechanism is, but it is still noticeable. Personally, I prefer the zoom to be a bit lighter to the touch so I don't have to apply counter pressure when I am set up for a shot, but again it can be an advantage in the field as to not get unwarranted movement.
As you can imagine, if you plan to use this scope in tight spaces and close range shots, the lowest limit of 6x may not be the best option for you. Depending on the terrain you frequent, it is a great option for anything mid-range to longer range.
Tracking Test: Sig Sauer Tango 4 Review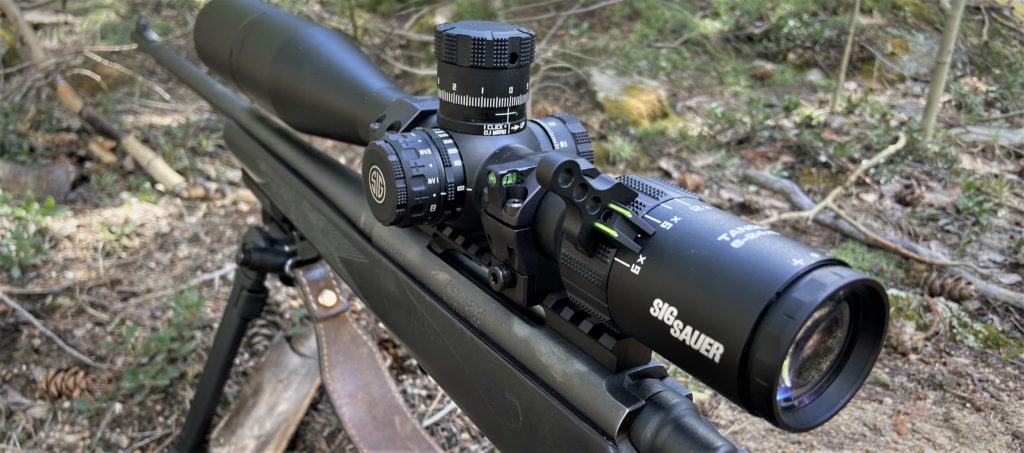 For the final part of the review, I tested to see how the turrets tracked while moving around the target. To run this test I zeroed my rifle at 100 yards and put a bullet in the bullseye. Then I moved the turrets one millaradian (3.6 inches) up and one millaradian right and took another shot. After that, I returned the turrets back to zero and continued the test moving the turrets one millaradian down and one millaradian right, taking another shot.
I continued this around all four corners of the target, returning to zero each time to get a sense if the reticle travel was consistent with the movement indicated by the turret. While I did find some minor variance from what the reticle indicated vs. the turret movement, the variance was not greater than the performance of the load I was using in my rifles or my ability as a shooter. I feel confident that the scope was doing its job and the variance was due to a less than perfect load and, if I'm honest with myself, my imperfect shooting.
First Focal Plane (FFP): Sig Sauer Tango 4 Review
Testing for this Sig Sauer Tango 4 review presented me with the opportunity to use a first focal plane scope for the first time. I'd always used a second focal plane scope to this point, so I was excited to try this out. "First focal plane" simply means that the reticle gets bigger as you increase the zoom range and the subtensions on the reticle do not change throughout the zoom range. It makes utilizing your subtensions much easier than a second focal plane scope. The downside in my opinion is that the reticle size increases the further you get into the zoom range, which can cover more of your intended target than you may want.

After putting this first focal plane scope through the paces for this Sig Sauer Tango 4 review, I found myself preferring the second focal plane for the style of hunting and shooting that I do. The first focal plane vs second focal plane is obviously a very personal preference, so this will come down your use and style of shooting/hunting. I like to be able to have as small of an aiming point as possible on a target, particularly at longer ranges, which is why I found myself gravitating towards the second focal plane a bit more.
Warranty: Sig Sauer Tango 4 Review
One additional aspect of the Sig Sauer Tango 4 review is the experience I had with the warranty department. I always cringe just a bit when it comes to warranty work. It seems that too many companies are not willing to stand behind their product these days and leave lots of loopholes that they can jump through.
That was not the experience I had in this case. I discovered an issue with the scope that I could not figure out and had to send it in for a warranty review. I had a very pleasant experience with the warranty department. I spoke with them several times on the phone and went through possible scenarios of what it could be. They went above and beyond what was required of them on the issue and were very knowledgeable of the product and provided a solution that would resolve the issue. Overall, I would give my warranty experience five stars.
How The Sig Sauer Tango 4 Ranked
Image Clarity
Turrets/Knobs
Conclusion: Sig Sauer Tango 4 Review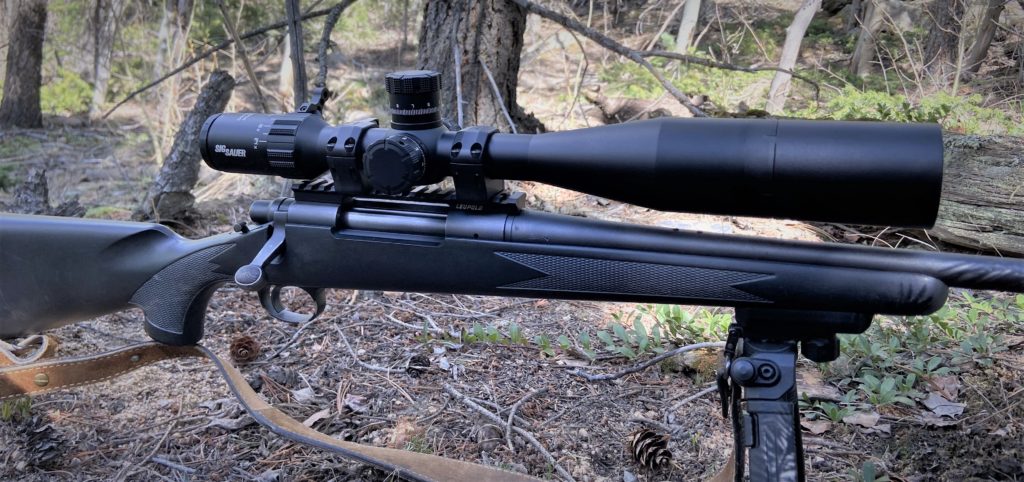 At the end of the day the Sig Tango4 4-24X50 rifle scope is a great quality scope for the price range it is in. You can obviously spend a lot of money on optics, but if you're on a budget and need to stay well under $1000, this scope would be a fantastic option at around $750. The image quality is excellent, it is built well, the zero stop is very functional and easy to use, and I really like the functionality of the lighted reticle. Additionally, the throw lever and sun shade accessories that are included adds additional value.
As I've outlined throughout the review, there are a few things that left me wanting more from this scope, but for the price category the Sig Sauer Tango 4 is in, the quality is great. It will serve you well in the field if you put this scope on any rifle.
Subscribe to Backwoods Pursuit to get Your FREE Backcountry Gear Worksheet!!!
Dial in your gear list, calculate your pack weight, and lighten up your pack with this handy tool!