Why did I want to do this Athlon Ares 20-60×85 review? Over the years I've been looking for a quality spotting scope that won't break the bank, but won't leave me wanting more in optical performance. I wasn't super familiar with Athlon Optics as they are hard to get your hands on unless you know someone who has some.
When I assisted with the large Backwoods Pursuit binocular review, we tested 26 binoculars side by side. When I say side by side, I literally mean we had them all lined up on tripods and looked at them side by side. This was the first time I was able to look through a piece of glass from Athlon. I was so impressed by the quality of their Gen 2 Cronus UHD binoculars that when the opportunity came up to test the Athlon Ares G2 20-60x85mm UHD Spotting scope, I had some high expectations.
Love optics? We certainly do here at Backwoods Pursuit, so make sure to check out our MONSTER 26 BINOCULAR REVIEW. We lined up 26 pairs of the best binoculars we could find and tested them side by side!
Check out our MASSIVE SPOTTING SCOPE REVIEW where we lined up 19 of the best spotting scopes we could find and put them to the test. Side by side with volunteer testers, no brand loyalties (at least as much as humanly possible), many lighting conditions, and 14 guys ranking these things. What an awesome project to put together! Over 2 years of work, research, and testing went into this review. You don't want to miss this!
Dive into the details on EVERY spotting scope in the review above by becoming a Backwoods Pursuit Member (totally free) and you can download the data we used to put this review together. Make sure you check out all our other spotting scope reviews as well! We've had the chance to test quite a few in recent years and just might be able to help you find the perfect optic for your style of hunting!
The Testing: Athlon Ares 20-60×85 Review
For this test, I used the Athlon Ares G2 UHD 20-60×85 spotter in numerous field and range conditions. I have had this spotter for almost a year and in that time, it experienced extreme weather swings from single digit temperatures to triple digit temperatures. The Athlon Ares went through trips into the backcountry in a backpack and over 100 miles rattling around on an ATV. The Ares even experienced some accidental falls to the ground while mounted on my tripod. This Athlon Ares 20-60×85 spotting scope has been through it all, short of some intentional abuse.
I wanted to put the Athlon Ares spotting scope through as many real-life situations as possible before I felt comfortable writing this review. Although this spotter isn't going to cost you the same amount of money as some other optics on the market, you are going to be relying on it just the same for your success in the field.
More Testing Details
I had the opportunity to use this scope through numerous long range rifle matches. During these matches I was responsible for calling impacts on targets from 300 yards to 920 yards. The clarity and resolution of this scope made it easy to spot impacts on small pieces of steel at those distances. Everyone that ended up looking through this scope during those matches were impressed with the quality of the glass. They were even more impressed when I mentioned the price of the Athlon Ares Gen 2 20-60×85 UHD spotting scope.
This spotter went with me on three spring bear hunts, an elk hunt, fall bear hunt, October mule deer hunt, and a November mule deer hunt. I can say without a doubt that I was able to spot and field judge those animals better because of this spotter. Bears are notoriously hard to field judge through binoculars, but with this spotting scope, I was able to zoom in and really pick the bears apart. During the elk and deer hunts, I was able to spot animals in the dark timber that no one else could see. During the first and last minutes of light I was still able to see enough through the scope to identify targets.
This spotter when on over 40 trips to the range, and it was so nice to be able to spot tiny .22 caliber holes in paper at 100 yards or .30 caliber impacts at 1115 yards. When I am solo at the range, I rely heavily on my spotter and scope cam adapter to be able to see my hits and misses at longer ranges. I don't just need to know THAT I impacted the plate, I need to know WHERE I impacted it. The Athlon Ares 20-60×85 spotting scope made it easy to spot those impacts.
The Specs: Athlon Ares 20-60×85 Review
The Features:
Apochromatic Lens System
UHD Glass
XPL Protective Lens Coating
Advance Fully Multi-Coated Lenses
ESP Dielectric Coating
Aluminum Allow Chassi
BAK4 Prisms
Waterproof
Argon Purged
Rotating Ring
Twist-up Eyecup
Tripod Adaptable (ARCA tripod mount built in)
Extendable Sunshade
First Impressions/Features:
The Athlon Ares 20-60x85mm spotter comes in a nicely presented box with specs and features of the spotter on the outside. Inside, the spotter is neatly tucked in foam with an owner's manual and lens cloth. Right out of the box all the adjustments were smooth and did not need to be "broken in." There was a rubber cover for the objective lens and one for the eye piece. The spotter did not come with a cover for the body like some spotters do, and Athlon doesn't offer one on their website. I wasn't too thrilled by the lens covers as they were easily lost after a couple uses.
Looking through the optic for the first time, I was impressed. This only got better once I had the Ares mounted on a tripod. The rubberized coating on the outside of the body is a nice touch and provides good protection. The sunshade works well and is useful for the glassing sessions where you have to look towards the sun.
Weight/Body Construction: Athlon Ares Spotting Scope Review
The Athlon Ares Spotting scope is built with aluminum alloy keeping the cost to a minimum but adding a little extra weight. Given that the Ares features a 85 mm objective lens, the 70 ounce weight is manageable, but it certainly isn't the lightest weight spotting scope is its class. (That award goes to the Kowa TSN88.)
Focus System: Athlon Ares Spotting Scope Review
Another fantastic feature we noted during this Athlon Ares Spotting Scope review is its barrel focus system. Most of the group found that the barrel focus design as a whole made it slightly more difficult to bring the spotting scope into fine focus, particularly at higher magnification when you really need it to be fine, but the barrel focus system of the Athlon Ares spotting scope is extremely smooth and well balanced.
The Athlon Ares barrel focus system is also just the right focus speed to make resolving the image a breeze. This was yet another area that this Athlon Ares Spotting Scope performed well above its price point.
Eyepiece: Athlon Ares 20-60×85 Spotting Scope Review
The eyepiece on the Athlon Ares spotting scope is super smooth and can be micro-adjusted to meet your eye relief needs. Rather than a multi-click adjustment option, Athlon Optics puts a smooth adjustment with no click stops, and you get an impressive 18mm-19.5mm of eye relief as well! The eyepiece has enough resistance to keep it from moving when in your pack, but not too much to make it difficult to adjust. The Athlon Ares eyepiece is very similar to its bigger brother, the Athlon Cronus, and both remind me of the Swarovski ATX eyepiece. It is one of my favorite eyepieces.
Edge-to-Edge Clarity: Athlon Ares 20-60×85 Spotting Scope Review
Again, the edge-to-edge clarity of the Athlon Ares 20-60x85mm spotting scope is excellent and produced a nice, crisp image in most of the field of view. You do lose a little clarity on the outer edge of the field of view, but at this price point it was again a great performer in its class.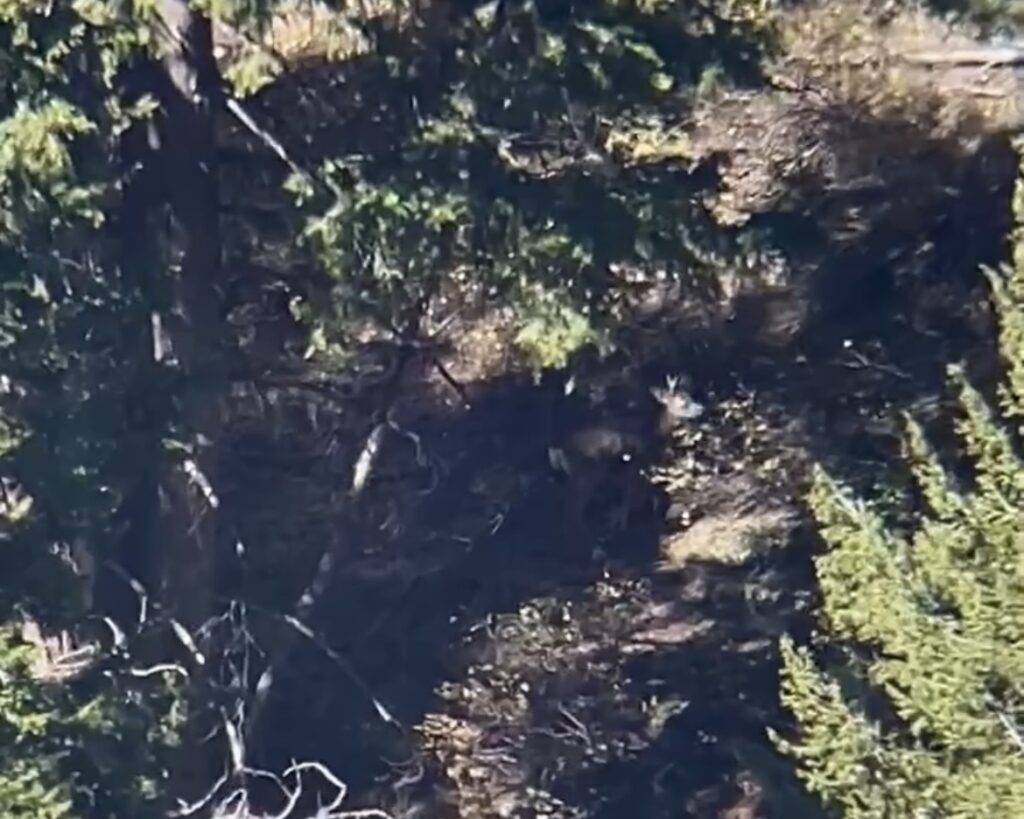 The image produced by the Athlon Ares 20-60×85 mm is crisp, clear, and produces a nice color contrast, even into the waning hours of the evening. While you can't expect top tier performance from a spotting scope in this price class, it performed exceptionally well for its price category. Spending that extra money on the Kowa TSN 88 or the well-known Swarovski ATX gets you a few extra minutes of good viewing in low light, so whether that's worth it to you is entirely your decision.
Chromatic Aberration: Athlon Ares 20-60×85 Review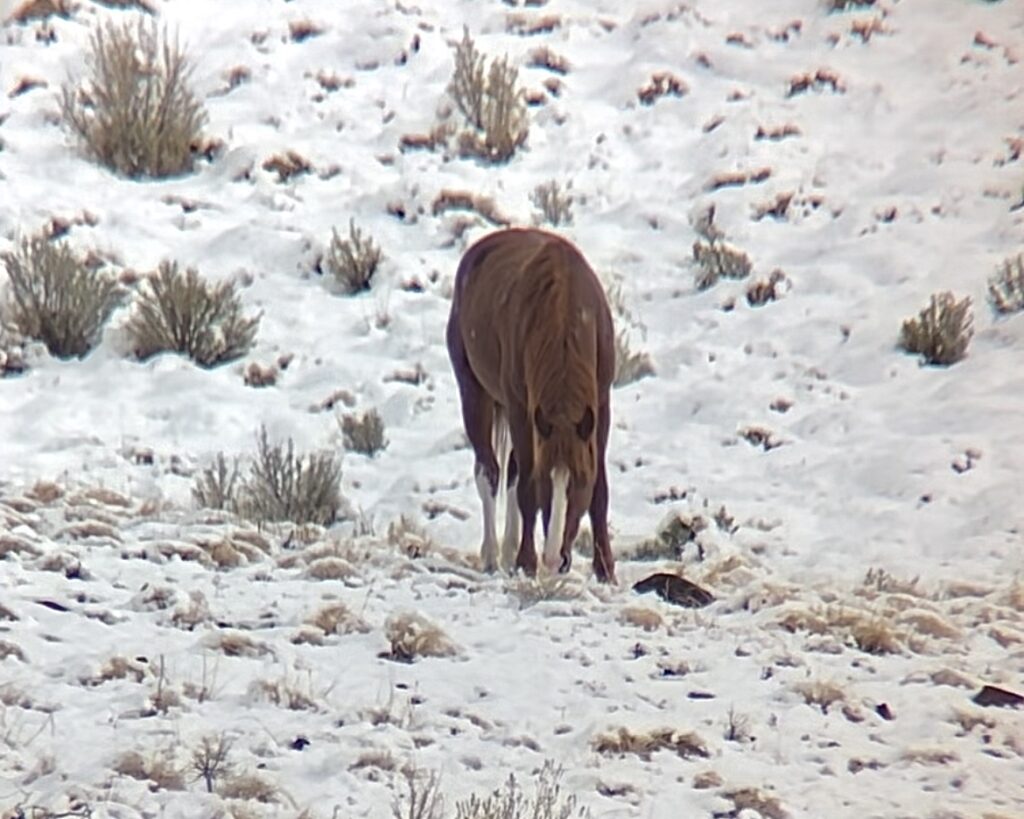 Some chromatic aberration was noted during our testing as you can see in the photos above. We had some great viewing conditions to test with spotting some wild horses and mule deer in snow. As you can see, there was a little grayish/blueish blur around the very edges of the horse. Again, it wasn't bad, but a little was noted. However, for a spotting scope coming in under $1000, it was impressive!
What We liked: Athlon Ares 20-60×85 Review
Image Quality
The best thing about the Athlon Ares spotter is the quality of glass for the price point. Much like their other optics, this spotter punches above its weight class. I was able to compare it side by side with some other optics that are the same price point and some that are above. The edge-to-edge clarity and resolution speaks to the quality of the coatings and glass used by Athlon. With the 85mm objective lens, the light transmission even in the fading light is more than I expected. This spotter will outperform other optics that are in the $1,200 price range for a lot less dough.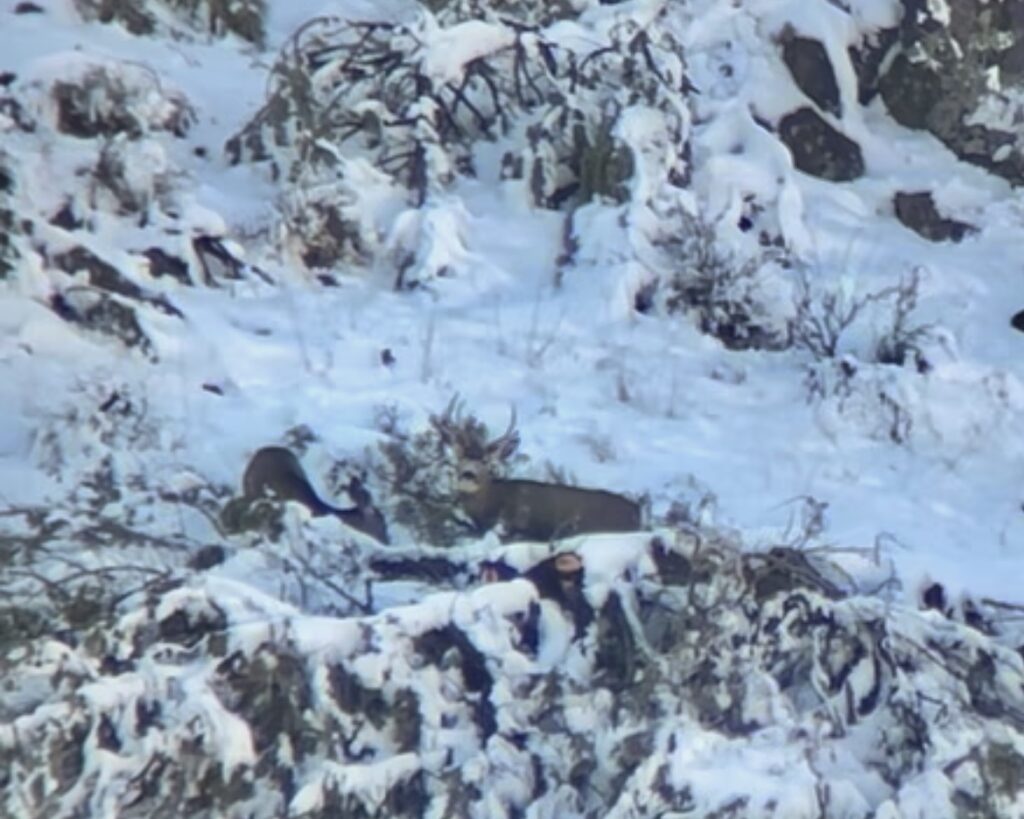 Rubber Armor
The rubberized coating was unintentionally tested a couple times. At the local range during a long-range rifle match, I had the optic setup at standing height to spot impacts. During the match, the tripod was accidentally kicked, and the optic fell to the concrete. Much to my surprise, there was no damage to the body nor the lenses.
During my October rifle hunt, I was using the spotting scope from a seated position on a rocky hillside. I moved the tripod aside to maneuver my position when the tripod tipped, and the tripod/spotter combo fell about 10 feet down the hill onto the rocks. This fall unfortunately resulted in some slight cosmetic damage. The edge of the scope close to where it meets with the objective lens was dinged slightly, but everything else on the scope was unharmed. I was surprised that the scope was not damaged more than it was.
The mounting foot of the spotting scope is ARCA Swiss compatible which is a great feature. This eliminates the need for an additional mounting plate if your tripod head accepts ARCA. If you don't have an ARCA Swiss setup yet, no worries, Athlon has you covered. The bottom of the mounting foot is threaded with standard ¼-20 female threads.
All the adjustments are tight but smooth. The magnification ring is big enough to be able to use easily with gloves on, but it isn't bulky. The eye cup, from all the way in, has two positions that have a positive detent followed by a positive detent at the most outward position. The focus ring has the right amount of tension but still tight and not sloppy. The barrel-type focus keeps the spotter sleek with less points to snag when taking it out of your pack.
The focus is fine enough of an adjustment that I felt I could get properly focused on objects no matter what the range. Along with the fine focus, the focus was still fast when I had to transition from near to far targets and vice versa. The mounting collar (that the tripod mounting foot is integrated into) has an easily adjusted thumb screw on the right of the spotter (if viewed through the eyepiece). The ring allows you to have 360-degree movement of the spotter inside the ring.
The ring has 8 detent locations along its rotational travel. These 8 points would correspond with the sides of an octagon. The thumb screw on the side allows you to lock down the spotter in whatever angle you choose regardless of the detents.
What We Didn't Like: Athlon Ares 20-60×85 Review
Angled vs Straight?
I decided to go with an angled spotter for this review and found I have a love/hate relationship with that style of spotter. This isn't a reflection on Athlon or this spotter but just angled spotters in general. This isn't a comparison of straight vs. angled spotters, but before you choose one or the other, make sure you know the pros and cons.
Weight
The Athlon Ares 20-60×85 mm spotter does come with a weight penalty. It weighs 70 oz (4 lbs 6 oz) which is hefty. Comparing that weight to others in that 20-60x85mm range, it's not the lightest but it's not the heaviest. For me, when I need a spotter, I don't mind carrying the weight if the optical performance is worth the weight. In this case, the optical performance was worth the weight but that is one thing someone needs to consider with this scope.
There are spotting scopes out there that will offer similar or better optical quality with a lot less weight, but you are going to pay a price for that. There is no free lunch when it comes to weight. You are either going to lose reliability (thinner material) or pay more money for it (different materials that are lighter or fewer lenses). Sure, you could go with a 65mm spotter, but going that route you will pay for the weight savings in performance. You won't have the magnification range and low light performance that this 20-60×85 mm will give you.
No Cover
The only thing I wish Athlon would have included with this spotter (or had as an option to purchase from them) is a neoprene cover for this spotting scope. There really aren't many aftermarket options for a cover for this scope that won't have another optics company name on it. I used an old sock for one trip and cut out holes for the mounting plate and mounting collar screw. This worked OK but still didn't protect the lenses. Riding on an ATV for a long time exposed to the dust and brush, it would have been nice to have a fitted cover for the lenses and scope body.
Athlon Ares Spotting Scope Review: The Warranty
Athlon Optics backs its optics with a full lifetime, no questions asked warranty. Although I didn't need to use it with this spotting scope, Athlon has a great warranty. Their lifetime warranty is one of the best in the business. There is no receipt or proof of purchase necessary and no registration. The warranty is fully transferable to new owners and covers repairs or replacement if the product is damaged through normal use. The warranty does not cover "damages caused by deliberate damage, misuse, theft or maintenance provided by someone other than the Athlon Authorized Service Department."
There was a day not that long ago where this was unheard of and only one company offered that kind of backing to their optics. That's no longer the case as a good number of optics companies now offer such amazing warranties. Athlon Optics is one of those companies. You can just get out there and glass with your new Athlon Optics glass without worrying that, if an accident were to happen like we all know they can, you are out a lot of money. That's a peace of mind that is awesome to have.
Rankings: Athlon Ares 20-60x85mm Spotting Scope
Relative to Its Price Category
Conclusion: Athlon Ares 20-60x85mm Review
In my opinion, this Athlon Ares G2 UHD 20-60x85mm Spotting Scope is a great scope for whatever your needs. Using it on the range during rifle matches, I used it a lot on the low power setting for the field of view. During mid-day glassing sessions in October for mule deer, I was able to zoom into 60x and spot deer in the shadows across the canyons. That also speaks to the resolution and clarity of this optic.
The Ares was unintentionally banged around and still performed flawlessly. I feel very confident that if you spent your hard-earned money on this optic, you will be able to rely on this scope for all your glassing needs. If you are looking at a spotter in the $800-$1200 range, you need to give this spotter a look before purchasing anything else.
---
Subscribe to Backwoods Pursuit to get Your FREE Backcountry Gear Worksheet!!!
Dial in your gear list, calculate your pack weight, and lighten up your pack with this handy tool!