The Patagonia R1 Techface hoody is a unique mid-layer piece that just might earn its way into your kit. While the soft shell category of clothing has been called by some "the minivan of outdoor clothing," referring to the fact that many believe a soft shell doesn't really excel at any one thing much less being a go-to piece in a variety of different conditions, a good mid layer is absolutely critical no matter what you think of a soft shell.
Since we are comparing clothing to vehicles, the mid-layer is akin to the family pick-up truck; grocery runs on Friday, toting the family to church on Sunday, all while still hauling a half ton of rock for the landscaping and getting you 5-miles up a high-clearance road to the trail head. Mid-layers are a unique breed of garment and arguably the piece we expect the most out of.
"Keep me warm. Oh! But also keep me dry. Make sure you breathe well while I'm moving and, if at all possible, be light enough to carry during every season and durable enough that I don't have to peel you off before dropping down through the brush of this river bottom."
It's a tall order, isn't it?
Ten years ago, there was really only one answer that came even REMOTELY close to answering that call – the grid fleece.
Things have changed nowadays as many companies have begun to hear our cries for a do-it-all garment. Sitka has created the Ambient jacket and Ambient hoody. Arc'teryx has the Proton LT. And Patagonia has this beauty – the R1 TechFace Hoody that fits that description.
The Testing:Patagonia R1 TechFace Review
As we always do here at Backwoods Pursuit, we field tested the Patagonia R1 TechFace hoody to find out how it actually performed. Over the last several months, I was able to put this piece through the paces in a variety of environments and temperatures.  What I found was that the Patagonia R1 TechFace hoody ranges as a standalone piece in mid-fall for use as a main jacket and as a true mid-layer piece as the temperatures continue to drop later in the season, when it then becomes a layering piece under a down vest.
I've found the jacket to be fairly versatile in a variety of situations. I've worn it when the temperatures were in the mid-60s and found it to work well as a standalone piece in light-to-moderate exertion (walks, hikes, etc). I do most of my training in the early morning hours when there is no sun out, so I didn't feel too warm with this on. I could see that changing if the output was vigorous or if it was a sunny, bluebird day.
As the temps dropped (mid-40s to 50s), I added a layer and still found sufficient warmth on moderate activities. It definitely would've lacked warmth if I was relying on it as my only insulation piece while stationary (glassing, etc.). In mid-November, I wore it in a moderate rainstorm and found it to bead water well. The jacket isn't designed to be a rain jacket, so the material would eventually 'wet out' if continually exposed to the rain, but I didn't have any issue with the brief precipitation it did see.
The Specs: Patagonia R1 TechFace Hoody
Shell/face fabric: 92% Polyester, 8% spandex
DWR treated
Insulation Type : Grid "fleece" of unknown weight.  It feels more breathable and less insulating than comparable grid fleece (First Lite Klamath, OR Vigor, Patagonia R1, etc.).  Much of that has to do with the layout of the grid fleece with more space between each grid billow.  The billows aren't too thick either. 
Weight: 13.8 oz (Advertised medium). 14.1 oz (Actual small).
Fit: Trim, articulated
Materials: Patagonia R1 TechFace Hoody
Patagonia has its signature planted on what we could argue is the most highly regarded and well-loved grid fleece in all of the entire outdoor community in its R1 jacket. ("R" appropriately standing for its ability to "regulate" heat/moisture when active).  It's been around for more than 20 years and the affinity folks who spend time outside have for it is well-deserved.  It has a mix of large, fluffy, fleece billows woven together in a grid pattern.  Between those billows is a breathable, woven, face fabric that allows for superior breathability while moving, while still managing to maintain excellent warmth in cold weather.
The Patagonia R1 TechFace hoody isn't that.
For starters, the TechFace has a thinner fleece in its grid-pattern. I found this to be overall less warm than the R1 and other comparable grid fleece (First Lite Klamath, Outdoor Research Vigor, R1, etc..). That, combined with the fact that there are larger gaps between the squares themselves, makes this jacket seem both more breathable and less warm than other grid-fleece. This is an important factor to consider if (a) you find that you generally get warmer than others with any output and/or (b) it's a shoulder season where you don't want or need something as stout as a full on grid-fleece.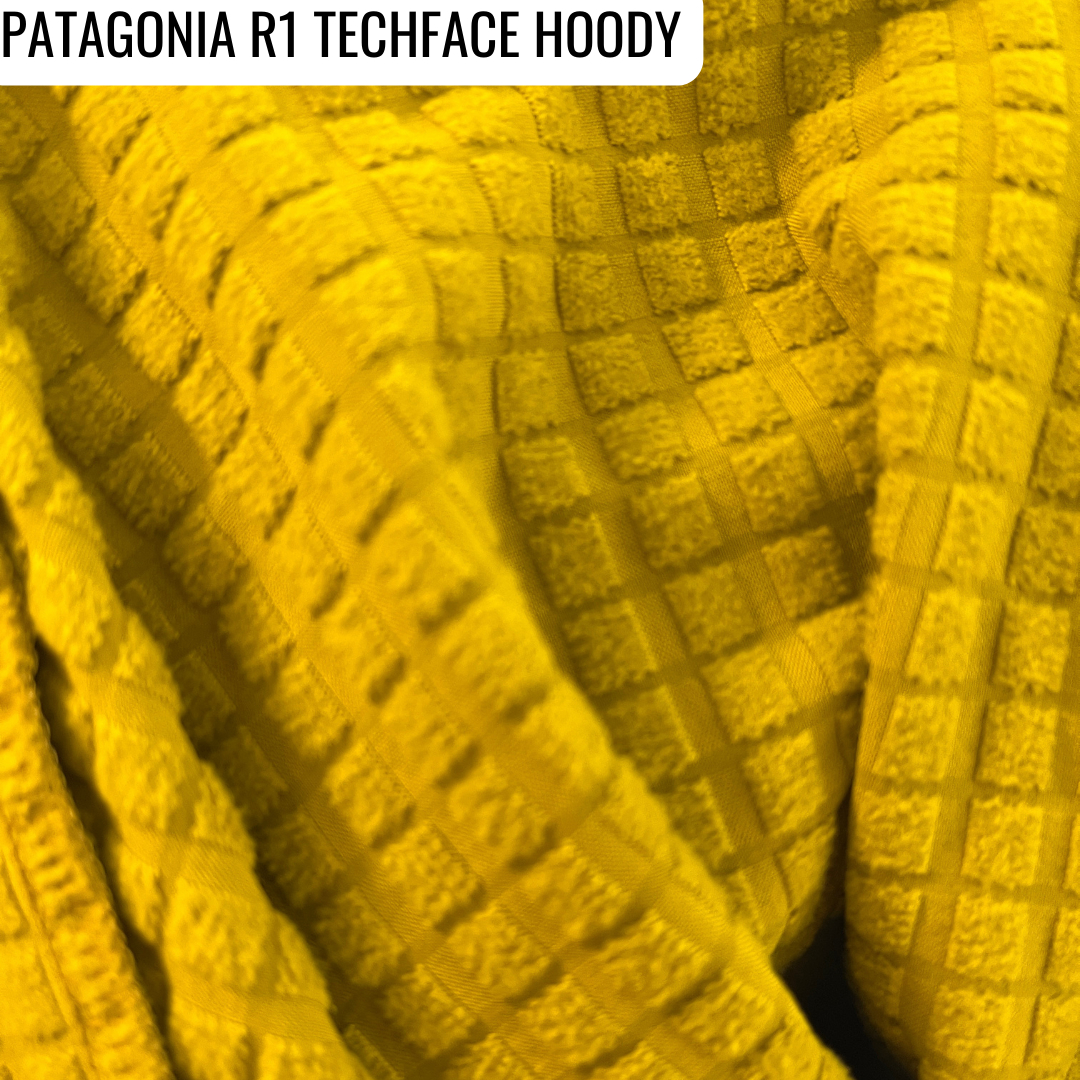 Comparison of fleece among three of the top grid-fleece contenders
Perhaps the most unique feature of the Patagonia R1 TechFace hoody is just that – its face fabric.  
The folks on the Exo Mountain Gear podcast once did a fabulous job explaining the role of mid-layers as an active insulation piece. In the podcast (Monday Minute 174 – it's worth the listen), they describe how most insulation pieces need two fabrics to hold the insulation that's sandwiched between them. Think of a down jacket for example. Without fabric, you'd have a bunch of feathers floating around all over the place.
The greatest problem with this is most fabrics holding that insulation don't allow for great breathability while you're moving. Instead, they trap the heat and that obviously causes you to sweat. Your sweat creates a significant amount of moisture and that's one of the major culprits for the 'clammy feeling' everyone complains about when wearing a jacket while hiking.
To make matters worse, many face fabrics need to be quite durable to have any hopes of standing the demands of the mountains. As you might imagine, the more durable the fabric, the less breathable it is.
This is where the TechFace hoody excels over something like the Atom LT from Arcteryx.  While the Atom has a great feature-set and is well-known to be great as an active mid-layer, it doesn't have a durable face fabric.  If it were exposed to granite, brush, and other things we face in the backcountry, it would look more like streamers at a 6-year old's birthday party than an expensive mid-layer.  (It's worth mentioning that Arcteryx does have the Proton LT for folks who anticipate using their jacket as body armor in addition to warmth).
Patagonia has given the TechFace a moderately warm interior, but covered it in a weather-resistant, DWR coated, stretchy polyester face fabric. This makes for a tough mid-layer that's reasonably warm and moderately weather-resistant. It's one of the things that sets it apart from something like an Atom LT or a traditional grid fleece.
Here are a few other unique and standout features that I appreciated:
Sleeve Cuffs: Patagonia R1 TechFace Hoody Review
One of my greatest pet-peeves about grid-fleece (or any mid-layer for that matter) is its propensity to pill (create those little fuzzy balls on the outside of the garment). It makes a garment go from looking great one week to looking like something you pulled out of the back of a closet on Hoarders the next. This fleece jacket does not do that.
Patagonia has sewn in these small, elastic cuffs on the inside sleeves of the jacket. That may not seem like a big deal, but I appreciated the change as I realized the amount of 'traffic' and rubbing these areas see from pants, packs, etc. It's a nice feature to make the jacket maintain a decent appearance a little longer.
A watch can fit under the sleeve, but the larger face Garmin Fenix 6X is snug.
Make sure to check out our other gear reviews and the Backwoods Pursuit YouTube Channel to help you decide what gear will help you stay out in the field longer!
Adjustable Hood with Laminated Visor (i.e. There's structure to it).
The last piece of layering clothing that I purchased without a hood was the Patagonia R1 referenced above-It's that good!  The TechFace hoody comes with a hood that adjusts in two places.  You can pull it tighter around your face or adjust it in the back to create a more tailored fit around your whole head.  The laminated visor is a nice touch that provides a rigid-like structure more likely to repel rain or stand up in the wind than a flimsy-non laminated version.
The hood does a nice job of providing great neck and mouth coverage when fully zipped. I found it to be a close fit, but not so close that you feel like you're wearing a balaclava you never wanted.
Adjustable Hem Cords: Patagonia R1 TechFace Hoody Review:
You could have the warmest, highest-performing jacket on the planet ruined by a cold, swift wind right up your back.  The Patagonia R1 TechFace Hoody has dual elastic hem cords to cinch up if things get breezy.
Plenty of Storage: Patagonia R1 TechFace Hoody Review
There are two external, zippable pockets and an internal pocket that you could easily fit elk calls, a Garmin InReach Mini, or other items you want to keep handy.
Lamented/"Welded" Seams: Patagonia R1 TechFace
You can see the transition from the soft grid fleece to the more structured sections at the neck, around the hood, etc. This may not seem like a big deal, but it's another one of those small details that Patagonia nailed. It keeps the area around the neck, face, and hood upright without having to be zipped up. Other comparable jackets lack this. I've always had to rely on zipping it all the way up to prevent wind from pouring into the front of the jacket.
Again, it may not seem like a big deal, but I often don't want my jacket zipped all the way up while trying to regulate heat but I do seek to have some wind protection. (Remember how I mentioned we're quite demanding on the features we want our garments to have?) This slight feature was appreciated.
Overall Fit: Patagonia R1 TechFace Hoody Review
The Patagonia R1 TechFace Hoody is advertised as a "slim-fit" jacket (they have offerings in the 'relaxed fit' category too by comparison). 
I definitely find that it is a closer fit, but not to the point of needing to 'size up' unless you're wanting to have multiple layers under it.
I traditionally wear a small and as such ordered the same size in this from Patagonia. I find it to be a trimmer fit than the First Lite Klamath in the torso, but a similar fit in the sleeves ("shooters cut").
I actually ordered the medium at the same time to compare sizes. While I found more freedom in the torso (this would have been a great option if I planned to wear layers under it), I found the fit to be sloppy and the sleeves far too long which was annoying. I also think it's worth noting that as I continued to wear it more and more, it became softer and fit better.
What I liked: Patagonia R1 TechFace Hoody Review
Smaller grid pattern for warmer days.
The R1 and similar pieces are warm…and that's great when it's cold outside and you're not moving a lot. But, if it's early-to-mid fall and you find yourself doing a big climb, I appreciate the smaller, cooler grid pattern from the TechFace.
TechFace- I don't have to worry about it.
I own some pieces that I'm worried will end up shredded if I brush against a blade of grass much less actually rub up against a tree or fall in a scree field.  The Patagonia R1TechFace leaves those worries at bay.
Full-zip
Most mid-layers are offered in a pull-over, quarter or half zip option. I like the option of a full jacket for venting purpose, easy on/off, or to throw on while glassing without having to take my binos off first.
Stitching in the shoulder and pit seams
I've never quite understood why companies put a cross or zigzag stitch on the outside of a garment at the seams.  This is especially true of pieces that are designed to be worn outside with the use of a backpack.  Even if the face fabric holds up to the constant rubbing of a pack, the seams inevitably start chafing and looking worn after only a few uses.  I appreciated that the stitching is on the inside of the Patagonia R1 TechFace jacket in these high use areas. 
What I Didn't like: Patagonia R1 TechFace Hoody
Trim fit
I don't want things to swallow me, but I also feel like I'd like just a little more room in the torso. With that said, jackets as a category tend to be tight in my chest/shoulders and loose everywhere else. So the fit may be perfect for you depending on your build.
Price
$200 for a mid-layer is on the expensive side
Lack of Specificity
It really doesn't have a specific place in the mid-layer category. There are pieces with better warmth and equal breathability that I'd likely reach for before this.
How It Ranked: Patagonia R1 TechFace Hoody Review
The price point of the Patagonia R1 TechFace hoody is a major barrier for a lot of folks at $189.99.  With that said, it seems like a bargain when comparing it to Stika's Ambient at over $250 and Arc'teryx's Proton LT, pushing $300.00.   I recognize that we're hardly comparing apples to apples by comparing all of those garments next to one another, but it shows that $189 isn't the 'ridiculous price tag' Patagonia is sometimes docked for either.
The main reason for the ranking is that there are options out there that provide better warmth with moderate-to-equal durability and breathability. You could wear it around town (and I do), but it definitely looks like a technical garment vs a dual-purpose lounger/made-for-the-backcountry piece.
How It Ranked
Overall Ranking
Conclusion: Patagonia R1 TechFace Hoody Review
While not warm enough to be a standalone jacket, I've found the Patagonia R1 TechFace hoody to be a great piece for shoulder season and as an active-insulation piece that has a face fabric likely to hold up to anything you can throw at it. 
The price point is somewhat steep at $189.99 (MSRP), but you most certainly get the quality you'd expect from a brand like Patagonia. If you are looking for something slightly warmer, you might consider the R1 from Patagonia or the Condor Fleece (Amazon) as a budget option without a hood. Alternatively, the Outdoor Research Vigor Hoody is a great alternative if you want a full-zip, hooded option.
Subscribe to Backwoods Pursuit to get Your FREE Backcountry Gear Worksheet!!!
Dial in your gear list, calculate your pack weight, and lighten up your pack with this handy tool!