Looking for a killer pair of binoculars, but the price tag or the Alpha glass isn't in the cards? You'll want to check out this Sig Zulu 9 review as we had the chance to put these Sig Zulu binoculars up next to others in their respective price class, and the results were extremely impressive. In fact, these Sig Sauer Zulu 9 binoculars were so impressive, they out-performed other more expensive binoculars in our testing when we did our recent massive side by side binocular review where we tested and ranked these Zulu 9s next to 25 others. Check out that review to see how they ranked in our testing!
For this price class, that is the next step up after the $1000 category, you really start splitting hairs in performance, but that doesn't mean that there aren't significant differences. In fact, for this price point, our team was surprised to find more noticeable differences between binoculars than in the $1000 category. Check out that huge binoculars review for all those details.
The Sig Sauer Zulu series of binoculars come in a number of variations depending on your needs. The Zulu series of binoculars starts at the Sig Zulu5, which is the least expensive, then goes to the Zulu7 which is a step up in optical performance, followed by the Zulu9, which is their highest performing binocular. They also offer an image stabilizing model, the Zulu6, which is quite unique. Each of these comes in a couple of magnifications.


Love optics? We certainly do here at Backwoods Pursuit, so make sure to check out our MONSTER 26 BINOCULAR REVIEW, as well as our massive 19 SPOTTING SCOPE REVIEW. For both of those reviews, we lined up the optics and tested them side by side!
If you are in the market for some top tier binoculars, make sure to check out our review comparing the Swarovski NL Pure vs Zeiss Victory SF vs Leica Noctivid binoculars. We dive deep into the performance differences of those three pairs of binoculars.
---
The Specs: Sig Sauer Zulu 9 Binoculars
The Sig Sauer Zulu 9 11×45 binoculars are significantly larger and heavier than most of your standard 10×42 binoculars. That might seem obvious given that these come in 9×45 and 11×45 configurations, but I didn't quite expect them to be as big as they are. With that being said, the larger size makes them more stable in your hand than a small 10×42, which is nice with the extra magnification you get with the Sig Zulu 9 binoculars. Here are the specs for the 11×45 model we tested: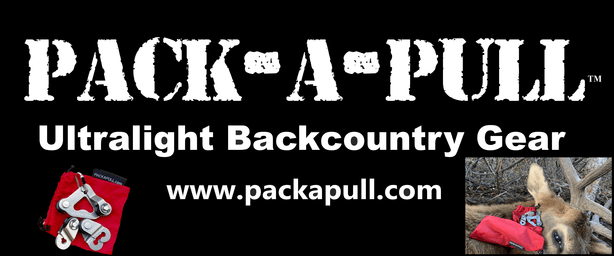 Eye cups: Sig Zulu 9 Review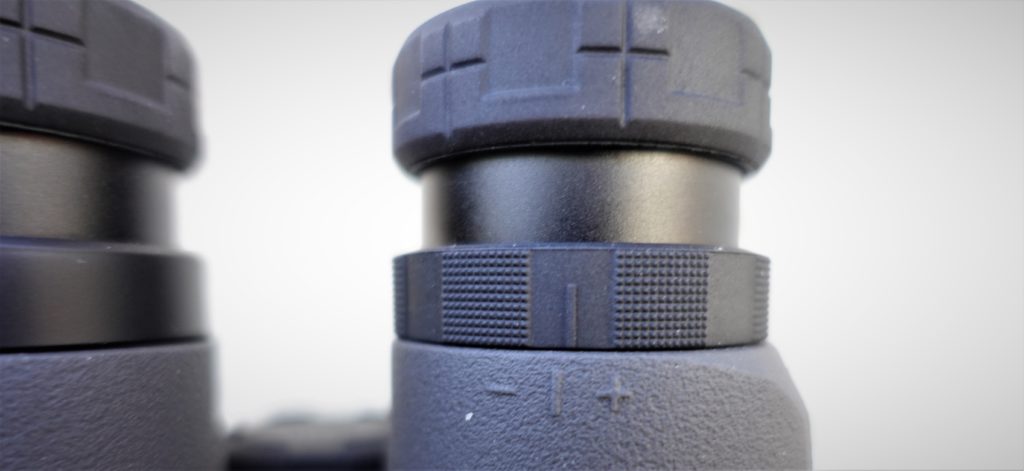 The eye cups on the Sig Zulu9 binoculars offer some great eye relief at 17.3 mm- plenty of adjustment for most folks. They are comfortable and fit extremely well on your face while not being overly bulky or awkward. I even like these eye cups more than the ones offered on the Zulu7 binoculars as they are a little thinner and lower profile.
Each of the four click stops is defined to help keep the eye cups at your desired position, however, I did notice that they are a bit on the loose side and have some play at each stop. The eye cups move a little too freely for my liking. I'd like to see them have more resistance to help them stay where you leave them when taking them in and out of your bino harness.
Tripod Adaptability: Sig Zulu 9 Review

The Sig Zulu 9 binoculars give you the ability to put them on a tripod to provide extra stability while glassing. I'm a huge fan of glassing from a tripod, but particularly with a larger pair of binocular like these. During testing for this Sig Zulu 9 review, I was a huge fan of the location of the tripod adapter threads. Being able to attach the adapter near the center of the optics provides extra stability.
Check Our Video Review of these 4 Great Tripod Adapters
We tested a number of other tripod adapters as well, so take a look at our comprehensive binocular tripod adapter review for additional options!
Focus Mechanism: Sig Zulu 9 Review


The focus mechanism of the Sig Sauer Zulu9 binoculars is silky smooth and doesn't have any play whatsoever. This is impressive for a binocular in this price class, but I'm not surprised coming from Sig Sauer. The focus wheel moves with pretty significant resistance, but not too much as to make fine focusing an issue.
Of all the binoculars we've tested, these Sig Zulu 9 binoculars have the fastest focus we ever tried. There is one full rotation of the focus wheel from one end to the other, but it takes a minuscule amount of rotation to bring the image into full focus. This is great for quickly bringing images into focus, but does take some getting use to when fine focusing. After a little use, you get a good feel for it.
Now, the Sig Zulu7 binoculars were the opposite of these in that they didn't have quite enough resistance for our liking, but had the perfect focus speed. Somewhere between the Zulu7 and the Zulu9 would be perfect as far as resistance.
Diopter Adjustment: Sig Zulu 9 Review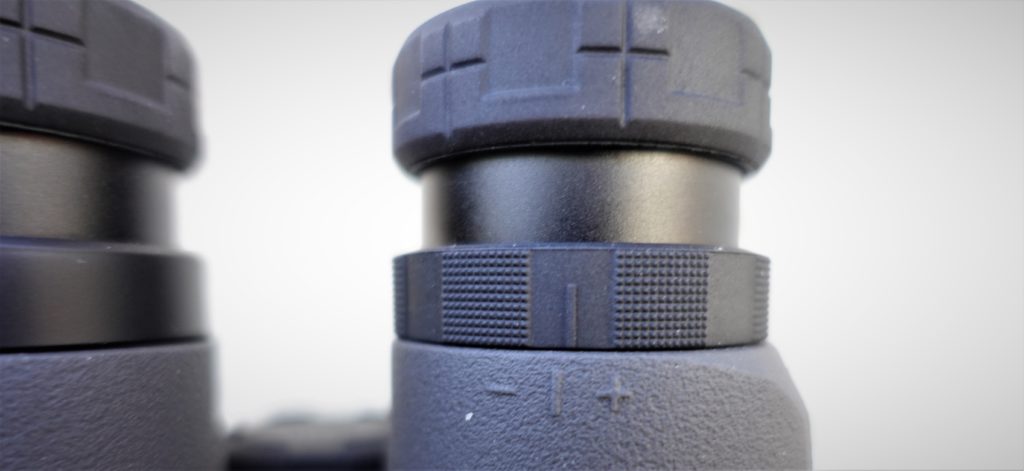 Unfortunately, the diopter adjustment on the Sig Zulu9 11×45 binoculars does not lock. It does, however, offer substantial resistance so as not to accidentally move, so it works just fine. However, for a pair of binoculars at this price point, I've come to expect a locking diopter. As is, the diopter won't move unintentionally, but I always prefer it to be locking.
During our extensive testing for our huge 26 binocular review we noted that even some of the binoculars in the $1000 and above price range didn't have a locking diopter, so it's not unheard of, but it certainly would be an improvement for these Zulu9 binoculars. I always prefer a locking diopter so it's a "set it and forget it" kind of thing.
Feel/Rubber Armor: Sig Zulu 9 Review

The Sig Zulu binoculars are protected by a rubber armor that have a great, non-slip feel to them. The larger size of the Zulu 9 makes them very comfortable, and they feel very stable in hand. The hinge offers nice resistance and doesn't move too freely, making sure the interpupilary distance doesn't change while in your bino harness. Everything about their feel says they are well-built and sturdy.
See How The Sig Zulu 9 Stack Up
Field of View: Sig Zulu 9 Review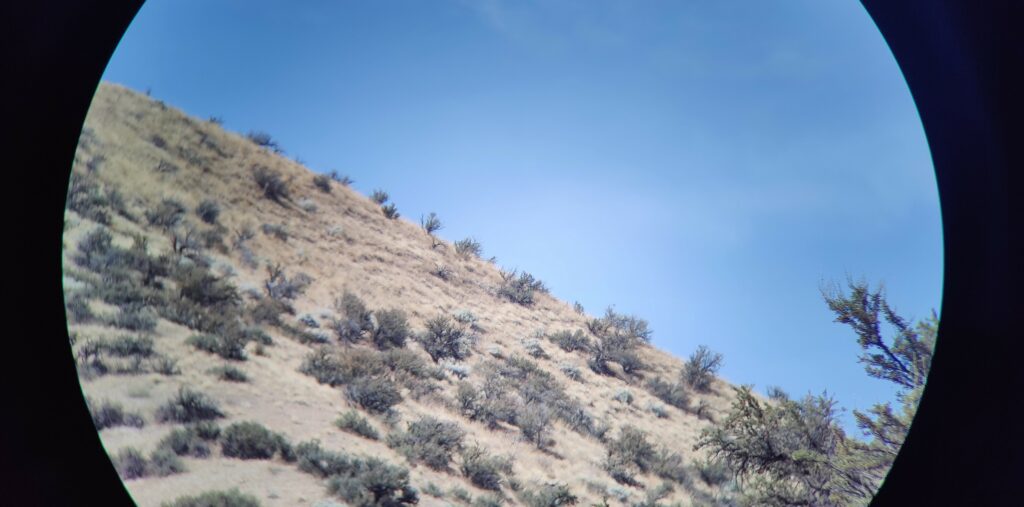 During this Sig Zulu 9 review we noted that the field of view is a bit on the smaller side at 315 feet at 1000 yards. Normally this might be a deal breaker, but given that you get extra magnification in an 11x binocular, it's expected to have a smaller field of view. In fact, some 10×42 binoculars we tested in our huge 26 binocular side by side comparison had a similar field of view without the benefit of extra magnification.
Color and Clarity: Sig Zulu 9 Review
Here is where things got interesting during this Sig Zulu 9 review. The color and clarity of the Zulu 9 11×45 binoculars is not only excellent, but it far exceeded our hope and expectations. We were quite honestly shocked to find that, while they were the least expensive pair of binoculars in their category, they performed near the top of the price range ($1000-$1500). Clarity, image resolution, and color contrast were all near the top of the class despite the lower price tag, and they proved to be the top value binocular in this category.
Edge-to-Edge Clarity: Sig Zulu 9 Review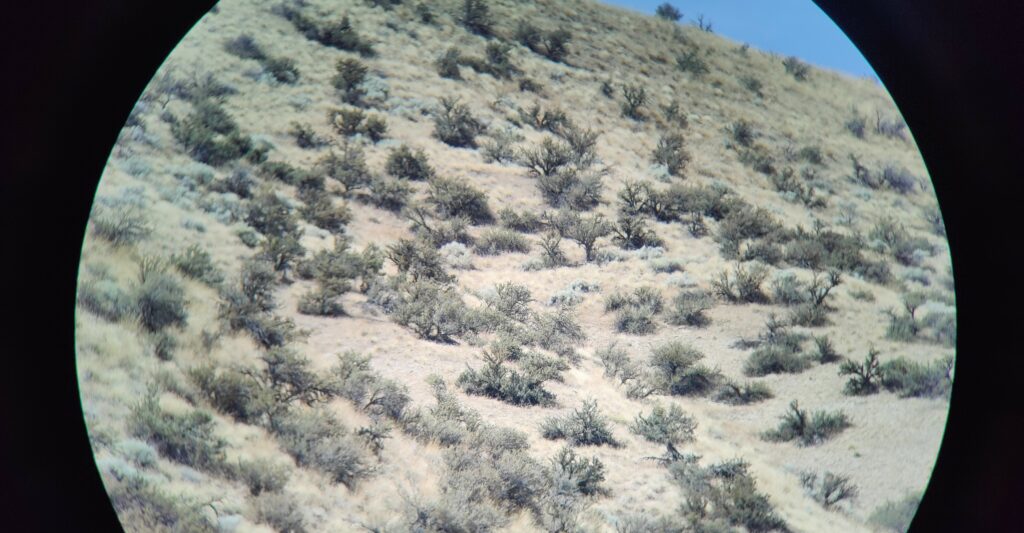 One of the trademark features of a really good pair of binoculars is how they perform in the edge-to-edge clarity department, and the Sig Zulu9 binoculars were as good as any in their respective category. Again, another impressive performance from the Zulu9 binoculars! While the little brother, the Zulu7, struggled a bit in edge-to-edge clarity, the Zulu9s were outstanding and performed well above their price point.
The center of the image offers a nice crisp, well-contrasted image and the Zulu 9s maintain that sharp image until the outer 15-20% of the image. Not perfect, but as good or better than any others in this category, including the Swarovski SLCs (which I'm a huge fan of). Amazingly, these Zulu9s outperformed the SLCs in the edge-to-edge clarity department. I might catch some grief for saying that, but our whole team agreed on this.
Low Light Performance: Sig Zulu 9 Review
During our testing for this Sig Zulu 9 review, we had the opportunity to put them to the test in low light situations and monitor how they performed as light faded into the evening. This was another area that the Sig Zulu 9 binoculars were outstanding. Again, they way outperformed their price point and finished near the top of the pack in low light performance. Super impressive! As light faded, they continued to shine and were able to resolve the image right just like the more expensive Swarovski SLC, Meopta Meostar B1 Plus, Vortex Razor UHD, and Kowa Genesis binoculars. Some of our testers even picked the Zulu 9s to win the low light test.
Check out the full review of the 26 binocular comparison here!
Eye Strain: Sig Zulu 9 Review
Another big factor in our testing during this Sig Zulu 9 review was looking for any eye strain. The Sig Zulu9 binoculars are excellent in this department and provide a nice relaxed viewing experience. Long periods of glassing will certainly cause eye fatigue if you are experiencing eye strain with binoculars, but the Sig Zulu9s are amazing in this regard, making long glassing sessions a breeze.
What I liked: Sig Zulu 9 Review
There is so much to love about these Sig Zulu9 binoculars. Incredible low light performance, image clarity, edge-to-edge clarity, and value top the list.
Image clarity
Long eye relief
Smooth focus mechanism
Comfortable eye cups
Edge-to-edge clarity
Low light performance
Good color contrast
Great rubber armor and housing
Exceptional value
The Sig Zulu9 11×45 binoculars are huge performers and an exceptional value!
What i didn't like: Sig Zulu 9 Review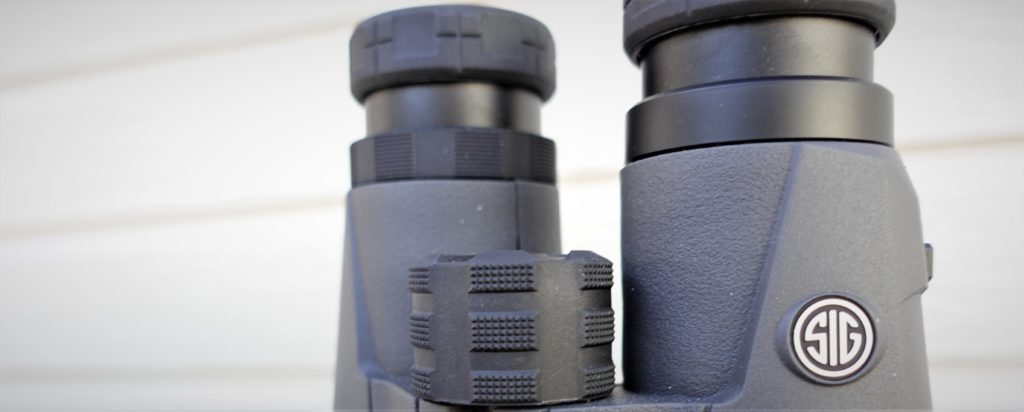 The Sig Zulu9 11×45 binoculars have a few things that could be better, but the list is pretty short. Their focus wheel is a bit on the fast and stiff side, and the weight is certainly up there at 36 oz. The eye cups could be tighter, and there is no locking diopter which is a little disappointing.
Weight (36 oz)
Eye cups have some play
No locking diopter
Focus wheel too fast
Sig Sauer Warranty
Sig Sauer covers their optics with their "Infinite Guarantee" which is a fantastic unlimited lifetime guarantee that doesn't require any registration or receipt, is fully transferable, and covers your optics against pretty much everything except loss, cosmetic damage, or intentional damage. When it comes to optics, it's nice to know that you are covered if something happens to your expensive optics, and the very limited experience our team has had using the Sig Sauer warranty was very good (We didn't use it for these Zulu 9 binos, but another Sig Sauer product). You can't ask for much more in a warranty on your optics!
Sig Zulu 9 Review Conclusion
At the end of the day, not everyone can afford to drop thousands of dollars on a high end pair of binoculars, but that doesn't mean you need to settle for poor performance. Value like you get with these Sig Zulu 9 binoculars will keep some cash in your pocket for other gear without giving up much in performance.
If you are in this boat, consider looking at the Sig Sauer Zulu 9 binoculars. While they don't have quite the edge-to-edge clarity or low light performance like the Swarovski NL Pure, Zeiss Victory SF, or Leica Noctivid binoculars (check out that comparison review here), they do offer some of the best value we've found, at a fraction of the cost.
During our huge comparison review, we all saw first hand the difference between a $300 pair of binoculars and a some of the highest priced pairs of binoculars (as much as $3000), and the difference is absolutely undeniable. With that being said, it certainly doesn't take high end binoculars to be successful in the field or effectively glass a basin thousands of yards away.
If top tier binoculars are not quite in the budget for you, but you still need top quality glass, give the Sig Sauer Zulu9 binoculars a good hard look. You will likely be surprised at how well they perform. They'll do almost everything most of us need and more when on a hunt or pursuing the backwoods.
Subscribe to Backwoods Pursuit to get Your FREE Backcountry Gear Worksheet!!!
Dial in your gear list, calculate your pack weight, and lighten up your pack with this handy tool!