Knives in the backcountry are an item that can easily get overlooked. This new Argali Carbon Knife changes the game. If you've ever experienced that dreaded dull knife half way through field dressing a big game animal, this knife might just be your solution. This new Argali Knife came to market to fill a need for those folks who want a high quality, ultralight hunting knife that FEELS AMAZING in you hand. This thing is flat out impressive from one end to the other.
Make sure to check out our other gear reviews and the Backwoods Pursuit YouTube Channel to help you decide what gear will help you stay out in the field longer!
Argali Knife Steel

The Argali ultralight hunting knife is made of a premium S35VN steel, which makes this knife retain an edge extremely well while still being able to be sharpened in the field if needed. In my experience, this knife held its razor sharp edge for me while field dressing an elk. I could have easily gotten through the entire elk without any touch up, but I did take a couple of strokes on a leather strop (or actually the leather on my boots) about half way through to keep it scary sharp.

Argali Carbon Knife Review: Handle Material

One of the unique features of the Argali Knife is its handle. The material used to make up the handle is a textured G10 material, offering you excellent grip without any slippage, even when your hands get bloody during field dressing. The shape of the Agrali Carbon Knife handle is designed to give you a skeletonized weight, with the feel of a full handled knife. I have large hands and long fingers, so the skeleton handled knives aren't quite as comfortable for me, but the Argali Knife was super comfortable, an excellent design in my opinion.
Argali Knife Review: Sharpening

Sharpening the Argali knife is a breeze both in the field and at home. If you happen to dull up it up while in the field, a few strokes on a leather strop, leather belt or even a leather part on your boot brings the edge right back. If you really dull it up, sharpen it like you do your favorite knife: a flat stone, hand held sharpener like this Lanskey broadhead sharpener, Lanskey C-Sharp knife sharpener, lightweight Lanskey pocket sharpener, or really any other sharpening method you choose.
Argali Carbon Knife Sheath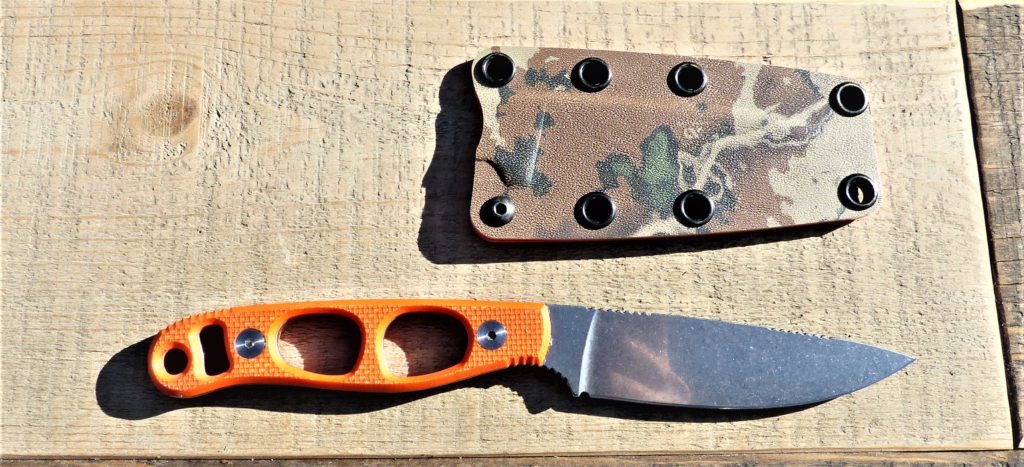 The Argali knife comes with a Kydex sheath in a couple different color options. Choose from blaze orange on both sides, blaze on one side and First Lite Fusion on the other, or an all black sheath. The Argali Knife sheath also features a tension screw which allows you to adjust the sheath to your desired tension.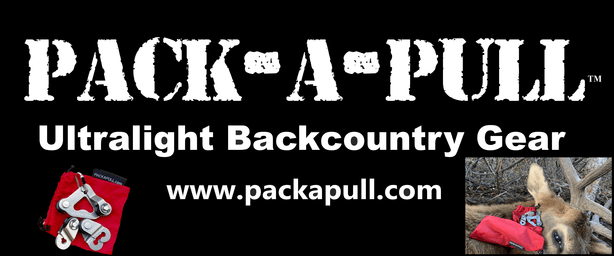 The Specs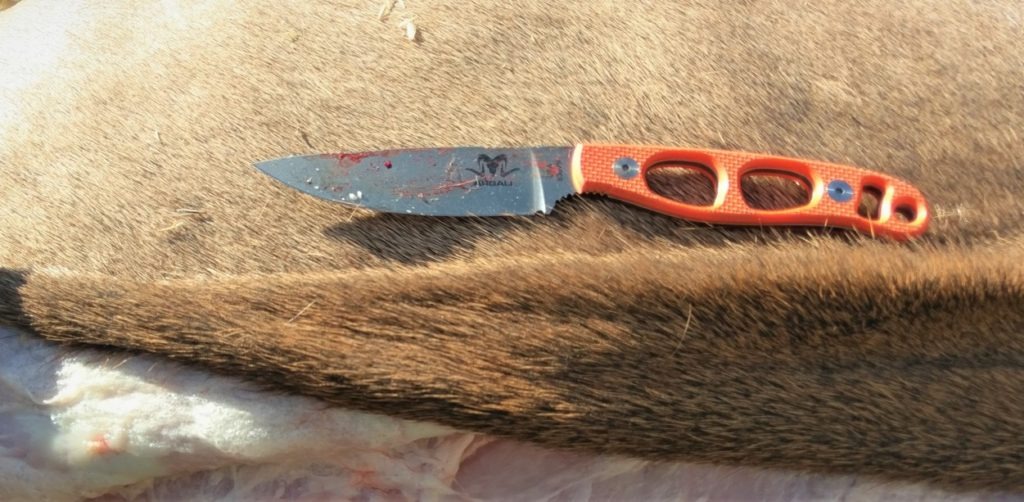 Weight: 1.8 ounces
Steel-CPM-S35VN (Stainless)
Total Length- 7.25″
Blade Length- 3.25″
Handle Length- 4″
Handle Material-G10
Blade Style-Drop point
Sheath Type-Kydex
Edge Angle: 20 Degrees
Sheath/Belt Attachment– Ulticlip compatible
Check out The Argali Knife Collection Video!
What I liked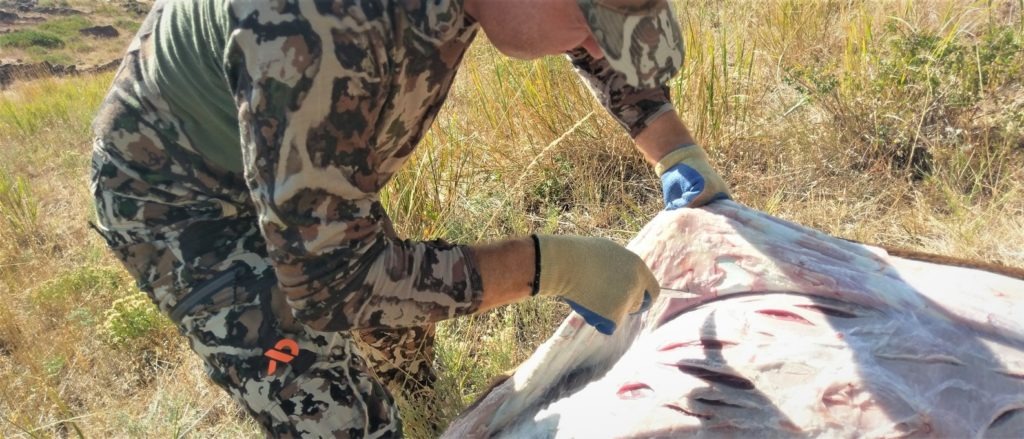 The list of things I didn't like is much shorter. I really have no complaints other than having to have a way to sharpen the knife in the field. I didn't have any trouble doing that using my boot leather or bringing along something like this Lansky quick sharpener. I had been using the Outdoor Edge replaceable blade prior to testing this knife, and while I really like the Outdoor Edge for a replaceable blade style knife, this Argali Knife really is in a totally different league.
What I didn't Like
I've usually not been one to drop a lot of cash on a knife like this one. That's really the only downside I've found on this knife. While you pay a pretty penny for the Argali Carbon knife, I think you'll find it's money well spent.
Conclusion
At the end of the day, I absolutely LOVED the new Argali Carbon Knife. The edge retention and durability are fantastic, the ability to sharpen is great, and the handle is super comfortable especially for a skeletonized knife. You get an ultralight hunting knife that will last you many, many seasons. Pick one up and I don't think you'll be disappointed.
Subscribe to Backwoods Pursuit to get our FREE Backcountry Gear Worksheet!!!
Dial in your gear list, calculate your pack weight, and lighten up your pack with this handy tool!