The Six Moon Designs Skyscape Trekker 1p tent is a unique shelter that is feature-rich, but weighs in at just 28oz and packs up very small. In this Six Moon Designs Skyscape Trekker review we are going to look at these unique features and give you some setup help on the Trekker.
Skyscape Trekker Specs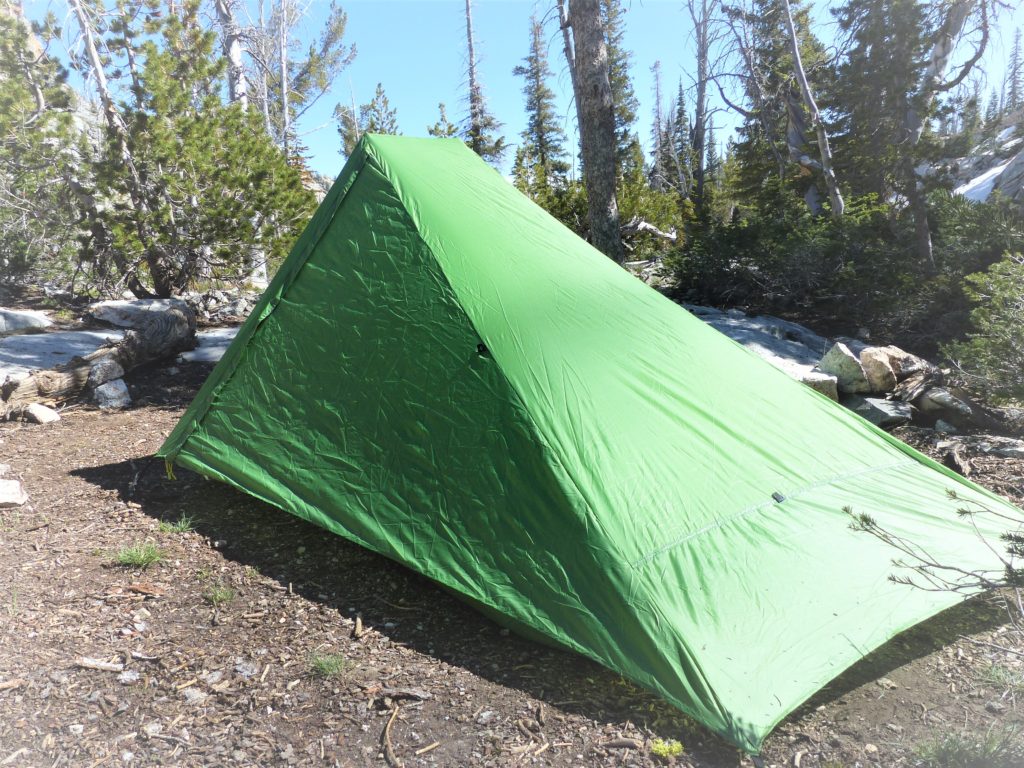 The Six Moon Designs Skyscape Trekker 1p tent offers some pretty impressive specs, especially considering its price point.
23 sq feet interior space
16 sq feet vestibule space
2 door, 2 vestibules
Height: 45 inches
Weight: 28oz
Floor: 40D silicone polyester
Canopy: 20D silicone polyester
Netting: 20D no see-um mesh
Zippers: #3 YKK
3000mm waterproof rating
Skyscape Trekker Review: Materials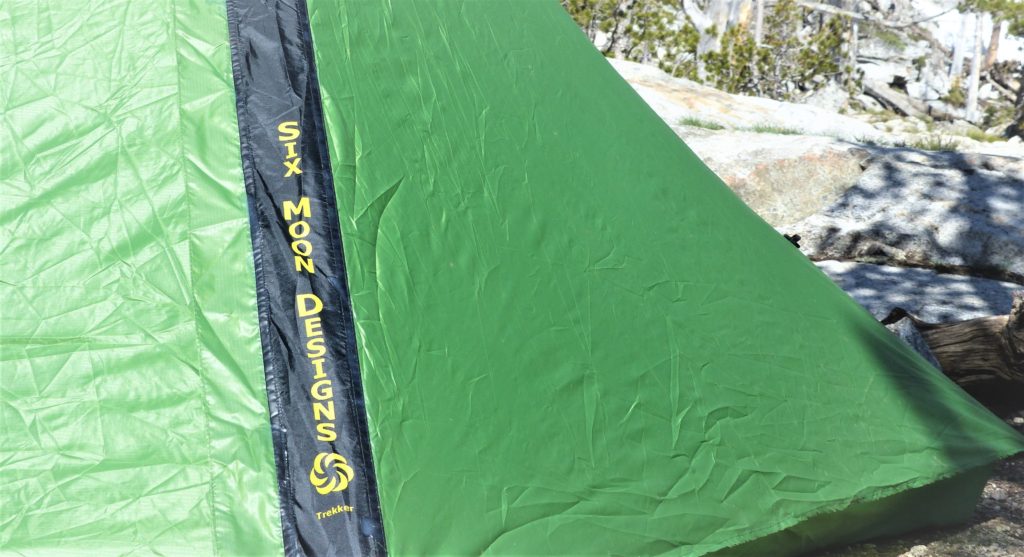 The Six Moon Designs Skyscape Trekker is made of a silicone-treated polyester material to seal out rain and provide a dry night's sleep. It has an impressive 3000mm hydrostatic rating, giving it more than double the rain protection of many of its competitors. Don't discount the importance of this factor. Six Moon Designs puts extra care into making sure you stay dry which can be a life saver.

Want to know more about the waterproof rating? Check out our "Basics of Choosing a Backpacking Tent" article where we go over what these ratings mean.
Check out our other backpacking tent reviews if the Trekker isn't quite what you are looking for. Pair your tent with the perfect pad (see our backpacking pad reviews), a warm sleeping bag (see our sleeping bag reviews), and complete it with a comfy pillow from our backpacking pillow review.
Skyscape Trekker Features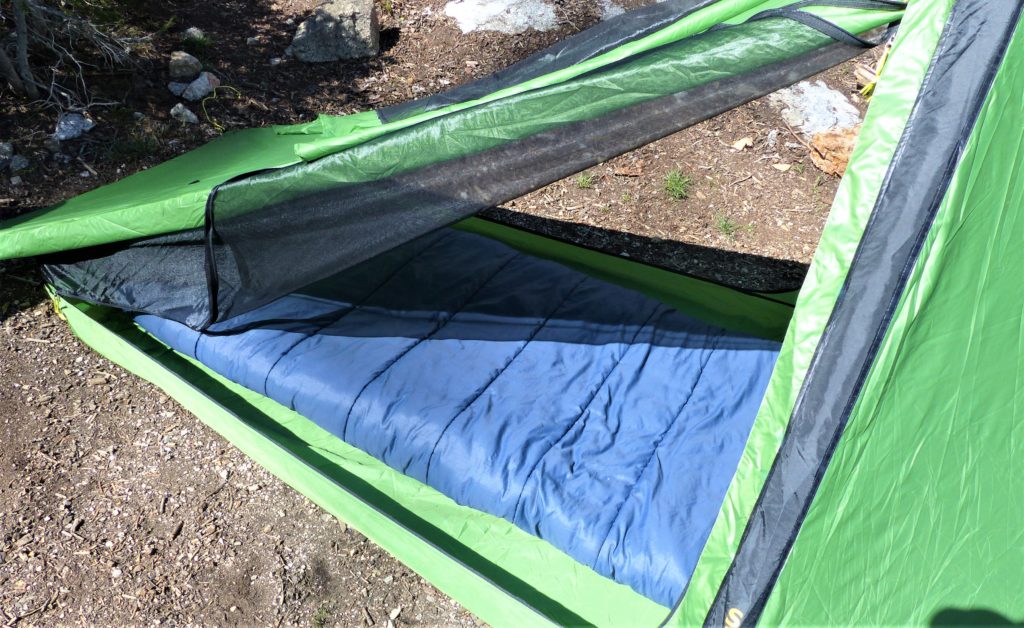 Six Moon Designs Skyscape Trekker Review: Size
Doing this Six Moon Designs Skyscape Trekker review gave us the chance to see first hand all the features this tent offers, like its generous size, light-weight hybrid design, and unique length. You get a massive 23 sq feet, two doors, two vestibules, and eight feet of length on the interior. Granted, the head of the tent does come to a point, so that portion of the tent is more for gear storage than sleeping space, but the Trekker still easily fits a wide/long pad and bag with room to spare. For those reasons, this tent is one to seriously consider if you are a taller person or just like that extra space to store gear inside your tent.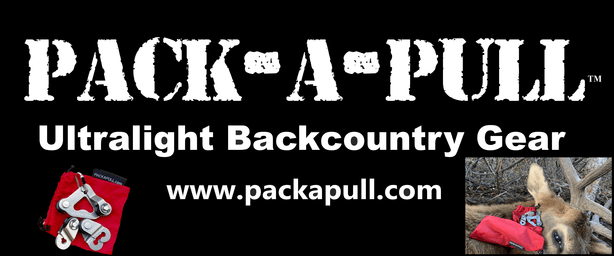 Skyscape Trekker Massive Doors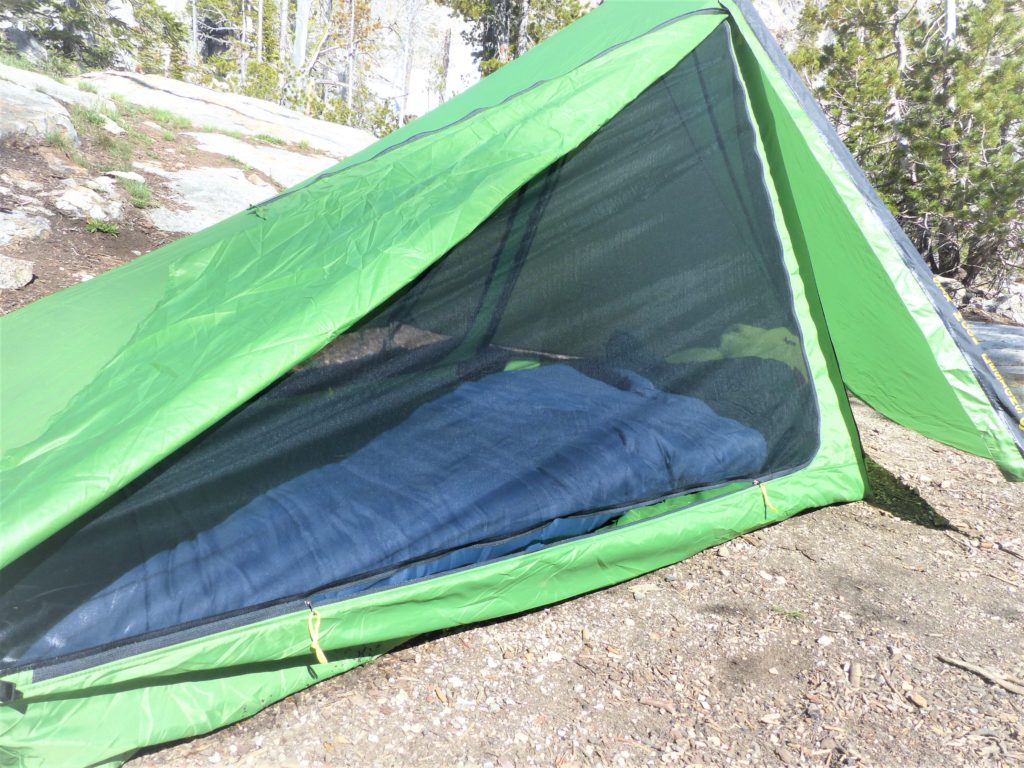 Another awesome feature is that you get two massive doors and two vestibules. You can see in the picture above just how massive those doors are. The zippers are L-shaped and go from the foot of the tent all the way to the peak height of the Skyscape Trekker. That design makes it a breeze getting in and out of this tent.
Six Moon Designs Skyscape Trekker Review and Setup Video
In the video, I show you how to set up the Six Moon Designs Skyscape Trekker. It's a good idea to practice once or twice before you hit the field as the Skyscape Trekker setup is a little different than many tents out there.
Accessories
The Six Moon Designs Skyscape Trekker can be purchased by itself and set up with your trekking poles. You can also purchase the Six Moon Designs carbon poles or Six Moon Designs aluminum poles to set it up. Either way, you'll want the 45 inch poles, or your trekking poles set to 45 inches. The Trekker does not come with stakes. You'll either need to purchase the Six Moon Designs Double Entry stake set, or another set of stakes such as the MSR Mini Groundhog stakes, which I've also found work well.
Subscribe to Backwoods Pursuit to get our FREE Backcountry Gear Worksheet!!!

Dial in your gear list, calculate your pack weight, and lighten up your pack with this handy tool!