The Sea to Summit Ember Quilt is a unique backpacking quilt that offers features I've not found in other backpacking quilts I've tested. While quilts in general are typically more versatile than sleeping bags, this one offers even more versatility than other quilts on the market prompting this Sea to Summit Ember Quilt review.
Make sure you know what that temperature rating means before you buy a quilt. We discuss how the "EN Ratings" are determined for sleeping bags in our Basics of Selecting a Sleeping Bag article. While quilts don't have the same rating system as sleeping bags, it's good to understand how these rating systems work and then learn how each company does their own quilt ratings. Don't get caught out there with a bag or quilt that you thought was rated for a much lower temperature than it really is.
Sea to Summit Ember Quilt Review: Options/Models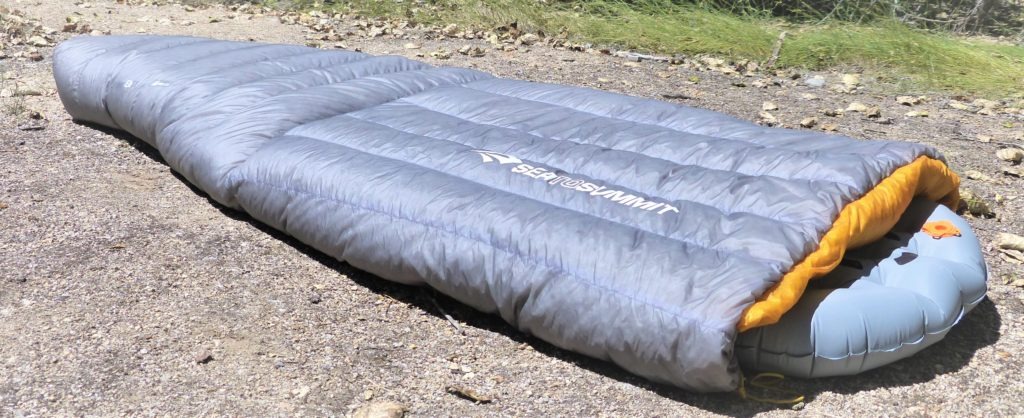 The Ember Quilt comes in the Ember I, Ember II and Ember III models. The Ember I is rated to 40 degrees, the Ember II is rated to 30 degrees, and the Ember III (being the one I tested) is rated down to 20 degrees. We'll talk more below about the performance, but the Sea to Summit Ember eb iii Quilt performed down to its stated temperature rating. This didn't surprise me as my experiences with Sea to Summit have been that their products are typically true to their ratings.

Sea to Summit Ember Review: Stitching / Baffling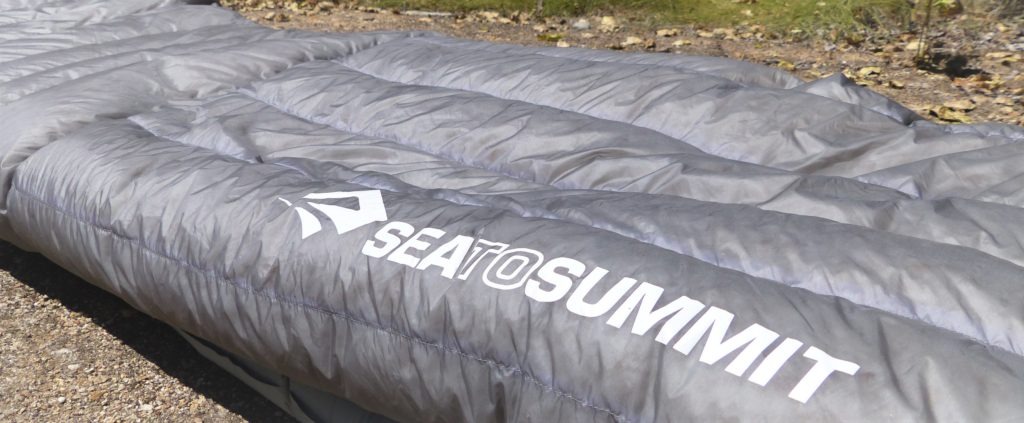 If you happened to catch our review of the Sea to Summit Spark (check that out here), you'll notice a lot of similarities between this Ember Quilt and the Spark Sleeping Bag. The Ember III Quilt uses the same vertical baffling system in the upper portion of the quilt, while having a horizontal baffling system at the footbox. The Spark Series Ultralight Sleeping Bags also use the same 10D shell material and 7D liner material with the same colors. As I mention below, I like the color selection for a very practical purpose.
Sea to Summit Ember Review: The Down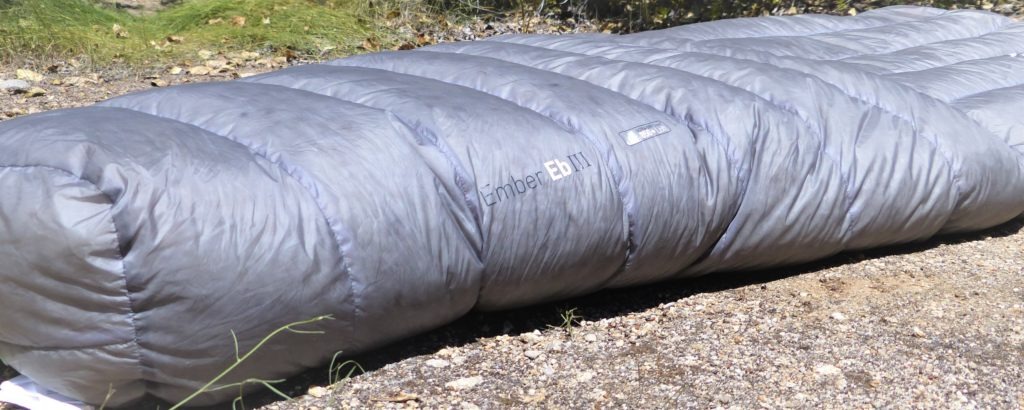 The Ember Quilt Series uses the same 850+ fill treated down as the Spark Series Ultralight Sleeping Bags to help keep the down from absorbing water and reducing the down's effectiveness. Sea to Summit provides you with RDS certified, ethically sourced down and even gives you a certificate of the responsibly sourced down with each purchase. I like how thorough Sea to Summit is in making sure you as the customer know that they are using high quality, RDS certified down in their products.
Sea to Summit Ember Quilt Specs
Total weight: 27oz
Down fill: 17.5oz
Down type: 850+ DownTech
Min Temp Rating: 14-25° F
Shell material: 10D nylon
Liner material: 7D nylon
Compressed volume: 5.4L
As you can see above, the Ember Quilt isn't the lightest or most compact of the quilts on the market, but you do get extra versatility in exchange for the few extra ounces. We'll go over the different setup options below. Check it out in this video to see how it works.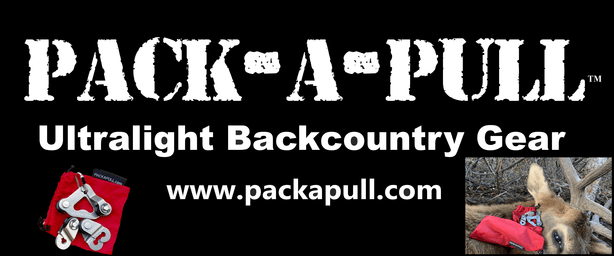 Check out the Sea to Summit Ember Quilt Video Review and See How to Set up the Pad Straps
Sea to Summit Ember Quilt Review: Warmth Testing
I was able to put the Sea to Summit Ember eb iii quilt to the test down to its stated warmth rating. Temps dropped down to the low 20's during my testing, giving me a good feel for how this quilt performed at its "comfort rating" of 14-25°. During my testing, the Ember Quilt proved to live up to the Sea to Summit quality and warmth I've come to expect. I did, however, have more difficulty keeping drafts out at the collar with the Ember Quilt than others I've tested.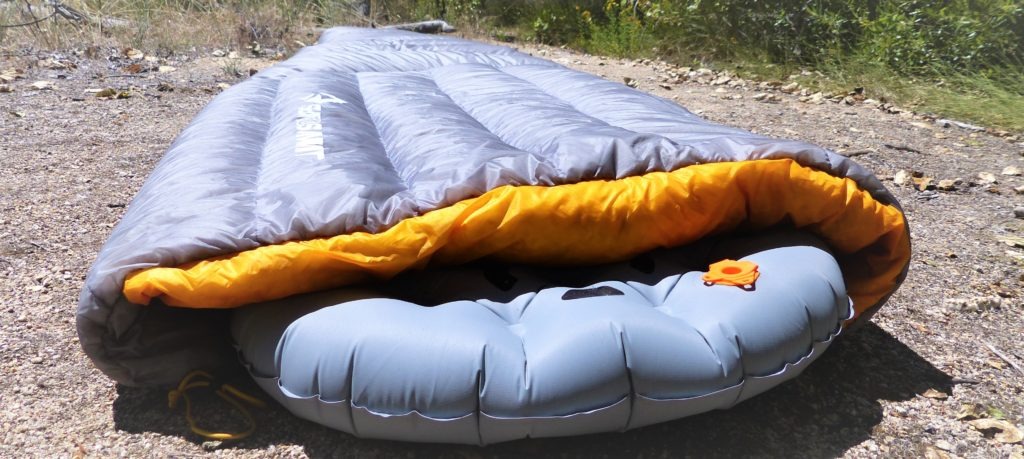 The Ember Quilt is different in its design in that it doesn't have a button, snap, or clip at the neck but only has a draw cord to cinch it up around the neck instead. It does, however, have hand pockets that are used to help keep the quilt tucked around your neck and shoulders.
I could see this design working really well for a stomach sleeper, but it proved to be a challenge as a side sleeper. Tossing and turning caused the Ember Quilt to gap open, requiring me to settle back in and re-tuck it in. The Ember does have a drawstring at the neck which, when tightened down did help, but didn't solve the issue entirely.
Other than the above issue, the Ember Quilt really performed well during my Sea to Summit Ember review warmth testing. The high quality down, materials and strap system did a good job of keeping me warm down to the low 20s.
Sea to Summit Ember Review: Pad Straps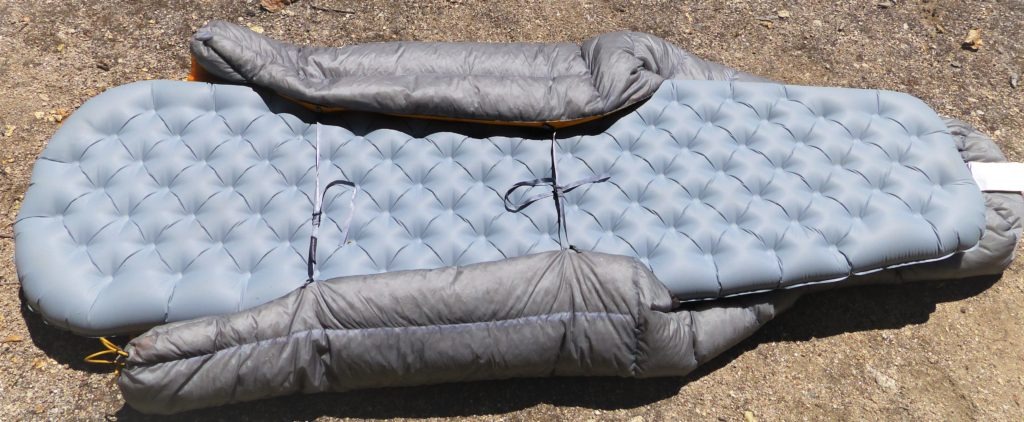 The pad straps are one of the areas that the Ember Quilt is different than most others on the market.  I tested the Ember III, which offers a sewn-in footbox and three pad straps.  Other quilts I tested like the Zpacks Solo Quilt offer just one and most, like the Katabatic Flex and Enlightened Equipment Quilts, offer the standard two pad strap system (each with their respective designs).
One thing the Sea to Summit Ember Quilt pad strap system does do is make use you stay squarely on your pad. In fact, it is designed to tuck your pad into the footbox and use the three straps over the remaining portion of the pad (see pictures below, or the Ember Video for a demonstration).
While the Ember Quilt does keep you on your pad, the quilt is designed to be tucked under your pad (in one of the setup options). This can be a good thing if you like extra space to move around, and it also does a great job of keeping drafts out. On the downside, tucking the quilt under your pad creates more dead space for your body to heat, so there is a trade off there.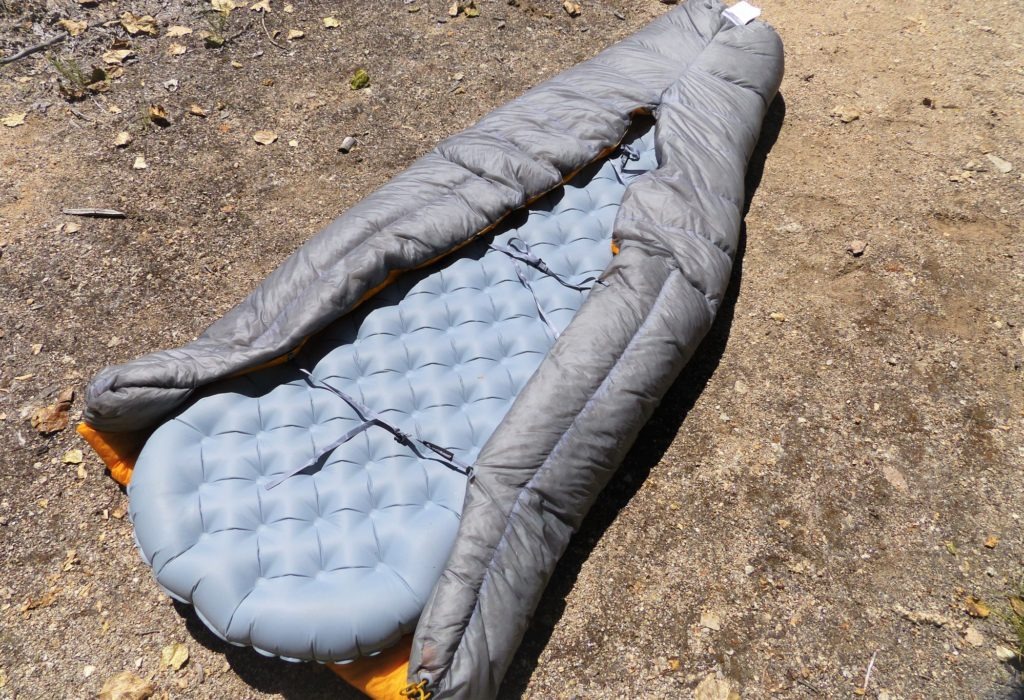 Unfortunately, I found this strap system to be the most cumbersome of all the quilts I tested. It takes a few minutes to get everything adjusted properly which I would be fine with, however, if you want to make a change in the middle of the night, the strap system requires that you get completely out of your quilt, flip the quilt and pad over, and make an adjustment. It was honestly a bit of a pain to adjust, especially in the dark when when it was cold.
While the pad strap setup does keep out drafts well, it does require more material, down, and overall weight to keep you warm due to its design because it allows more dead space to heat vs. having the quilt tucked under you on top of your pad. This comes down to personal preference, and if you like that extra space to move around, you'll like the Ember Quilt. If you like the most efficiently sized and lightest weight quilt, this one probably isn't the one for you.

The Ember Quilt can be set up in a number of ways with the pad straps. The one is noted above but there are others. You can also put the footbox of the quilt on top of the pad, and then strap in the pad using the pad straps. Another option is to disregard the pad straps and basically make the Ember a sleeping bag by buttoning the three sets of sewn in straps together basically creating a sleeping bag. Keep in mind that if you use it this way, it makes the Ember snug, more like a mummy bag.
Sea to Summit Ember Quilt Review: Materials
The Sea to Summit Ember Quilt is made of the same high-quality materials as the Spark that we reviewed. You get:
Shell: 10D shell
Lining: 7D nylon
Down: 850+ Fill
The 10D nylon is a great balance of weight and durability and gives you a nice comfortable feel. I love the see-through material that allows you to see if any of the down migrated so you can make a quick adjustment before you feel that cold spot.
Sea to Summit Ember Review: Compressed Size

The Ember Quilt comes with a great compression/stuff sack that allows you to pack the Ember down small. Again, because you get extra material and extra space with the Ember, the packed size is slightly larger than others, but it's still very compact.
Sea to Summit Ember Quilt Review: What I liked
The Ember Quilt gives you some great, unique features that might be just what you are looking for if you are a stomach sleeper. You get a super high quality quilt with:
850+ fill DownTech down
Extra wide cut to accommodate those who like the extra space and/or really like to move around
Top notch shell and liner material
Draft-free pad attachment system
Sea to Summit Ember Review: What I didn't Like
While there were a lot of things to like about the Sea to Summit Ember Quilt, there were a few things I really didn't like as well. Some small adjustments could make a big difference.
Lack of snap/Buckle at the collar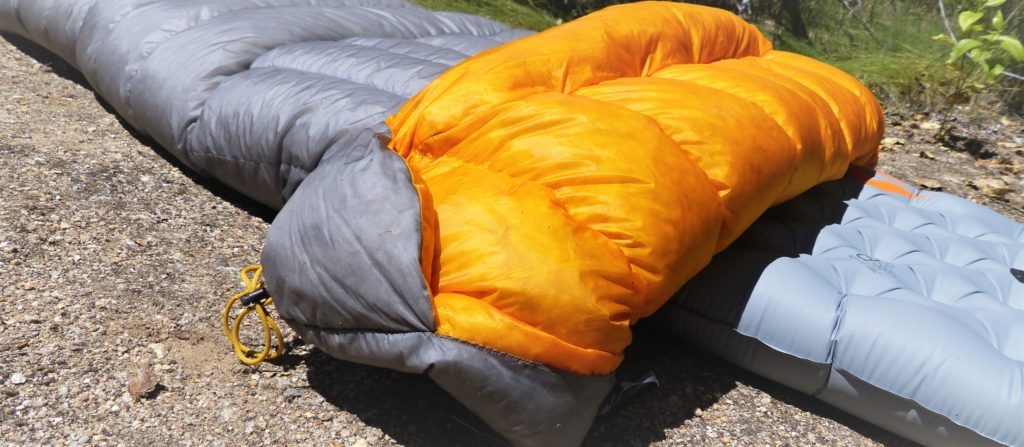 Testing the Sea to Summit Ember Quilt for this review left me wishing that the Ember Quilt had some way for it to seal around my neck. Most quilts I've tested have a snap, clip, or something of that nature to secure the two edges of the quilt together and then you use the draw cord to seal out drafts around your neck. For some reason Sea to Summit opted to use the hand pocket system to keep it tucked in around your neck. While I think this would work well for a stomach or back sleeper, it didn't work that great as a side sleeper.
Pad attachment system cumbersome and complicated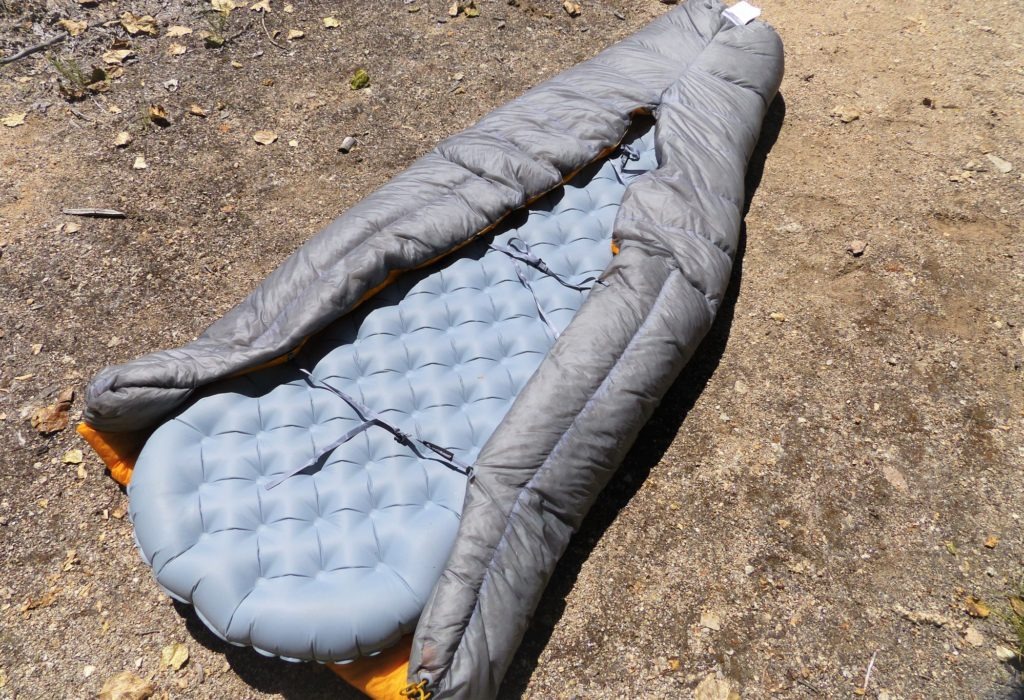 Adjusting the Sea to Summit Ember Quilt proved to be a bit challenging in the middle of the night. As often happens in the backcountry, the night started off with me needing the Ember not seal up, so I had it loose to not overheat. As the night got colder though, I had to get out of the quilt to adjust the straps to seal out drafts. This wasn't a welcomed task as the temps had dropped into the upper 20s at that point, and I really didn't want to get out of the Ember and get cold.
To me, these two downsides were a big deal. I do toss and turn a lot at night, and I'm a side sleeper. This made keeping my neck and shoulders warm a challenge with the Ember Quilt. As I mentioned above, this would likely work great for a stomach sleeper, but that's not me. Also, the pad strap design is just too difficult to adjust in my opinion. Most quilts I've tested allow me to easily make a quick adjustment in the middle of the night as temperatures change, but that just isn't the case with the Ember.
On the positive side, these issues could easily be fixed by building your own straps, and if you can sew a little, adding a button to the top of the quilt could help as well. I would really like to see Sea to Summit take a look at these two negatives to make an adjustment, and then I think they'd have a fantastic quilt! I absolutely love their Spark Sleeping Bag, and this Ember Quilt has the makings of a great quilt with a couple of modifications to make it more user friendly for back and side sleepers.
How to Store a Down Sleeping Bag

I love that Sea to Summit gives you a long term storage bag as well as a stuff sack that doubles as a compression sack. Not every company does that, and it's much appreciated when they do!
It's easy to get home from your final adventure of the season, unload your gear and throw it all in a storage bin for the winter, but make sure you properly store your down sleeping bag as well as your insulated sleeping pad. Don't leave that high quality sleeping bag in its stuff sack long term as it could reduce the effectiveness of the down. Down needs to be lofted, not compressed when stored, and should be stored indoors if at all possible. Here are a couple of storage options to keep your down sleeping bag at its peak performance.
Hang in a closet
Lay under your bed
Store in the storage sack provided (shown above)
Hanging a down bag is my first choice, but not everyone has the space for that. Most bags come with sewn in loops to stick on a hanger. Second to that, I prefer to store the bag lying flat under my bed. This allows the down to be fully lofted. Finally, storing in the provided storage sack is perfectly acceptable as well. The down is slightly compressed in those storage sacks, but nothing that will cause any damage to the down in your bag.
Another excellent tip for long term storage of a high quality down sleeping bag or quilt is to throw the bag/quilt in the dryer on low heat for about 30 minutes. This helps ensure that any residual moisture from humidity or sweat vapor is gone so it doesn't have a chance to fester and grow bacteria during storage causing a nasty odor.
My ratings for the sea To Summit Ember Quilt
Sea to Summit Ember Quilt Review Conclusion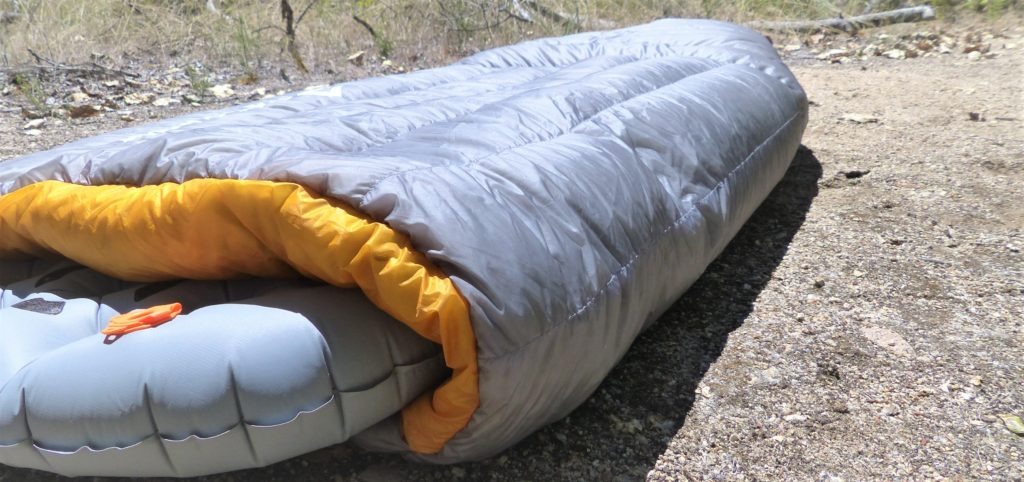 At the end of the day, the Sea to Summit Ember Quilt really is a well-made quilt that offers you a lot of versatility and high quality in a compact and lightweight package. I didn't care for the pad strap setup or the lack of a button at the neck, which are the only two reasons I didn't love this quilt. It is on the expensive side for a quilt, but you do get high quality product from Sea to Summit.
Don't think the Sea to Summit Ember Down Quilt is quite what you are looking for? Check out our Lightweight Sleeping Bag and Quilt Reviews for a bunch of others we've tested.
Subscribe to Backwoods Pursuit to get Your FREE Backcountry Gear Worksheet!!!
Dial in your gear list, calculate your pack weight, and lighten up your pack with this handy tool!