In this Leupold Santiam binoculars review we take an in-depth look at the Leupold BX5 Santiam binoculars to find where they excel, where they don't, and how they stack up to the competition in their respective price category. The $1000 price category that these Santiam BX5 binoculars sit in is extremely competitive and the distinctions can be tough to find. We had the great pleasure and opportunity to test these out in many different lighting conditions next to 25 other pairs of binoculars on the market . Check out that review to see how they ranked in our testing!
When you jump to the $1000 price point where these land, you can really start to see some additional quality performance and features vs the $500 price point. After putting $500 binoculars next to $1000 binoculars, it became very evident what you are paying for, and the jump in performance is more notable that the jump from the $1000 price point up to the $1500+ range. The law of diminishing returns really kicks in past the $1000 price bracket, but you certainly do see improved performance in the more expensive binos. That extra performance just costs a lot more proportionally.
The Leupold Santiam BX-5 binoculars come in a variety of configurations to cover most applications. You can pick up the Santiam binoculars in a 8×42, 10×42, 10×50, 12×50, or 15×56.


Love optics? We certainly do here at Backwoods Pursuit, so make sure to check out our MONSTER 26 BINOCULAR REVIEW, as well as our massive 19 SPOTTING SCOPE REVIEW. For both of those reviews, we lined up the optics and tested them side by side!
If you are in the market for some top tier binoculars, make sure to check out our review comparing the Swarovski NL Pure vs Zeiss Victory SF vs Leica Noctivid binoculars. We dive deep into the performance differences of those three pairs of binoculars.
---
The Specs: Leupold Santiam 10×42 Binoculars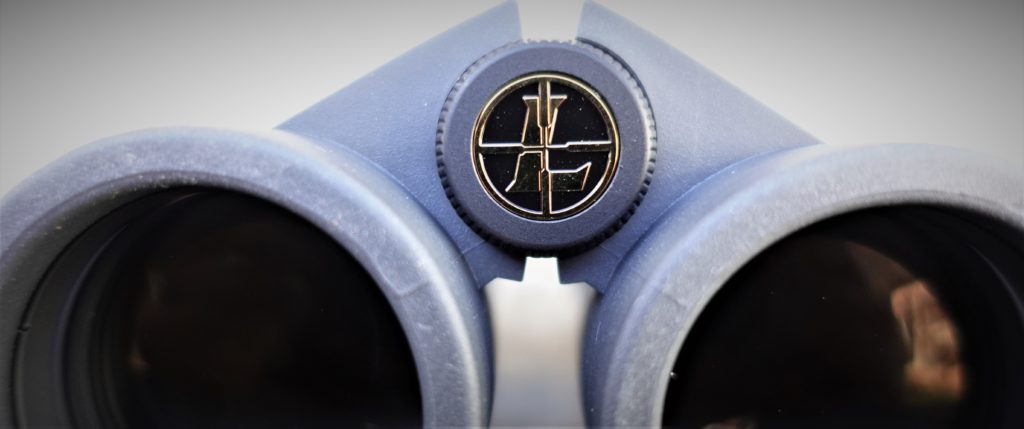 The Leupold Santiam 10×42 binoculars are incredibly lightweight for their class at just 24.3 ounces, making them easy to carry all day long without worrying about extra weight. The dual hing design makes them extremely comfortable in hand, and their generous field of view is right there with the best in their class.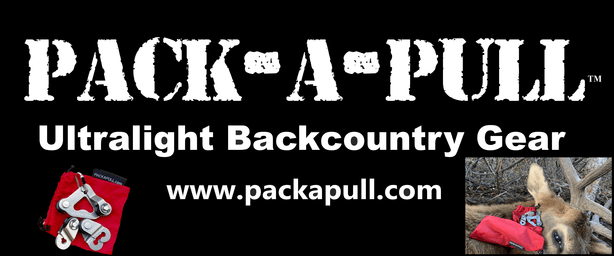 Here are the specs for the Leupold Santiam BX-5 10×42 binoculars:
Eye cups: Leupold Santiam Review

Normally I don't like starting off on a bad note, but let's just get this out of the way. The eye cups on the Santiam BX-5's just weren't very comfortable. The thickness of them made it so that I had to have them rolled all the way down to get a full field of view. That can be frustrating if you are glassing with the sun hitting the side of your face, going right into your eye with no protection from the eye cups. Not the end of the world as rolling them all the way down did the trick, but the team and I definitely thought they could have been better.
You get a nice 16.3 mm of eye relief which is plenty, and the eye cups had minimal play in them unlike others we tested in this price class. The Leupold Santiam BX-3 eye cups give you 3 positions, but I was unable to use them unless the eye cups were all the way down.
Tripod Adaptability: Leupold Santiam BX-5 Review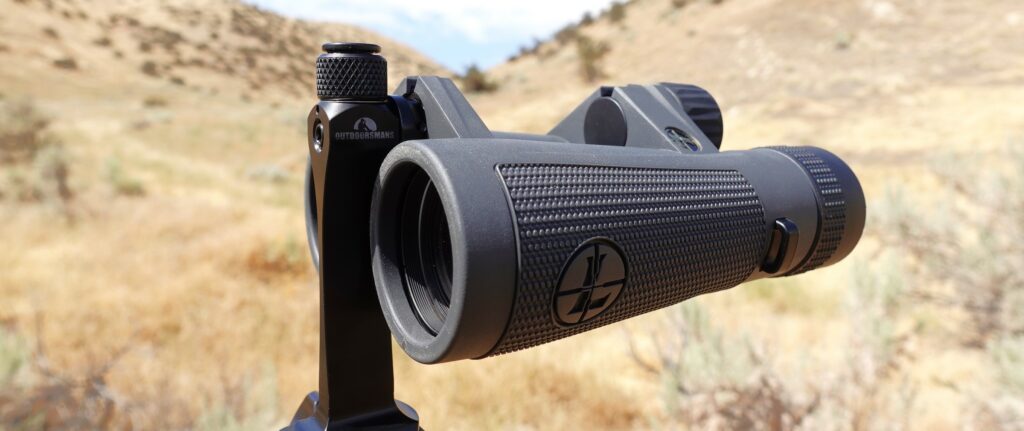 The Leuopld BX5 Santiam binoculars give you the ability to put them on a tripod as they are threaded for a stud on the outside of the 2nd hinge to provide extra stability while glassing. I'm a huge fan of glassing from a tripod, and any pair of binoculars I use has to have the ability to attach to a tripod. During testing for this Leupold Santiam 10×42 review, I wasn't a huge fan of the location of the tripod adapter threads as it is located out near the objective lens, making them less stable than if the stud was attached at a more central location.

A large part of this is due to the Leupold Santiam being a dual hinge, open bridge design. Because of this, the threads are further out towards the objective lens, which adds flex to whatever adapter you are using. A thread location that is more central to the binoculars provides better stability, but typically you can't have it both ways with an open bridge design. With this style of binocular, an adapter like the Aziak Bino Clamp is a good choice, which can be mounted in the center of the binoculars, which I found to provide better stability than using the threads.
Check Out Our Video Review of these 4 Great Tripod Adapters
We've tested a number of other tripod adapters as well, so take a look at our comprehensive binocular tripod adapter review for additional options!
Focus Mechanism: Leupold Santiam Binoculars Review

The focus mechanism of the Leupold Santiam binoculars is silky smooth and doesn't have any play whatsoever. The focus speed is perfect, and the amount of resistance is spot on to aid in keeping the focus wheel where you left it. I found that both the focus speed and resistance is absolutely perfect, something I don't say very often with binoculars.
Diopter Adjustment: Leupold Santiam Binoculars Review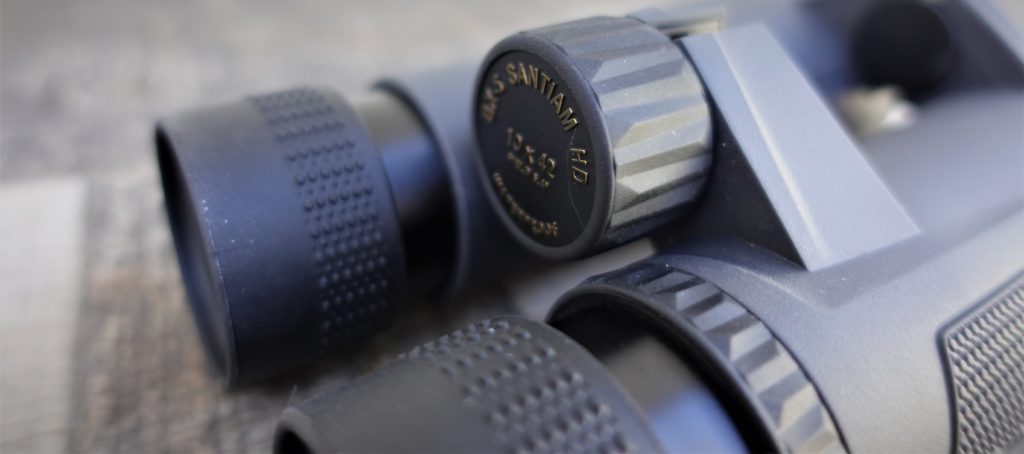 Unfortunately, the diopter adjustment on the Leupold Santiam 10×42 binoculars does not lock. It does, however, offer plenty of resistance so that it doesn't accidentally move, so it works just fine. However, for a pair of binoculars at this price point, I've come to expect a locking diopter.
During our extensive testing for our huge 26 binocular review we noted that even some of the binoculars in the $1000 and above price category didn't have a locking diopter, so it's not unheard of, but certainly would be an improvement for these Leupold Santiam binoculars. I always prefer a locking diopter so it's a "set it and forget it" kind of thing.
Feel/Rubber Armor: Leupold Santiam Binoculars Review

The Leupold Santiam binoculars are protected by a rubber armor that have a great, non-slip feel to them. The dual hinge design makes them very comfortable, and they feel very stable in hand. Their lighter weight makes them feel a bit less stable than a heavier pair, but they still feel fine. The hinge offers nice resistance, but could benefit from being a little stiffer to make sure the interpupilary distance doesn't change while in your bino harness. Not a huge deal, but something I noted during testing. Everything about their feel says they are well-built and sturdy.
Field of View: Leupold BX-5 Santiam Review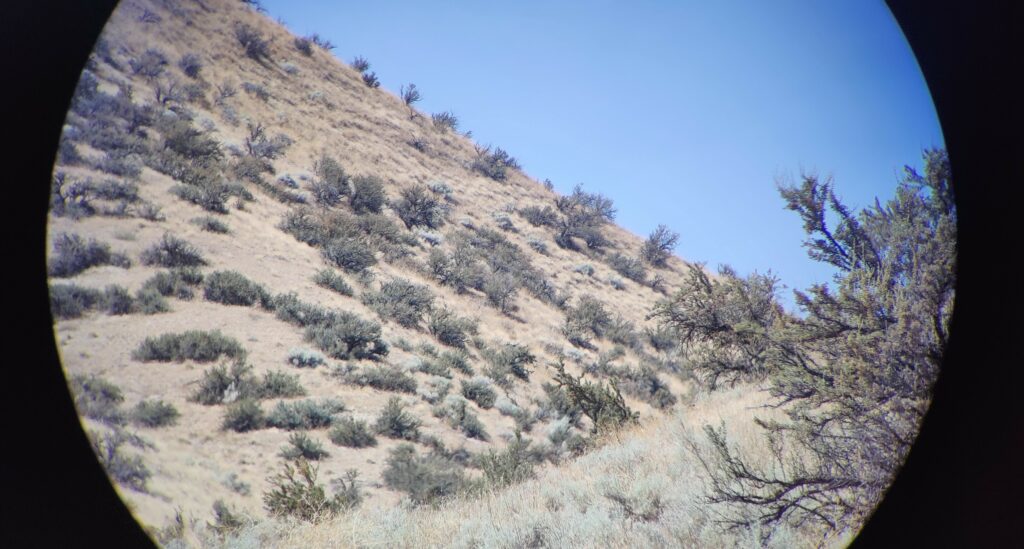 During this Leupold Santiam review we enjoyed the wide field of view they offer. While comparing all the 10×42 binoculars in our huge 26 binocular side by side comparison, the typical field of view we saw was around 340 feet at 1000 yards. So, the 341 feet the Leupold BX-5 Santiam 10x42s offer is right in line with the others.
Color and Clarity: Leupold Santiam Binoculars Review
We found the color and clarity of the Leupold Santiam BX-5 binoculars to be an interesting topic of discussion. During our testing in good lighting conditions, most of us found the Santiam binoculars to be average in color contrast and middle of the pack in clarity. What was very interesting was how they excelled in low light once the sun started going down. Many of us commented that these Santiam BX5's (just like their little brothers the BX-4 Pro Guide binoculars in the $500 price category) really came to life as the light faded.
While they weren't the top all-around performers in their respective price category during our big review, they were very impressive, particularly in their low light performance. They provide average color contrast and very good clarity at the center of the image.
Edge-to-Edge Clarity: Leupold Santiam Review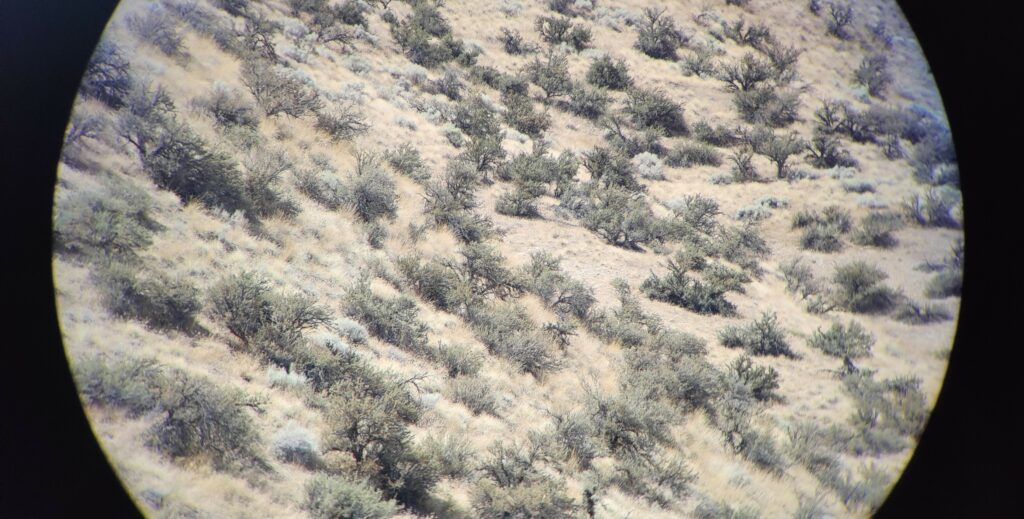 The Leupold Santiam 10×42 binoculars were amazing in a lot of areas, but the edge-to-edge clarity wasn't fantastic. During our testing we noted that roughly 35% of the outer field of view started to lose some clarity vs. the center of the image. The center of the image offers a nice crisp, well-contrasted image, but as your eyes move to the edges, you start to notice the image gets increasingly less clear. Great edge-to-edge clarity is one of those things that typically only comes with high end binoculars, and we even noticed loss of edge-to-edge clarity in binoculars priced well over $2,000.
Low Light Performance: Leupold BX-5 Santiam Review
During our testing for this BX-5 Leupold Santiam review, we had the opportunity to put them to the test in low light situations and monitor how they performed as light faded into the evening. This is where the Leupold Santiam BX5 binoculars exceeded expectations and made up for some of the other areas that we didn't love. The coating on their lenses enhanced their low light performance and moved them to the upper third of the pack in low light performance.
Check out the full review of that 26 binocular comparison here!
Eye Strain: Leupold Santiam Binoculars Review
Another big factor in our testing during this Leupold Santiam 10×42 review was looking for any eye strain. The BX-5 Santiam binoculars are excellent in this department and provide a nice relaxed viewing experience. Long periods of glassing will certainly cause eye fatigue if you are experiencing eye strain with binoculars, but we didn't notice any eye strain, making long glassing sessions a breeze.
Chromatic Aberration: Leupold Santiam BX-5 Review
While testing for chromatic aberration, we did notice a little bit of chromatic aberration when looking at the edge of a leaf, rock, or object with sharp edges. The edges of objects weren't perfectly sharp and clear, but all binoculars in this class experienced some degree of chromatic aberration. The Santiam BX5s had a little more than average for this group though.
What I liked: Leupold Santiam Review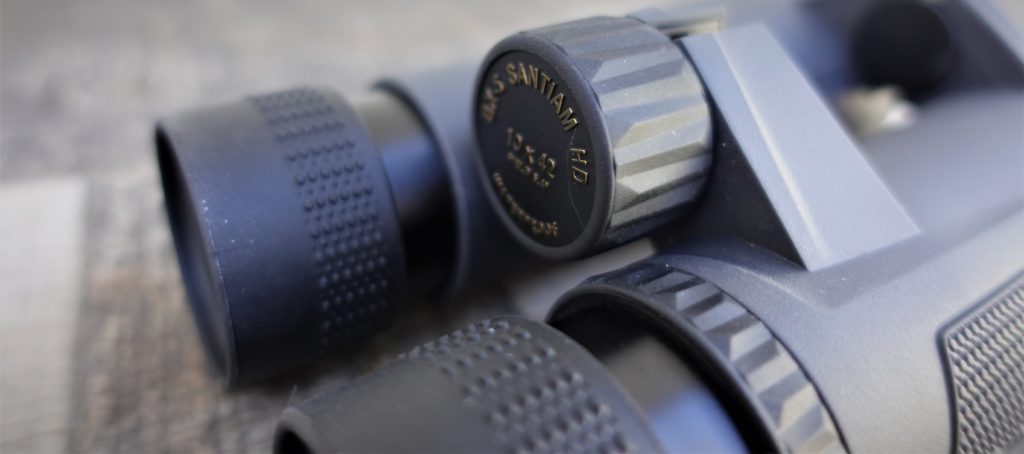 There is A LOT to love about these Leupold BX-5 Santiam binoculars. They are super lightweight, particularly for their class, with a durable, well-built housing, great ergonomic feel, super smooth focus wheel, tripod adaptability, fantastic low light performance, and nice clear image. The speed and resistance of the focus mechanism is just right and is stiff enough to not move unintentionally in your binocular harness. They seem built to last.
Low light performance
Dual hinge design
Smooth focus mechanism
Very light weight
Compact size
Great rubber armor and housing
Threaded for a tripod adapter
The Leupold Santiam 10×42 binoculars are some of the lightest compact binoculars in the $1,000 price range that excell in low light, are easy to carry around, and very pleasant to use.
What i didn't like: Leupold Santiam Binoculars Review

The Leupold Santiam 10×42 binoculars have a few things I feel could be better. Their edge-to-edge clarity isn't great, and the eye cups weren't all that comfortable due to being on the larger side. The hinges are a little loose for my liking, and I always prefer to have a locking diopter as well.
Not great edge-to-edge clarity
Uncomfortable eye cups
No locking diopter
Location of tripod adapter threads
Leupold Optics lifetime Warranty
Leupold Optics covers their optics with their "Lifetime Guarantee" which is a fantastic unlimited lifetime guarantee that doesn't require any registration or receipt, isn't limited to the original owner, and covers your optics against pretty much everything except loss, cosmetic damage, or intentional damage. When it comes to optics, it's nice to know that you are covered if something happens to your expensive optics out there in the field.
Conclusion: Leupld Santiam Binoculars Review
At the end of the day, not everyone can afford to drop thousands of dollars on a high end pair of binoculars, but still need to get great performance in the field. The Leupold Santiam BX5 binoculars fit that bill in many ways. They aren't best in their class, but they do excel in a number of critical areas like low light performance. While they don't have the edge-to-edge clarity or low light performance as the Swarovski NL Pure or Zeiss Victory SF or Leica Noctivid (check out that comparison review here), they do offer you a good value at a fraction of the cost.
We had the distinct pleasure of being able to extensively test these Leupold Santiam binoculars against 25 others, so we were certainly spoiled in that regard. Doing that massive optics review project ruined us all for life when it comes to analyzing glass, but at the same time, we gained invaluable knowledge with a majority of the binoculars we use and learned how they all perform in various conditions.
During that huge review, we all saw first hand the difference between a $300 pair of binoculars and a higher end pair of binoculars (as much as $3000 in price), and the difference is absolutely undeniable. With that being said, it certainly doesn't take high end binoculars to be successful in the field or effectively glass a basin thousands of yards away. The $1000 price point seemed to be a sweet spot when it comes to the balance of performance and value, which is where the Leupold Santiam BX-5 binoculars fall.
If top tier binoculars are not quite in the budget for you, but you still need good quality glass, give the Leupold Santiam binoculars a good hard look. They'll do almost everything most of us need when on a hunt or pursuing the backwoods.
Subscribe to Backwoods Pursuit to get Your FREE Backcountry Gear Worksheet!!!
Dial in your gear list, calculate your pack weight, and lighten up your pack with this handy tool!