Is it really worth searching for the best binocular tripod adapter you can find, or will simply glassing off hand get the job done? I'd been of the latter opinion for a while when a number a years back someone made the case to me for using binocular tripod adapters for added stability. My first reaction was, "Eh… It won't make that big of a difference," but I was open to trying it.
Everybody's done it. You get to your spot on top of the ridge, sit down, and begin glassing. Elbows on your knees, scanning every pocket, crevice, and patch of timber you can see attempting to locate your trophy, but is it really the best way to glass? We'll answer that question below and show you some of the best binocular tripod adapters on the market today.
Looking for a binoculars? Check out our MASSIVE 26 BINOCULAR REVIEW where we put 26 of the best binoculars side by side!

**JANUARY, 2022 UPDATE** AFTER TESTING MORE ADAPTERS IN THE FIELD, THIS ARTICLE IS BEING UPDATED TO INCLUDE THE AZIAK EQUIPMENT AND RRS CINCH ADAPTERS.
Do Binocular Tripod Adapters Make a Difference?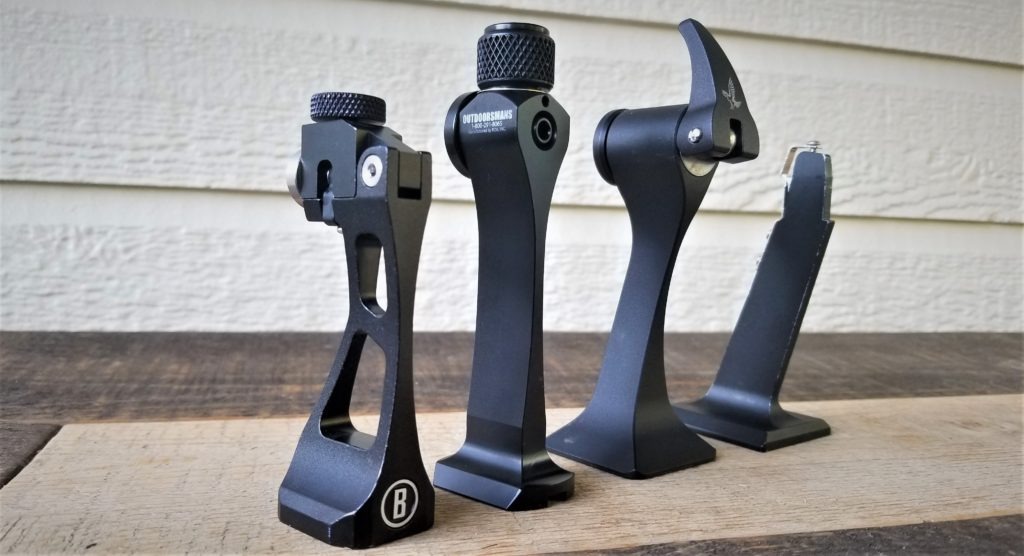 Over the last several years, I began taking an extra minute to set up my tripod when glassing with binoculars. The difference this has made has absolutely been worth the time it's taken to get the binocular tripod adapter set up. Of course, not every situation calls for it, but if you are picking apart a large area, looking for bedded animals, or simply trying to size up that buck or bull, it's worth it.
Looking for a spotting scope? Check out our MASSIVE SPOTTING SCOPE REVIEW where we put 19 of the best spotting scopes side by side!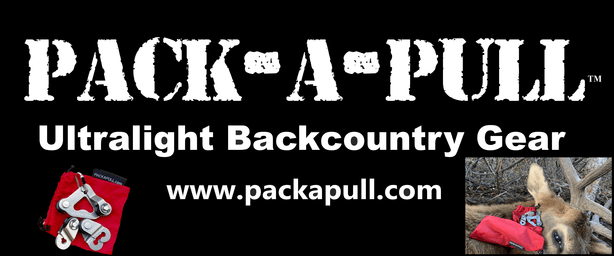 If you are an ounce counter, simply carrying a binocular tripod adapter may save you the need for packing that spotting scope. For me, if I am chasing elk, I found myself leaving the spotter home, taking the tripod and using it with a bino adapter for long glassing sessions instead.
The Testing: Best Binocular Tripod Adapters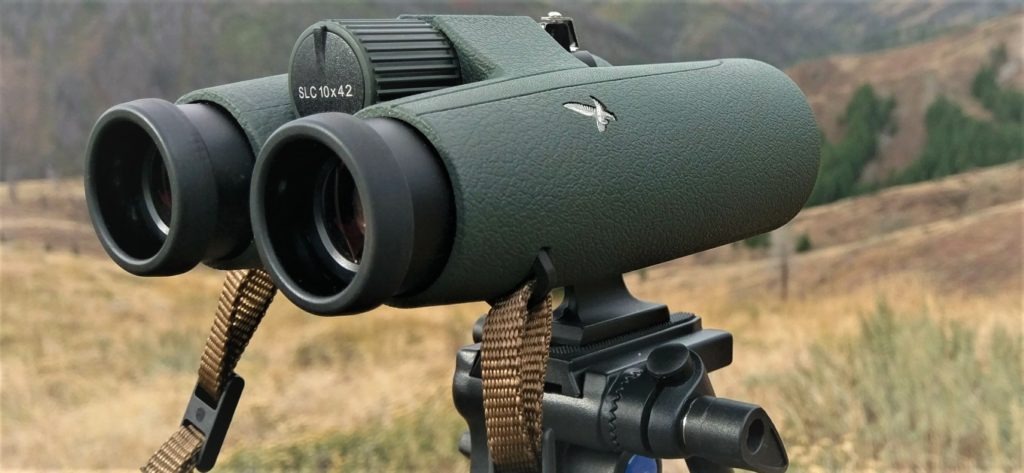 I had the opportunity to field test five different binocular tripod adapters over the last several years and I hope my experiences help you decide what fits your needs the best. The non-negotiable features for me were being:
Lightweight
Non-bulky
Easy to detach from the tripod
I wanted a binocular tripod adapter that I could take with me into the backcountry without excessive bulk or weight while not having a large chunk of metal attached to my binos at all times. Those requirements eliminated a majority of the options out there, so here are the adapters I field-tested.
Vortex Uni-Dapter binocular Tripod Adapter Review
Vortex Uni-Dapter binocular Tripod Adapter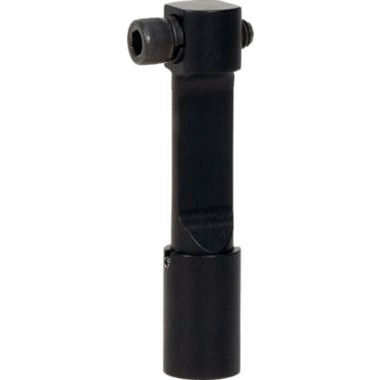 The Vortex Uni-Dapter was the first model I ventured into the field with. I wanted to try this one due to its quick release feature as well as is its minimal bulk and weight. The post simply screws into the adapter receiver on your binoculars and then you attach the base to the tripod plate.

Setup was quick and easy. The post did stick out just a bit which was slightly annoying, but it wasn't bulky and it didn't get in the way. The post did tend to make it more difficult to pull the binos out of the bino harness though. If you use something like the Alaska Guide Creations, FHA or similar, the post may be a problem. To use, simply set the male end of the adapter into the tubular piece that you attach to the tripod plate, and you are set.
This binocular tripod adapter was fairly stable, but did have noticeable play when glassing. One feature of this adapter that has both a negative and a positive trade-off is that it does not lock into place. This allows for quicker use and easier take down, but it does make it so that the binoculars can fall off the tripod as they are not attached. While this is unlikely to happen, it did make me nervous at times.
Another way to use the Vortex Uni-Dapter is to bypass the quick-release tube and attach the post directly to your tripod quick-release plate. This gives you a rock solid setup, but adds bulk as the plate is attached to the binoculars. With a retail price of just $34.00, it is a nice option with some versatility.
Field Optics Research Rapid-Release adapter (Gen 2) Review
Field Optics Research Rapid-Release adapter (Gen 2)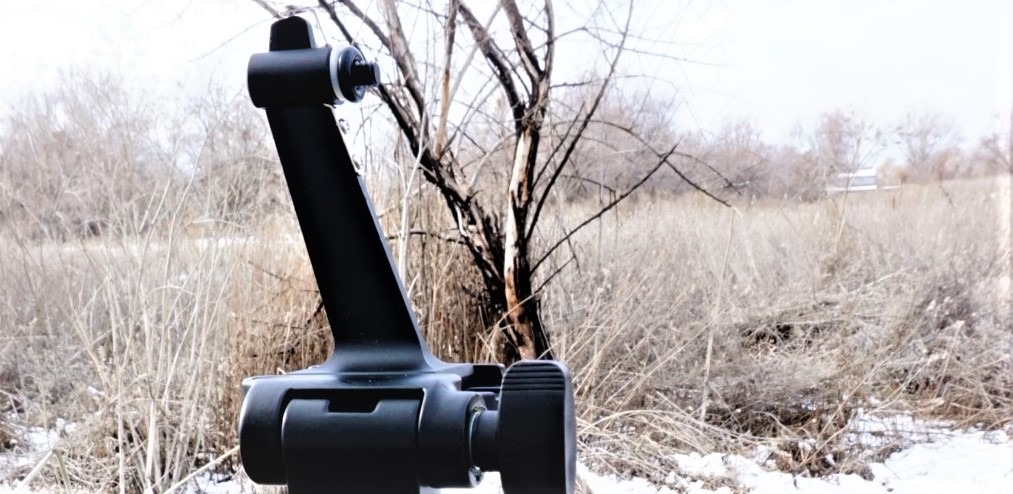 The second binocular tripod adapter I field-tested was Field Optics Research Rapid Release adapter. This one caught my eye due to its ability to lock into place, taking care of the concern I had with the Vortex model. I preferred the setup of this model in that the post that attaches to the binoculars does not leave a piece protruding from the binoculars.
Also very lightweight, the binoculars lock into place nicely and are there until you detach them. Releasing the binos is accomplished by pushing a small metal release, which allows for the quick release. I found this worked well, but depressing the small piece of metal was a little cumbersome at first, particularly when my hands lost dexterity from cold temperatures. However, with a little use the release function became second nature.
While using the 1st Gen model of this adapter, I did notice some play, which was a bit annoying at times. The movement was minimal but noticeable, particularly when glassing at longer distances or in very windy conditions. The amount of play was much better than the Vortex model though. Field Optics Research came out with a Gen 2 model of this adapter which corrected the play and also added an Acra Swiss Base. Both of these additions make this a great bino tripod adapter!
READ THE FULL REVIEW UPDATE FOR THE GEN 2 BINOCULAR TRIPOD ADAPTERS MODEL HERE!!
Swarovski TAs-SLC Binocular tripod adapters Review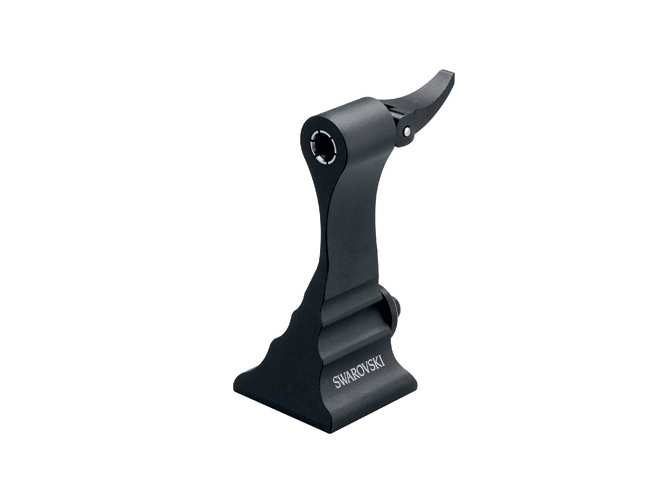 The next model I took in the field looking for the best binocular tripod adapter was the Swarovski TAs-SLC Tripod Adapter. After looking over the design of the TAs-SLC adapter, it appeared to have both the rock solid stability AND quick release function I was looking for. Just a few moments into glassing with the TAs-SLC binocular adapter and I knew quickly that this one possessed the stability I had been looking for.
Similar to the other two models, a post attached to the tripod attachment point on the binoculars. Attaching the binos to the adapter is accomplished simply by sliding the adapter over the post and flipping the lever. There was absolutely no play when glassing and the attachment was quick and easy, even in cold temps. The Swarovski TAs-SLC Adapter also features an Arca Swiss base, removing the need for an adapter plate if you use a tripod with an Arca Swiss Head.

As with most things, the stability and ease of use came with a trade-off; the cost and weight. TAs-SLC Binocular Tripod adapters retail for a whopping $170, and weigh in a bit more the other options. If anything, this adapter almost feels overbuilt for a binocular tripod adapter, but you can rest assured that you will enjoy rock-solid glassing with it. The price point may take this one out of consideration for many folks, but you are sure to experience zero play while glassing and, as with most Swarovski products, you get top-notch quality.
Outdoorsmans Binocular Tripod Adapter Review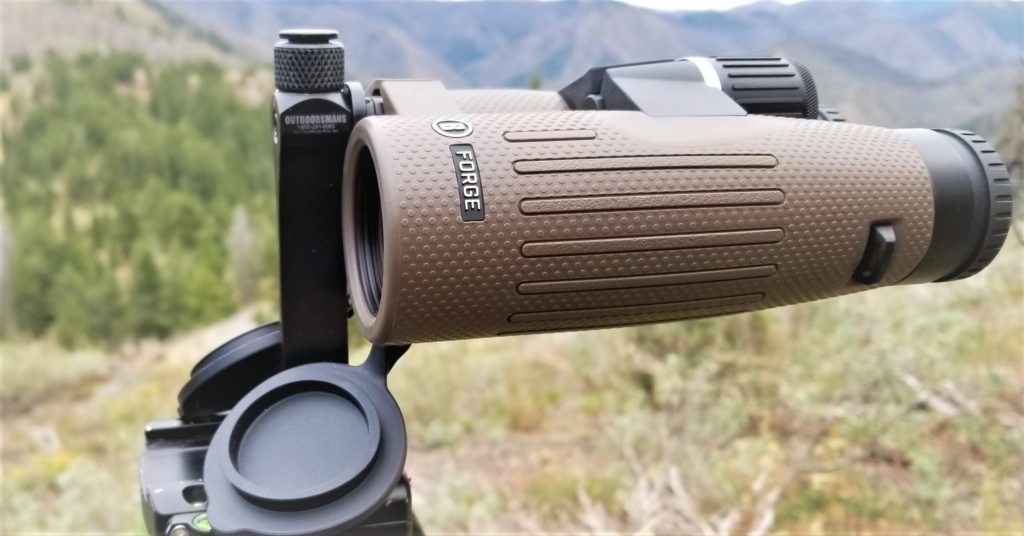 Our search for the best binocular tripod adapter brought us to test out the wildly popular Outdoorsmans Binocular Tripod Adapter. This is one of those adapters that is just plain rock solid in design, easy to use, and is build like a tank.
The Outdoorsmans Binocular Tripod Adapter features a push button release combined with a knob that you tighten to secure your binos atop your tripod. The combination ensures that your binoculars don't budge and won't accidentally fall off. They are so secure that you could even leave your binos attached to the tripod and carry them around that way if you wanted. Unlike the Swarovski TAs-SLC Tripod Adapter, you can't accidentally flip the lever and release the binos.
The cost, if you will, of the two-step process is that it is a bit more cumbersome than the Swarovski TAs-SLC Adapter, so you get something, but also give something up with the Outdoorsmans. I have zero concerns about durability with the Outdoorsmans Tripod Adapter. I used it all season in conditions ranging from warm, summer scouting to late season, -15 degree temperatures without a single issue. It's a fantastic adapter. If you are looking for the best binocular tripod adapter on the market, give the Outdoorsmans Adapter a good hard look. The Outdoorsmans Bino Adapter comes in either a tall or short model to accommodate all sizes of binoculars.
Bushnell Quick Release Bino Tripod Adapter Review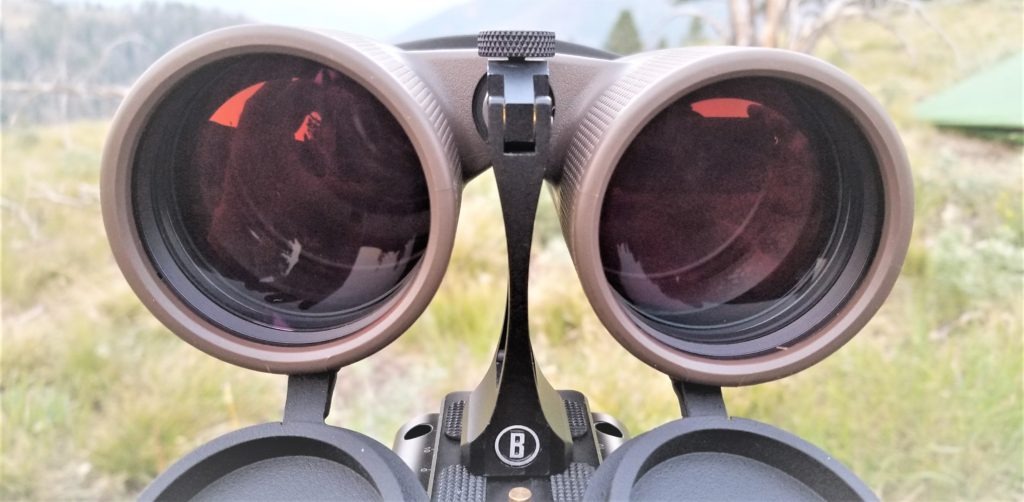 One next model I was able to test while looking for the best binocular tripod adapter was the Bushnell Quick Release Binocular Tripod Adapter. This one offers a unique feature that none of the others had as well as a rock solid platform and a price point that is very enticing.
Bushnell Binocular Tripod Adapters offer you a unique hinge that allows you to cant your binos while on the tripod. This can come in handy when glassing up or downhill without having to move your tripod (see picture below). It also makes putting the binos on and off the tripod adapter a little easier. I do wish the Bushnell Bino Tripod Adapter came with an Arca-Swiss base, but that's not a deal breaker.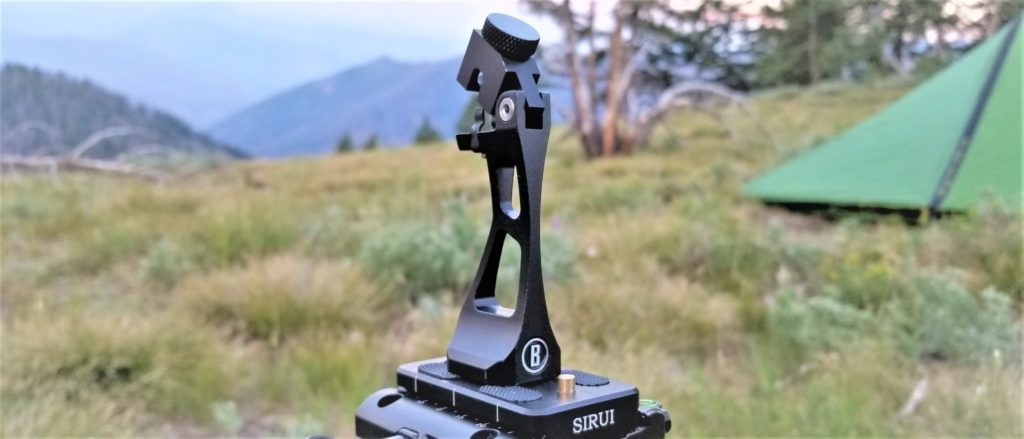 One downside to the Bushnell Binocular Tripod Adapter is that, as of the date I wrote this article, I wasn't able to find a way to purchase a second stud. An extra stud can come in handy when you want to swap out binoculars or if you happen to lose the stud for some reason. Hopefully Bushnell will sell the stud separately soon!
Check out This Video On 4 of the Best Binocular Tripod Adapters We've Found!
Really Right stuff Cinch Binocular Adapter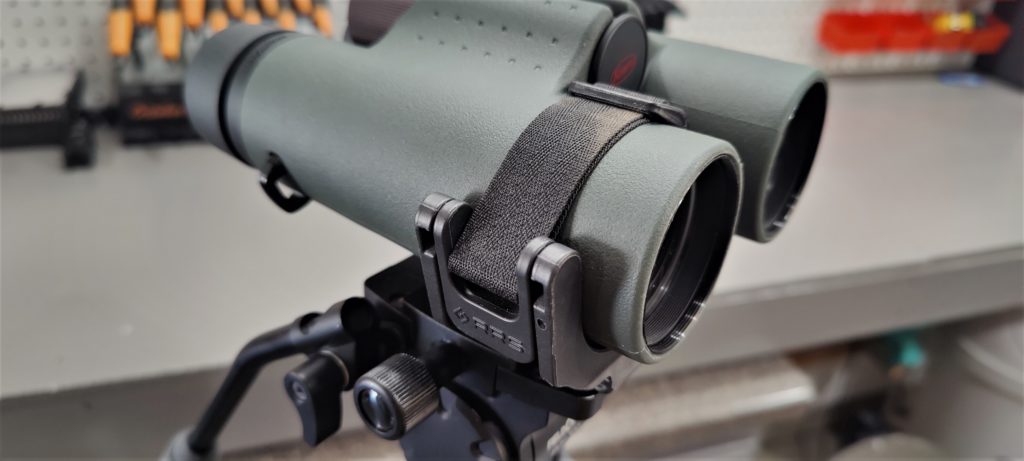 Next up in our search for the best binocular tripod adapter is the Really Right Stuff Cinch. This is a unique bino tripod adapter that features an Arca-Swiss base as well as a quick release function, but in a clamp style rather than stud style. Several of the high end binoculars on the market today like the Swarovski NL Pure, the Kowa Genesis, and Leica Noctivid are not threaded for a bino adapter stud, so you have to use this style to put them on a tripod.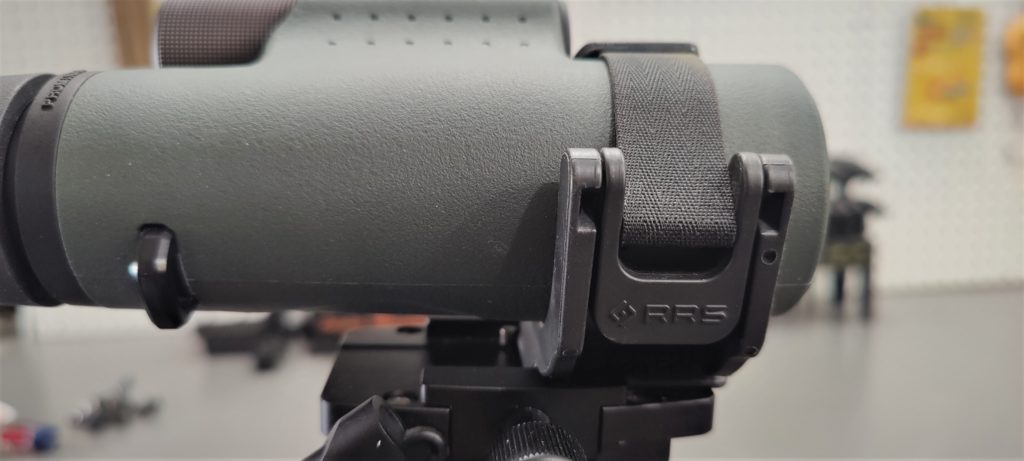 The Really Right Stuff Cinch is a unique clamp style adapter in that also gives you the quick release functionality, whereas most other clamp style adapters do not. Because of that, it's a little more bulky, but not overly so. Your binoculars will still fit in your bino harness with the RRS Cinch on there, but it might be a little snug.
Aziak Equipment Binocular Adapter Review
Last up, and the lightest weight of binocular tripod adapters (by a long shot) we tested out the Aziak Bino Clamp. This bino clamp is unique in that it weighs in at and incredible 1/4 of an ounce, features an Arca-Swiss base, and is super slim as not to interfere with putting your binos in a harness.
The Aziak Bino Clamp comes in a number of sizes, but each size fits a wide range of binoculars. It's inexpensive enough at just $36.99 that you can get one for multiple pairs of binoculars, and best of all, it stays on the binoculars. No loose parts to risk losing in the field (I nearly lost the Outdoorsman adapter referenced above by setting it on the ground next to me and walking away after glassing).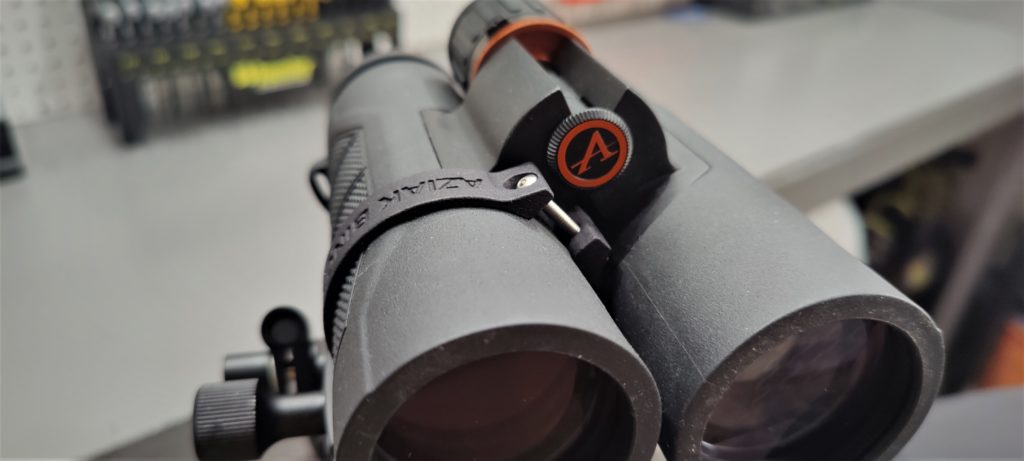 The Aziak is flexible yet extrememly strong, and I used it in temperatures from mid 80s all the way down to single digit without issue. One thing to note is that the Aziak does flex a little, but it is very solid. It works best with a pan head like the Sirui VA5 head where you are using the handle of the pan head rather than grabbing the binos to move.
Check out our Detailed Video Review of the Aziak Bino Clamp!
The Specs – Best Binocular Tripod Adapters
Conclusion – Best Binocular Tripod Adapters
In the end, whatever features are most important to you will determine what the best binocular tripod adapter is for you. Looking for the fastest setup and don't need your binos to lock into place? The Vortex Uni-Dapter is a good option. If you feel better knowing your expensive optics won't fall off the tripod (as I am), but don't want to spend a fortune, the Field Optics Research or the Bushnell Quick Release option are great ways to go.
If you are using a pair of binoculars that isn't threaded for a stud, the RRS Cinch or Aziak Clamp are great options. If you want your optics locked into place with the most rock solid setup available, well you may have to open up the pocket book and go with the Outdoorsmans Tipod Adapter or Swarovski SLC adapter.
I would not hesitate to use any of these binocular tripod adapters for those more in-depth glassing sessions. Personally though, I just wasn't comfortable with my expensive optics sitting atop a tripod adapter that didn't lock them into place. All of them will give you an edge in spotting game … as long as you take the extra step to set up your tripod. Just give it a try. It's so worth it. You'll be amazed at how much you've been missing. Don't take my word for it, though. Get out there and see for yourself.
Subscribe to Backwoods Pursuit to get Your FREE Backcountry Gear Worksheet!!!
Dial in your gear list, calculate your pack weight, and lighten up your pack with this handy tool!