My quest for the perfect backcountry tent is what lead me to do this Argali Rincon 2P Tent review. As some will remember, I was previously using the Six Moons Designs Haven Ultralite Tent, and while that tent served me well through some harsh conditions, I wanted something a bit more robust and versatile, something that also had an option to convert it to a "hot tent" when the temperature dove down below freezing. Having a Lite Outdoors stove, I was looking for a tent that would pair well with it and still have an inner tent option to keep the bugs at bay.
During the testing for this Argali Rincon 2P Tent review, I found this tent to be packed full of features and customizable to whatever situation you are presented with. The two-person tipi tent world is very crowded, but that doesn't mean they are all created equal. I used the Argali Rincon 2P tent for over a year in different seasons and widely different types of terrain which really gave me a good feel for how it performs.
It was subjected to warm and cold weather, wind, rain and even snow. I enjoyed my time in this tent, but it does have its flaws. In this Argali Rincon review, we'll cover what I love about this tent as well as the things that can be improved upon.
Materials: Argali Rincon 2P Tent Review
The outer fabric of all Argali Tents is a 20D Ripstop SilPoly. Judging by the looks and weight of the material, it appears to be a 1.1 oz type SilPoly (Argali only specifies that it's a 20D SilPoly). This fabric is silicon impregnated (coated) on both sides and has a 2000 mm hydrostatic head. I won't bore you with the details of how the hydrostatic head is tested and rated, but a 2000 mm rating will keep things waterproof in just about any situation. SilPoly is known to hold its shape when wet as opposed to SilNylon which tends to sag when wet.
Make sure to check out our other ultralight hot tent reviews and the Backwoods Pursuit YouTube Channel to help you decide what gear will help you stay out in the field longer!
The zippers on the Argali Rincon 2P are YKK#5 zippers (not waterproof zippers) and offer smooth operation both opening and closing, and the zippers for the exterior tent have a nice flap that covers the zipper to keep the rain out. The stove jack is the same silicone coated fiber glass material that you find on most hot tents. This woven fiber glass is very fire resistant, and the silicon coating makes the material waterproof. The optional Argali Rincon Carbon Center pole is adjustable from 48 to 56 inches (the Argali Rincon uses a 54-inch pole height) and weighs in at a scant 8 oz.
As previously mentioned, the SilPoly fabric helps maintain the structure of the tent while wet, more so than the more commonly used SilNylon. The polyester does not absorb water so you won't wake up in the morning with the tent sagging in on you after a night of rain.
That fabric also keeps the tent light weight. The tent is advertised as being just over a pound at 19.5 oz, and when I weighed my tent with the outer shell, 8 stakes and the stuff sack, it weighed 1 lb 8.6 oz. That's impressive given how much room you have in this tent. The weight advertised for that setup is 22.4 oz versus the 24. 6oz I measured on my scale, which is most likely the difference of a stuff sack.
Unique Features: Argali Rincon 2P Tent Review
Using this thing in the field for testing for this Argali Rincon 2p tent review showed me just how versatile this tent is. It has a number of setup configurations including being used as a tarp, a double wall tent, and even a hot tent when temperatures plummet. Since I started testing this tent, Argali even added a Rincon half insert that allows you use the Rincon as a double wall, fully enclosed shelter while still being able to use a stove. Argali also added a new Argali Skyline Ti Titanium Stove, which fits perfectly with all of the Argali tents.
STOVE JACK SYSTEM – ARGALI RINCON 2P REVIEW
The outer tent has a removable stove jack that Argali calls the ARC Removable Stove Jack System. The stove jack system is made up of two pieces; a silicon coated woven fiber glass material and an exterior (tent material) cover. If you do not intend to use the tent in a "hot tent" manner, you can simply unzip the stove jack material and save approximately 2 oz. The stove jack has a zipper in an upside-down U shape that covers the top and sides. The bottom of the stove jack material also has Velcro that secures the stove jack to the exterior of the tipi and helps ensure a secure attachment to the tent.
When it's time to convert the Argali Rincon into "hot tent" mode, simply unzip and remove the stove jack cover and it's ready to be a hot tent. The cover has the same zipper and Velcro so it can be used with or without the stove jack material which allows either of them to be used independently. The exterior tent fabric overlaps the zipper closures for the stove jack, so it maintains its waterproof properties.
CENTER POLE OPTIONS
The Argali Rincon 2p tent can be pitched using the Argali Carbon Center Pole, or if you are an ultralight kind of guy and don't like carrying the extra 8 oz for the Argali Carbon Center Pole, you can just use one of your trekking poles as long as it extends up to 54 inches (the Argali trekking poles also work awesome with this tent).
I carry trekking poles to help me with stability while hiking in steep country and during a heavy pack out, so I'm not too fond of leaving one back at camp holding my tent up. Because of this I elected to take the carbon center pole so I could have the use of both trekking poles.
As an example, having those trekking poles with me came in handy this spring when my hunting buddy's tent required two trekking poles, and he opted to leave them at camp with the tent. He ended up hurting his ankle, and I was able to lend him one of my poles to help support him on the hike back to the tent in the steep terrain.
DOOR/ENTRY DESIGN – ARGALI RINCON 2P TENT
The zipper door on the Argali Rincon 2P tent is in the middle of one side of the tent, and there is a guy out point on each side of the zipper for the door which allows you to stake out either side depending on which side you want to enter the tent. You can also unstake the door and open it up completely to increase the air flow when rain won't be an issue.
Both the exterior and interior doors can be held open with the door keepers, and the exterior doors can both open completely to really increase the interior air flow. I found the door to the inner tent to be a little cumbersome to use at times though.
I typically only use one side of the exterior door, but I had to position the interior door zippers in order to access them from that one side. You can't use the door keeper on the mesh door unless you open it all the way.
INNER TENT DESIGN
The zipper on the mesh insert goes from the bottom right corner (if facing the door), along the bottom almost to the far bottom left corner. Approximately one foot from the corner, the zipper turns upwards and continues to the peak of the tent, making it a massive door which provides super easy entry into the tent.
The bathtub floor of the mesh insert has raised side walls (approximately 3 inches high) to help prevent dirt, debris, and rain from entering the tent. The floor thankfully does not have a hole in the bottom for the center pole like some tents out there. This keeps the critters from having an access point and also prevents the pole from sinking in the soft ground. I really like this design and the functionality it provides.
The 2P mesh insert is a simple one without a lot of pockets, hooks, etc. If you are a person that likes a bunch of storage pockets and places to hang your gear, you won't like the Argalin Rincon 2P insert because there are none of those. This insert is very spacious, and I personally never found myself wanting pockets to put gear in. I did find myself wishing that the sides of the bathtub floor came up a bit higher to help keep debris and dirt from getting blown in under the outer tent, but that all comes at the cost of added weight.
VENTILATION/GUY OUT POINTS
The Argali Rincon 2P tent has one peak vent that is on the opposite side of the stove jack. The vent has a built-in carbon rod and Velcro to keep the vent open when needed and stowed when you don't.
There is an additional guy out point about half way up the walls around the exterior of the tent to give you extra stability in windy or snowy conditions which also provides more interior space. All of the guy out points sport a reflective material to assist you locating your camp at night. I found this to be extremely helpful as they really make finding your tent a breeze at night. The reflective guy out points also help prevent your buddies from tripping over your stakes and pulling them from the ground.
As you can see, the Rincon 2P is packed full of features. This tent is well thought out and well-built. There are no corners cut here.
Setup Options: Argali Rincon 2P Tent Review
Included with the Argali Rincon 2P tent are the Argali Piton stakes. The tent comes with 8 of them, and they are made of 7075 aluminum while being 7 inches long and "V" shaped. Each stake weighs approximately 0.3 ounces and features a handy reflective cord attached to them which gives them added visibility. This really helps find the stakes if setting up or taking down in the dark, as well as letting you know where guy lines are staked so you don't trip over them at night.
SINGLE WALL / TARP SETUP
While I am personally not a fan of a floorless shelter, I love that you have that option with the Argali Rincon 2P tent. As you can see in the picture above, you gain some extra interior space if you use it in floorless/tarp mode rather than install either the full or half insert.
I found that I like using the full insert during warmer trips where a stove is not needed, and then switch to a half insert during late season trips where I want to use a stove.
DOUBLE WALL/INNER TENT SETUP
The Argarli Rincon 2P Insert and the Argali Rincon 2P Half Insert (both sold separately) are made up of two primary materials. The body of the insert is a 15D No-see-um (.67 oz) mesh that has been plenty durable so far for me. The floor is 40D Nylon 6.6 that does not specify the hydrostatic head of the material, but I'm confident in saying it's probably at least 3000-4000mm. The peak of the insert is also reinforced to support the center pole and prevent the pole from puncturing the shell.
The outer tent has d-loops sewn into the corner guy out points to attach the inner mesh insert. The connections are low profile but still easy to get to when you are attaching the insert. The insert has a carabiner attachment that is connected to guy out cordage and line loc adjuster. The makes attaching the insert and adjusting the tension quick and easy.
The guy out points are reinforced and constructed of high-quality webbing, Linelocs, and reflective guy line. There is nothing about this tent that I felt cut corners on the materials.
HOT TENT SETUP
One of the key features I was looking for in my next tipi style tent was the ability for it to convert to a hot tent for late season trips when temperatures dip well below freezing. As I previously mentioned the Argali Rincon 2P tent does just that and does so extremely well. The new Argali Skyline Titanium Ti Wood Stove is awesome and a perfect fit for this Rincon. Setup is much faster than most titanium stoves out there, while still being one of the lightest on the market.
SETUP NOTES
During this Argali Rincon 2P tent review I found that it is extremely versatile in how you can pitch it. This comes in handy on uneven terrain and in various weather conditions. Being a tipi style tent, I was able to set the tent up on a side hill after digging out a spot to sleep. The pitch was still tight, and I had no sagging points.
The Argali Rincon 2P tent can be pitched close to the ground to limit the air flow in windy, rainy, or snowy conditions, or it can be pitched higher off the ground to allow for maximum air flow on those warmer nights or to help reduce condensation.
The guy out points are reinforced which helps this tent perform well in the wind. The steep wall angles also help in shedding rain, wind, and snow. In soft ground, I found myself having to stack rocks onto the stakes again to keep them from pulling out of the soft ground in the wind, but I had zero issues with the rocks rubbing holes or cutting the guy out points as I had the year prior.
Specs: Argali Rincon 2P Tent Review
Although the Argali Rincon 2p tent is not the biggest or lightest two-person tipi style tent out there, the Argali Rincon 2P tent offers more space than most, particularly for its weight. Listed below are the specs and dimensions that I personally measured. I will note that the weights I came up with differed by a couple ounces from the advertised weights, but that could be explained by weighing things in a stuff sack vs. no stuff sack.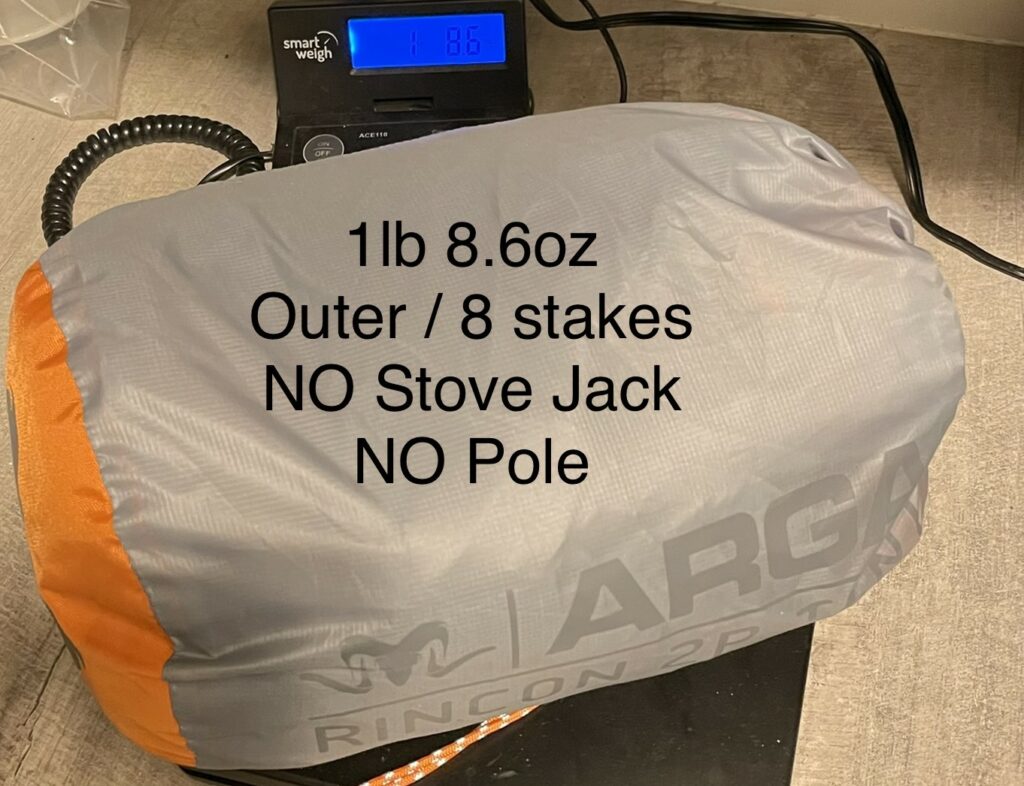 The Argali Rincon 2p tent comes standard with the ARC Stove Jack, 8 Piton Stakes, Seam Sealer, and a stuff sack. If you pick up the Argali Rincon 2p insert, it also comes with its own separate stuff sack so you can share the load if needed.
Piece
Weight
Canopy Only - NO stakes and NO Carbon Pole
19.5oz w/out stove jack,
22oz with stove jack
Canopy only - with 8 stakes & stuff sack - NO Carbon Pole
22.6oz w/out stove jack,
24.4oz with stove jack
Canopy with 8 Stakes and Argali Carbon Pole
34.2oz w/out stove jack,
36.1oz with stove jack
Rincon 2p insert
23.4oz
Carbon Center Pole
12oz
Size
108in x 88in
Height
54in
Doors
1
Piton Aluminum Stakes
.3oz each
Total Weight with Canopy, insert, center pole, 8 stakes and stuff sack
58.8oz / 3lbs 10.8oz
Total Weight with Canopy, Stakes, Center Pole, w/o Nest
35.4oz / 2lbs 3.4oz
---
My Testing: Argali Rincon 2P Tent Review
With all the features and specs out of the way, let's get into how the tent did during my testing. This is not my first tipi style tent as I have a lot of experience in them and find myself gravitating to them more often than not. A tipi style tent generally lends itself to being easy and quick to pitch, and this tent was no exception to the rule. I'll even say it was easier to set up than other tipi tents I've tried.
When I first got the tent, the insert was not available yet. I am not a fan of floorless tents, especially in late summer and early fall when bugs and other critters tend to be more of a problem. I am one who will pack the extra weight for the added piece of mind that I will be alone in my tent at night.
There have been several occasions where I found scorpions, snakes, black widows, and other creatures in and around my tent/camp, so I sleep a lot better knowing I most likely won't have to worry about those at night.
Since Argali didn't offer an insert yet when I got this tent, I went in search of another mesh inner that would fit the dimensions of the Argali Rincon 2P. I stumbled across a one-person mesh insert from DD Hammocks called the DD SuperLight – Solo Mesh Tent.
Although not designed for the Rincon, it fits inside well. Since that time, Argali came out with their Rincon 2P half Insert, which is obviously a better fit overall, and I would definitely recommend it if you are one that prefers using a half insert.
RAIN PERFORMANCE
Speaking of wet, the Argali Rincon 2P tent did extremely well in wet weather. It rained on me more days than it didn't while I was out using this tent, and I never had any issues with water coming through the seams, under the tent, or through the vent.
I have a Lite Outdoors titanium stove to use with this tent, however, I never ended up needing to use it out in the field as the temperatures didn't drop enough to justify bringing it, but I set it up in my backyard and installed the stove. The 12″ body of the Lite Outdoors stove is plenty to heat up the Argali Rincon 2P tent quickly.
I set up the tent with the half insert and had the stove glowing hot. I was surprised to find that the stove was far enough away from the mesh that it did not get hot enough to melt the mesh. If I was going to use the Rincon in hot stove mode, it would have been with the Half Insert, so I wanted to make sure it withstood the heat.
Again, when I started this Argali Rincon 2P tent review Argali did not yet offer a titanium stove, but now that they offer their Skyline Ti Titanium Wood Stove, I would prefer using that as it is more customized for the Argali tent offerings. Additionally, the Argali Skyline Ti Titanium stove is much easier to set up, while still maintaining its ultralight weight.
My Real-World Use: Argali Rincon Tent Review
The Argali Rincon 2P tent is a very easy tent to create a tight, even pitch, no matter the ground conditions. The extra 4 guy out points (front, back, and sides) gave the interior of the tent some extra volume that I found to be very noticeable. Those extra guy out points also help keep the tent tight and able to withstand some winds upwards of 30 mph. I was able to pitch the tent higher off the ground on one side to allow for ventilation but lower on the side facing the wind. That kept the strong gusts of wind from coming under the tent and causing problems.
I like the versatility in pitch options with this tent and never ran into condensation issues in the tent because of the ability to pitch it in a way to ventilate it. The singular peak vent is a nice touch, but I think the height of the pitch helps keep the condensation away more than the vent.
It should be noted that the first Argali Rincon 2P tent I received was a pre-production model (I believe), that had some issues with the peak vent carbon rod stay. The way the Velcro was attached and the lack of overhang, caused the vent to be very difficult to open and even impossible at times. I later received the updated Argali Rincon 2P that had this issue fixed.
Because of the tipi style design of the tent, I was able to get a fast solid pitch in some very uneven terrain. In one spot, I had to kick out the hillside to have a spot to sleep. I couldn't dig into the hillside any further, so I had to pitch the tent with the uphill side of the tent way higher than the downhill side. I was still able to get the center pole vertical and a tightly stretched pitch.
size: Argali Rincon 2P Tent Review
When used with the two-person mesh insert, the side guy out points create some extra storage room. The tent body pulls away from the mesh insert, creating some hidden storage areas on the sides of the tent. These areas aren't huge, but I was able to easily store my rifle in that area, standing the rifle up on the bipod. You would be able to put smaller items like boots and miscellaneous things from around camp in those areas too. The biggest issue with those areas as "storage" is you must access them from outside your tent.
It would have been nice to see a small, zippered opening in the mesh insert to access those areas from within the mesh insert. I know that was not the intended purpose for those sides, but it would have been a nice touch given the limited "vestibule" area.
I was also able to put my Crocs, boots, and gaiters just outside the Rincon 2P Insert door and the main exterior door. There was just enough room to store those items there. I didn't want them inside my tent because they were muddy and wet.
Practical Applications: Argali Rincon 2P Tent Review
Having the two-person mesh inner was very nice in the late season and springtime. This spring bear season was a wet and windy one for us once again. I stayed dry and comfortable in that mesh insert. The one issue I did have was getting fine particles of dirt and sand blowing into the mesh insert when the wind blew hard. That was more due to me pitching the upwind side too high. That's the give and take with trying to keep condensation down. I will add that I had zero issues with condensation during that wet trip as well.
I was glad I got the carbon center pole with the tent. Even though it can be pitched with a single trekking pole, I did not want to go without one of my poles. I have seen people struggle in rough terrain when they leave their poles behind for their tent instead of having them to hike, and I have learned from their mistakes.
I have also seen people lower their tent in the daytime to use their poles while hunting, which at first doesn't seem like a terrible idea until you get back to camp to see the tent covered in standing water with inside the tent. For the extra $50 and 8 oz, it's well worth having that separate pole.
As nice as it is having the massive amount of room in the 2-person mesh insert, I found myself wanting to just use the half insert. There are just some things that I don't want to bring inside the mesh inner at night. You can easily gather ticks and other bugs on your pack and other gear while hunting during the day, which would then come in your tent if you store your gear inside the mesh insert.
With the lack of vestibule space, I had to bring everything inside the mesh inner with the 2 person insert. Wet and muddy cloths brought dirt and other debris inside the mesh inner as well. If I was to use this tent with two people, I would bring a tarp to set up nearby for extra gear storage to keep the insert from getting too messy.
I never ended up using the tent in a two-person fashion since I was either hunting alone or my buddies were also testing tents out. The Rincon 2P as a one-person tent is a mansion. It will be hard for me to go to an actual "one person" tent in the future. Having the room to lay out all my gear and store it all out of the rain and weather is a very big plus. Being a tipi style tent there is no "vestibule" per say, so you have to consider where you'll store your gear.
INNER TENT ONLY SETUP
The Rincon 2P mesh insert can be set up by itself on trips when bad weather isn't expected. It can either be set up before or after the Rincon 2P outer tent. I left the four corners connected most of the time which made setup and take down easy. The stuff sack is big enough that you can fit both the inner and outer in the same sack, but it is tight. I did it that way for a few trips, but then got tired of fighting it. It is so easy to attach the mesh insert to the outer shell that the fight with stuff sack didn't justify not using two sacks.
What I Liked: Argali Rincon 2P Tent Review
Each and every tent I've ever used leaves me with a list of likes and dislikes. The Argali Rincon 2P tent is no exception, but I came away with a lot more things that I liked than disliked.
Easy to setup and take down
Mesh insert attaches easily
Can be used with the Argali Rincon 2P half insert or aftermarket one person mesh inserts
Waterproof and holds up in windy conditions
Stove jack for use with wood stove
Lightweight
Roomy for two people and a mansion for one
No sagging when the tent gets wet
Value – affordable but great quality
LineLoc and guy line included
Strong stakes
Durable
What I Didn't Like: Argali Rincon 2P Tent Review
While this list isn't long, there are a few things that I felt could be better about the Argali Rincon 2P tent:
Insert is minimalist but could use access points to the side storage areas
Little to no vestibule space for gear storage when using the 2P mesh insert
Bathtub floor of the mesh insert could be a couple inches taller to keep debris from blowing in if you pitch the sides up higher for ventilation
Conclusion: Argali Rincon Review
After spending many nights in this tent in different types of terrain and weather conditions, I can confidently say that it is a solid option for two people. This tent is a cost-effective, two-person tipi style tent with the versatility to be used with a stove, as a floorless shelter, or with a full or half insert from Argali. The quality of materials and construction is outstanding and its versatility is as good or better than any other tent I've tested.
My biggest problem with the Argali Rincon tent is that the company cannot seem to keep them in stock, but that's a good problem for them to have. I highly recommend this tent, and I don't think you'll be disappointed if you spend your hard-earned money on purchasing one.
Subscribe to Backwoods Pursuit to get Your FREE Backcountry Gear Worksheet!!!
Dial in your gear list, calculate your pack weight, and lighten up your pack with this handy tool!