Camping in cold weather doesn't have to be miserable. In fact, if you use a Kodiak Canvas tent like this Kodiak Canvas 12×12 Cabin Lodge tent, it can be downright comfortable. Winter camping has become one of my favorite kinds of camping as I'm a sucker for a cozy wood burning stove as my heat source. While getting the hang of winter camping takes a bit of trial and error, once you work out a few critical details, it is quite enjoyable and opens up a whole new world of possibilities to extend your outdoor adventures.
Why We chose A Kodiak Canvas Tent
When sorting through the available options when it comes to canvas hot tents, there are a number of things to consider in making a selection for what will work best to fit your needs. There are a lot of things to consider when selecting what will work best for you. Some of these factors are:
Wood stove compatibility
Ease of setup
Interior space needs
Floor/floorless
Overall size need
WALL TENT VS. BELL TENT
The first thing you want to do in order to narrow down your options is determine whether you want a bell tent or wall tent. There is a HUGE difference between the two styles. Yes, they are both canvas tents that are wood stove compatible, but their design and functionality are very different. To simplify the differences, a bell-style tent is exponentially easier and faster to set up, but offers less usable space inside as well as less standing room for the same square footage.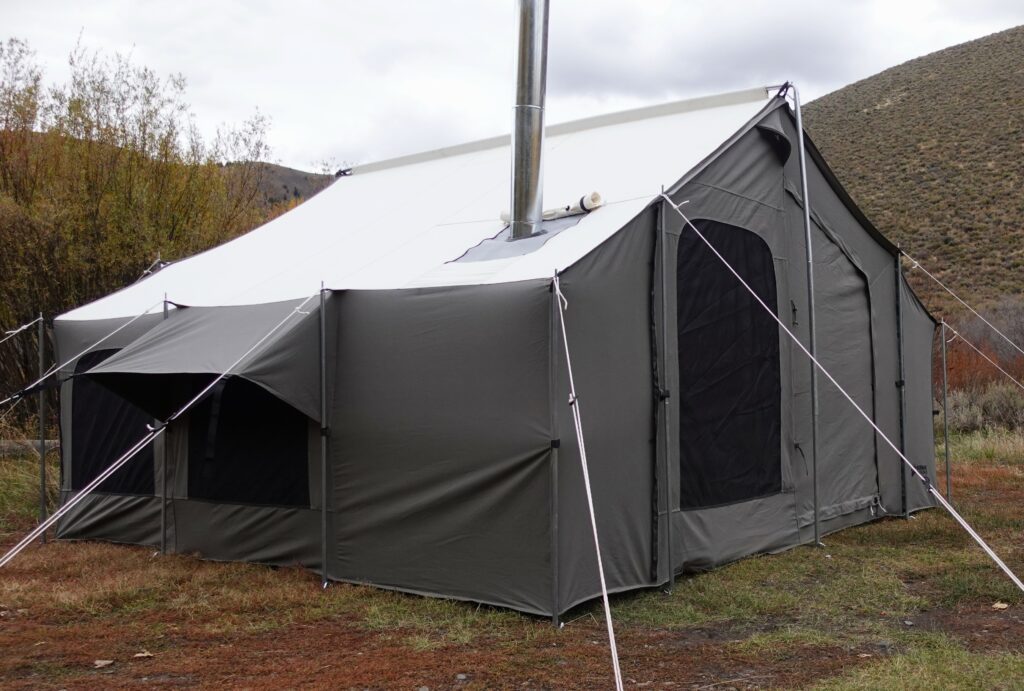 If you are going to be setting up a base camp for an extended period of time and know you won't be needing to move your camp spot, a wall tent is going to offer you more livable space on the interior so it's worth the extra time to set it up. This kind of tent is simply more comfortable as it doesn't have any awkward corners to navigate as you do with a bell tent. On the other hand, they are kind of a pain to set up when compared to the a bell tent.
For example, it takes me roughly 20-30 minutes to set up a bell tent like the White Duck Regatta Bell tent pictured above (not including the wood stove), and 45 minutes to set up this Kodiak Canvas 12×12 Cabin tent. Not a massive difference, but certainly a noticeable one if you show up to your camping spot late at night and are working to get yourself to bed to get out for an early morning hunt or hike the next day.
However, the extra livable space and standing room that a cabin wall tent offers is often times worth the extra setup and tear down time and effort.
What Size Tent Do I need? Kodiak Canvas Tent Review
Once you've narrowed down the style of tent you want, selecting the size of tent you need from the many Kodiak Canvas tents is the next challenge. Since weight isn't a concern in a base camp setup like it would be if you were backpacking, I tend to go bigger rather than smaller because the point of a base camp is to be more comfortable. With a base camp, and when cold-weather camping, everything takes up more space than you think, so your space quickly gets eaten up.
For example, those very nice Cabela's Alaskan Cots we use are great to have, but they take up a substantial amount of space. While they are super comfortable, you'll need a bigger tent as they take up a lot of room.
In this 12×12 Kodiak Canvas tent we were able to comfortably fit four of us while using two XL cots and two typical foam pads, sleeping on the ground. In addition, we had the wood stove, three camping chairs, gear, and a cooler in the tent with us. However, if we all used XL cots, it would have been a tighter fit. It definitely can be done, particularly if you don't have the XL sized cots, but you'd loose a lot of the "comfort" space for chairs and room to hang out. On the flip side, cots do allow you to store gear underneath them so that definitely helps offset their bulkiness inside the tent.
What Size Stove Do I need?: Kodiak Canvas Tents
Selecting the correct size in a wood stove can make a huge difference in just how comfortable the inside of your new canvas tent will be. When we started testing this Kodiak Canvas 12×12 Cabin Lodge tent, the folks at Kodiak Canvas recommended the "Spruce Package." This stove is made by Colorado Cylinder Stoves and has a firebox volume of 1.6 cubic feet which proved to be PLENTY of stove for a tent this size. It would even do the trick for their larger 12×16 Cabin Lodge tent as well, but Kodiak Canvas recommends the "Hunter Stove Package" for that larger tent even though they both have the same fire box volume.
With the "Spruce Package" we were easily able to heat the tent to whatever temperature we desired, and it was all too easy to overheat the tent if you added too much fuel and/or left the vents and damper open too much for too long. There were times when we unintentionally had the inside of the tent up to 98° F and had to open the windows to let some cold air in and bring the temperature back down to a comfortable one.
While buying the largest stove you can find might seem like a good idea at first, it can easily be counter productive in that you will cook in your tent. A stove too large won't be able to burn at a low enough level to make the tent comfortable, and you'll constantly be fighting it being too warm inside, plus you'll end up going through a lot more wood which is something else to consider.
The Testing: Kodiak Canvas Tent Review
Over the course of a year and a half, we were able to use this Kodiak Canvas tent 12×12 Cabin Lodge tent in a wide variety of conditions. We saw temperatures in the low, single digits as well as snow and rain, and we even took this tent on a family camping trip in the middle of summer (no wood stove then of course). We even used this Kodiak Canvas tent to conduct our monster cooler test and review, and it proved to be perfect for keeping an even temperature inside to test which cooler kept things cold the longest.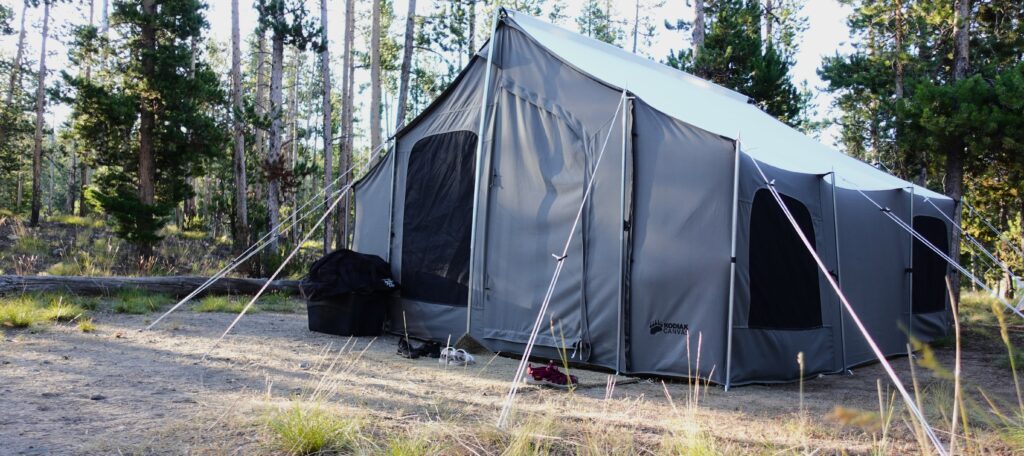 At first, I wasn't anticipating this tent being a go-to for all different seasons as my mindset was to use this as a cold weather tent when a stove is needed. However, after using it extensively in every season and temperature, I can say this tent is amazing no matter the time of year. It makes an incredibly comfortable living quarters for any lengthy stay out in the backwoods.
Options & Accessories: Kodiak Canvas Tents
Knowing what accessories you might want is made easy by selecting a Kodiak Canvas 12×12 Cabin Lodge and Stove Bundle. The bundle comes with everything you need to get out and start winter camping. It includes:
Tent/stakes/poles
Enclosing Awning
Ground Sheet
Stove mat
Stove package
Storage bags for awning, tent, poles and stakes
I would highly recommend this package as you will absolutely want to pick up a stove mat if you plan to use a wood stove. The ground sheet is a really good idea to protect your floor and lengthen its life, and the enclosed awning is really nice to have is some situations.
ENCLOSED AWNING – KODIAK CANVAS TENT
If you want to expand the useful space you can add the Kodiak Canvas Enclosed Awning to any of the Kodiak Canvas Cabin Lodge Tents which provides a lot more room. I really like the versatility of this enclosed awning as it can be used as a place to cook, store extra gear, or even additional sleeping quarters if you want. The generous 8×8 size gives you a ton of extra space, and its windows allow it to be well ventilated or fully enclosed which makes this an awesome addition that I would most definitely recommend.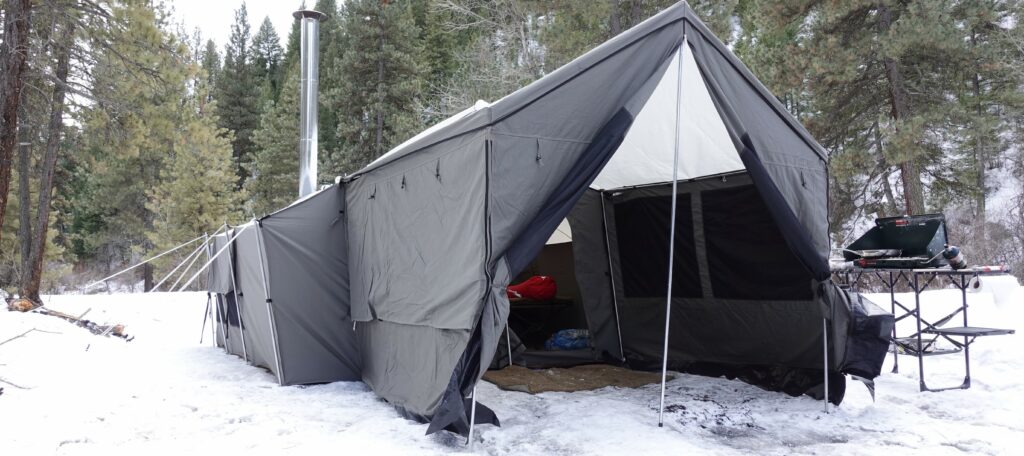 Now, the setup is a bit more cumbersome than the rest of the tent, so unless I really needed or wanted the extra space, I found myself leaving it behind. However, when the situation calls for it, it's an awesome add on.
It is especially nice to have a more protected place to set your boots, cooler, cook stove, etc. to reduce the clutter inside your tent, and it gives you more room in order to sleep more people. If you are fitting a couple extra people in the tent, the awning makes a huge difference allowing you to use this tent/awning combo rather than having to set up an additional tent.
GROUND SHEET – KODIAK CANVAS TENT
The ground sheet that comes with the bundle protects the nice, vinyl floor of your tent. While I found the vinyl floor to be very durable, over the long term you will extend the floor's life by adding the Kodiak Canvas Ground Sheet (or really any ground tarp).
---
The Specs: Kodiak Canvas 12×12 Cabin Tent
If you are into specs, here are the details of the Kodiak Canvas Cabin Lodge tent:
Kodiak Canvas 12×12 Tent Specs
Fabric
100% cotton duck canvas
Capacity
Sleeps 4-8
Ceiling Material
10 oz Hydra-shield™ canvas
Wall Material
8.5oz Hydra-Shield™ canvas
Floor Material
13.5 oz vinyl. Polyester reinforced, welded seams
Doors
1
Windows
7
Zippers
YKK #8 (windows) and #10 (door)
Built-in Stove Jack
Yes
Frame Material
1″ Galvanized steel
Electrical Cable Outlet
No
Center Height
7'6″
Door
Large D Shape
Wall Height
4 feet
---
Features: Kodiak Canvas 12×12 Cabin Lodge Tent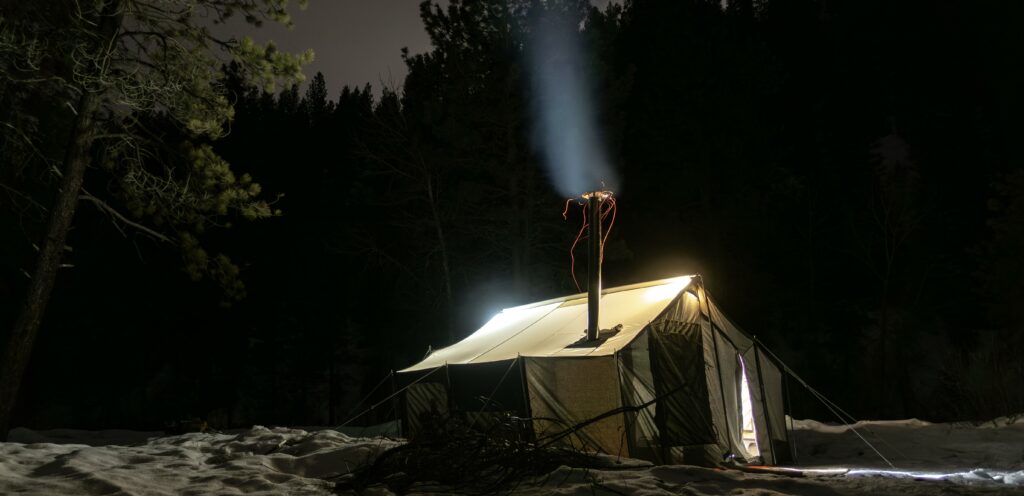 If you are considering picking up one of the Kodiak Canvas Cabin tents, there are a number of features you should take note of.
CEILING VENTS – KODIAK CANVAS TENT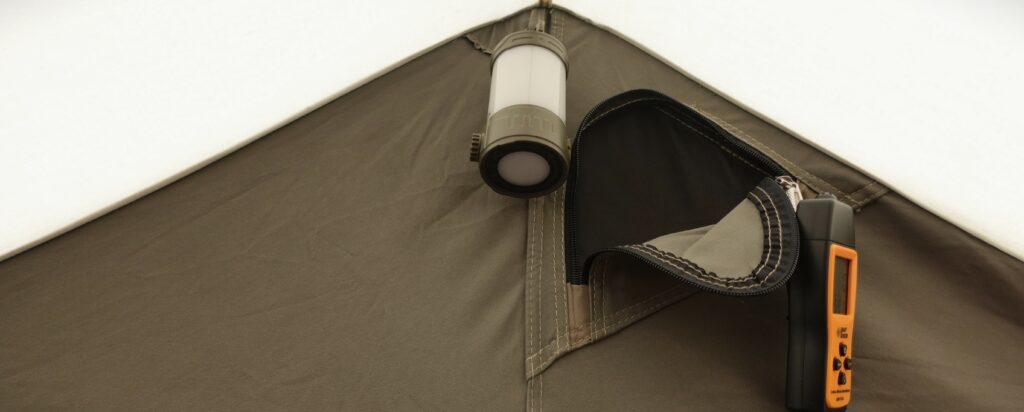 The Kodiak Canvas 12×12 Cabin tent features two well-placed vents at each end of the peak of the shelter to ensure you have some good airflow, particularly when burning a wood stove. These vents are at the apex of the tent and can be zippered shut when not needed, are mesh covered to keep bugs out, and have an awning on the outside as well to keep unwanted rain out.
WINDOW AWNING – KODIAK CANVAS TENT
One unique feature that the Kodiak Canvas Cabin tent has is a built-in window awning on one of the windows. This is there for those times when you might want to have a window open, but the weather outside is spitting rain or snow that you don't want getting inside. This allows good airflow and ventilation no matter the weather conditions.
SEWN IN FLOOR – KODIAK CANVAS TENT
The sewn-in, super thick 13.5 ounce vinyl floor comes at no extra cost which is awesome. Many canvas tents out there cost a pretty penny to add a floor. Now, if you are someone who doesn't want a floor, this is a feature you may not like and should look elsewhere as Kodiak Canvas Cabin tents all come with a sewn in floor and don't have a floorless option.
Unlike the White Duck Regatta Bell Tent that we tested last year, the vinyl floor was not slippery and felt much more robust (you'll remember that the slick floor was one of our negatives on that tent). After using both, I much prefer a vinyl floor over the 7.5 oz. biodegradable sewn-in PE floor in the White Duck tent, and it's not particularly close.
ALL STAKES AND POLES INCLUDED – KODIAK CANVAS TENT
I love that you get all the stakes and poles you need to be on the road with the Kodiak Canvas Cabin tent. This isn't always the case with canvas tents, so I appreciate that the price you see online includes the poles, stakes, and guy out rope. This simplifies your shopping experience and helps you see your "all in" cost more easily without trying to figure out what accessories you have to add just to use the tent.
7 SCREENED WINDOWS – KODIAK CANVAS TENT
One of the standout features of this Kodiak Canvas 12×12 Cabin Tent is the number of screened windows. Seven HUGE windows give you a ridiculous amount of flexibility. We found this particularly useful when we accidentally over-stoked the wood stove and it got a bit too hot in the tent during the night.
Each person is able to regulate how much cold air they need to be most comfortable, and each person can sleep with a window open next to them if they choose to do so. This feature also makes it a fantastic tent for summer camping as you can open all the windows to get a cross breeze and have a lot of air flow so it isn't hot and stuffy inside.
BUILT-IN STOVE JACK – KODIAK CANVAS TENT

Kodiak Canvas Cabin Tents are all "Stove Ready" (SR) with a pre-cut, built-in stove jack. While this narrows down your stove options, if you use the recommended stove or one with a 4 7/8 stove pipe, you have nothing to do but install the stove and you are ready for your winter camping adventures.
RELATIVELY EASY SETUP – KODIAK CANVAS TENT
For what you get in the Kodiak Canvas Cabin tent, the setup is relatively easy and fast. While not as fast as the White Duck Regatta Bell tent, which takes only 20-25 minutes to set up, this cabin tent only took us roughly 35-40 minutes to have camp ready to go. By the time we got the stove all set up, wood hauled in the tent, all our cots, sleeping bags, and chairs set up, it took us just over an hour. Not too bad for the level of comfort you get.
MATERIALS USED – KODIAK CANVAS TENT
Kodiak Canvas tents are made with Hydra-Shield 100% cotton duck canvas. The walls are a lighter 8.5 oz. weight while the ceiling is a heavier 10 oz. to help support potential snow and rain loads.

I love that the ceiling is made of a white canvas while the walls are made with a sharp grey canvas. The white ceiling pulls in plenty of light without allowing excessive heat in the tent, and most of all it makes the tent feel even bigger than it is because of the white ceiling.
Hot Tent Camping Tips & Must Have Items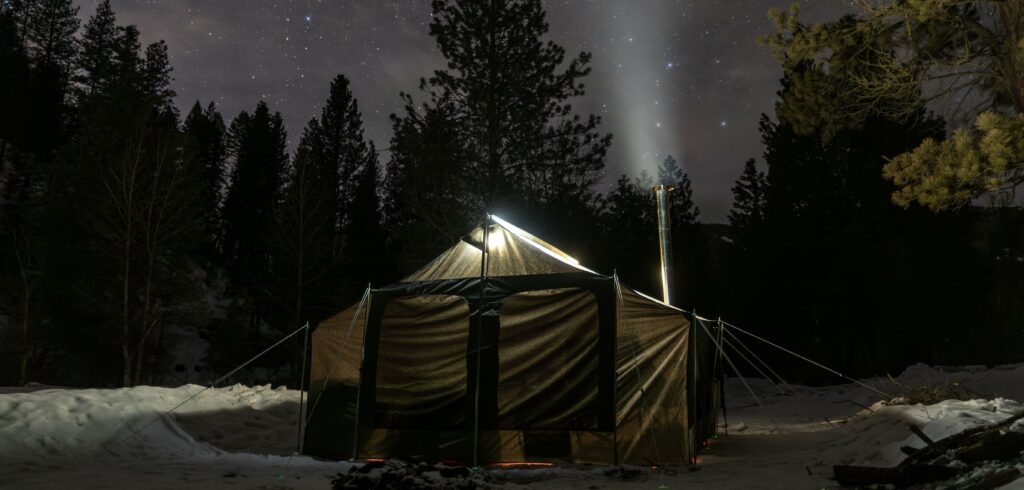 If you are new to hot tent camping, and even if you aren't, venturing out to camp in the dead of winter can be down right miserable without the right equipment. Experience is a great teacher, so here are a few things that we found are must-have items to make sure your experience is not just tolerable, but enjoyable.
WOOD STOVE / HEAT SOURCE
It goes without saying, but having a way to heat your tent is an absolute must when camping in cold winter temperatures. I know some folks do this with a Propane Buddy Heater, but you have to be careful to properly vent your tent as they are not recommended for inside use.
While propane heaters are faster to deploy and cleaner and easier to use than a wood burning stove, they don't put off nearly the heat. In addition to that, if you've ever used a wood burning stove to heat with, you know it's just a more desirable heating source all the way around. I know people who have heated with a propane style stove, but it's not something we'd recommend as it's just not safe.
Make sure to check out our other gear reviews and the Backwoods Pursuit YouTube Channel to help you decide what gear you'll need to keep you in the field longer!
Instead, something like the Colorado Cylinder Stove Spruce Package is a far superior way to safely keep your tent toasty warm. With a wood stove, you get much more heat output along with that welcoming "wood stove heat" feel. There is just something different about heating with wood, and that is never more apparent than when winter camping.
FIRE STARTER / LIGHTER
Assuming you go with a wood stove option (hopefully you do), you'll want to make sure to have a quick and easy way to get your fire started. For that, we highly recommend Bigfoot Bushcraft Fire Plugs. I've been using these for years for everything from an emergency pack item and camp fire starter, to my go-to fire starter on backpack hunts where we are taking an ultralight hot tent. I absolutely love them, and they work amazingly well. They are super easy to light, and they burn for over 5 minutes each which is plenty of time to get some good kindling started.
SLEDGE HAMMER
I threw in a 2.5 lb sledge hammer with my tent kit to make getting those large tent stakes in the ground. This is key, particularly in rocky ground. Often times you need a robust hammer to get the stakes in the ground, particularly in colder weather when the ground might be frozen.
DRILL / DRILL BITS – SELF -TAPPING TENT SCREWS / Propane Torch
One thing we learned the hard way is just how difficult it can be to get tent stakes in the ground during winter conditions. You'll want to be prepared for this, which can be done a number of ways:
Self-tapping screw in tent stakes

.

The most effective way we found to battle rocky or packed soil, and particularly the frozen ground (or breaking through layers of ice), is to utilize some screw-in tent stakes. They are on the expensive side, but the time and headache they will save you when setting up and taking down your tent is more than worth the extra money. If you go this route, bring an impact drill, and your life will be much easier.

Pre-drill your tent stake holes.

I you don't want to invest in screw-in tent stakes, you can pick up some long masonry drill bits and pre-drill your tent stake holes to aid in getting your tent staked out. If you go this route, we found that drilling a hole slightly bigger in diameter than the stakes works best. This prevents the tent stakes from freezing into the ground, which makes taking them out when you're tearing down the tent, an absolute nightmare. Of course, you'll need to bring a battery powered drill like this Dewalt to get the job done.

Bring a small propane blow torch.

Another option to handle frozen ground is to bring a small propane blow torch. This is more for getting your stakes out of the ground when it's time to leave, as your stakes will freeze into the ground once you get them set. We had a very difficult time removing the stakes from the ground, and wished we had used either the self-tapping screws with an impact gun, or brought a blow torch to heat the stakes up enough to break them free from the ice in the ground.
POWER BANK
While this certainly isn't a "must-have" item, a power bank is very nice to have especially when winter camping. During winter months it gets dark early, and you can find yourself going through a lot of batteries in lanterns, headlamps, etc. (unless you use a gas powered lantern). You can even use a power station like this Biolite Base Charge to recharge your power drill.
If you accidentally leave home with a partially charged drill battery only to find out half way through setting up the tent, when using one of the methods mentioned above, that your drill battery is dead, a power bank is a life saver.
Having a power source like that Biolite Basecharge 600 or the larger Biolite Basecharge 1500 can save your trip, and you can use it to power devices or recharge whatever you need while enjoying life at base camp. If you want to bring some of your luxury items from home, you can even bring a coffee pot or other appliances to power your base camp.
COTS
Cots are something that can take your comfort in the backwoods to the next level. While they take up a lot of room in the tent compared to sleeping on the ground, they are a lot more comfortable and allow you to store things under your "bed." There are a lot of great cots on the market, but Kodiak Canvas sells some good ones in the Disc-O-Bed cots. The ones we use are the Cabela's Alaskan Guide Cots, and they work well, but I'd like to possibly upgrade to the Disc-O-Bed cots as they look easier to set up. Don't forget to snag a cot pad as well as that's what really makes these things comfortable!
LANTERNS
As mentioned above, you'll want to make sure you have a way to light your tent if you are camping during the short, winter days. Take along a couple of these Fenix CL26R Pro rechargeable lanterns as they are AWESOME; compact and bright, with a good battery life. If you want to save a little change, these rechargable lanterns have worked well, but aren't quite the quality of the Fenix. Either of these lanterns last a long time, but you may need to recharge them after a few days of use. If you bring one of the Biolite Basecharge units with you to recharge it, you'll be set!
DAMPER BRUSH
If you are going to be out for more than a weekend and potentially burning a lot of wood, another thing we found helpful is bringing a wire brush to make sure the spark arrestor doesn't get plugged and reduce/clog the airflow of the stove. If this happens you'll find that your stove won't burn very well and may even smoke you out of the tent. This really only comes into play if you are staying out for longer periods of time or burning wood that produces a lot of ash.
SNOW SHOVEL
Finally, if you might encounter snow when out on your winter camping trip, you'd be wise to throw in a snow shovel to assist in clearing out your camp spot. This will make getting camp set up a whole lot faster. It might seem obvious, but it's an easy thing to forget. I keep a lightweight, foldable shovel like the Rhino Survival shovel in my pickup for instances like these.
CARBON MONOXIDE DETECTOR
If you are going to be using a propane or other gas powered heater inside your tent, it's a good idea to have a carbon monoxide detector to make sure the CO levels don't elevate to an unhealthy level. It's a small and inexpensive thing to throw in that could save your life. If you are using a quality wood burning stove, it's not nearly as critical, but still not a bad idea. It's just another item to throw in your stove kit to have just in case.
SLIPPERS
This might sound a bit odd, but when winter camping, it's a good idea to bring some good rubber soled slippers like these slippers. The tent floor will stay really cold no matter how good the stove is, and a cold floor will keep your feet from warming up. Sure, you can just wear your shoes or boots, but it sure is nice to be able to take off your shoes and relax in a pair of slippers inside your nice, warm tent. These slippers are ideal because they have a rubber sole that puts an extra barrier between your feet and the ground, and you can also go outside in them real quick if you need to.
Stove Tips: Kodiak Canvas Tent Review
Get the Correct Size Stove
As mentioned above, selecting the right size stove for whatever tent you select will greatly increase your enjoyment. Pick a stove that is too small and it'll have a difficult time keeping up when the temperatures really drop. Pick a size that is too big and you'll find yourself needing to open the doors of the tent because it's just too hot inside. Don't get caught up in the "let's just buy the biggest stove we can" trap and regret it later.
Bring the Right Sleep System
Even if you are heating your canvas tent with a wood stove, you will still need to bring a sleep system that will keep you warm for the temperatures you'll be out in. Unless you plan to keep the wood stove burning all night long, bring a sleeping bag that will keep you warm throughout the coldest part of the night assuming you won't be using a wood stove.
Bring Your Wood Cut and Chopped
I found it much easier to bring the wood I'm going to burn to base camp where it's already cut and chopped into half or quarter rounds. Sure, you can do it when you get there, but you already have a lot to do to get set up, and having your wood already taken care of is a welcomed luxury.
Clean the Fire Box and Spark Arrestor
During this review, we found that if you are going to be out for more than a weekend, you'll want to be conscious of how full the fire box is getting and empty it every few days if you burn a lot. It's also a good idea to bring a wire brush and make sure your spark arrestor stays nice and clear to ensure proper air flow in the stove. With this larger Colorado Cylinder Stove Spruce Package, it isn't nearly as much of an issue as when using a smaller stove, but still something to keep an eye on.
What We liked: Kodiak Canvas 12×12 Cabin Tent Review
After testing out this Kodiak Canvas Tent, we came away LOVING this tent. For the space you get, it is fast and easy to set up, comes with a high quality sewn-in vinyl floor (unlike many canvas tents) as well as a built-in, pre-cut stove jack in the event you decide to do some cold weather camping.
RELATIVELY EASY SETUP
While the Kodiak Canvas Cabin tent isn't quite as easy to set up as the White Duck Regatta Bell Tent, it's not that much more time consuming, and you get a lot more usable space.
BUILT IN STOVE JACK
The built-in stove jack is high quality and comes with built-in flashing that seals the outside elements from getting into the tent. It doesn't get much easier, as long as you use the recommended stove pipe size and preferably the Colorado Cylinder Stove package.
SEWN IN FLOOR
The sewn in vinyl floor of this Kodiak Canvas tent is awesome and robust. It isn't slick and seems to be a bit warmer than the PE floor used in other tents. It also seems more durable and more comfortable to walk on. It's also great that it is included in your purchase with an additional cost to add a floor.
LARGE SIDE POCKETS THROUGHOUT
The seven sewn-in side pockets that come with the Kodiak Canvas 12×12 Cabin tent are positioned at the bottom of each of the windows giving everyone in the tent a nice place to store their small belongings. These aren't small pockets either, which makes them extremely useful.
USABLE INTERIOR SPACE
One of the biggest benefits you get with a cabin tent like this is the immense interior space that is all usable. There are no low side walls, no odd corners to navigate, and you can use every square inch of the tent.
GREAT VALUE
Finally, the overall value of these Kodiak Canvas tents is extremely high. They may not be the best canvas tents on the market, but they most certainly give you an exceptional value along with a lot of high quality materials. You will likely spend a lot more for a similarly sized canvas tent in some of the other options out there.
Here is a quick rundown of the things we love about this Kodiak Canvas:
Fast and simple setup
Built-in, pre-cut stove jack
Sewn-in floor included at no extra cost
Nice carry case for tent and stakes
7 well-placed side pockets
High quality rope and tensioner system for guy outs
Good cost/good value
4 D-Loops for clothes line
7 windows (3 massive, 4 large)
Robust tent stakes
White ceiling/grey side walls
Large D-shaped door
Optional enclosed awning
What We didn't like: Kodiak Canvas Cabin Tent Review
After testing gear and equipment, there are always things we find that could be improved upon. While there aren't a lot of things that we don't love about this Kodiak Canvas Cabin tent, there are a few things:
No electrical outlet included (for solar power, generator, etc.)
Lots of stakes/guy lines needed
Poles don't fit in carry bag
Awning is difficult to set up
NO ELECTRICAL OUTLET/PORT
One thing I would like to see is a small zippered port where you can run your solar charging cord (like the BioLite Solar Generator we used) or a gas generator, which would be nice if you are using one of these systems. As it is, there is no way run your solar cords to the outside of the tent other than through the door or stove jack (if you aren't using the stove). This is less than ideal.
LOTS OF STAKES & GUY OUT POINTS
The flip side of not having to assemble a frame is that the tent has to be held up using guy out points and support rods along the walls of the tent. That means hammering in A LOT of stakes- 28 to be exact if you use them all. After getting all of those hammered into the ground with a 2.5 lb sledge hammer, you'll feel it in your arm. for this reason, I have started using the screw in tent stakes most of the time. It's faster and easier all the way around.
POLES DON'T FIT IN CARRY BAG
One of the things we didn't love about this tent is that the poles and stakes come in a separate bag that doesn't fit in the carry bag with the tent. This is true for both the tent and the awning. Because of this, it's more feasible to forget to grab the pole and stakes bag, which would leave you high and dry. However, separating them out does make it more packable and lighter to carry, so there are pros and cons to it.
AWNING DIFFICULT TO SET UP
While the awning is super nice to have and very functional, it is a bit of a pain to set up. It has its own separate pole structure and requires nearly two people to "hold this pole" while you attach the next one. Setup is a bit finicky and it is time consuming enough that if you don't "really" need it, you'll likely find yourself leaving it home.
Conclusion: Kodiak Canvas Tent Review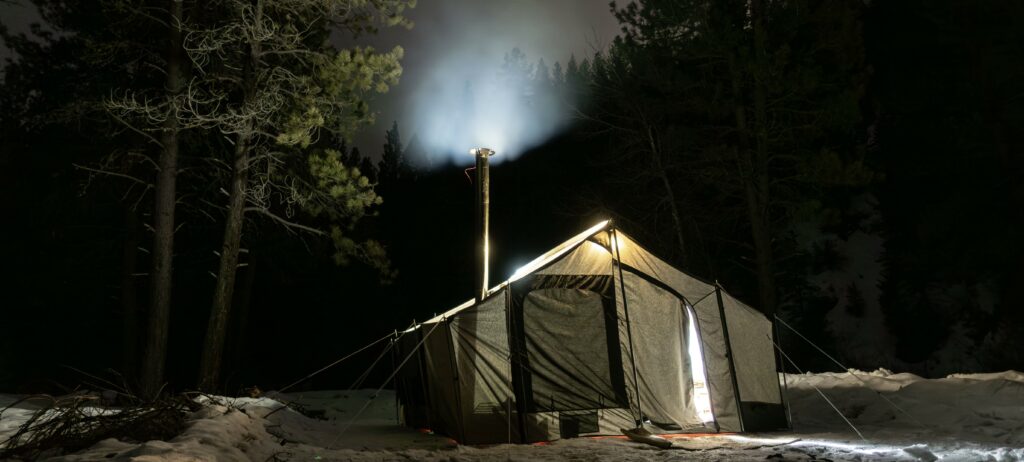 It's no secret that Kodiak Canvas Tents have long been a favorite of many and for good reason. High quality materials, well-thought out designs, and a good value make these extremely appealing for those folks who are looking to extend their camping seasons to a year-round adventure. Once you work out the kinks and figure out your system, you'll realize just how much fun this can be. Winter camping has become something I look forward to rather than dread.
Subscribe to Backwoods Pursuit to get Your FREE Backcountry Gear Worksheet!!!
Dial in your gear list, calculate your pack weight, and lighten up your pack with this handy tool!