Ever since their inception, I have been really intrigued by Tract Optics. As a huge fan of quality glass, especially SCHOTT Glass, the Tract Toric binoculars were certainly ones that I wanted to try since they are a more affordable option, but still offer this well-known, high performing glass. When I got the opportunity to review a pair of these Tract Toric binoculars, I was extremely excited. With turkey season just around the corner, I did not feel like bringing my rangefinding binoculars with me so this was a great opportunity to test a new pair of binoculars. How did they do? I was very impressed, to say the least.
When it comes to binoculars, it seems there are three common tiers: $500, $1000, $2000 and above. The Tract Toric binoculars fall right between the $500 and $1000 price point, which is somewhat unique. However, because of Tract Optics' unique direct-to-consumer business model, I wanted to see if the Tract Toric binoculars perform more like a true $1000 tier binocular for about three-fourths the price.
The pair of Toric binoculars that I tested for this Tract binoculars review were the10×42 configuration. Tract Optics also offers the Toric binoculars in the Toric 8×42, a larger Toric 10×50 and Toric 12.5×50 option, and then finally their monster Toric 15×56 spotting binocular. Tract offers a wide array of this same binocular to cover all types of hunters and birders and their varying needs. It is nice that they offer such a wide magnification range from 8x up to 15x. It is interesting to me that they not only offer two ten power binoculars in this product line but also offer a 12.5x and a 15x as well.

Love optics? We certainly do here at Backwoods Pursuit, so make sure to check out our MONSTER 26 BINOCULAR REVIEW, as well as our massive 19 SPOTTING SCOPE REVIEW. For both of those reviews, we lined up the optics and tested them side by side!
If you are in the market for some top tier binoculars, make sure to check out our review comparing the Swarovski NL Pure vs Zeiss Victory SF vs Leica Noctivid binoculars. We dive deep into the performance differences of those three pairs of binoculars.
The Glass: Tract Toric UHD Binoculars Review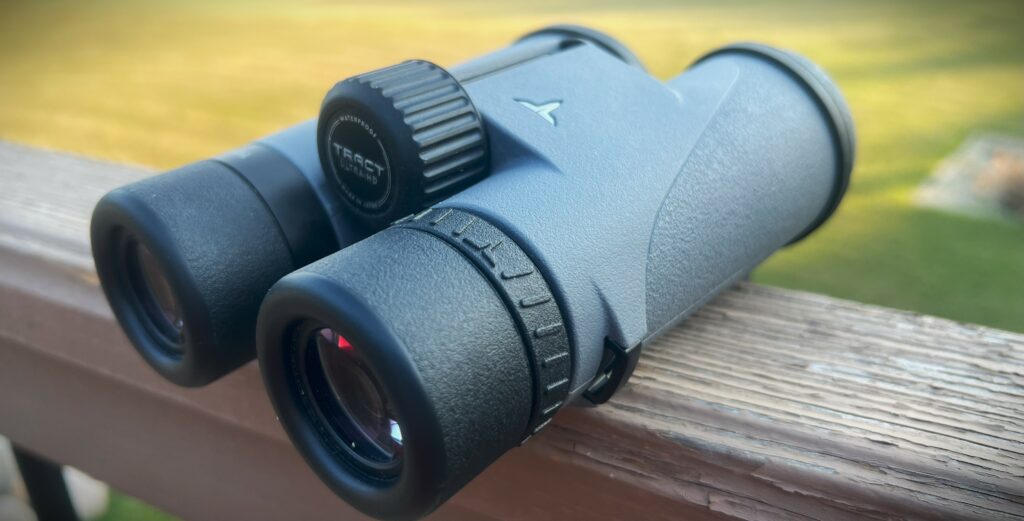 Since Tract boasts using Schott HT glass, I thought it best to do a little comparison versus the Zeiss Conquest Binocular line which has proven to be a top performer in its respective price category in our other reviews. The Conquest line is one I am very familiar with and it falls into that $1000 price range.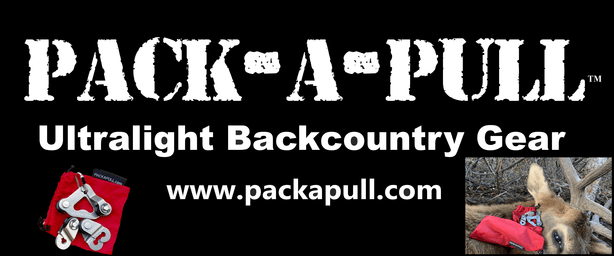 One thing you do not see with this Tract Optics line of binoculars is a major price increase when you move up in magnification and size. For example the Zeiss Conquest 10×42 widely retails for $1000 while the Zeiss Conquest 15×56 typically retails for $2000. The Tract Toric 10×42 retails for $694 while only jumping up to $1044 in the Toric 15×56. Pretty impressive!
The Testing: Tract Toric UHD Binoculars Review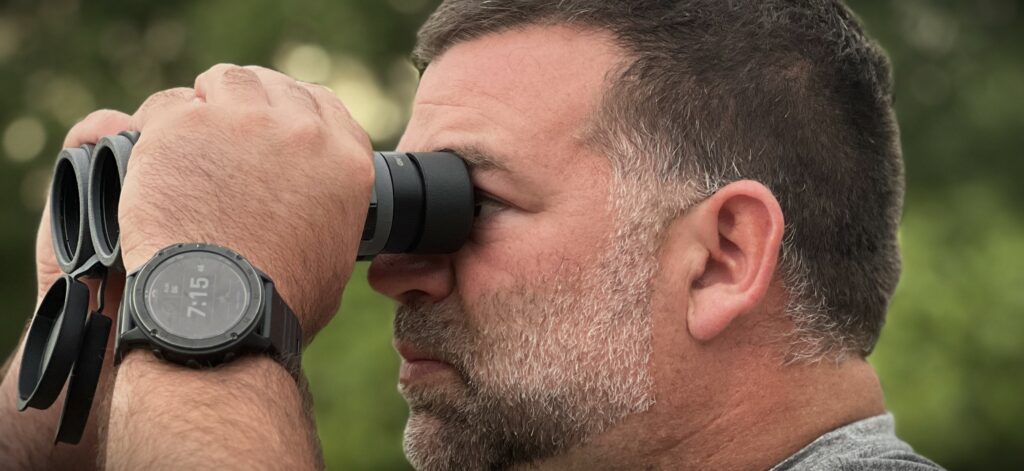 In testing for this Tract Toric binoculars' review I was able to get behind the glass during our turkey hunting season in the spring here in South Dakota. A key part of being successful is spotting gobblers roosting early in the morning, as well as picking apart the landscape at sunset.
I was really impressed with these Tract Toric 10×42 binocluars during this low light testing, and they give you nice edge-to-edge clarity (more on that later). The color palette is very neutral and does not have off-putting shades like some binoculars at this price point. The HT Schott glass is phenomenal giving you the ability to stay behind the glass for long periods of time with very minimal eyestrain. The eye box is also very forgiving which makes glassing much more enjoyable as you aren't fighting black spots like with other binoculars I have tested.
Edge-to-Edge Clarity: Tract Toric UHD Binoculars Review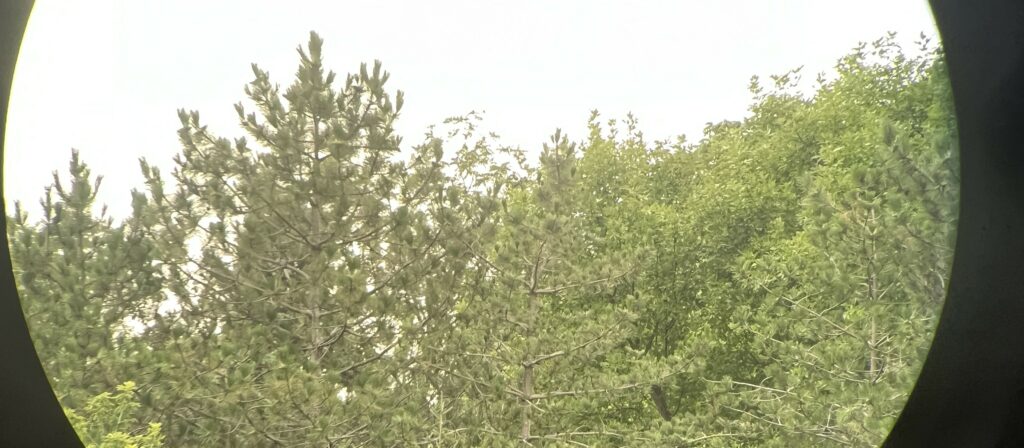 Edge-to-edge clarity may or may not be a massive deal to you, depending on your application. For instance, when using these Tract Toric binoculars hunting turkeys, I did not observe these binoculars having much if any visual distortion of objects around the edges of the field of view. I would guess less than 10% of the field of view lost its resolution. That being said, the rest of the Backwoods Pursuit team noticed a much greater edge-to-edge clarity issue when these Tract Toric binoculars were used to glass much longer distances. (We tested them from around 300 yards out to several miles.)

During our big 26 Binocular Shootout, the team estimated that the outer 30% of the field of view suffered from a loss of resolution. When at closer ranges, there certainly is not enough to distract the average hunter or to obstruct focusing on the animal that you are pursuing, but at longer distances, you will begin to notice that the Tract Toric suffers from below average edge-to-edge clarity. These definitely stand above and beyond most $500 range binoculars, but don't quite sit on par with the $1000 price point.
Low Light Performance: Tract Toric UHD Binoculars Review

I usually like to test a binocular's low-light ability at sunset, but given that it was turkey season while I was testing these, and the fact that I generally like to get into the turkey woods well before daylight, I tested these at first light rather than last light this time. I was very impressed with the Tract Toric 10x42s during those low light hours. The Tract Toric binoculars were able to resolve an image well ahead of legal shooting hours, giving me the ability to get into position as shooting hours approached. It was easy to spot gobblers roosting in the tree much before they were ready to come down.
As the morning sun began to rise, it was easy to appreciate the very natural coloring in the lens coatings used by Tract. It seems so many binoculars have coatings that portray unnatural coloring, so it was a very pleasant surprise to get such a natural tone. The vibrant colors of a strutting turkey were very easy to pick out and the Tract Toric gives a very true and natural color. I was happy to see that their coatings were of equally quality as the SCHOTT HT (high transmission) glass they elected to use in these binoculars.
Looking for a binoculars? Check out our MASSIVE 26 BINOCULAR REVIEW where we put 26 of the best binoculars side by side!
During my time testing for this Tract Toric binoculars review I spent significantly more time behind these binoculars as the world was waking up rather than as the sun was setting, which gave me a really good feel for their low light performance. While out turkey hunting, I enjoyed looking through the binoculars well before shooting light to spot turkeys in trees, deer roaming about, and any other critters around. They definitely give you a usable optic well before shooting light as well as after legal shooting light has closed for the day. The glass and coatings are of superb quality for the price point which aids in their ability to resolve an image into the twilight hours.
Field of View: Tract Toric Binoculars Review
During this Tract Toric binocular review we loved the large field of view they provide. At 341 feet at1000 yards for the 10×40 and 377 feet at 1000 yards for the 8×42, you get a generous field of view and slightly above the "average" for a 10×42 class binocular. While field of view isn't one of the factors that sells you on any particular binocular, it is certainly a factor in making your selection. The Tract Toric falls right in line with most binoculars, so you can rest assured you aren't giving up anything here.
Lens Covers: Tract Toric UHD Binoculars Review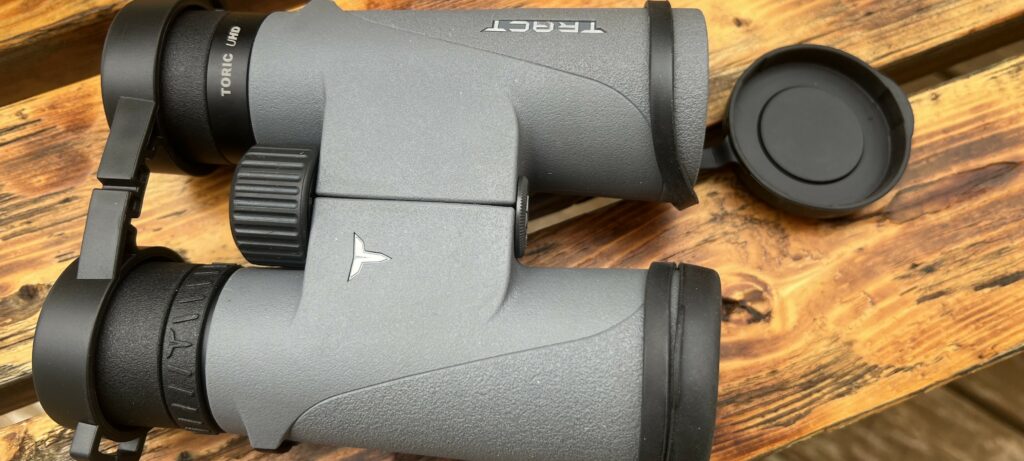 One area of improvement would be the protective rubber for both the objective lenses and the eye cups. For those who use a binocular harness, this point is really null and void, however, for a pair of truck binoculars, I like when the protective rubber pieces fit well and can do their job.
The objective side of the binoculars have a rubber ring with a hinge on the rubber covering that is protecting the objective glass. This seems to slide off the barrel with little to no effort making me wish more attention could be paid to the fit and design. The eyepiece covering just does not fit the binocular very well at all and comes off way too easily. This is a minimal point but one I felt worth noting.
What's Included: Tract Toric UHD Binoculars Review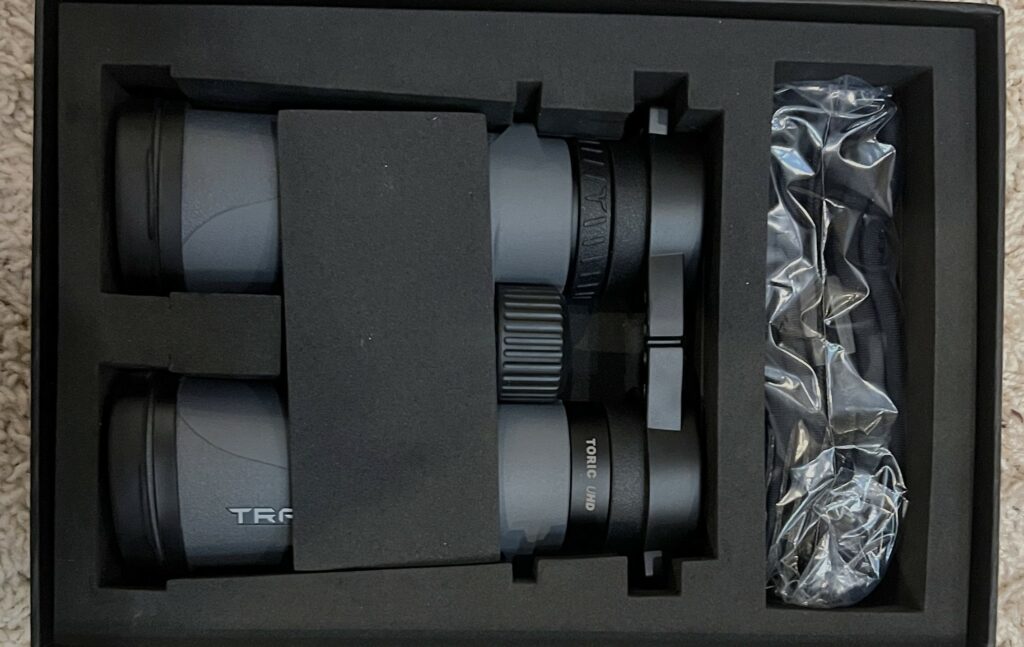 The first thing I noticed upon receipt of the binoculars was the packaging. Tract Optics uses very good quality boxing. The box they come in is so nice it makes you very hesitant to even consider throwing it away. The laser cut foam works great to protect the binoculars in the case and is easy to remove.
Some people may not like the fact that these binoculars do not come with a harness or carry bag, however I personally do not have a problem with that. I have yet to ever use any of the factory ones that were included with even my highest-end binoculars, and I'm glad Tract Optics elected to put more into their design rather than include a low quality harness. Too many hunters simply have a specific fit they are looking for and desire certain features in a binocular harness, so most folks will end up using their own anyway.
Not including a harness is a great way to cut the costs on the overall price of these binoculars, and ends up being a larger savings to the consumer than many people probably even recognize. I would much rather put the money I save on the binoculars towards the binocular harness of my choice.
Feel/Rubber Armor: Tract Toric UHD Binoculars Review
Another slight downfall to the Tract Toric UHD binos is the coating. Although some may really appreciate the course armored coating, I personally do not care for it. It makes it much tougher to keep the outside of the binoculars looking clean as the coating seems to trap dust and dirt more than other binoculars. However, this is such a minor negative as well, that I do not think it would prevent anyone from considering these binoculars.
Eye cups & Diopter: Tract Toric UHD Binoculars Review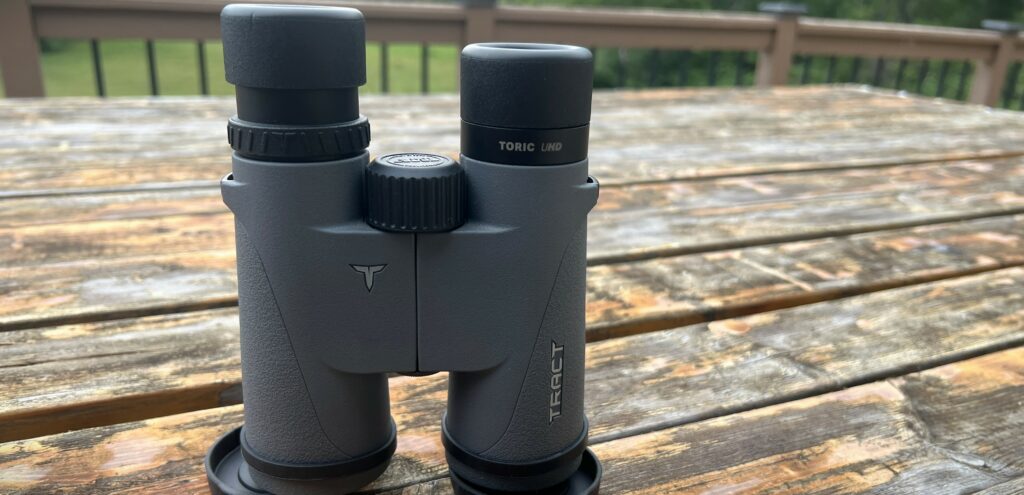 Overall, I really think Tract Optics did a good job with the eyepieces. They feature a locking diopter and multi-position eyecups that are very comfortable. Although I have not put them through hundreds of adjustments, I do feel like the eye cups are high quality and will stand up for a long time. I also appreciate that Tract has a lifetime warranty and will take care of any needs that may arise.
Focus Mechanism: Tract Toric UHD Review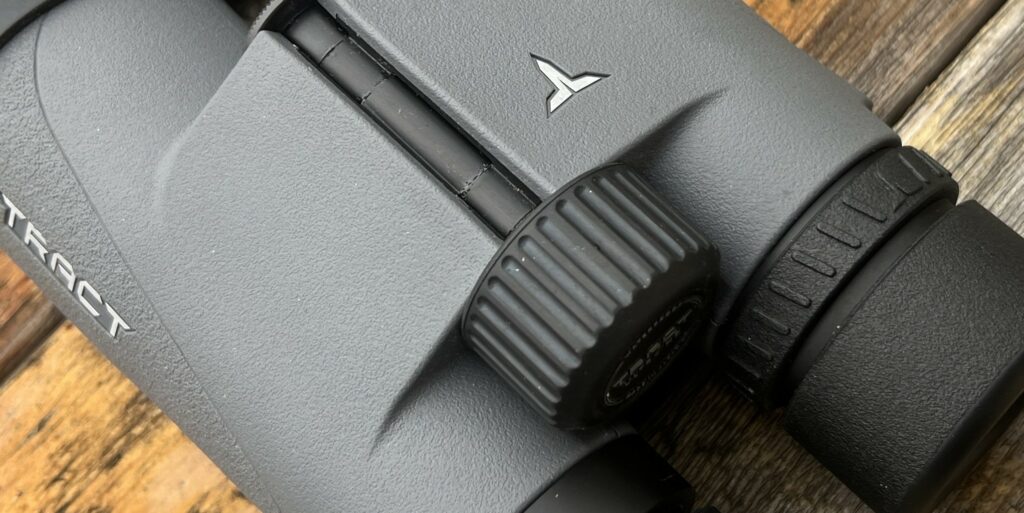 As a hunter, I personally like the size and location of the focus wheel. Although it is not made of metal, it is a nice size for the hunter who wants to use a binocular harness. It will not snag in most harnesses, making retrieval from the harness very smooth. It features a very friendly tripod-adaptable-system on the objective end of the bridge which is the best location in my humble opinion.
Personally, I rarely use 10x on a tripod (however, I know much of the Backwoods Pursuit team does hunting out West). The threading is in a great location and is very handy, particularly on the Tract Toric 15x binoculars. The focus wheel itself is quite smooth. It does not have any slop in it, and I think it is very easy to adjust but has an appropriate amount of tension on it to slowly bring things into the appropriate focus.
The Specs: Tract Toric UHD Binoculars Review
Tract Toric 10×42 Specs
Field of View @1000 Yards
341ft
Chassis Construction
Magnesium Alloy
Weight
27.2oz
Eye Relief
17mm
Eye Cups
Multi-Position
Tripod Adaptable
Yes
Locking Diopter
Yes
Glass
SCHOTT HT
Tripod Adapability: Tract Toric UHD Binoculars Review

I was able to easily install the Swarovski SLC TA, the Outdoorsmans Tripod Adapter, the Bushnell Quick Release Adapter, and the Zeiss Tripod Adapter. As shown above, I was using the Zeiss Binofix Strap Adapter, but it's nice that any adapter featuring a 1/4″-20 stud will also work great with these Tract Toric binoculars, or you can always use a universal strap-style mount or something like the Aziak Clamp if you are looking for a super ultralight, more affordable option.
We've tested a number of other tripod adapters as well, so take a look at our comprehensive binocular tripod adapter review for additional options!
Tract Optics lifetime Warranty
Another important thing worth mentioning about Tract Optics is their warranty. So many optics enthusiasts, be it hunters or birders, can be sucked in by marketing efforts surrounding warranties. Personally I have yet to find any premium optics company who does not stand behind their products, but we've all certainly heard horror stories when there is an exception. At the end of the day, though, if companies do not stand behind their optics, they simply soon will not exist or will lose significant market share.
Tract Optics Trust Assurance Warranty Policy could not be simpler. If you have an issue with their product, no matter if you are the original owner or not, contact Tract Optics and they will take care of you. They have a very nice write-up explaining their stance on the warranty situation in optics. Contact Tract if you do happen to have an issue with the workmanship, and they will work with you to ensure you are taken care of.
What I liked: Tract Toric UHD Binoculars Review
These binoculars offer a very high value relative to their price point. You get significantly more bang for your buck with these Tract Toric binoculars than some of the others we've tested. You get great low light performance and optical quality with a very neutral color tone. The overall function and quality are excellent for the price range.
High value
SCHOTT HT glass
Locking diopter
Excellent low light performance
Neutral color tone
Excellent warranty
What i didn't like: Tract Toric UHD Binoculars Review

I didn't care for the armor coating and didn't feel it to be necessary. The overly course rubber armor seems to attract a lot of dust and dirt. This, of course, does nothing to the optical quality or the function of the binocular, but is a cosmetic note. The other downside worth noting is that the eye cups do not have distinct enough positions. I also don't love how the outer 30% of the field of view loses significant clarity, which is mostly noticeable at longer distances. Inside of 500 yards, however, this is a non-issue.
Rubber armor
Lack of definitive clicks in eye cup positions
Poor edge-to-edge clarity at longer distances
How The Tract Toric UHD Binoculars Ranked
Image Resolution
Low Light Performance
Weight
Chromatic Aberration
Edge to Edge Clarity
Overall Value
---
Conclusion: Tract Toric UHD Binoculars Review
Overall, I am super pleased with these binoculars. They are light and easy to carry and do very well in low light. I would not hesitate to bring them on any hunting trip. I have used much more expensive binoculars and had significantly worse low-light performance compared to the Tract Toric binoculars, which is a huge value given their price point.
If you are in the market for binoculars, but can't quite get to the $1000 range, I would highly recommend these at a much lower price point and spend the savings on other gear! You are definitely taking a step up in glass quality from the $500 range and get the benefit of direct-to-consumer savings by purchasing a pair of Tract Toric binoculars.
Subscribe to Backwoods Pursuit to get Your FREE Backcountry Gear Worksheet!!!
Dial in your gear list, calculate your pack weight, and lighten up your pack with this handy tool!