I used to think that life didn't get much better than being single. The freedom to buy any piece of gear that caught my eye like these Outdoor Vitals jackets AND do whatever I wanted without needing to run it past anyone, how does it get any better than that?
Then I met my wife.
The first time we sat across the table from each other, I knew there was something different about her and that I'd be more than willing to give up these so-called "freedoms" if it meant they were in exchange for her.

Not only have I learned that marrying her didn't mean I was losing anything, but together we realized it might be fun to add kids into the mix.
Our first son definitely brought a dynamic to the family that wasn't there when it was just Lindsay and me. Shortly after that, his little brother was born and once again we felt like we gained something we never knew we wanted.
What in the world does this have to do with a jacket review?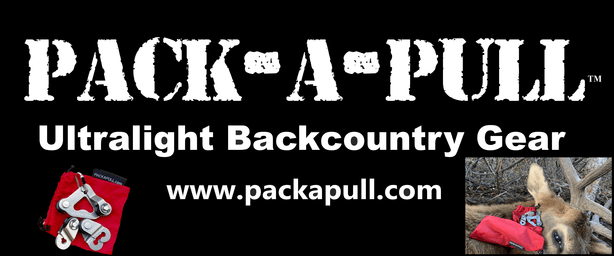 That's a great question.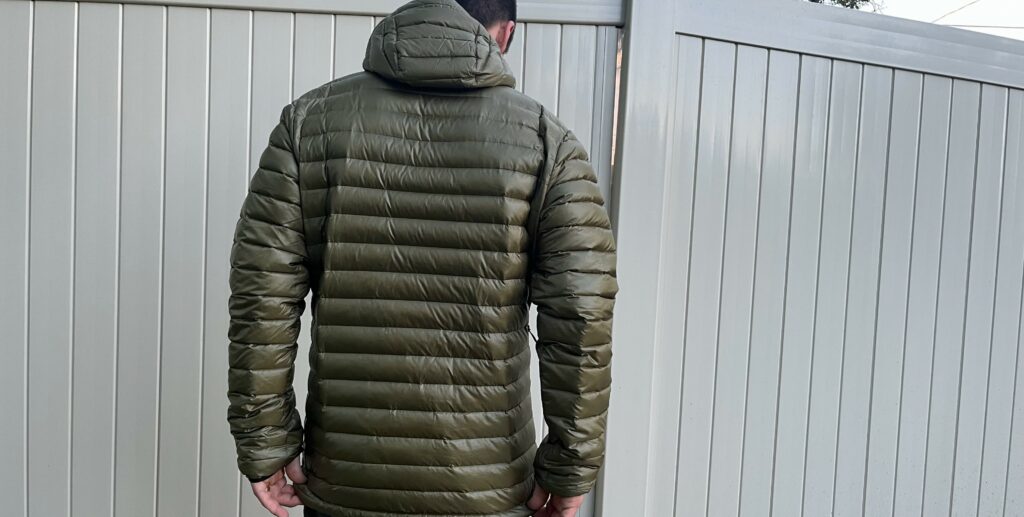 Insulated jackets by and large serve one purpose: to keep you warm. But that's really an oversimplification of the topic. Some jackets have more or less insulation to add or reduce warmth for certain conditions. Some have different types of insulation based on the intended use of the piece. Some have hoods, some don't. Some are designed to dump heat when active. Some are designed to never lose heat.
Though warmth is the general intention, it's really nice when one brand has an entire family of jackets for a variety of circumstances, conditions, and temperatures. Like our family, there are a lot of pieces you might never have thought you wanted or needed, but then you put them on and see they fit a unique void in your system that may not have once been there. Sure, you could have "survived" without, but I'm willing to bet you'd be real glad you have options.
Make sure to check out our other gear reviews and the Backwoods Pursuit YouTube Channel to help you decide what gear will help you stay out in the field longer!

Outdoor Vitals has done a remarkable job at providing several offerings that are all designed with a unique purpose based on conditions, weather, seasons, and the degree of activity one wants to use it in.
Sounds great, right?
Thanks to an abnormally long winter here in the West this year, I was able to see just how well these jackets worked over a 4-month period.
How It Was Tested – Outdoor Vitals Jacket Review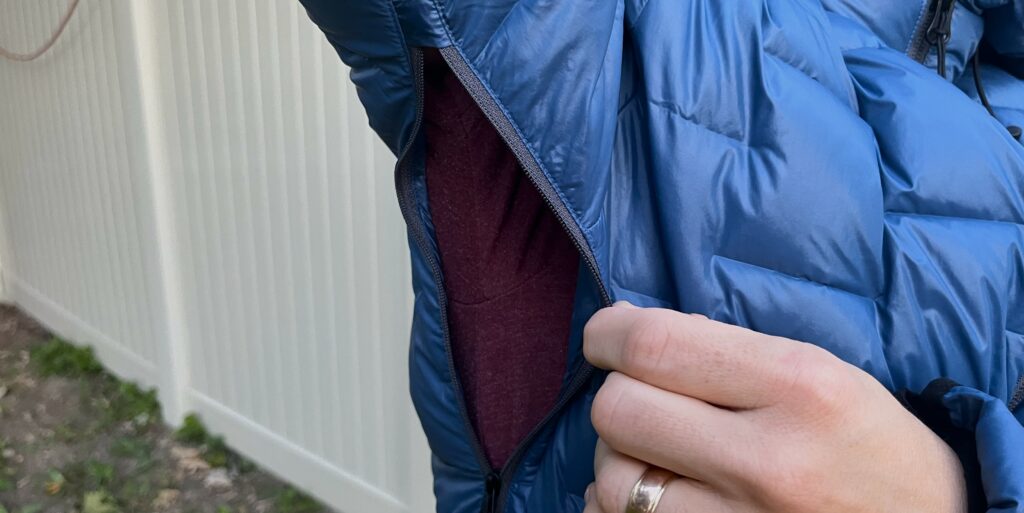 I was fortunate to grab all of these Outdoor Vitals jackets toward the end of January, which meant there was plenty of time to get acquainted with them in a variety of temperatures and conditions in the Pacific Northwest.
In that time I wore them casually around town, during training runs, hikes, and in a variety of other situations where I was outside.
They were tested in mild conditions and in situations where it was snowing sideways (literally).
I will point out that I treated the Ventus in these situations as both a mid-layer (coupled with the insulation properties of the NovaUL and Nova Pro) and standalone piece. I especially wanted to use this while highly active in cold temps since it's dubbed their flagship "active insulation piece" (more on that later).
The good folks over at Outdoor Vitals have some great content on taking the Nova line in "41 degrees below freezing" temps too if you're interested in checking out their thoughts here.
The Specs – Outdoor Vitals Jackets

I've put more detailed information on materials used, etc. in the materials section, below but here are some of the specs to simply cover the weight of each piece.
Outdoor Vitals Vario:
Weight – Advertised: 9 oz
Weight – Actual: 9.3 oz (Men's Medium)
Outdoor Vitals Ventus:
Weight – Advertised: 7 oz
Weight – Actual: 7.4 oz
Outdoor Vitals NovaPro Jacket
Weight – Advertised: 14.5 oz (Men's Large)
Weight – Actual: 13.5 oz (Men's Small)

Fill Weight: 155 g in Men's Large (5.45 oz)
Outdoor Vitals NovaUL Jacket
Weight – Advertised: 12 oz (Men's Large)
Weight – Actual: 11 oz (Men's Medium)

Fill Weight: 97g in Men's Large (3.4 oz)
Materials – Outdoor Vitals jackets Review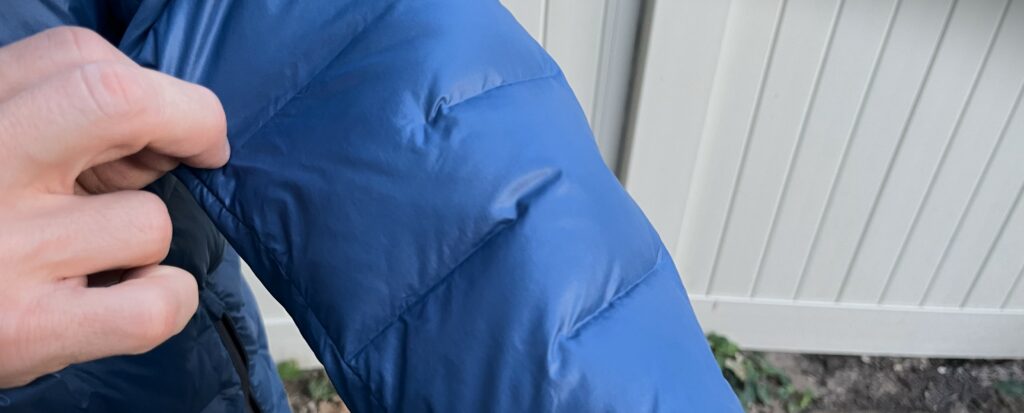 As a whole, Outdoor Vitals jackets use very high quality materials. One thing that some folks wouldn't care about but that I really look for is what a product looks like right out of the package. Prices for some jackets on the market can rival a car payment, so while it's not directly related to "materials," I do feel craftsmanship plays a role and should be included as a part of this. In my opinion, the craftsmanship of something that costs that much should be about as close to perfect as humanly possible.
I fully understand that I'm about to take this in an environment that is hardly conducive for keeping things looking fresh and new as I sit and take mid-day naps in the dirt. Nonetheless, any minor issue is likely to grow with time, so I want it to look like attention to detail was given priority from the point I pull that bad boy out of the box.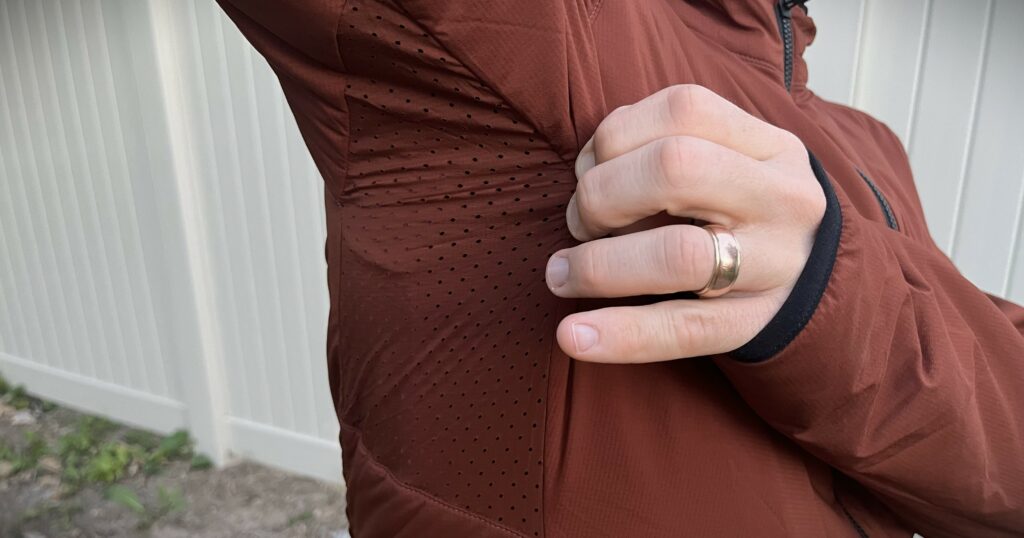 Outdoor Vitals did just that. Not only are the materials high quality, the craftsmanship is as well.
These Outdoor Vitals jackets (as you'll read about below) are loaded with features that many other jackets don't have. That sounds great, but it's quite risky from a manufacturing standpoint; every little extra feature (pit zips, thumb-holes, grommets for elastic shock cord adjustments at the hood, etc.) are potential points of failure for craftsmanship. There was zero of that in the eight jackets I had my hands on for this review. Well done, Outdoor Vitals! Well done.
Vario and Ventus Materials
Both the Vario and Ventus are touted as "ultralight backpacking" pieces by Outdoor Vitals and hailed for the ability to stay warm in a lightweight synthetic package. To do this, they both utilize 3DeFX insulation of varying weights (40g in the Vario, ___ in the Ventus). They both use ripstop nylon fabric on the exterior (20D) and YKK Zippers. Both also feature "body mapped insulation" with perforated underarm vents designed to help give more breathability in the torso and pits (more later on how effective this is or isn't).
NovaPro Materials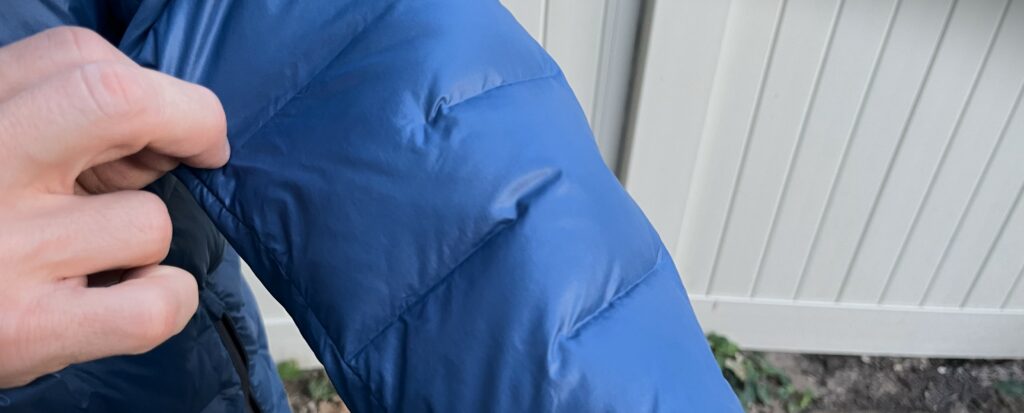 The Outdoor Vitals NovaPro looks like your standard down jacket on the surface until you look at it closer. Several things about the materials and design of the jacket set it apart from others on the market. First, Outdoor Vitals uses a "Nova Zero Stitch" to create individual baffles for the down to rest in. This results in the baffle literally being woven into place (vs. stitched or bonded). Not only does it reduce some weight for you gram counters out there, but it also does a tremendous job of not allowing wind, water, or other elements in.
The exterior is also treated with a water repellent and "helps water bead and roll off." I intentionally wore this in the rain and can say the claims are accurate. However, as you can imagine, if left in the elements for an extended period of time the fabric will eventually wet out. I will say that the loft of the down remained even after being exposed to the rain for a while.
The jacket is constructed of 800+ fill "DownLT" insulation (mostly 850-fill down with a small percentage of synthetic LoftTek DownLT ), YKK Zippers, and a 20D DWR-treated Nylon shell.
NovaUL Materials
Similar to the Nova Pro, the Outdoor Vitals NovaUL stays with the Nova Zero Stitch and DownLT insulation. It carries the same 20D DWR-treated, nylon exterior and YKK zippers. I will say the fit on the UL is much slimmer than the Pro. More on that below.
Outdoor Vitals jackets – what's the same…What's different

As you may have guessed by the naming, the NovaPro and Nova UL carry some of the same features with weight, baffling design, etc. being the greatest difference among them. In similar fashion, the Outdoor Vitals Venutus Hoody and Vario jacket are more alike than they are different, but the differences are great enough that they could be the deciding factor in helping you determine which jacket is right for you.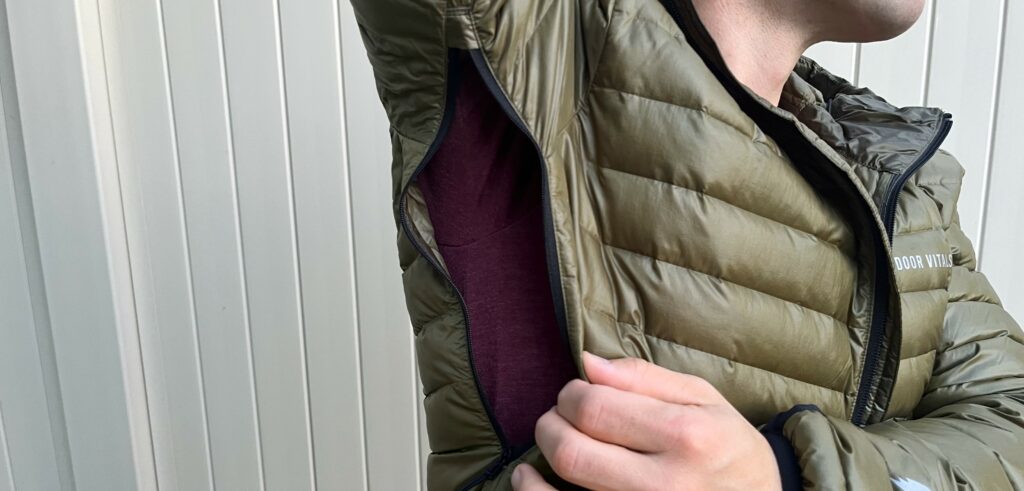 The NovaPro and UL both feature:
Adjustable hoods
Adjustable hem
Large pockets that allow you to stuff the jacket into itself.
Dropback hems to cover your tush when the elements are particularly cold
Pit zips (an interesting feature I'd not had on down jackets before)
Thumb-holes
As mentioned above, both the OV Ventus and OV Vario feature the same face fabric and same insulation. The weight of that fill changes quite a bit. The greatest difference beyond that lies in the Vario being a traditional jacket with external pockets and a full-length zip.

The Ventus has a 'hidden' inner pocket and is a ¼ zip. Neither jacket has an adjustable hood. I personally prefer that if I plan to sleep in a jacket when it's particularly cold out.
Both have thumb-holes to keep sleeves in place if you're layering another jacket over the top of either one.

Sizing and Fit – Outdoor Vitals Jacket Review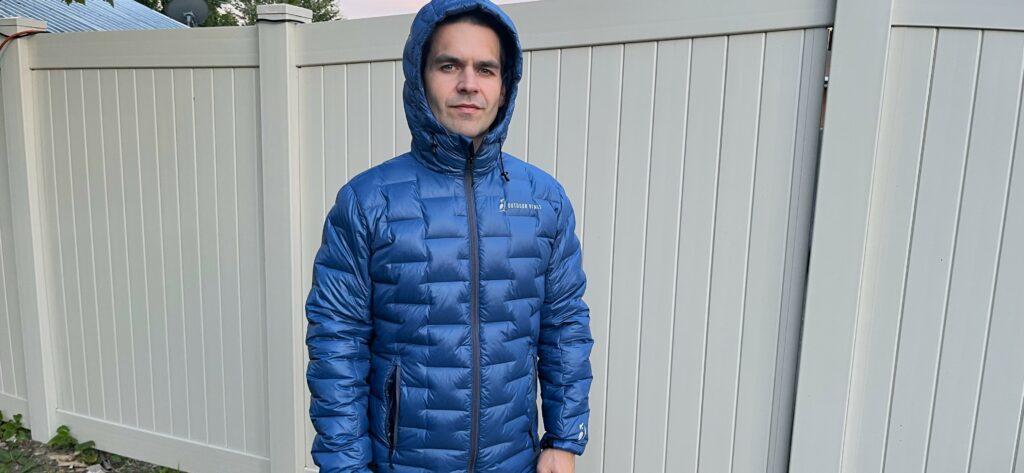 Here's where things get a bit interesting with this Outdoor Vitals jacket review. I'll preface my thoughts on this section with the general understanding that fit is going to be highly personal. Some folks like things to look as though they were painted on by some kind of body art expert while other folks prefer to "size up" enough to fit their entire winter wardrobe underneath their insulating layer.
I fall somewhere in the middle with my sizing preference leaning toward things not being so big that they give me that "I'm outside without pants on" kind of feeling. Just me? But I also don't want things so tight that they're pulling and compressing the insulation to the point that it renders it useless either.
I'm sounding a whole lot like Goldilocks, folks – but is this too much to ask?! Being 5'6" and about 145lbs with broad shoulders does make this a tall ask (pun intended), but I have a few other pieces that make me think it's not totally unreasonable.
First, let's look at the sizing as a whole for the entire Outdoor Vitals jackets family, and then we'll break them down one-by-one because, believe it or not, they're different.
The Whole Outdoor Vitals Jackets Family sizing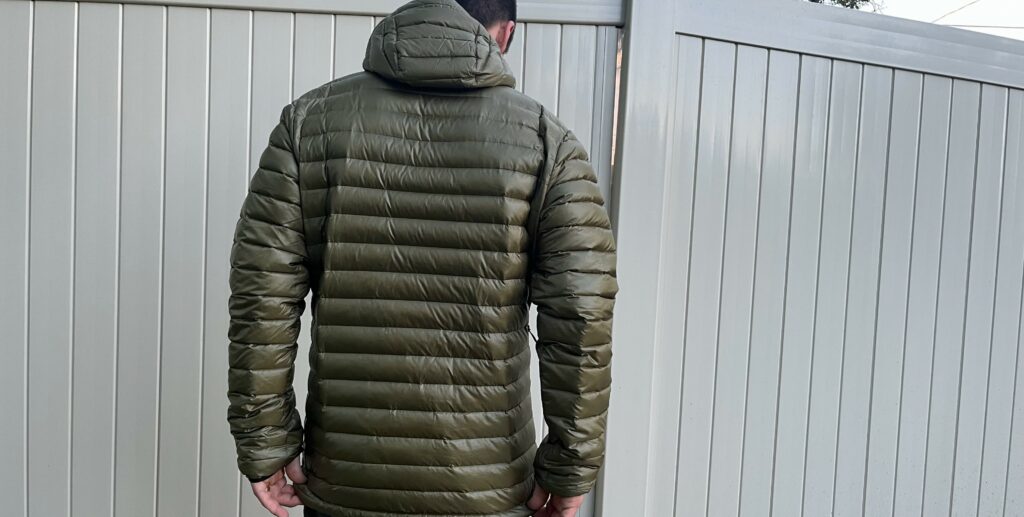 I (comfortably) wear a size small in just about every brand. If something says it's an "athletic" fit, I generally wonder if it'll fit well or if I'll look like Ross on that episode of Friends when he's trying to get his leather pants on after getting his legs wet. I usually have good luck.
As such, a small is what I ordered for all four pieces from Outdoor Vitals. I double-checked my decision on their sizing chart and the idea that they recently revamped their sizing to be more "true to size" for some pieces.
I sent three of the four pieces back for being too snug on me (more on that to come). The responses ranged from "Holy crap, I can barely get my arms in this" to "Ehhh….meehhhh…ooohhh….well…I could make it work…" on the degree of tightness.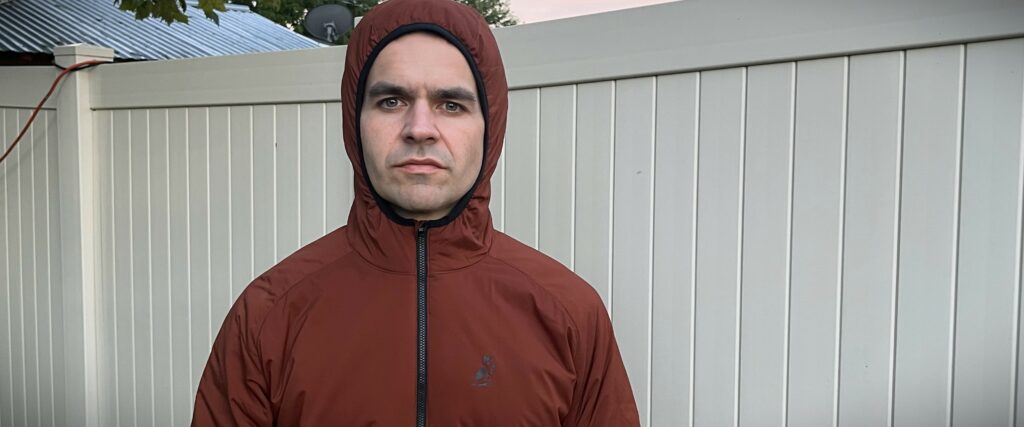 To the credit of the Outdoor Vitals team, they have a fairly intuitive program on their site that accompanies the sizing chart called Wair. Wair is a third party site/app that takes multiple components into consideration and then recommends a size based on that data. This includes things that span from age (I have no idea how this factors into the equation), to height, weight, and other basic questions you might expect. Wair did recommend a medium after all was said and done. However, a medium in the NovaPro would have swallowed me.
Something to note: If you use Wair to guess your size for something like the Vario or Ventus, it will remember that size and recommend it in other pieces. For example, if you find your size in the Ventus is a medium, it's going to recommend the same size for the NovaPro, which would be enormous as a medium. I would recommend buying true-to-size for the NovaPro if that is a piece you're interested in.
When the mediums arrived, I found myself in the situation that most T-Rex shaped folks like me often find themselves in: great fit in the torso, sleeves too long, and the bottom of the "drop back hem" (designed to "keep you warm whether sitting or moving") just a hair longer than I like. The front was perfect.
Again, this is based on personal preference and the fact that I'm a short guy with broad shoulders. I'd imagine someone taller would have no issue with the length of the sleeves and hem. Note: They also have TALL sizing, which adds 2" in the arm length and 2" in the torso length.
FIT BY PIECE
Outdoor Vitals Vario: The small fit great while standing but had very little room for a light base layer under it. It was extremely snug while lounging. The medium, on the other hand, fit perfectly- enough room for a base layer (the one I tested with was a 120g merino hoody).
Outdoor Vitals Ventus: There was zero chance of this guy fitting in a small. It wasn't just a little snug, it was Chris Farley-in-the-little-coat-from-Tommy Boy snug. The medium was definitely more roomy, but not so much so that I felt like it didn't work. (Is there anything worse than being "between sizes"?!) What's uniquely different about this jacket than the others is that it's a pullover and quarter zip. I found the opening to slip it over your shoulders to be quite narrow. The best thing I could compare it to would be like trying to slide inside a small, front-entry solo tent (think the Big Agnes Fly Creek) when you really are hoping for the canyon-like crevice offered by a wall tent.
Outdoor Vitals Nova Pro: This is the only size small in the bunch that fit great and I kept. I am able to layer thicker base and mid layers underneath it without compressing the down and losing insulation. I really love the "welded seams" for this. Usually I have issues with down migrating at the inside arm and shoulder area of down jackets, but Outdoor Vitals has clearly given attention to this design as it's much harder for the down to move around in this jacket.
Outdoor Vitals NovaUL: I was real close to keeping this in a small. It zipped up great, fit well while standing, and could accommodate a base layer- but then I sat down. The rear of the jacket had spots where it was clear pulling/taught, compressing the down, and losing any value or warmth is should offer. I made the hard choice to swap it for a medium at that point and found it to be roomy, but not so much that I needed a portable heater to warm the air space inside.
What I liked – Outdoor Vitals Jacket Review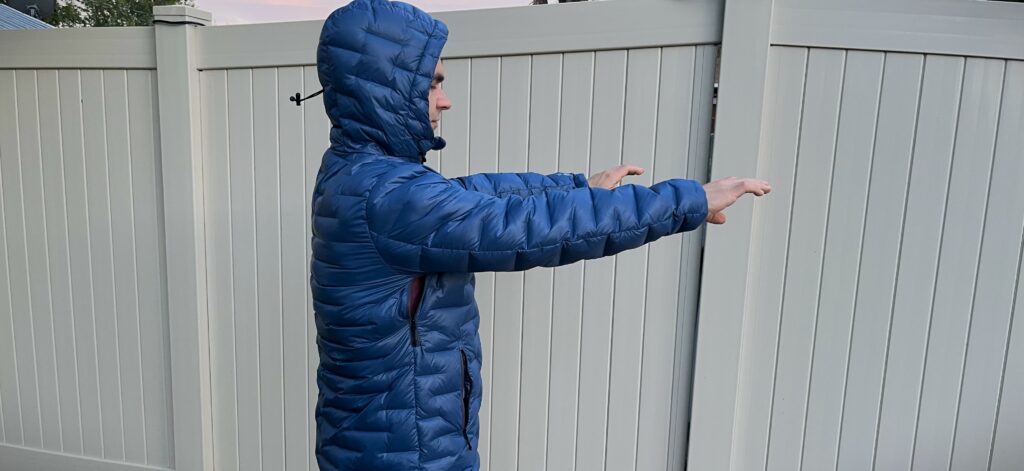 There's a ton to like about all four Outdoor Vitals jackets. First and foremost, I appreciate that each is a bit unique in the features it offers; so much so that I really felt like all four have a place in the kit of anyone who spends a good deal of time outdoors.
Vario Jacket

Softness of the fabric + flexibility of the insulation. Some jackets make you feel like you're sleeping in a jacket. The Vario doesn't. It's truly so soft and flexible that if feels like you're in a favorite, well-worn, hand me down hoodie from an uncle. This jacket has an extremely good balance of staying put without too much restriction.

Fit: Of all the pieces, I would say this is probably the one that fit me best (take note fellow T-Rexes)
Ventus Hoodie

Lightweight, but warm. The OV folks mentioned this being a potential standalone piece for those that do summer backpacking. I didn't think anything could take my beloved lightweight (10 oz) puffy from me, but I changed my mind after wearing this. I think a person could be comfortable in this with nighttime lows in the 40s and 50s. Anything colder and you'd want the puffy, but it offers a ton of versatility.

Extremely versatile. I ran in this, used it around town in mild temperatures, and used it as a mid-layer with other jackets. I lounged in it in cold environments (think coffee shops that are bent on turning the AC on in January to get you to buy more coffee).
Nova Pro & NovaUL

These jackets offer generous space and seams that prevent migration of down. As mentioned above, I always have issues with down migrating on certain parts of the jacket (chest, pits, sleeves), however, that wasn't the case with these jackets.

Incredibly warm (Pro). I've recommended this to multiple people as a go-to piece if they're in the market, which is saying a lot given I have a fetish for down jackets and have tried just about everything on the market.
Customer Service – Outdoor Vitals Jacket Review
Last but not least is Outdoor Vitals' customer service. Customer service is a bit like those electronic defibrillators you see hanging on the wall at the mall- you really wish you don't ever need to use it, but if you do you, you hope it works and works well.
What folks may not know is that some companies have you go through different channels to return gear if you need to (due to sizing, etc.). Naturally, you never get the opportunity to see how good the service is. If a company knows you'll be writing a review on the products they sell, it makes sense that they'd provide prompt responses, expedited shipping, etc. Most companies know that a review will shape the audience's perspective on a product. Like a first date, you want to put your best foot forward.
Knowing this, I used both outlets for this Outdoor Vitals review- the "backdoor" return for folks reviewing a product and the traditional way. I wanted to see how it would work regardless of who was doing the return/exchange.
Many companies have bid ado to the normal exchange process and instead just suggest returning the product and buying a new one off of their website. This isn't unique to Outdoor Vitals; Arc'Teryx handles their exchanges this way as well as a host of other brands.
I'm happy to report that the return/exchange process isn't just seamless, but the response times and kindness of the folks at Outdoor Vitals are impeccable- through both channels. That tells me that they truly value the customer experience and not just the support of the product.
They also do a fantastic job at equipping interested buyers in understanding the process of layering for the outdoors and the difference in materials used (merino vs. nylon, down vs. synthetic, active vs. static insulation, etc.). They developed a very thorough guide on their website that is a really great read for anyone who feels like they still don't quite understand the difference between pieces of gear.
What I Didn't Like – Outdoor Vitals Jackets Review
I wanted to look at this very objectively as well as based on what Outdoor Vitals intends for each piece to do and ask myself one basic question: Does each jacket do the things the company says it will, and does it do them well?
I'm lumping the Outdoor Vitals Vario and Outdoor Vitals Ventus together for part(s) of this section as they are virtually the same jacket with differences being that the Vario carries a full-length zip, external pockets, and slightly more insulation.
Both of these are considered "active insulation." This usually will mean one of two things to a consumer: it breathes extremely well and is designed for high output insulation to keep you relatively warm while still wicking away sweat. Another may see it as light weight insulation.
I fall in the former category; if a piece is advertised as an "active" piece and praised for its breathability and "body mapping" to enhance those features, that's generally what I'm anticipating it'll do.
VENTUS BREATHABILITY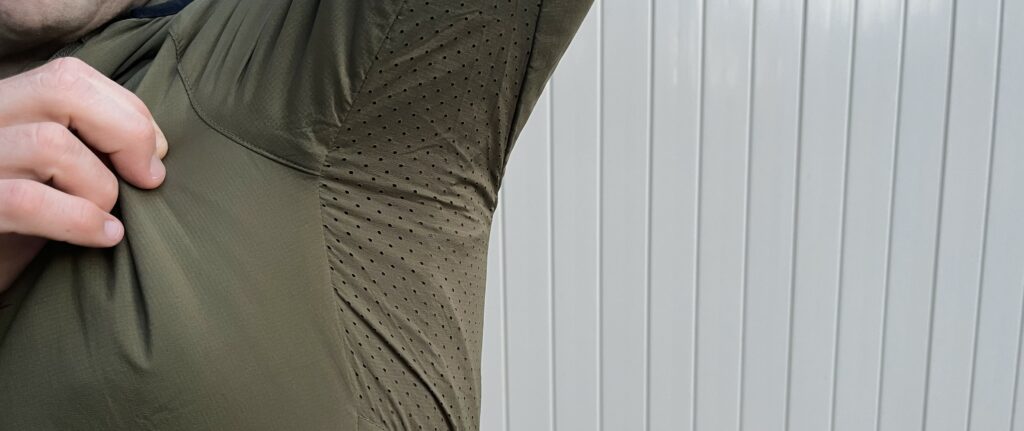 That was not what I found in the Outdoor Vitals Ventus Active Hoodie. After training runs on cold mornings I was completely drenched and had totally saturated the jacket in my sweat- with the zip down.
Each piece has uninsulated underarms that are "perforated for targeted ventilation in the hottest part of your torso." I didn't find these to dump much heat when active or not. However, I did find them to let quite a bit of cold air in, cool the sweat, and make me chilled in that area. Breathability was nonexistent if compared to others also which are also considered "breathable" (think Arc'Teryx's Lightweight Hoodie, the Atom SL, the Sitka Ambient Hoodie, etc.).
With all of that said, I do love both pieces as super lightweight insulation. They block the wind really well and are extremely comfortable. I own and have tested more jackets than I care to confess here for fear my wife may read this, and I have to say both of these may just be a couple of the most comfortable to put on.
NOVAPRO AND NOVAUL

As mentioned above, there's a lot to love about the NovaPro and NovaUL, but I did find a couple of things worth balancing that against to determine if these jackets are right for you.
Cinch Cord: The cinch cord around the hem is an excellent feature on all jackets. The NovaPro had a little more than I needed, and I found it getting in the way at times- to zip it, dangling out of the bottom, etc. I initially thought maybe I just had one that had some extra cord in it, but a buddy had the same complaint on his.
Interesting Pockets: There's ample room – in fact they're more like small stuff sacks than a pocket – but additional space for the volume is up and back into the pocket rather than down. So, you'd have to stuff them full to take full advantage of the roominess. (see image).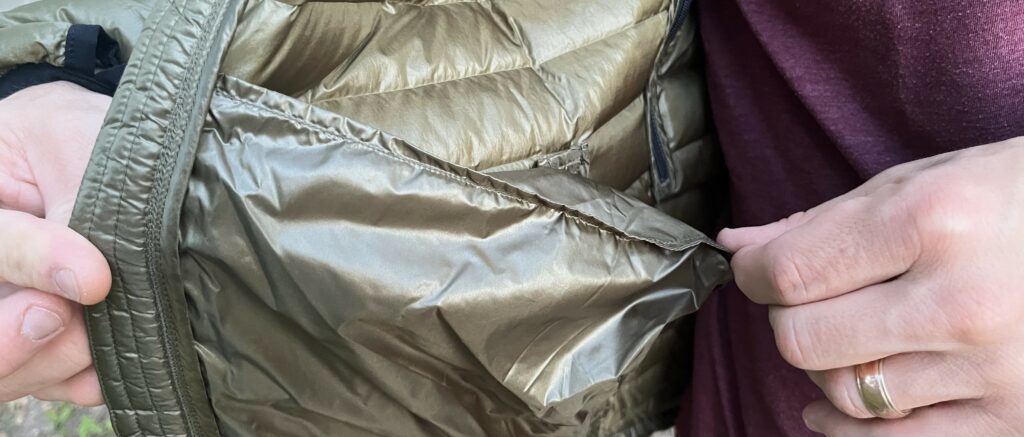 While the Outdoor Vitals NovaUL is a nice jacket, I didn't find anything particularly exciting about it beyond the zip pits when compared to other jackets in the same category.
Our Rankings – Outdoor Vitals Jackets Review
CONSTRUCTION QUALITY
I would give all four products a 5/5 across the board here. As I mentioned, I had a total of seven different pieces in my hand over the time I tested them, and all were of excellent quality. I didn't experience any ripping, pilling, etc. in the 4 months I tested them in a variety of conditions.
WEIGHT
5/5 across the board again. All weights were well within 90-95% of advertised weight, and I appreciate that Outdoor Vitals offers a spectrum of options to fit any need. The UL-focused group could really appreciate the 7 oz Ventus, while those hoping for something warmer won't scoff at the 14 oz penalty in the NovaPro.
DURABILITY
Both Nova pieces are your standard 20D and come with the same warnings you'd normally see; It'll probably stand up fine to lounging around camp in the evenings, but don't expect to be busting any brush with these on.
Though specs show the Ventus and OV Vario have 20D ripstop, they seem more robust than that. I probably wouldn't suggest you try to access the alpine through a ton of willows in Alaska with them on, but they do seem like they would withstand slow moving through the woods with an occasional rub against brush.
NovaPro and Nova UL: 2/5 for brush, 4/5 for normal use.
Ventus and Vario: 3/5 for wearing while moving.
OVERALL VALUE
Here's where I'll parse things out a bit. Value is a huge piece of how "good" gear is. Craftsmanship plays a role in this, of course, but so do features, comparisons against similar pieces on the market, and if the garment performs as advertised.
Vario: 4 out of 5. Warm in moderately cold temps, but the pit vents let in a little too much chill for me to make it a "go-to" if I expect to be stationary in cooler spring and fall temps. However, if you're in the market for a lightweight synthetic jacket and that doesn't bother you, then this would be a great option with quality materials and good craftsmanship.
Ventus: 3 out of 5. I love it for a lightweight insulation piece but find other similarity priced "active" pieces to be far more breathable.
NovaPro: 6 out of 5. I know that's not possible, but it should be. It's priced at about the same price point as other more robust down jackets but is incredibly warm for the weight and has a feature set that makes this one of the best down jackets I've tested.
NovaUL: 3 out of 5. As I said, there's nothing particularly wrong with the jacket by any means. At $210 (at the time of this writing) I would expect there to be something about it that sets it apart from other products in the same category. When you compare the features to that of the Decathalon Trek 100, you find very little difference, but at double the cost. So, while it's a great jacket, I would argue there's better value in the Trek 100 with similar fill, fill weight, materials, etc.
Conclusion – Outdoor Vitals Jacket Review
Families, namely children, are a lot like clothing systems for the outdoors- you may not feel like you're missing a single thing by only having one. And, there's nothing wrong with that sentiment if that's your preference. However, you also might feel like you wish you had a companion for that single puffy. Maybe you wished you had a light layer for mild evenings in the mountains.
Maybe you wish you had a piece with down warmth, but synthetic qualities to prevent worry about potential precipitation in the forecast. No approach is more right or wrong than another, but boy is it comforting to know there's a variety of options made by a company producing high quality gear.
Subscribe to Backwoods Pursuit to get Your FREE Backcountry Gear Worksheet!!!
Dial in your gear list, calculate your pack weight, and lighten up your pack with this handy tool!