In our search for the best ultralight tent I came across this gem which prompted this Zpacks Duplex review. Coming in at an insane 19oz (without poles or stakes), this is the lightest 2 person floored tent I've been able to test by a long shot. It is the perfect combination of lightweight, functional, and durable . I was amazed at just how light and compact this shelter is.
Zpacks Duplex Review – Best Ultralight Tent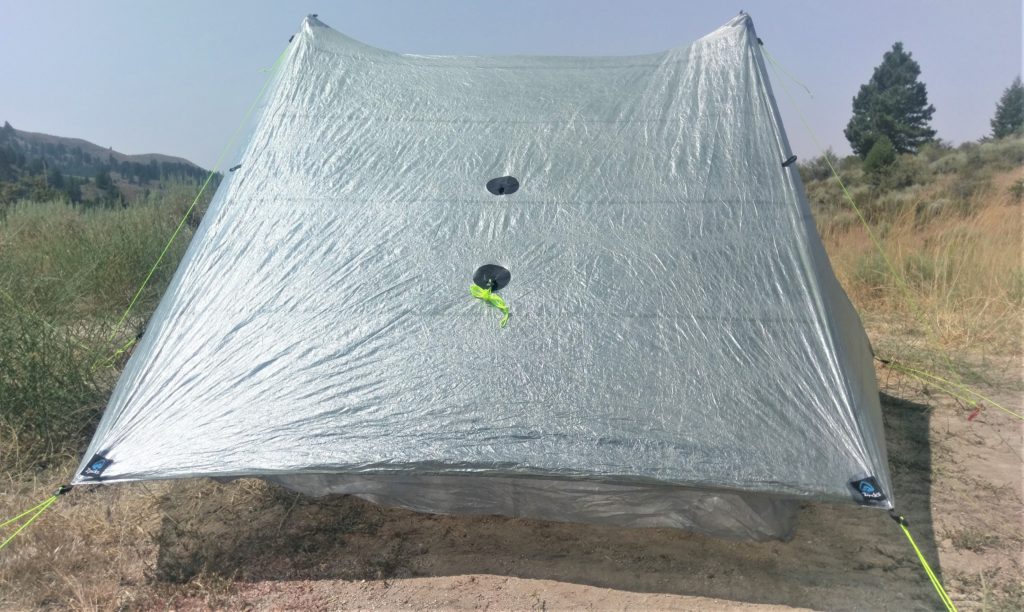 If weight is one of your biggest concerns, the Zpacks Duplex tent is definitely one you should consider. This is by far the best ultralight tent I've tested for the ultralight ounce counter. While you may tend to think that it wouldn't hold up to heavy using given it's weight, the Dyneema fabric used by Zpacks make this much more durable than you'd think.  What you end up with is a durable tent with good usable space (but on the smaller side) that is easy to set up and ultra lightweight. This thing is a real gem.
Zpacks Duplex Tent Specs – Best Ultralight Tent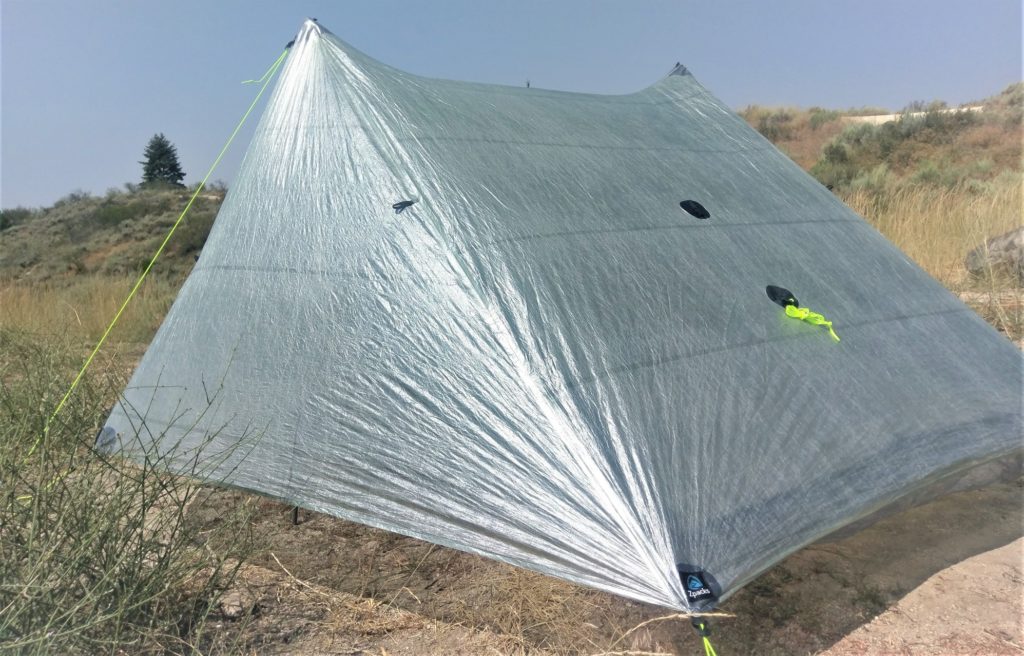 The Zpacks Duplex Tent is a 2 door, two vestibule tent with a full bathtub floor and comes in at an incredible 19oz.  All seams come sealed, which is nice not to have to mess with.  The durability provided by the Dyneema was evident as it seemed less fragile than ripstop nylon, even though it was thinner.  The interior was tight for two as expected, but given the design of the vertical side walls, it felt much bigger than other tents I've tested with the exact same square footage. Here are the specs for the Zpacks Duplex, and what I consider to be the one of the best ultralight tent options you can find.

Weight: 19oz (without trekking poles or stakes)
Peak Height: 48in
Vestibule space: 20.75in depth (each side)
Interior width: 45in
Interior length: 7.5ft
Zipper height: 36in
Material: Dyneema
Packed size: 7in x 13in
Exterior width: 86.5in
Exterior length: 100in
Stakes: 8 needed for setup (min of 6 I've found, but 8 is much better)
Zpacks Duplex Review Basics: Non-Freestanding, Single Wall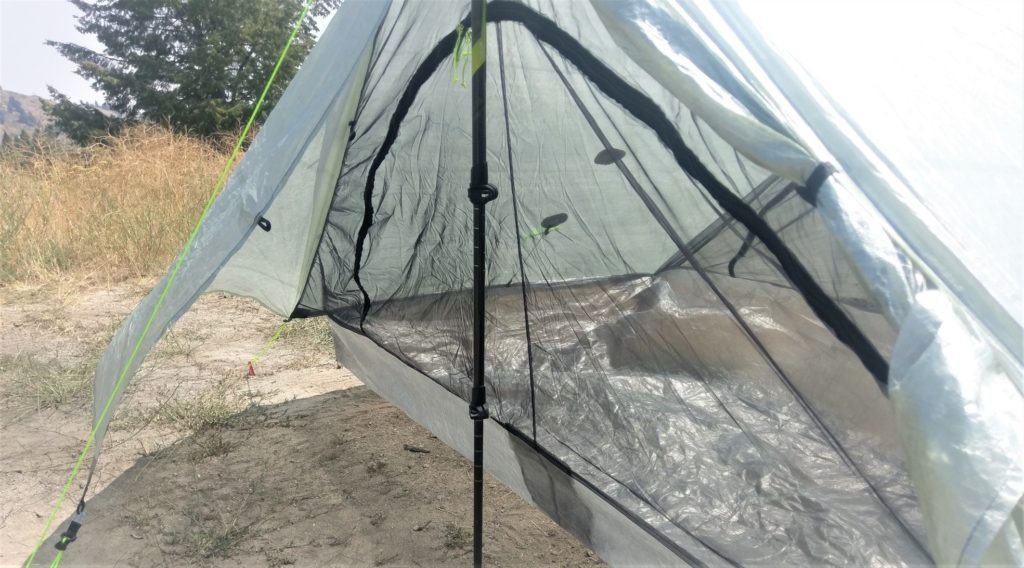 The Zpacks Duplex tent is not a free-standing design. It must be staked out to be usable. Being a single wall tent, condensation is always a concern, but can be managed easily by allowing a draft to come in through the door. The non-zippered doors actually help allow a draft in to keep the condensation to a minimum. It is recommended to sleep with one door rolled back in the open position to allow good ventilation (assuming weather allows).
What We Liked: Zpacks Duplex Review
Easy Setup
I loved how easy the tent went up. It was very simple and setting it up solo wasn't a problem. You have the option of using either your trekking poles, or purchasing the flex pole kit for an additional $125, making this a free standing shelter. Dyneema is naturally waterproof, so there is no sealant to worry about wearing off over time.
No Zipper Design: Zpacks Duplex Tent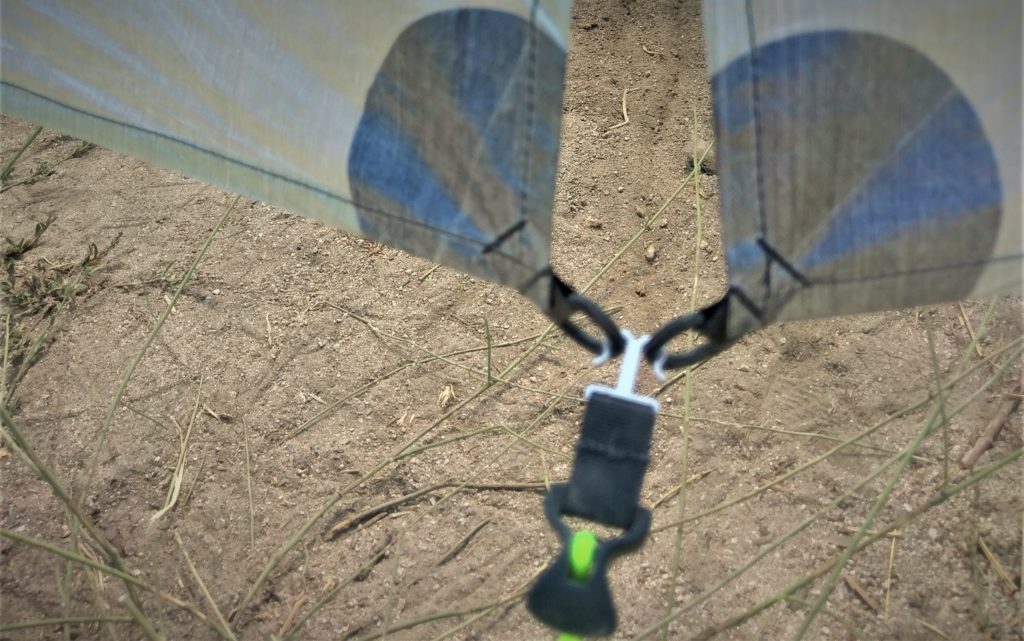 One of the things that makes the Zpacks Duplex tent one of the best ultralight tent options is this ingenious no zipper design. I didn't know if I'd like the no-zipper setup of the vestibule doors, but the design really is ingenious. Clips securely hold the doors in place, and you have the added option of securing the mid-section of the door with an elastic tie down.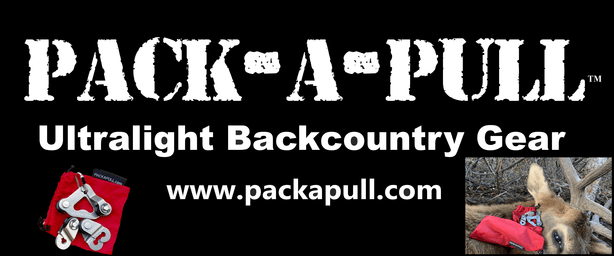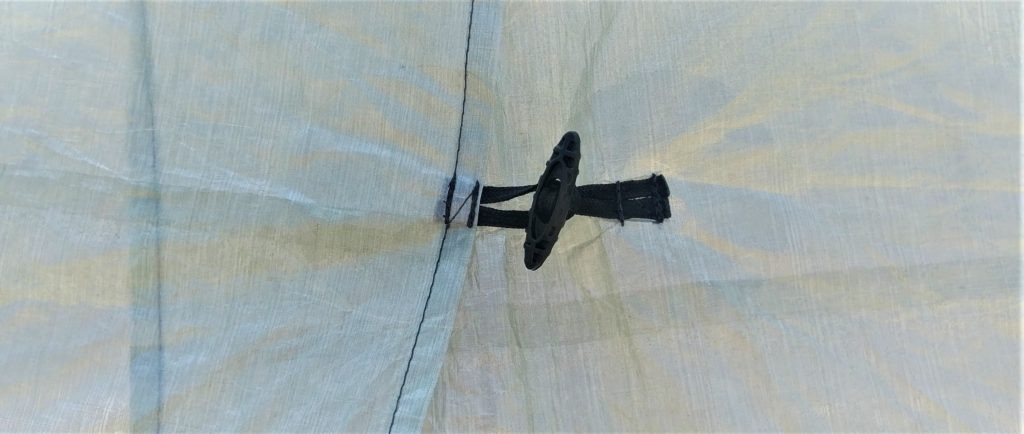 The only problem that could come with the setup is when the wind blows into the overlaying flap, which can cause some additional draft and/or noise. You'd want to be cognizant of this feature and set the tent up with that flap upwind to minimize any extra draft or noise. If you tighten down the vestibule tension pull, you shouldn't have any issue at all.
Being a single wall shelter, this no-zipper design make a TON of sense really. One of the issues that single wall tents face is condensation. This design allows the tent to breath very well, even when it's fully closed off, which in turn minimizes the potential for condensation. Of course if you leave one or both of the vestibule doors open, you shouldn't experience any condensation problems at all.
Dynema Material: Zpacks Duplex Tent Review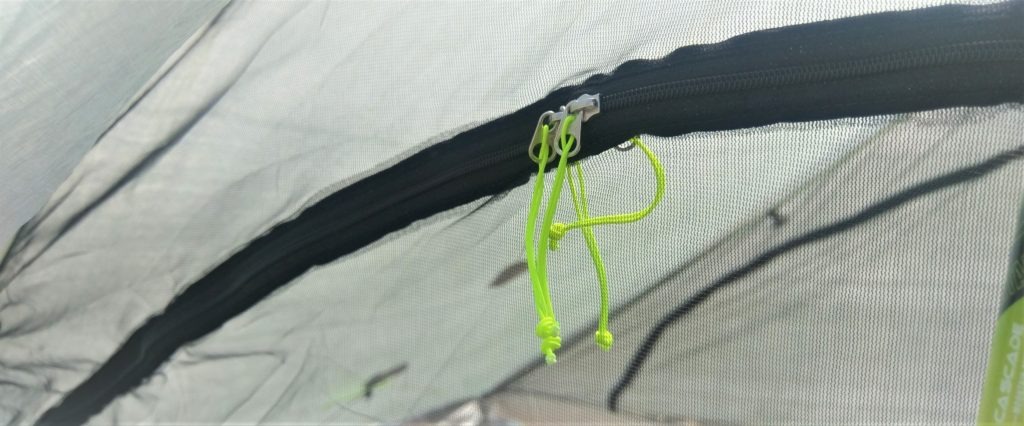 The Dynema fabric of the Zpacks Duplex tent is just one of the features that make this one of the best ultralight tent options out there. It is not only incredibly light weight, but it is durable, naturally water proof, extremely compact, and makes for an awesome non-slip floor as well.  I found myself sleeping on an incline, but the material wasn't as slippery as others I've tried. The Dyneema material seemed to reduced pad slippage.  This was a welcomed surprise.
One of the downsides of building a shelter using Dyneema is the cost. However, if you are trying to build the best ultralight tent out there, there isn't a better material that I'm aware of.
Unique Features: Zpacks Duplex Tent Review
Massive Doors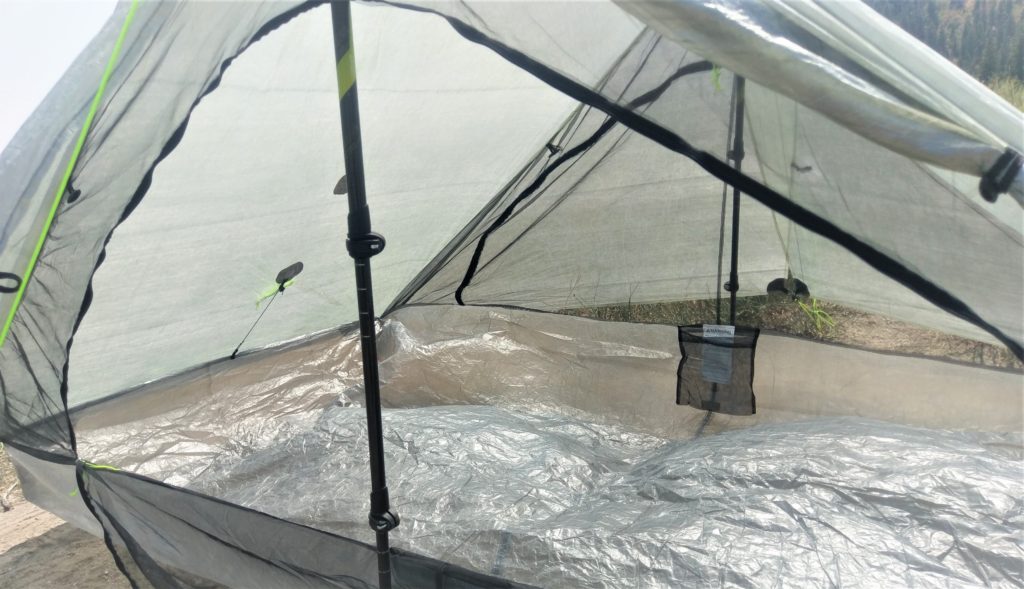 The Zpacks Duplex tent gives you two massive doors that zip/unzip the entire mesh side of the shelter. Combined with the bathtub floor, it's incredible that this shelter comes in at only 19 ounces. Getting in and out of this tent is a breeze. The full size zippers also give you easy access to the entire vestibule. I loved this feature.
What We Didn't Like: Zpacks Duplex Review
Interior width

I found the interior space of the Zpacks Duplex tent to be a bit cramped for two people, but only in the width. The interior space of the Duplex is on the smaller side (28sq ft), but due to the design, it feels much bigger. The main issue is the width. You would be touching shoulders with your tent buddy in this shelter. You simply wouldn't be able to fit two wide/long pads in the Duplex very well. While the width is a bit cramped, the length is amazing, especially for taller folks. With an interior length of 7.5ft, you will have plenty of room in the head and foot of this tent.
Make sure to stake the guy out points though to ensure you give yourself the most possible head room. I found this out the hard way when I didn't stake the guy out point and noticed less headroom when laying down. It's not a necessary step, but one that's worth the comfort for me.

Privacy Concern: Zpacks Duplex Review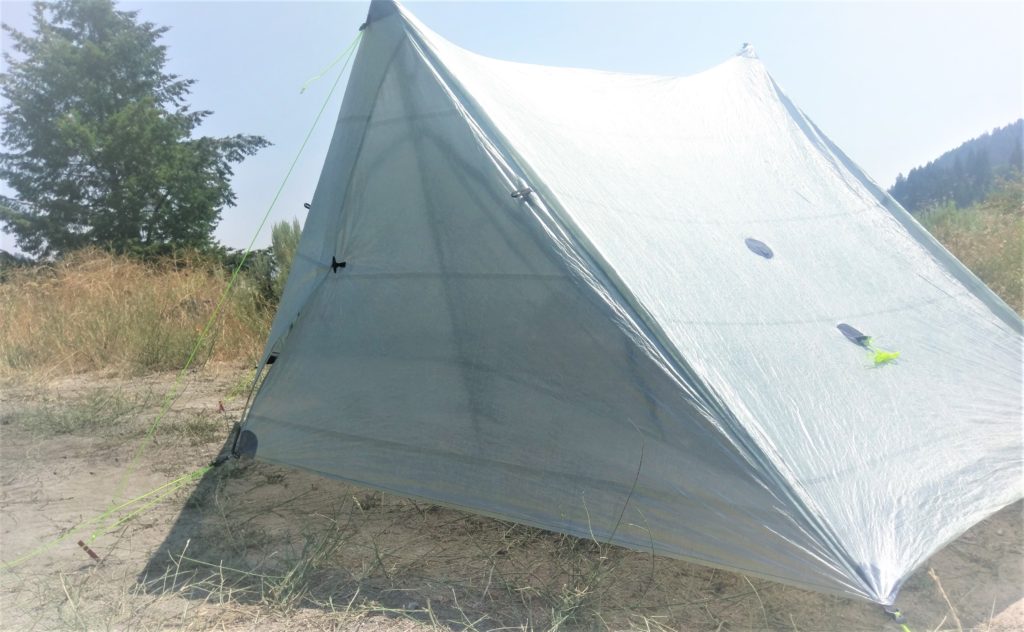 If you like your privacy in a shelter, something else I noted through this Zpacks Duplex review is that it is somewhat see-through. You can make out a silhouette due to the super thin material. While this didn't bother me at all, I suppose it may be an issue for some. The transparency is one of the things that you get with this Dyneema material.
Price Tag: Zpacks Duplex Tent Review
The biggest downside I could find after doing this Zpacks Duplex review and test is the price tag.  Coming in at $599 for just the tent, the price could be a deterring factor for some.  Add a pole set and stakes and it's a chunk of change.  As we all know, you are going to pay extra for the combination of ultralight, durable, functional, and super high quality.  This shelter encompasses all of those things amazingly well, but falls in the category of "buy one cry one" for a tent. 
Accessories: Zpacks Duplex Tent Review
Zpacks Duplex Freestanding Flex Kit
Zpacks offers a number of accessories to go along with the Duplex tent. One of these is the Zpacks Duplex Freestanding Flex Kit. This kit turns the Duplex into a freestanding tent for those times when you won't be able to get stakes in the ground. I haven't had a change to test out the Flex Kit yet, but it seems to be a great way to convert the Duplex Tent to a fully freestanding tent when needed, without buying another tent.
Zpacks Tent stakes
Zpacks also offers a number of different stake options to go with your tent purchase. I been able to test some of their 7″ Supersonic Stakes, and have been very impressed. Super lightweight, durable and keep your tent securly in the ground.
Zpacks Carbon Fiber Trekking Poles
Zpacks makes some super lightweight Zpacks carbon fiber trekking poles to pair with this Duplex tent as well. I haven't had a chance to test these out, but I do love the weight and they pair perfectly with several of the Zpacks Tents!
Check out This Video of the Zpacks Duplex Tent Review
Conclusion: Zpacks Duplex Review
The Zpacks Duplex tent is my favorite ultralight two person shelter when every ounce matters. It's loaded with features like the no zipper design, flex pole free standing options, Dyneema fabric and super compact packed size. While the price point is a bit on the steep side, you get a super durable, lightest of the light kind of tent that you hardly feel in your backpack. For me, the Zpacks Duplex tent is the best ultralight tent I've tested so far. See how it stacks up against some others I tested in my full Backpacking Tent Review!
Check out Backcountry Camp Part 1: Basics of Selecting a Tent to help you select the right tent. Make sure to check out all of our other tent reviews as well! We've been testing tent for a while now, and have a good number of backpacking tent reviews. Check out our other tent reviews!
Subscribe to Backwoods Pursuit to get our FREE Backcountry Gear Worksheet!!!
Dial in your gear list, calculate your pack weight, and lighten up your pack with this handy tool!