Quality Ultralight Game Bags: Worth the Extra Money?
Ultralight game bags. If you've ever shopped around, you probably found that game bags come in many shapes, sizes, weights, and materials. So why are synthetic bags so much more expensive than cotton? Does it really even make a difference? While it can be argued both ways, I'll share my experiences as I've use good old pillow cases as well as premium game bags.
Best Ultralight Game Bags: Sizes
To find the best ultralight game bags for your specific needs, the size of the bags you need depends on the size of the animal you will be hunting, as well as whether or not you bone out the meat on the mountain. If you bone out the meat, you can get away with smaller, lighter bags, while if you leave the bone in, you'll want to select bags large enough to handle a hind quarter of the animal you are hunting. Each brand has their own sizes, but they typically give you a pretty good idea in the description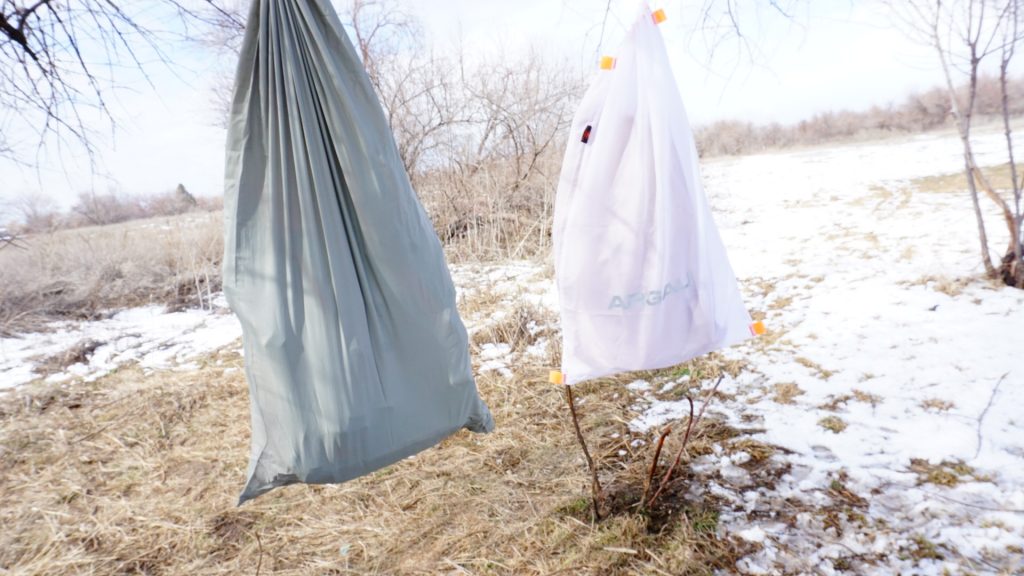 Best Ultralight Game Bags: Materials
If you are looking for the best ultralight game bags, cotton may not be the best choice for you. Good old cotton has long been a fabric used for game bags.  Growing up, a pillow case, sewn bed sheet etc. was used and worked well.  Cotton is cheap easy to repair if it's torn, and readily available. Cotton does, however, have its drawbacks.

Check out our review on the breathability and durability and our Game Bag Torture test video over on our YouTube Channel!
Best Ultralight Game Bags: Downsides of Cotton
Cotton retains moisture and doesn't easily allow the meat to get that nice "crust" you want that helps protect it. A particular concern with cotton is if you find yourself in wet or damp weather, it will hold in much more moisture than synthetic material, giving you a much higher bacteria growth rate. The bacteria growth rate increases in damp and/or warm conditions, which is exactly what you don't want. On the other hand, if you are in cold and/or dry conditions and don't experience much moisture, you'd likely be fine with cotton.
To sum it up, cotton just does not breathe nearly as well as a good quality synthetic ultralight game bag. It is also much heavier than most synthetics. If you are looking to cool your meat faster and lighten your pack, I'd typically stay away from cotton.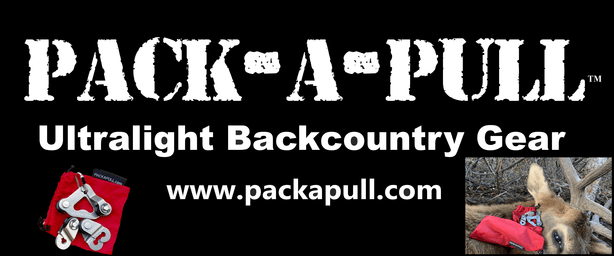 Best Ultralight Game Bags: Synthetics

If you couldn't tell yet, I'm a fan of synthetic ultralight game bags when it comes to protecting my hard-earned, organic meat. That's not to say that something as simple as homemade cotton pillow cases won't work just fine, however, synthetics cool the meat faster because they breathe better. They tend to clean up better, are more durable and typically much lighter than cotton. The primary downside? They are much more expensive. I get it. Who wants to spend that kind of money on game bags? As hard as that pill is to swallow, have your meat go bad once and it makes you think twice about the game bags you use.
Best Ultralight Game Bags: Bugs
Both synthetics and quality cotton bags can do a fine job of protecting your meat from bugs, but in my experience, synthetics do a better job if you find yourself fielding dressing on a warm day where the aggressive yellow jackets are persistently trying to get a meal for themselves. I've had them chew right through a pillow case. Synthetics seem to hold up better against these pests, but given enough time, yellow jackets could work their way through a synthetic bag as well (although I haven't had that happen yet).
Caribou Gear Ultralight Game Bags
Caribou Gear makes some of the best ultralight game bags to meet whatever your needs are. From the boneless to meat on the bone models, as well as sets for elk, moose or deer, they have it all. The Caribou Gear Ultralight Game Bags are certainly lighter than cotton, but aren't the lightest bags on the market. The "Wapiti, Meat On the Bone" set is perfect for elk. Super durable, reflective tags and a sturdy draw string make this a great set of bags.
The caribou bags are durable, but with great durability, comes a bit of added weight. "The Wapiti" set comes in at about 22oz with the carrying case and all five bags. They are fairly compact, but again not quite as small as the VIAM Outdoors or Argali bags.
VIAM Outdoors Ultralight Game Bags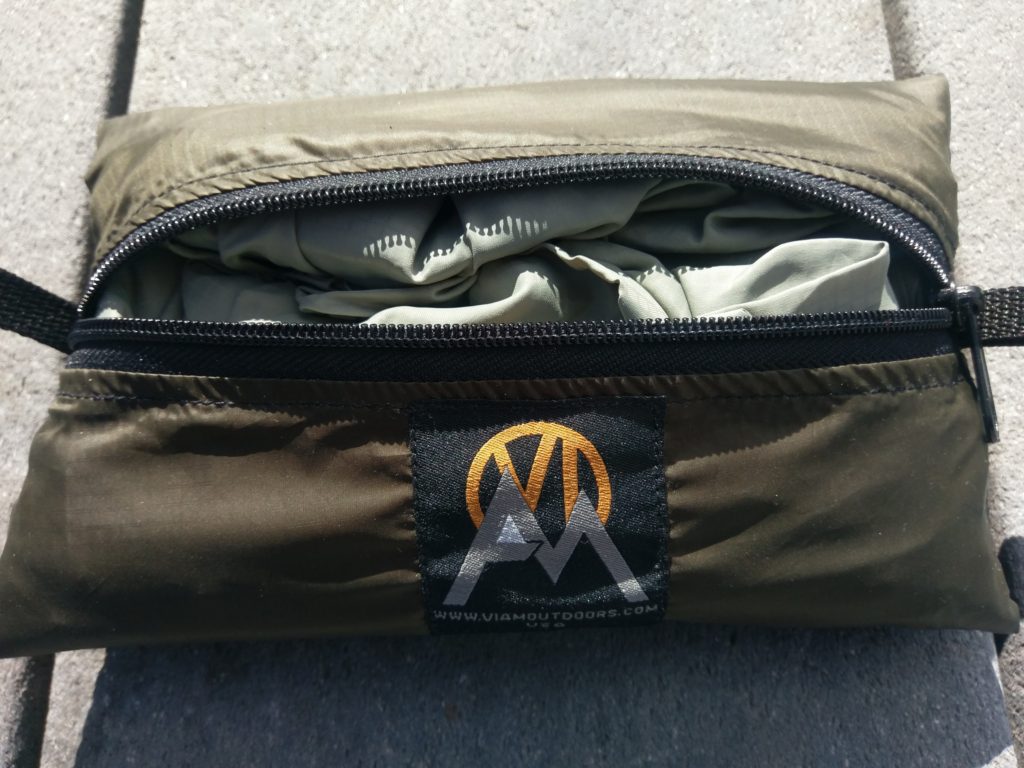 The VIAM Outdoors Ultralight Game Bags are something I came across after having used the Caribou bags for several years. When I saw the weight, I was a bit skeptical. My custom built set came in at just 10.2oz for five bags and the case (I used the VIAM Outdoors G3 Glacier Gear Grab.) VIAM Outdoors makes some other great lightweight gear as well. Check out one of their shelters here in the Backpacking Tent Review we did.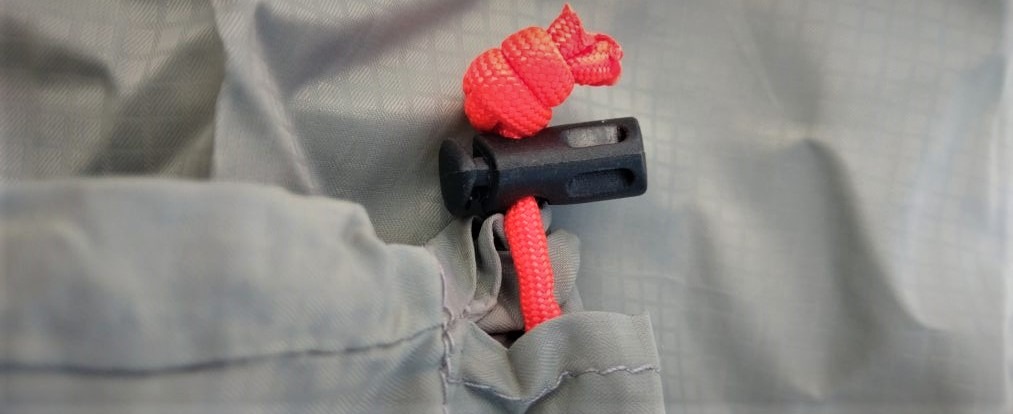 Being a ripstop nylon, it's much like that of a tent but without the waterproofing to allow the meat to breath. The material performed perfectly for me last year. I could tell they breathed better than cotton by a long shot. I noticed that they didn't soak up blood like cotton or the Caribou bags. Yeah, there was some, but nothing like I've experience with other ultralight game bags. The blood that beaded off the material dried quickly.
Another benefit I noticed is that these bags cleaned up better than anything else I've ever used. A quick wash and they look brand new. Nothing but regular laundry detergent is needed. I was impressed.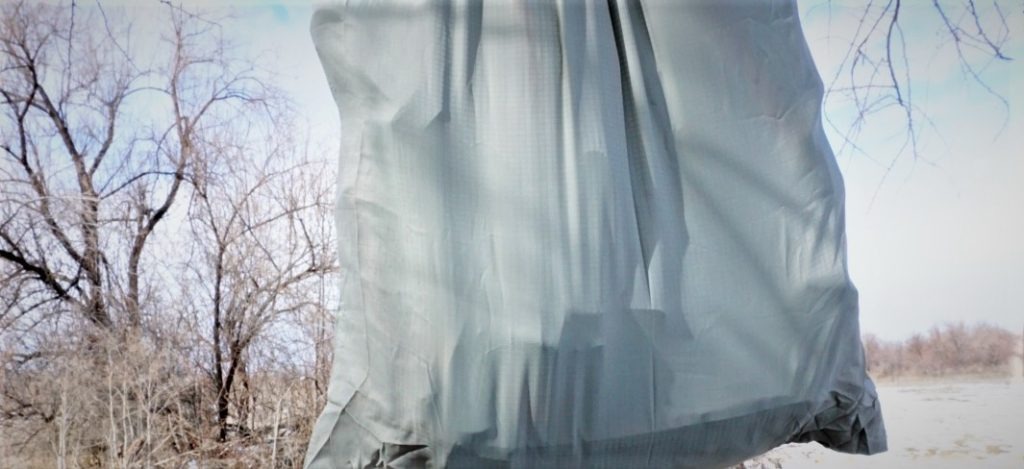 Our friends over at VIAM Outdoors are offering Backwoods Pursuit followers 5% off their order!!
Use the code BP5 at checkout for 5% off your order!
Argali High Country Pack – First Thoughts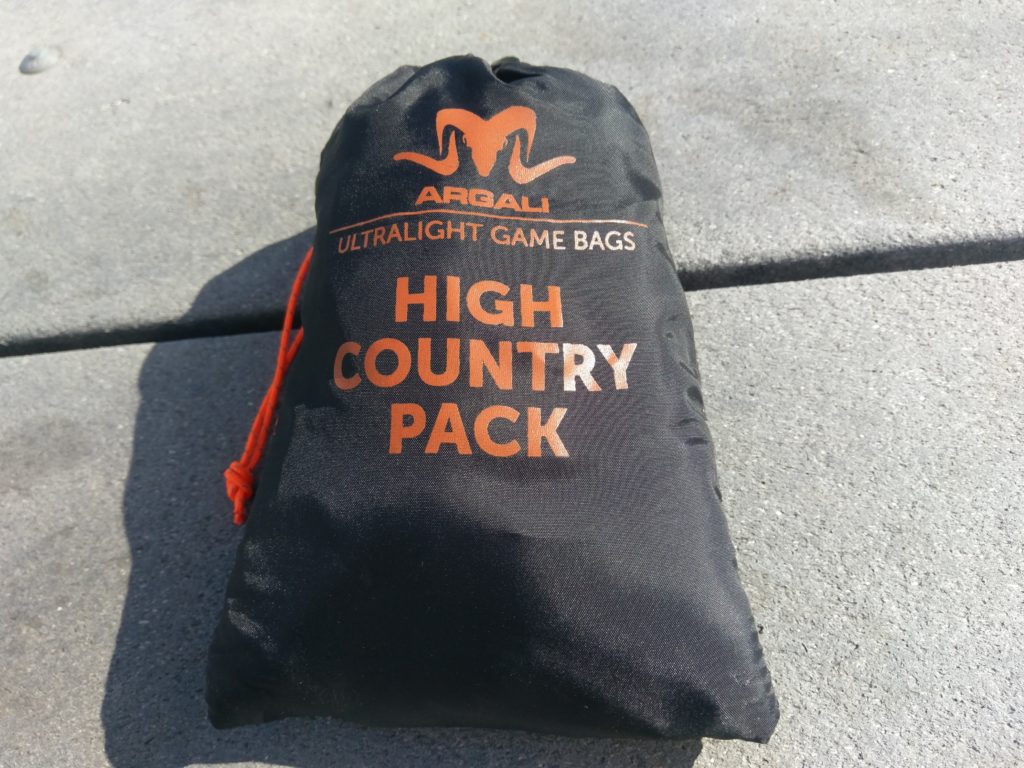 Brand new on the market, the Argali High Country Pack looks to be some of the best ultralight game bags on the market. These bags are comprised of a proprietary blend of materials designed by Brad Brooks, the owner of Argali Outdoors.
When I put my hands on these bags, it was obvious that a lot of thought had gone into the design. Some features include:
Initial impressions
Reflective Logo
Reflective 220 para-cord drawstrings
Sewn-in loops on the top and bottom for hanging meat
Clean stitching (even when turned inside out)
Super compact

In my initial testing, this material seemed to breathe better than ripstop nylon. Air trapped inside the bag seemed to escape more easily than the nylon when compressed. I know this is not a scientific test, but the results were somewhat undeniable as far as which material let the air out more quickly.
Argali Ultralight Game bags: Thickness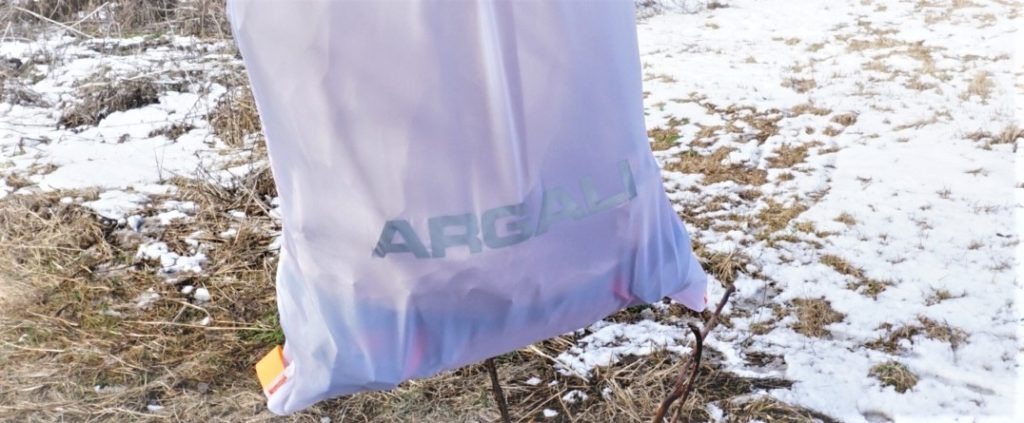 These bags are nearly see-through, but are also designed to give you the option of hanging an entire elk quarter from the loops sewn into the bag. That's right. You don't even need to hang your elk quarter by the hauk of the leg with these bags. Time will tell as to the durability, but they seem to be extremely well made and well designed. You get five 17×29 bags with the High Country Pack, with a total weight of just 9.9oz (stuff sack and all).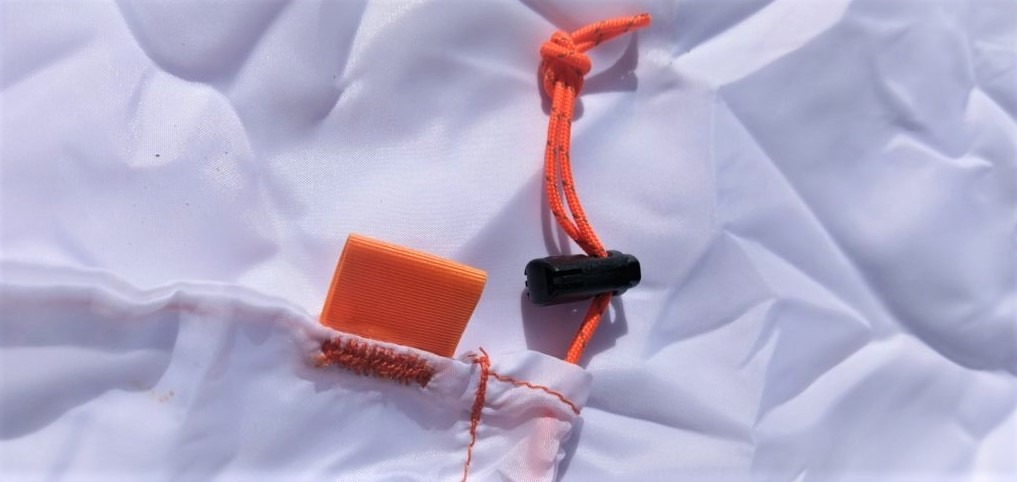 Our friends over at Argali are offering Backwoods Pursuit followers 10% off any of their game bags!!
Use the code ARbags10 at checkout for 10% off Argali Game bags!
I know there are some other great brands out there as well like TAG Bags, Black Ovis Bags, Allen Bags, Alaska Game Bags and others, so check out our Game Bag Durability/Torture test review! Part of finding the best ultralight game bags is testing them out under a load.We included a bunch of the most popular bags in the market to see which ones held up the best!
Bottom line for me?  I'm going to keep using synthetic bags. This year I'll be testing out the Argali High Country Pack Ultralight Game Bags.  My VIAM Outdoor Ultralight Game Bags have been awesome the last few years and are some of the best ultralight game bags I've found.  I love those game bags and will definitely be keeping them around as well. If you are currently using cotton, it might not be a bad idea to consider the benefits synthetic bags can offer in certain situations.  I know. The price tag is steep, but in my opinion, it's worth it to ensure the protection and quality of your meat.
Subscribe to Backwoods Pursuit to get Your FREE Backcountry Gear Worksheet!!!
Dial in your gear list, calculate your pack weight, and lighten up your pack with this handy tool!