When it's time to pick up a quality ultralight sleeping bag, you undoubtedly dread looking at the price tag. This is where this Outdoor Vitals Summit review comes in. When I saw the price tag on the Outdoor Vitals Summit along with their claim of top quality, I definitely wanted to include them in this ultralight sleeping bag review series. Top quality, ultralight sleeping bags are usually synonymous with a premium price point. If there is an option out there for a good quality, ultralight, warm, and AFFORDABLE sleeping bag, who wouldn't be interested in that?
Make sure you know what that temperature rating means before you buy a bag. We discuss how the "EN Ratings" are determined for sleeping bags in our Basics of Selecting a Sleeping Bag article. Don't get caught out there with a bag that you thought was rated to a much lower temperature than it really is.
Are you looking for a sleeping bag that gives you more room to stretch? Check out our other sleeping bag reviews for some others we've tested.

Outdoor Vitals Summit Specs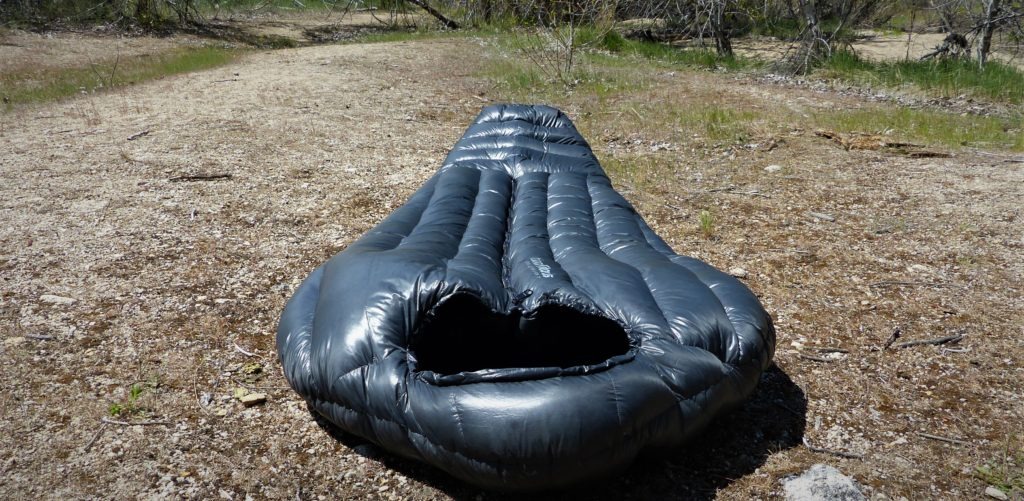 The Outdoor Vitals Summit comes in a wide range of temperature ratings from 30F to -15F. The specs are impressive across the board. I tested the -15F bag, but for purposes of this review I included the specs for some of the more popular temperature ratings as well.
The Outdoor Vitals Summit sleeping bags include these features:
800+ Stormloft goose down
10D DWR ripstop polyester (both liner and shell)
True mummy cut
Generous down fill
62″ Shoulder girth
Here are some of the specs of the Outdoor Vitals Summit sleeping bag: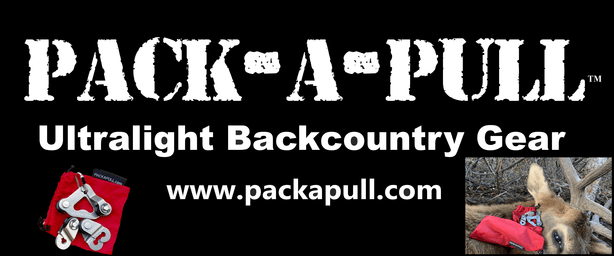 Make sure to become a Backwoods Pursuit Member (TOTALLY FREE) where you can get the in-depth details and comparison spreadsheets used for this sleeping bag and quilt series of reviews, along with a ton of other useful gear information. You can see the differences between bags in the fill weight, materials used, total weights etc. All housed in our Gear Library and free to you.
Outdoor Vitals Summit Stitching/Baffling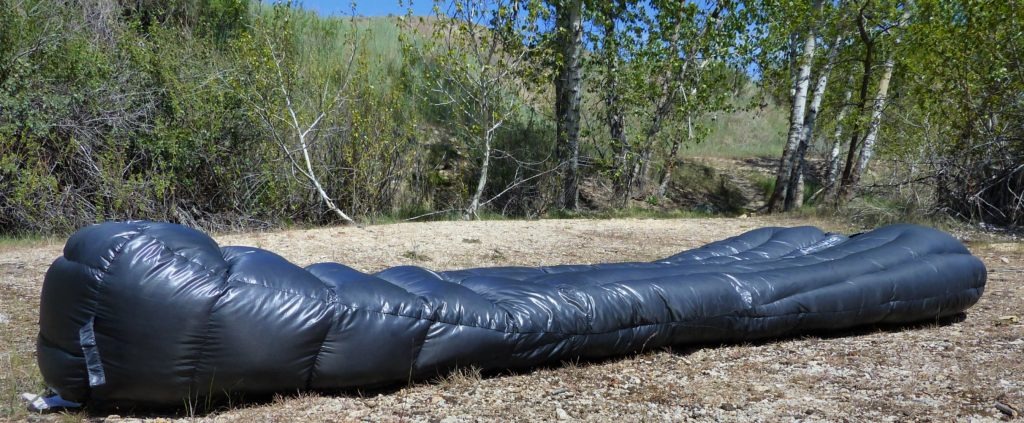 Putting together this Outdoor Vitals Summit review revealed a unique baffling design on the side of the bag. You can see in the picture above that the Outdoor Vitals sleeping bag has baffles that taper from the shoulders down towards the mid-section of the bag. This design seems to save weight and makes those baffles smaller.
The upper portion of the bag features vertical baffles while the footbox features horizontal baffles. This design helps keep the down in place, and in my testing seems to work well.
Outdoor Vitals Summit Review: Down/Fill Power
The Outdoor Vitals Summit sleeping bags come with 800+ IDFL certified down that is DWR treated. When stuffed into its stuff sack, the Summit sleeping bag is very compact due to the quality down and ultralight 10D polyester material.
Summit Sleeping Bag Dimensions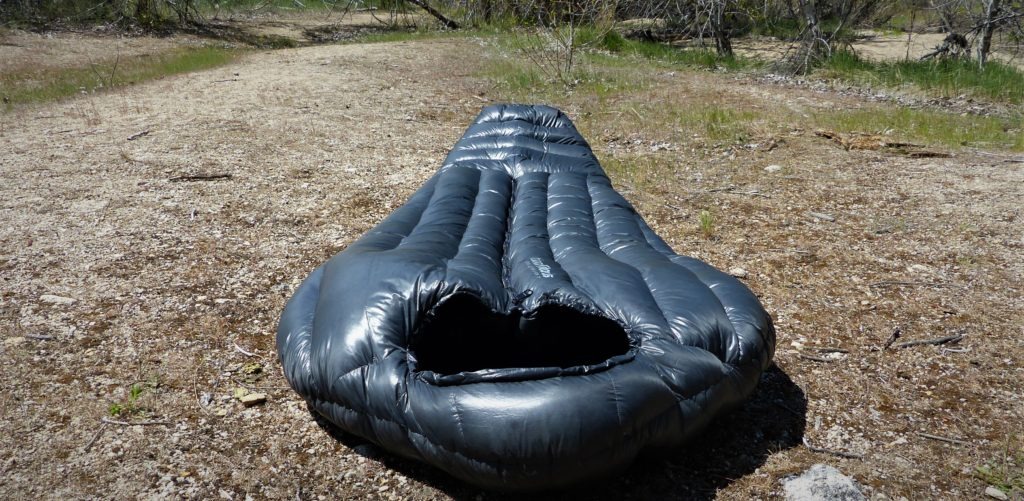 The Outdoor Vitals Summit bag offers a mummy cut that is truly a mummy style bag. If you simply can't handle a snug fit, you may want to size up, or look at some other options (check out some of our other sleeping bag reviews). For reference, I'm 5'11", 185lbs and typically fit fine in a regular size bag. With this one though, I decided to size up as the fit was just a bit too snug, and I felt like the down was being compressed a bit. I've found that any time you compress down in a down bag, you really loose a ton of insulating properties, so I'd rather error a touch on the larger side.
Here are the measurements for the Summit bags:
Reg: 62in shoulder girth
Long: 68in shoulder girth
One thing to note is that the measurement given by Outdoor Vitals on these bags is for the outside of the bag rather than the inside. This threw me at first as I typically fit just fine in a 62in girth bag, but once I found that out, it made more sense why the regular size was a bit too snug for me.
Outdoor Vitals Summit Review: Warmth Test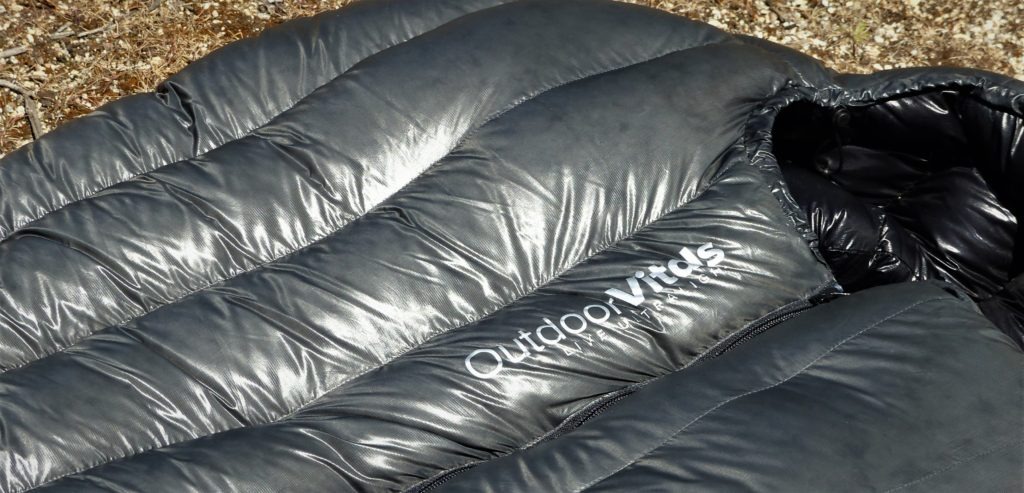 I was able to get this bag out into the low teens, but the temps didn't cooperate to really test this bag down to the claimed "comfort" rating or approximately -5F. I like that Outdoor Vitals lets you know that the temp rating they give is the "lower comfort range," and that you should expect the "comfort range" to be around 10 degrees above that lower limit rating. This is super helpful when choosing what temperature rating you need.
I found that I was toasty warm when the temps dipped down into the low teens. I was actually a little too warm until the temps got well below freezing, but that's to be expected with a bag rated to -15F. I'll continue to test this bag and update this review once the weather turns cold again for us.
Outdoor Vitals Summit Sleeping Bag Review: Zipper Test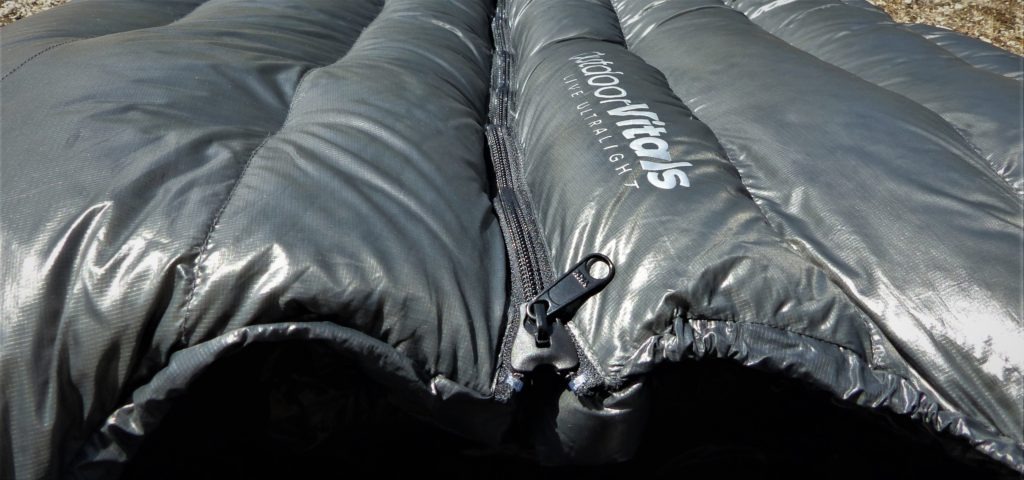 Once thing I always want to make sure of is that the zipper stays put throughout the night. A zipper that works its way down throughout the night absolutely drives me nuts. Most quality bags now offer these locking zippers, and the Outdoor Vitals Summit is no exception.
Outdoor Vitals Summit Shoulder Baffles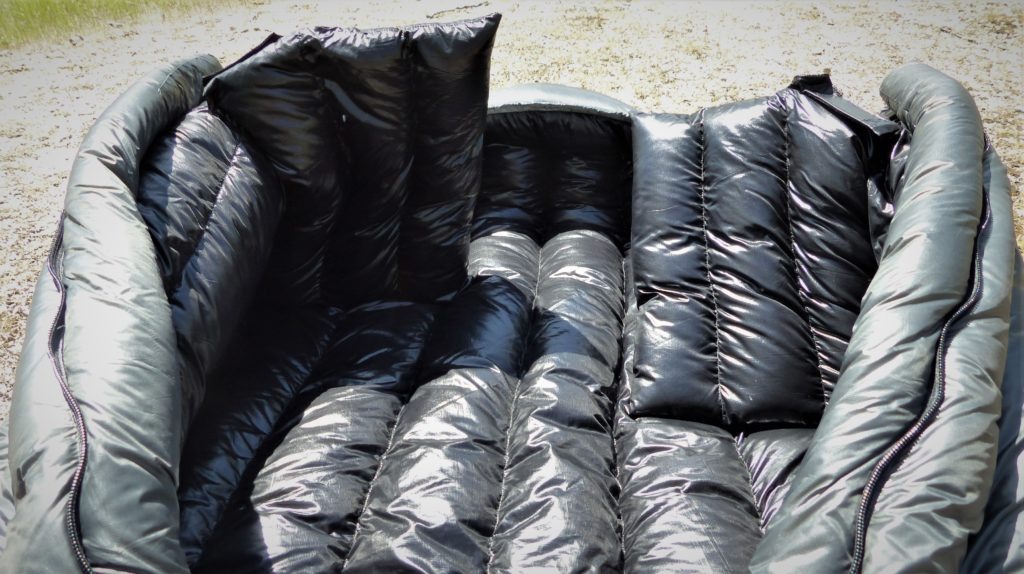 The Outdoor Vitals Summit offers the most unique form of a draft collar I have seen yet. Rather than a traditional draft collar that can by cinched around your neck, the Summit features two large shoulder baffles that you Velcro together, or leave separated. I can honestly say I wasn't sure about the design, but it definitely worked and was very comfortable. I was expecting to have to fight drafts with this design, but to my surprise, I didn't have any draft issues at all.
I do wish they had a draw cord or similar to give you the option to cinch them down around your neck, but they worked just fine as is. Check out our OV Summit video for a full rundown of this bag, and a better look at these shoulder baffles.
Outdoor Vitals Summit Hood
The hood on the Outdoor Vitals Summit features an independent draw cord system. It worked really well for a side sleeper like myself as I could leave the side I was facing opened up to more easily breathe, and tighten down the back side to seal out draft. Pretty cool idea!
Outdoor Vitals Summit Review: Material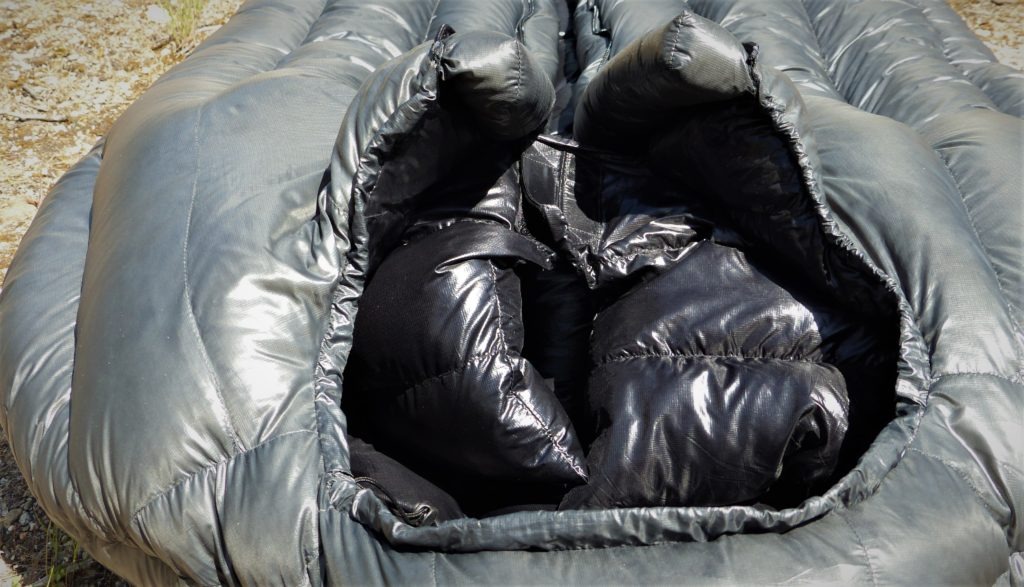 I loved how soft to the touch the ripstop polyester material was. It made it very comfortable and cozy getting into the bag. I did notice a few down plumes come out over some use, and it seemed that this polyester material wasn't quite as downproof as others I've tested. It was a lot, but I did notice a feather or two come out each time I pulled the bag out.
Outdoor Vitals Summit Compressed Size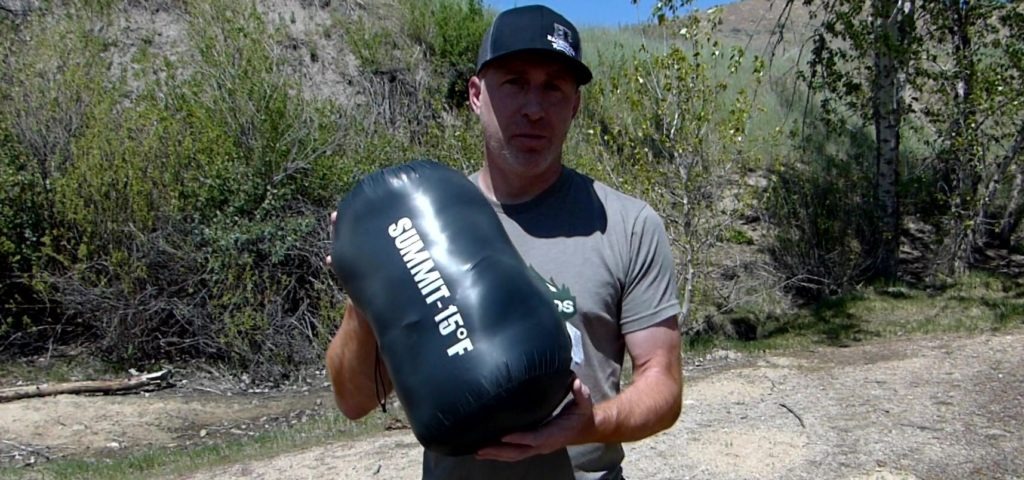 The compressed volume is impressive on the Summit bags, especially given their temperature ratings. I'd recommend picking up a compression sack to make it even smaller and save some extra space in your pack.
What I liked About the Summit
There was a lot to love about the Outdoor Vitals Summit sleeping bag. Here are a few of my favorite features:
Great price point
Center zip
No snag zipper
Shoulder baffles inside bag comfortable
Super soft material (10D Ripstop polyester)
800+ IDFL certified down
Hood cinches down over face very well
What I Didn't Like About the Summit
There were a few things I didn't care for on the Outdoor Vitals Summit sleeping bag:
Very narrow cut – Had to size up to wide/long
No compression sack
No storage sack
Weight was off vs advertised weight
Snug around the midsection and feet
Not as down proof as others
One other thing to note on the Summit was a slight weight discrepancy between the advertised weight and the actual weight. Both the size regular and large bags that I tried came in a few ounces lighter than the advertised weight. Usually I'm all for lighter weight, but I just hope the weight savings wasn't from less down.
Check out The outdoor Vitals Summit In This Video
How to Store a Down Sleeping Bag
It's easy to get home from your final adventure of the season, unload your gear and throw it all in a storage bin for the winter, but make sure you properly store your down sleeping bag (as well as your insulated sleeping pad). Don't leave that high quality sleeping bag in its stuff sack long-term as it could reduce the effectiveness of the down. Down needs to be lofted, not compressed when stored, and should be stored indoors if at all possible. Here are a couple storage options to keep your down sleeping bag at its peak performance.
Hang it in a closet
Lay it out under your bed
Keep it in the storage sack provided (shown above)
Hanging your down bag is my first choice, but not everyone has the space for that (I don't personally). Most bags come with sewn in loops to stick on a hanger. After that I prefer to store the bag lying flat under my bed. This allows the down to be fully lofted. Finally, storing in the provided storage sack is perfectly acceptable as well. The down is slightly compressed in those storage sacks, but nothing that will cause any damage to the down in your bag.
Summit Sleeping Bag Review: Conclusion
If you are in the market for the best ultralight sleeping bag on a budget, take a look at the Outdoor Vitals Summit sleeping bag series. It would be tough to find a better value on the market. Very thermally efficient, highly compressible, warm, and light as a feather.
My ratings for the Outdoor Vitals Summit sleeping bag
Subscribe to Backwoods Pursuit to get our FREE Backcountry Gear Worksheet!!!
Dial in your gear list, calculate your pack weight, and lighten up your pack with this handy tool!