Are you looking for the best ultralight sleeping pad? The new Exped Ultra Series Pads are quite possibly the best Exped sleeping pads yet, but we needed to test them to be sure. The new Exped Ultra Series comes in four different warmth ratings; the summer version being the Ultra 1R, the fall version being the Exped Ultra 3R, then the winter versions being the Exped Ultra 5R and the Exped Ultra 7R, with the Ultra 7R being the warmest.
This new lineup from Exped replaces the Synmat UL with the Ultra 3R, the Synmat Winter UL with the Ultra 5R, and the Downmat UL with the Ultra 7R. All of the new Exped Ultra Series Pads have a similar R-Value as the previous models, but with some updated fabrics.
The Testing: Exped Ultra Pad Review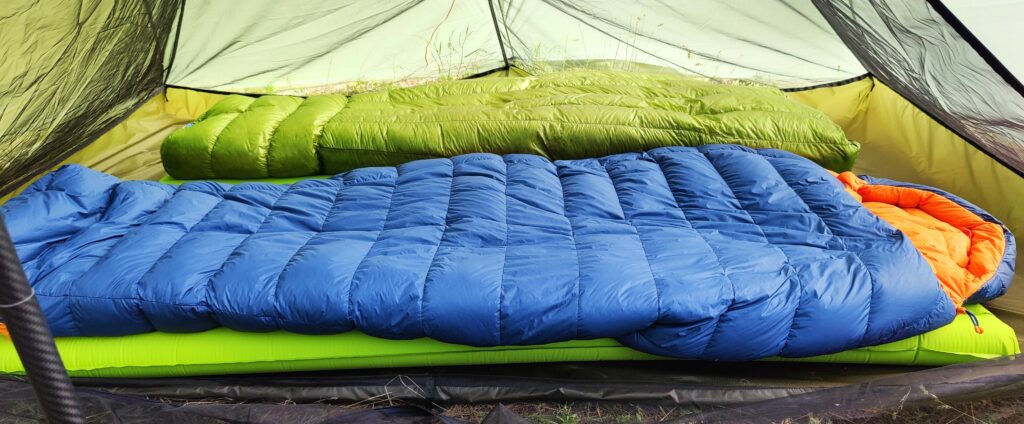 Over the course of a summer, fall, and winter, several of us tested each of these Exped sleeping pads in a number of conditions, including warmer nights in the Rocky Mountains during the summer, in the often below freezing temperatures of the fall, and in the really cold weather of the Idaho mountains during November and December. Given that we've had the opportunity to test and review the predecessor to these pads (the Synmat and Downmat), we had high hopes for the new Exped Ultra Series.

Warmth: Exped Ultra Sleeping Pad Review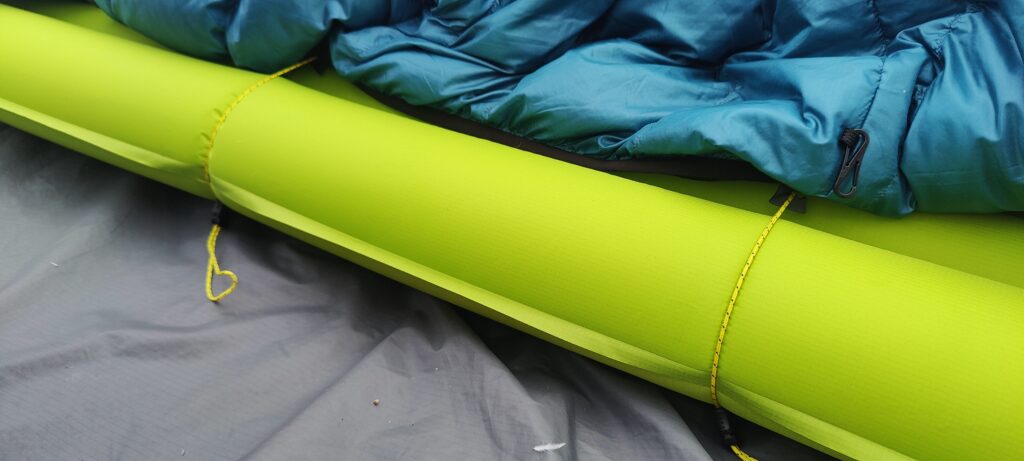 One of the things that I love about Exped sleeping pads is that they provide you with valuable information regarding the temperatures each one is rated for. This eliminates the need for guessing which one will be warm enough. I wish all companies would give the estimated temperature rating along with the certified R-Value for their sleeping pads to help potential buyers decide which is best for them.
Make sure to check out our other sleeping pad reviews and the Backwoods Pursuit YouTube Channel to help you decide what gear will help you stay out in the field longer!
Rather than have you jump over to the Exped website, here is that information all compiled into one chart for your convenience so you can select the version that best fits your needs: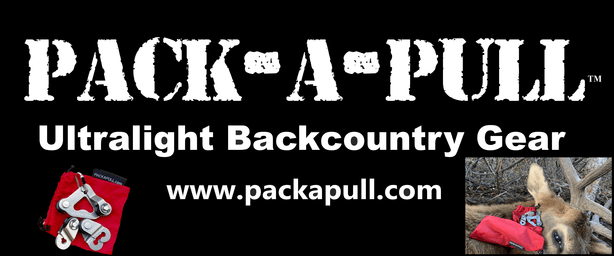 EXPED ULTRA TEMPERATURE RATINGS
Specs are great an all, but how does that translate to actual use and what temperatures did these pads actually perform well in during our in-field testing? After all, that's what really matters rather than what the chart says. During our testing, we used these Exped Ultra Sleeping Pads in temperatures ranging from overnight lows in the 50s down to overnight lows in the single digits. Overall, we found the ratings that Exped assigns each model to be very accurate. While I personally would switch from the 3R to the 5R if overnight temperatures were expected to be in the mid to low 20s, you can get by with the 3R.
After testing each of these pads, here is how I would personally use them to make sure I stay toasty warm:
Ultra 3R: temps down to 25° F
Ultra 5R: temps down to 0° F
Ultra 7R: anything below 0° F

Again, you can squeeze a bit more out of each of them, but I try not to push it too much when I'm in the field.
Noise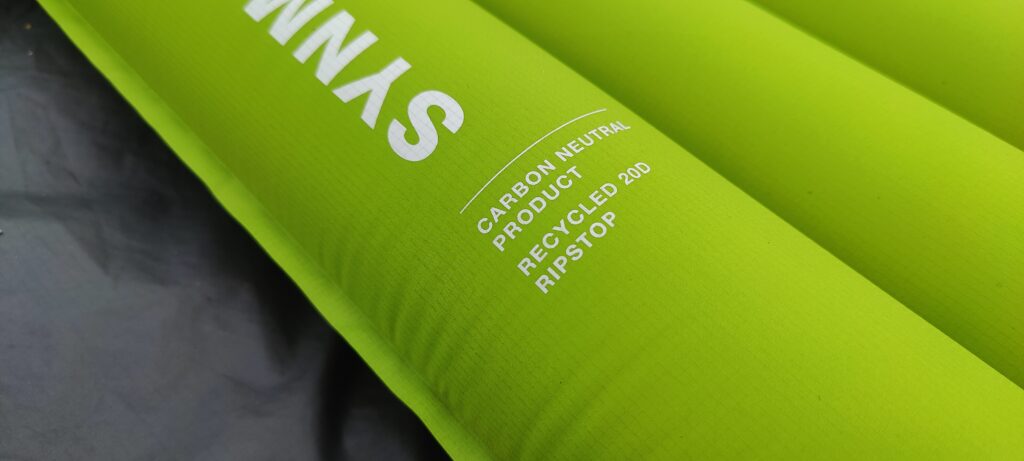 It's no secret that some sleeping pads, particularly ultralight sleeping pads, can have a tendency to be noisy to sleep on. While it can be something you get used to over time, that is not something you need to worry about with an Exped sleeping pad. Exped makes some of the quietest pads we've tested, and that is no different with the Exped Ultra Series of pads.
Now, with that being said, we did notice that the new Ultra Series did seem to be slightly more noisy than the previous versions. The new face fabric is a carbon neutral product, and this seemed to make them slightly more noisy than the previous version. It wasn't much different, but worth noting.
Now, I know some folks don't mind the crinkle sound that some pads like the Thermarest NeoAir XLite or the Thermarest NeoAir XTherm make, but for me the noise is too much. Those are both amazing ultralight sleeping pads, as long as that doesn't bother you when you sleep.
Sizes & Weights & Packed Size: Exped Ultra Sleeping Pad Review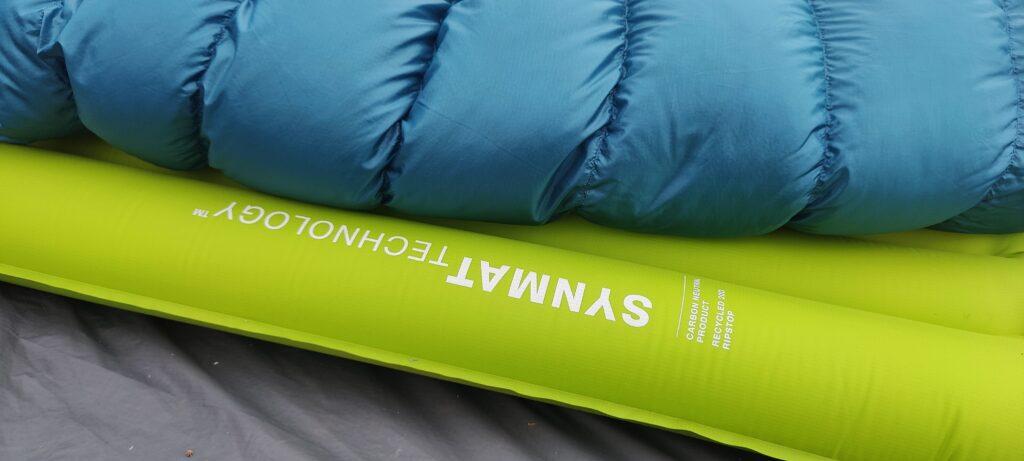 Exped sleeping pads come in a wide range of sizes and weights, keeping you comfortable at base camp or when you need to go ultralight and shave ounces. That is where Exped Ultra Sleeping Pads come into play. These were built to be ultra lightweight while still being really comfortable.
While there are many ultralight sleeping pads on the market these days, many of them sacrifice comfort in exchange for weight savings. That is simply not the case with Exped Ultra Sleeping Pads. In fact, after years of testing, I have yet to find a more comfortable ultralight sleeping pad than these ones. Here is a rundown of the various sizes, weights, and dimensions for each of the Exped Ultra Pads:
The Exped Ultra Series Sleeping Pads come in six different sizes. Each temperature rating comes in a rectangular or mummy version. I like that the mummy versions don't sacrifice in the shoulder width like a lot of pads, leaving a nice width for your upper body even if you elect to shave a few ounces and go with a mummy version.
PACKED SIZE
As you can see in the chart above, each of the Exped Ultra Sleeping Pads is incredibly compact, particularly for the R-value you are getting. This is especially true in the Ultra 7R lineup as they use down insulation. A below zero, cold weather sleeping pad at less than 23 ounces with a packed size of 9.1×5.5 inches is truly remarkable (size M).
Schnozzel Pumpbag & Valve System
Each of the Exped Ultra sleeping pads comes with a Schnozzel Pumpbag that works in tandem with the Exped Valve system. The Exped Valve setup features two completely separate valves; one for inflating and one for deflating. The inflate valve conveniently has a pull tab attached to it so you don't accidentally pull the deflate valve in the middle of the night trying to make an adjustment to the pad. (Don't ask me how I know that.)

The Schnozzel Pumpbag that's included eliminates the need for blowing directly into your pad, which introduces moisture and bacteria which can reduce the life span of your expensive, ultralight sleeping pad, so it's an all-around win using the Schnozzel Pumpbag.
Because efficiency is key in the backcountry, the Exped Schnozzel Pumpbag also doubles as a dry bag after you are done using it to quickly fill your Exped sleeping pad. I found myself not having to bring a dedicated dry bag, saving extra weight. The Exped Schnozzel Pumpbag worked perfectly for things like hanging food, keeping clothes or equipment dry, and it weighs almost nothing.
Edge Stability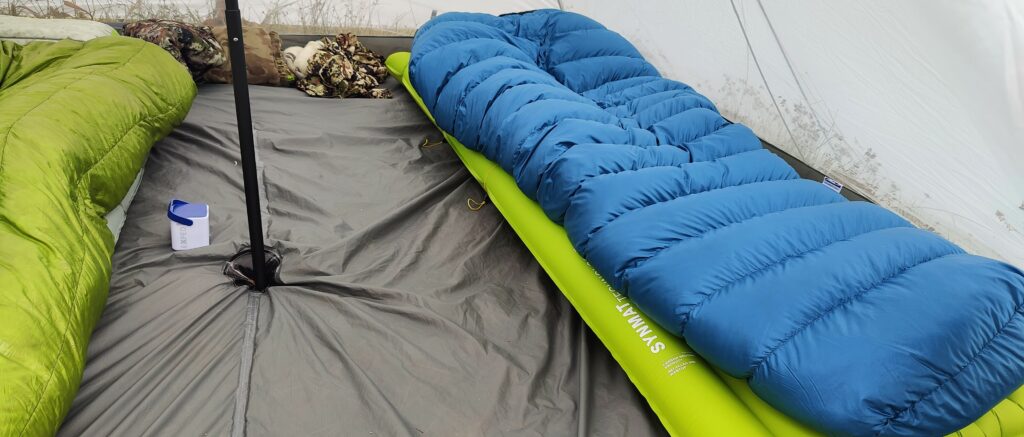 One of the things that stood out during our testing of the Exped Ultra Sleeping Pads is how stable they feel from edge to edge. I've used pads in the past that make you feel like you are going to roll off the edge when you get anywhere close to the side of the pad, particularly when you are dealing with a robust 3 inch thick pad. However, that is not the case at all with these. The long vertical baffles do a great job of giving you edge stability, which in turn helps you get a better night's sleep.

I do wish that these pads had some kind of integrated pillow system to keep your pillow from running away from you at night. My favorite pillow for the backcountry is still the Exped Down Pillow, and that has a couple of loops (one on each side of the bottom of the pillow), which I rigged up with a quilt pad strap to essentially attached my pillow to the pad to keep it in place throughout the night. I've been using this system for years now and it's worked great!
Conclusion

At the end of the day, sleeping in the backcountry for days on end can wear on you, particularly if you don't have a comfortable sleep system. Even if you do, it can be hard to get good sleep on the mountain, so making sure you take care of everything you can to sleep well is an absolute must for me. I'm more than willing to carry a few extra ounces in exchange for a better night's sleep, but thankfully with these Exped Ultra pads, you don't have to sacrifice extra weight for comfort.
As I mentioned above, when I'm headed deep into the backcountry, I tend to take the pad that I know will keep me warm rather than push the limits. When you can't sleep at night because you're freezing from the ground up, it typically results in heading home sooner than expected. It's often overlooked, but making sure you have a warm enough pad is critical as the cold ground will pull the heat right out of you and your bag in a heartbeat.
If you are considering a new ultralight pad, give the Exped Ultra Series of sleeping pads a good hard look. After years of testing tons of pads, they are some of our favorites here at Backwoods Pursuit .
---
Subscribe to Backwoods Pursuit to get Your FREE Backcountry Gear Worksheet!!!
Dial in your gear list, calculate your pack weight, and lighten up your pack with this handy tool!