Ultralight Sleeping Pads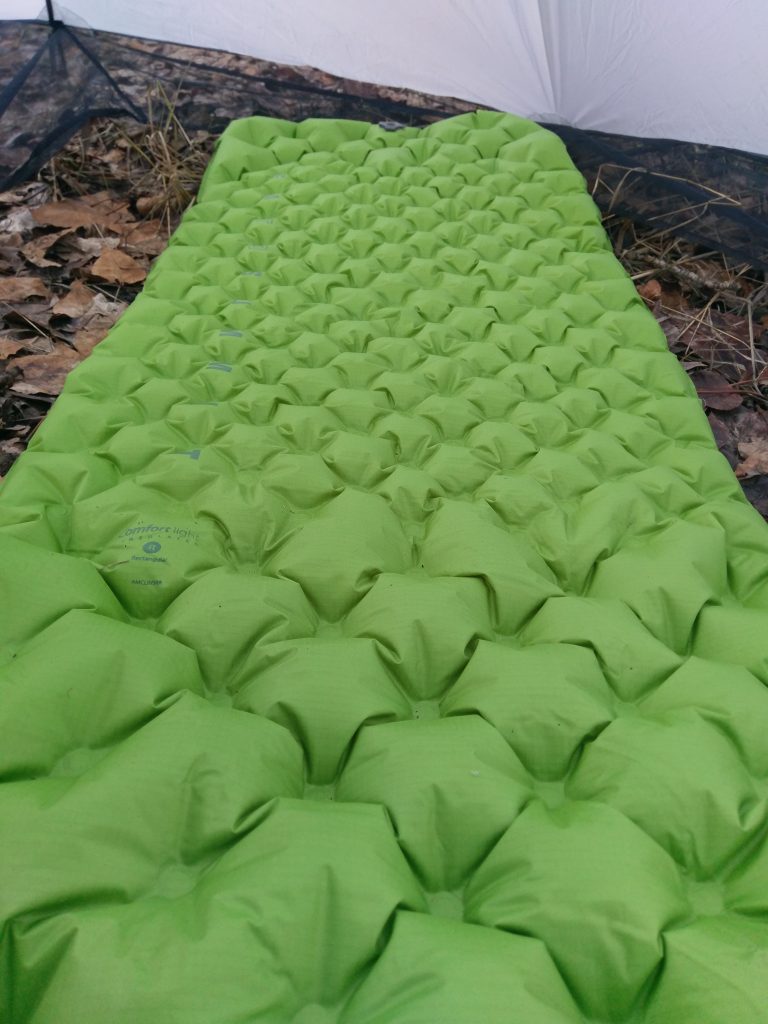 In this series, Part 1 and Part 2 we talk about tents, in Part 3 and Part 4 we look at some sleeping bags, and now we will look at sleeping pads. A good ultralight sleeping pad is a vital piece to a good nights sleep in the backcountry.

Ultralight Sleeping Pad Sizes
There are several styles and variations to choose from to fit your personal preference.
Regular/Short
Regular
Regular/Wide
Long
Long/Wide
Short: If you want that ultralight sleeping pad to pack down small and weigh nothing, many manufacturers make a "short" version that is about 3/4 length. This saves significant weight while still giving you comfort where it's most important. A "regular" pad is typically around 20 inches wide and 72 inches long.
Regular: Typically, a "regular" pad will fit up to a 6ft person. You may want the "long" version if you are over 6ft and don't want your feet hanging off the end.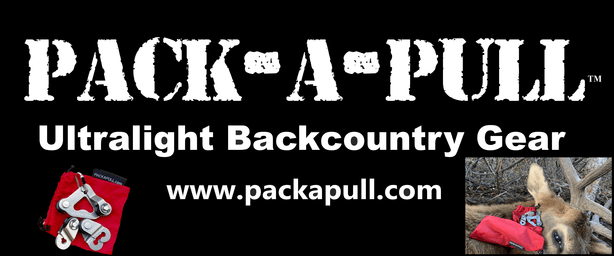 Long: If you hate your elbows hanging off the pad at night, you may want to go with a wide version. While the wide version does add weight, it might be worth a good night's sleep.
ultralight Sleeping Pad Insulation/Ratings
If an ultralight sleeping pad is insulated, most manufacturers give you a temperature rating. Others give you an R-Value. The higher the R-Value, the warmer the pad is supposed to be. Typically, if you are using a pad with an R-Value of around 3, that should cover most situations in the fall out west.
In my experimentation, I found that not all R-value and temperature ratings are equal-not by a long shot. Keep in mind that if you use a quilt, you may want to use a pad with a little higher R-Value than if you use a sleeping bag. Since you sleep directly on the pad when using a quilt, it's very important to have a warm pad to protect you from the cold ground.
Thickness
Pads come in varying thicknesses, so pay attention to this spec when looking at pads. However, don't rule out a pad just because it isn't as thick as another. The design of the pad can make a huge difference in comfort.
Valves

There are several valve types used these days, so make a note of what type the pad is using. Some are much easier to inflate and require less effort than others. I found the multi-function valve used by the Sea to Summit pads to be my favorite. They inflated easily, deflated in seconds, and allowed you to easily fine tune the air pressure, even while lying on the pad.
Big Agnes Q-Core SLX Ultralight Sleeping Pad
The Q-Core SLX is an impressive pad at a whopping 4.25 inches thick and only 16oz. The SLX also features larger baffles on each side to help keep you from rolling off your pad. The Q-Core is rated down to 32 degrees. I found this pad to be very comfortable, and I like how the larger baffles kept me on the pad. I did notice the pad to feel very bouncy because, well, it's 4.25 inches thick, so that's to be expected.
This wasn't the most comfortable pad I tested, but it was still very comfortable. My primary complaint is that it isn't warm enough, especially on those cooler nights where the temperatures are in the mid 30's. I could feel the cold air under me as the temps dropped under 40 degrees.
If you know you won't see colder temps, this pad is a nice option. I'd go another direction, however, if you're using it starting in September, out here in the west.
What I Liked
Large side baffles keep you on the pad
Easy to use air valve
Quick inflate and deflate
Weight
What I Didn't Like
Warmth
Bouncy and unstable
A little too thick
The Big Agnes Q-Core SLX wasn't the warmest of the pads I tested, but I did like the side baffles. This had a water bed feel to it, but it was very comfortable. If you want or need a super thick pad, this is one to look at.
Sea to Summit Ultralight Sleeping Pad (Insulated)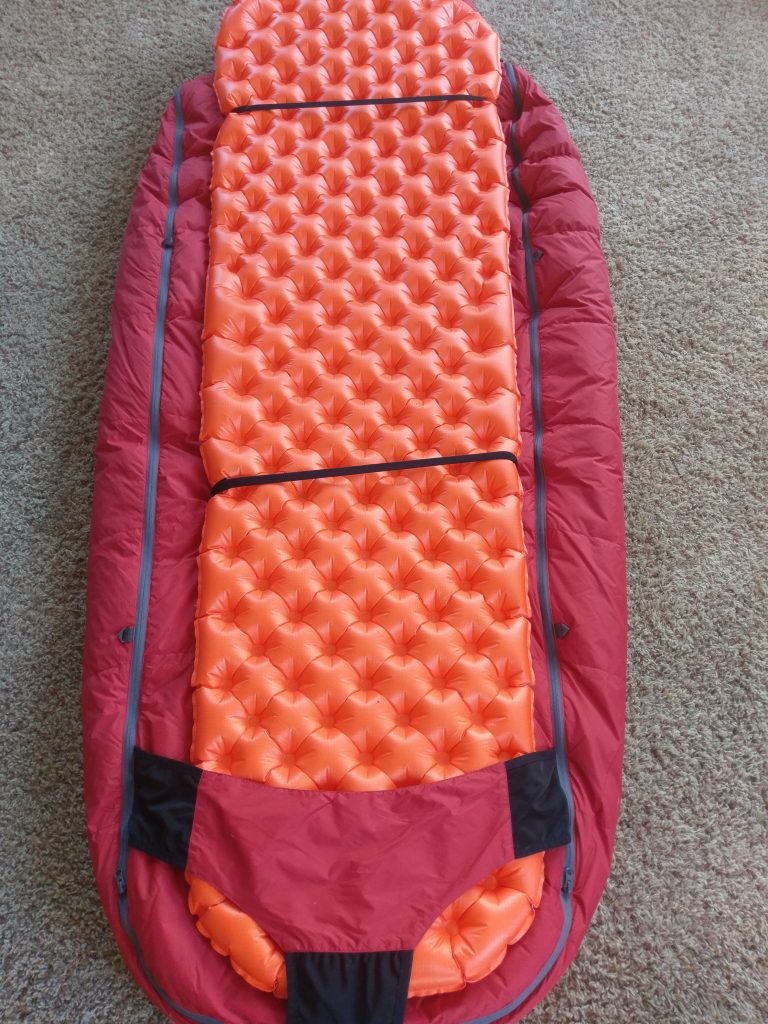 The Sea to Summit Ultralight sleeping pad comes in an insulated and uninsulated version. I recommend the insulated version unless you know the evenings aren't going to get below 50-60 degrees. This is one of those pads that I initially looked over due to the thickness being just 2 inches. I know what you might be thinking. There's no way this pad is as comfortable as the Big Agnes Q-Core SLX that is 4.5 inches thick- but it is! In fact, I thought this pad was the most comfortable, ultralight sleeping pad I tested!
There is just something about the Air Sprung Cell technology that adds a ton of stability and eliminates that waterbed feel most air mattresses have. At 16.9oz, it's heavier than the NeoAir XLite by several ounces though. This Ultralight version has 181 of the Air Sprung Cells
What I Liked
Air Sprung Cells = most comfortable ultralight pad
Easy to use valve
Quick inflate and deflate
Airstream pumpsack compatible
Weight
The main difference in comfort came from the patented Air Spring technology. There simply wasn't anything that quite matched the comfort for me. The Sea to Summit pads are the only ones I tested where I didn't feel like I'd roll off the pad when I got close to the edge (with the exception of the Big Agnes Q-Core SLX). The warmth felt true to the 3.3 R-Value rating.
What I Didn't Like
Really my only complaint with the Sea to Summit Ultralight Pad was that I wish it were just a half inch thicker. The pad is pretty light, but the NeoAir XLight easily beats it out on weight. I know. I can't have it all.
Thermarest NeoAir XLite ultralight Sleeping pad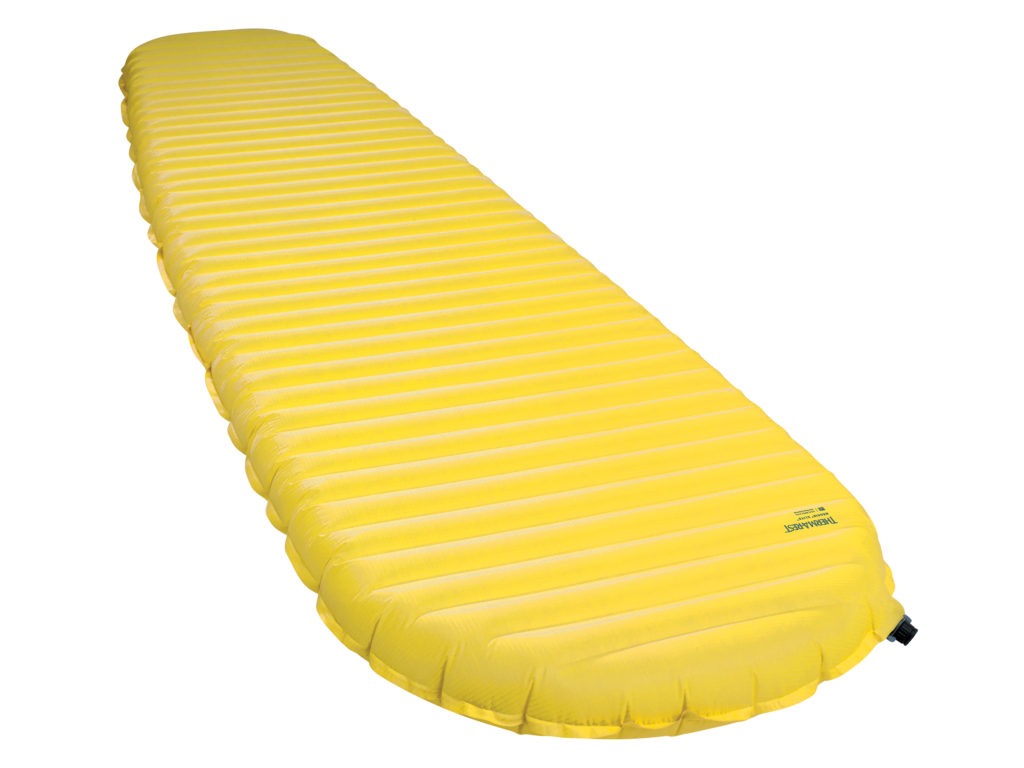 The NeoAir XLite ultralight sleeping pad is one of the most popular ultralight sleeping pads on the market today. Coming in at only 12oz for the regular size and packing down smaller than any other pad I tested, you will love its weight and packed size. The XLite is also extremely warm with an R-Value of 3.2 and is a comfortable 2.5 inches thick. It shaves weight by being a mummy shaped pad, tapering at the foot and head. The XLite has been king of the ultralight pads for some time when it comes to weight savings.
What I Liked
Weight
Warmth
Small packed size
While this is a very comfortable pad, I didn't care for the "crinkle" sound when I moved. This is the primary compliant you will likely find on the XLite. It doesn't bother a lot of people obviously, but to others it's a deal breaker.
The other feature that made me shy away from this pad was that it felt extra narrow. The specs say it's 20 inches wide, but because of the aggressive mummy cut, it has a narrower feel than that of the other mummy style pads I tested. The mummy cut at the head of the bag seemed to make my pillow want to get away from me at night as well.
The edge on the XLite didn't seem to hold as well, and I felt like I wanted to roll off the pad when I got close to the edge. The Nemo Tensor held the edge better to my surprise.
What I Didn't Like
Aggressively cut mummy shape
Crinkly sounds
Valve
Edge support
Most expensive pad I tested
The XLite is an outstanding ultralight sleeping pad that has been loved in both the hunting and backpacking world for quite some time. It's the lightest insulated pad out there (that I know of), comfortable, and durable. This is a pad you need to consider. Make sure you test it out to see you are okay with the noise it makes as well as the mummy cut. If so, you are going to love this pad.
Nemo Tenor Insulated Pad
The Nemo Tensor Insulated pad was my second favorite insulated ultralight sleeping pad that I tested. I found that I preferred the rectangular shape slightly more than the mummy style as it seemed to help keep my pillow in place and give me a better night's sleep overall. Of course, that's a personal preference.
The Tensor features a mattress-like feel with horizontal baffles similar to the XLite, but Nemo uses what they call "spaceframe baffles" to reduce that water bed feel that so many pads have. The Tensor is also a very comfortable 3 inches thick. Combine these features with Nemo's new valve (new for 2019), and this pad rivals just about any other ultralight sleeping pad out there in comfort.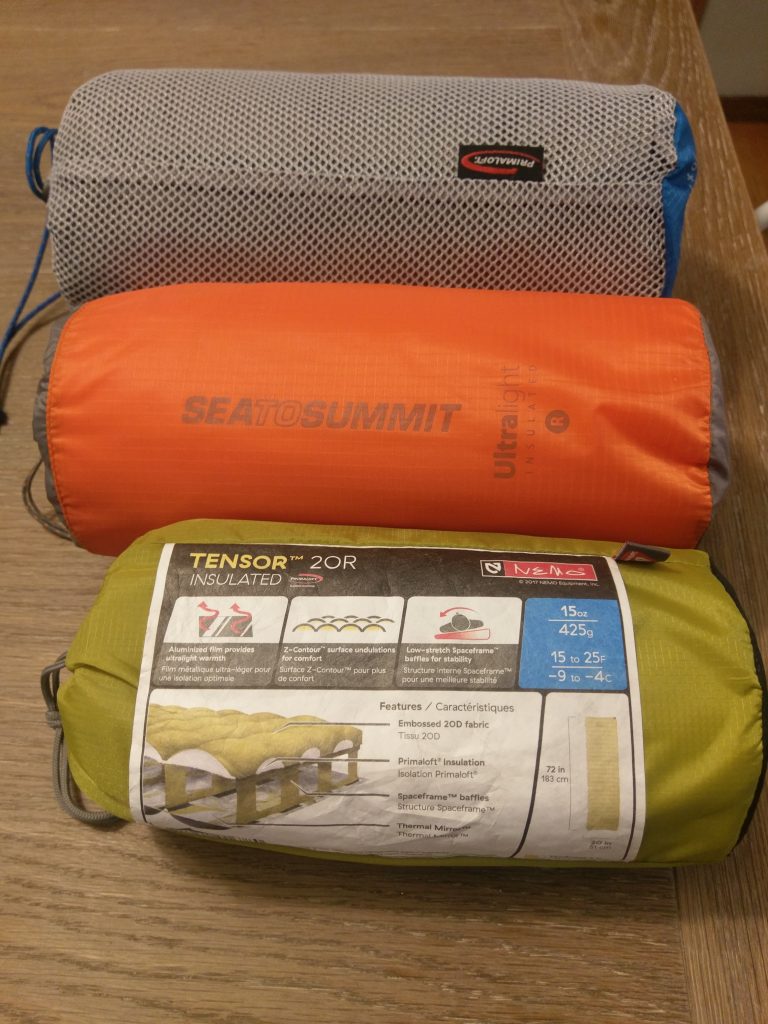 The pad I tested was the 2018 model, which has the older style valve which I do not like. The valve upgrade is a big improvement over the older valve. Add to that they now include a Vortex pump sack, and this is one sweet setup! Nemo doesn't give an R-Value, but rather offers a temperature rating of 15-25 degrees for the Tensor Insulated ultralight sleeping pad. Nemo offers the Tensor in just about any configuration you could want as well. The mummy version of the Tensor comes in at just 14oz, just 2 ounces more than the XLite, and more comfortable in my opinion.
What I Liked
Weight
Comfort
Warmth
Small packed size
Edge stability
What I Didn't Like
Valve (pre-2019 versions)
Slightly less durable
I really like the Nemo Tensor pad. The only one that I felt was more comfortable was the Sea to Summit line, but it was close. I felt like the Tensor was more stable than the XLite and much, much quieter, but not quite as stable as the Sea to Summit line. This is definitely a pad worth checking out.
Heavier But Worth A Look
Sea To Summit Comfort Lite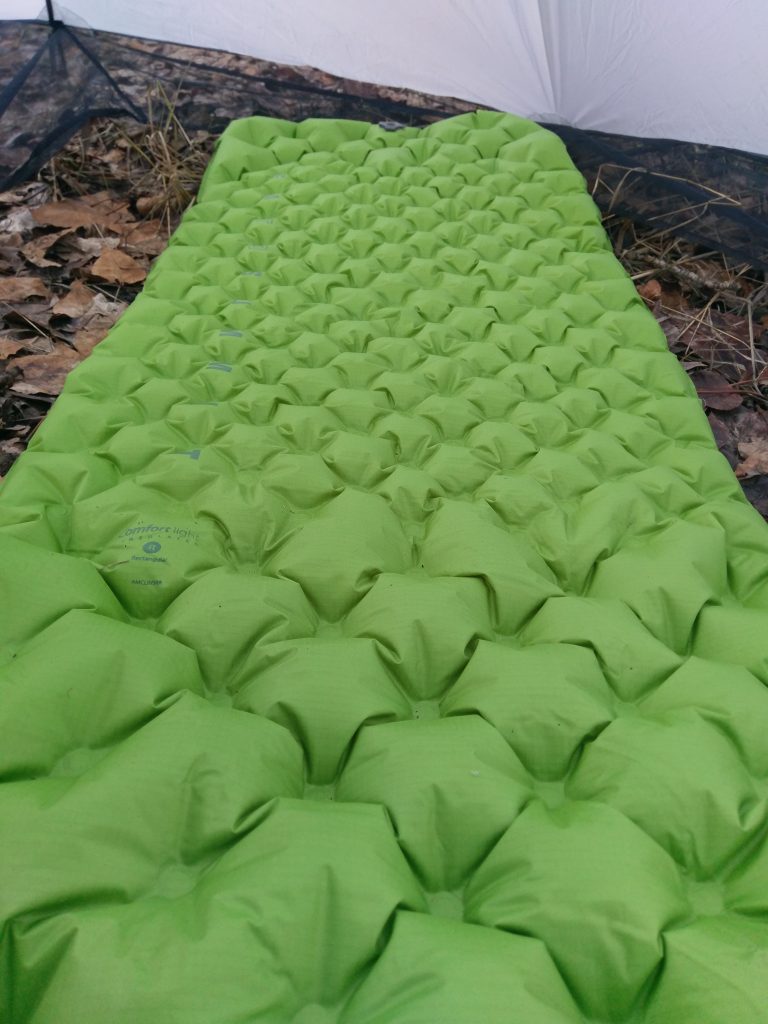 The Sea to Summit Comfort Lite doesn't quite classify as an ultralight sleeping pad, but is a good compromise between weight, comfort, and warmth. The Comfort Lite version brings the Air Sprung cell count up from 181 in the ultralight version to 331 (for the regular size). The Comfort Lite adds more cells to the mid and upper section of the pad where most of your weight sits. This definitely is not an "ultralight sleeping pad," coming in at just 21.8oz for the regular mummy version. This is impressive for a 2.5in thick, super comfortable pad with an R-Value of 4.2.
This is a great pad if you love the feel of the Air Sprung cells in the Ultralight version but want a little extra thickness.
Sea to Summit Comfort Plus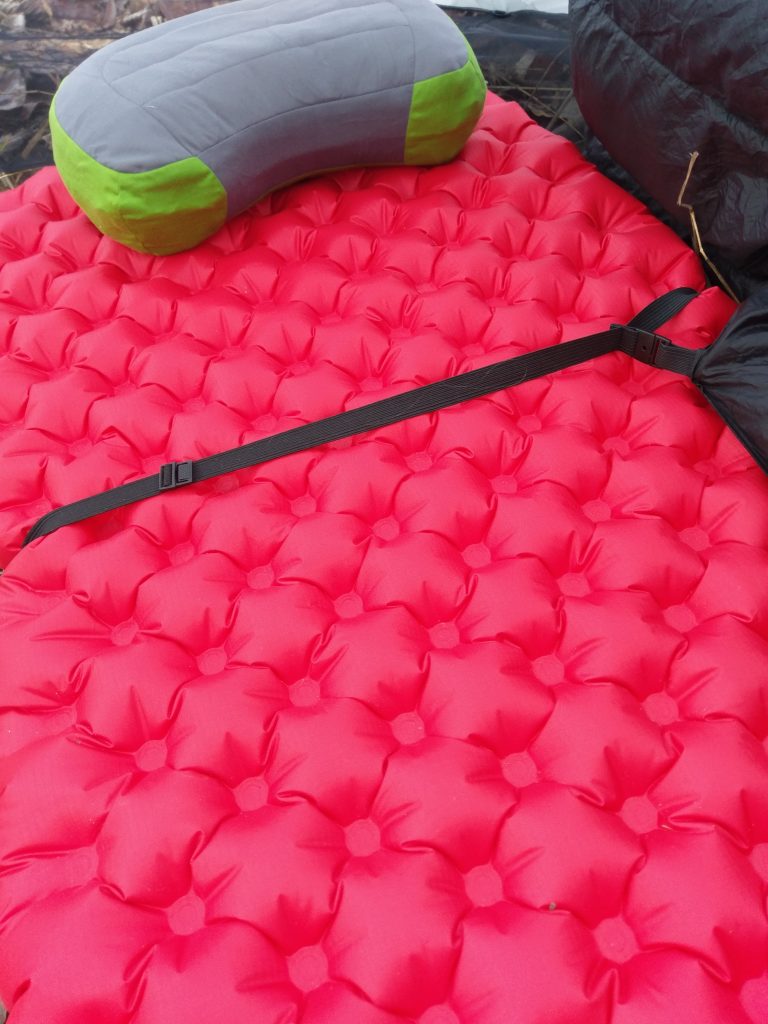 Let's just get the bad out of the way. It's heavy. No two ways about it. Coming is at around 27.6oz, I noticed a big difference in rolled size and overall weight. HOWEVER, this thing is dang comfortable. Two separate air chambers allows you to customize the firmness. If you want to make the bottom chamber firm, while leaving the top chamber soft, you get more of a "pillow top" feel.
This pad also comes with a pump sack that makes inflating both chambers easy. A whopping 548 of Sea To Summit's patented Air Sprung Cells make this pad tough to beat in comfort. The Comfort Plus is 2.5 inches thick and has an R-Value of 5.2, so this is a cold weather pad. The material is also very soft and quiet (much quieter than the NeoAir XTherm)
Yes, it's heavy and it's expensive at $200+, but if you can't seem to sleep worth a darn in the backcountry, that extra weight is definitely worth a good night's sleep.
Ultralight Sleeping Pad Review Conclusion
Any of the above ultralight sleeping pads offer you a lot of comfort without a lot of weight. If comfort is supreme for you, I'd recommend checking out the Sea To Summit Comfort Lite or Comfort Plus. For me I just found the Sea To Summit design to be the most comfortable. In some cases though, not by much. The Nemo Tensor was also extremely comfortable, but did seem more prone to getting popped due to the thinner material.
A good ultralight sleeping pad is such a personal preference thing. I'd highly recommend trying them out for yourself to see what you like. My personal preference is to carry the few extra ounces for a rectangular shaped pad, but I do use a mummy style pad as well, depending on the trip. For me, a good nights sleep in the backcountry is one of the reasons I am willing to carry a little extra weight.
Make sure to check out Part 6 of this series where we review some a handful of ultralight backpacking pillows on the market.
Subscribe to Backwoods Pursuit to get our FREE Backcountry Gear Worksheet!!!
Dial in your gear list, calculate your pack weight, and lighten up your pack with this handy tool!